Never underestimate the popularity of a burger.
And when I arrive at Charlie & Co in the brand new Westfield in the Sydney CBD for lunch with Nic and Amy, I certainly should not have when I see the queues. It seems I am here along with many of the CBD population and as I am waiting in the queue chef and owner Justin North stops by to say hello. "We planned for 200 people a day and last night we served almost 700!" Justin says. He is about to get into the kitchen to start slicing into the hamburger buns that have just been baked. In one week they go through one tonne of meat and one tonne of chips.There are currently ten chefs and order takers in the kitchen area being watched through the glass panels by hungry hordes of diners who are standing in line for their takeaway burgers.
A 6 foot high stack with trays of golden burnished buns is wheeled past and Justin says that they were only just baked around the corner. In April 2011 they will open up their bakery shop when Phase two of the Westfield development has been complete and for now the bakery is in operation to bake the hamburger buns. Although some stores like Gucci, Sass & Bide and Little Joe are open in the complex, many of the ones on the upper level are yet to open.
The Charlie of the Charlie & Co is an American man Charlie Nargreen who was nicknamed Hamburger Charlie. In 1885 when he was a mere 15 years old Charlie was selling meatballs at a fair in Wisconsin using ground hamburg steak. As sales were sluggish he smashed a meatball and some onions between two slices of bread so that people could walk and eat at the same time and thus became a hamburger pioneer and Charlie & Co is a tribute to him. The "& Co". is a tribute to the local food producers that create the ingredients for these burgers.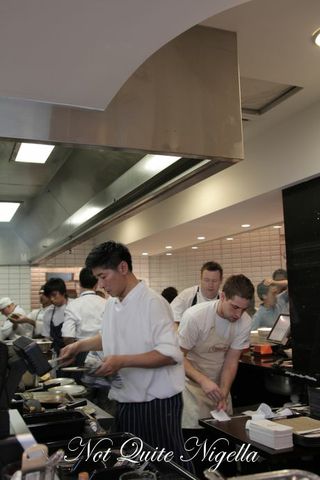 There are two lines here at Charlie & Co. One and I am in the one where you can sit in their own enclosed area and have table service. You can also get takeaway and stake a claim on any of the nearby food court tables. Like all of North's restaurants and eateries, service is very friendly but due to the crowds they won't seat you until most of your party has arrived as the space is quite small and there is a fairly fast turnover with a typical wait being 20 minutes in the queue. There is a staff member handing out menus to the people in the queue and I pore over the menu while waiting for Nic and Amy to arrive (and this post is a combination of two visits, one with Mr NQN too). There is a range of burger from your traditional beef, a chilli crab burger, a Mexican burger, a hot dog, toasted sandwiches, a couple of salads and some of the best fries you will ever taste.
The whole Charlie & Co chain was started on the legend of the Plan B wagyu burger. For me, no burger has bettered it. They have a version of it here but this one has a slightly different topping with a beetroot relish instead of pickled beetroot. At the eat in area you can order wine and beer and there are also bottled Phoenix organic and Charlie's drinks. We chuckle at the tomato sauce bottle labels which are already showing signs of wear in this very new eatery that only opened on the 28th of October.
Oh wagyu burger, how much do I love thee? This burger is slightly different to the one at Plan B so I am curious to try it. I wondered if they could improve on it and I think they might just have. And how? By adding pickled gherkins and aged cheddar which I absolutely love in burgers. And instead of having the slice of pickled beetroot like they do at Plan B, they have a beetroot relish (which promptly finds its way onto my dress). And the bun, well it's that fabulous buttery brioche bun which I wish all burgers were served on. It's heavenly, soft and rich.
Onto the Federation burger which appears to be their "burger with the lot". Amy and I are sharing burgers although we all end up sharing everything in the end. This has a seasoned Angus beef pattie, aged cheddar, a fried egg, bacon, sauteed onions, iceberg lettuce and tomato on a sesame sourdough bun. The meat patty is very thick although not quite as soft as the wagyu and the burgers have a lovely smokey char taste to them going well with the smokey bacon and sweet onions. And did I mention I love aged cheddar in burgers? There is more "juice" on this burger with the tomato and as a result the burger bun on the bottom falls apart when it comes to eating it. Funnily enough, when I brought Mr NQN to have one the very next day he asked me why I didn't bite through the whole burger and my only defence to that is that my mouth simply couldn't open wide enough-sad but true! And did I find this burger compared to the wagyu? For me, the wagyu is richer and more petite and much easier and didn't fall apart to eat so the wagyu burger still has my heart. Plus the bun tastes like butter so what's not to love?
This was a burger that I was really interested in trying. You don't often see a chilli crab cake burger on a menu. This one is a Thai infused crab cake with Asian salad, cucumber, lime mayonnaise and sweet chilli jam on a sesame bun. The patty is moist and juicy and almost like one of those Asian fish cakes but much fresher and not rubbery at all. The overall sensation is fresh and sweet.
I try some of Nic's marrakesh burger which has premium ground lamb flavoured with parsley, mint and cumin served with harissa, tzatziki and preserved lemon on a sesame bun. The yogurt, spices and parsley lend this a very fresh flavour and it has the right balance of flavours on this satisfying burger and the smokey char flavour on the patty is particularly good on this.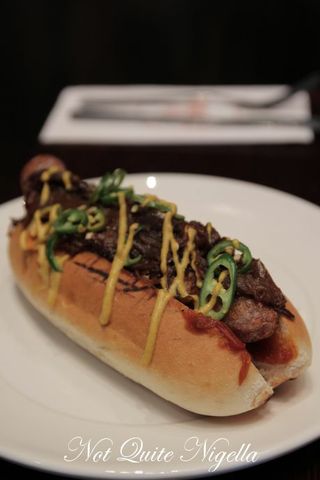 The Charlie Chilli dog has a pork sausage, fried onions, green chilli, mustard and sweet tomato relish on a soft baguette. One thing I didn't realise when I bit into it is that it had a very hot English mustard and I must admit that all that I tasted was the screamingly hot mustard so I didn't love this as much as the burgers as I couldn't taste the rest of the hot dog. The pork sausage is not your typical hot dog frankfurter, it is more like a regular pork sausage.
The crunchy lightly coated chicken wings are very good indeed. They are deep fried and doused in an Asian sauce-almost sweet and sour but not quite with aromatic star anise and other spices. They're not particularly hot so no need to worry there, in fact if anything they taste black peppery rather than strong with chilli. My only issue? These need to come with lots of napkins and refresher towelettes because your fingers get sticky!
As soon as I pop one in my mouth I smile. Double. Fried. Chips. Yep, a double fried chip is a thing of beauty. Crispy and never, ever floury the chips are first fried once and then fried again just before serving to achieve an almost translucent effect giving it a crunchy but not oily sensation. And not only that but these are topped with parmesan and truffle salt. Oh yes, yes, yes! In fact my mouth started salivating like one of Pavlov's poochies when I saw the picture of these again.
Looking hand dipped and home made which is not necessarily a bad thing. These are crunchy and good although it must be said they just didn't get much of a look in after the parmesan and truffle fries. Jan Brady syndrome again.
So tell me Dear Reader, what's the longest you have queued for food?
Charlie & Co
Level 5, Westfield
Cnr Pitt St Mall and Market St Sydney NSW 2000
Tel: +61 (02) 8236 9200