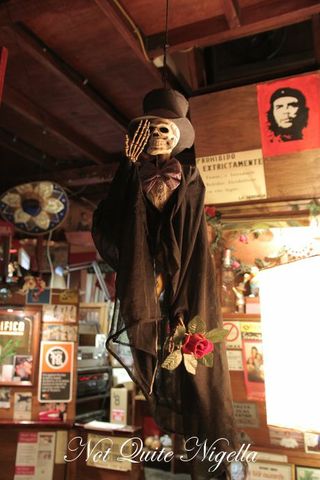 Have you ever just walked into a restaurant and felt right at home from the very beginning? There I was standing outside Cafe Pacifico in East Sydney. Mr NQN had dropped me off so that he could park the car-bless him and curse my heels. I took a look at the little glass display box and alongside the menu was an array of Day of the Dead dolls-what a heart warming sight! I made my way up the stairs and opened the door to be greeted by a hanging ghoul clutching a rose. Ahhh I was home...
I would think Cafe Pacifico is a great place for dining with someone that you're a) not that familiar with or b) don't really want to talk to. For point a, there is so much to see inside here from the $65 a shot tequila, parrots, the b&w horror film playing on the screen and b) the music is loud. Still the atmosphere is warm and when someone celebrates a birthday everyone joins in singing and the bartenders clash the cymbal . Then a girl accidentally sets their hair alight. It's that kind of night.
Tonight, we're celebrating one of my good friends The Second Wife from She Goes who is having her first blogsoversary! Our first course of the $42 banquet menu is with the flour tortillas which are lightly grilled and filled in the centre with melted cheese and a runny creamy sauce which is quite delicious indeed. They are supposed to be served with salsa but I prefer them alone. And the photos are deliberately left with the orange hue that bathed the whole restaurant.
These were very popular with many cries of "pass me the balls". They were round corn fritters stuffed with corn, capsicum, coriander, onion with a fritter flour and egg batter, rolled up and deep fried. It is paired with a sour cream with a layer of spicy pico de gallo underneath it. They're moreish and I may have eaten three of these, I won't confirm or deny ;)
_Tostadas _
The tostadas were a bit divisive. They are crispy round corn tortillas topped with beef, refried beans, lettuce, guacamole, pico de gallo and a drizzling of chipotle sauce. Mr NQN liked these but I wasn't particularly smitten with them as I found them a tad watery. Also randomly, some mouthfuls were chokingly hot whilst other were quite mild.
Our plates of nachos come out and they are piled with black beans, slices of chorizo and pico de gallo which is an uncooked tomato and onion salsa. The corn chips remain crispy and the black beans are full of flavour as are the large discs of garlicky chorizo.
What we mistakenly thought was our last course so we ate up big was the Queso Fundido. It's basically melted cheese over sliced chorizo with some pico de gallo tomato salsa and olives. We get some flour tortillas to go with them. There's nothing quite like a pairing of tomato, chorizo and cheese and this is eagerly eaten.
They started to bring us more of the same entrees so we figured that this was the end of the banquet. Until of course they brought this baby out. It is massive and it is a DIY taco platter with assorted meats and vegetables in it. There are refried beans, Mexican rice, lettuce, cheese, pico de gallo, gaucamole. It comes with shredded beef and shredded chicken as well as grilled vegetables. The shredded beef is my favourite and it has a hint of cinnamon and the shredded chicken is also good with a tomato based sauce.
People are having fun, the cymbal is clashed, we bring out a lasciviously wobbly jelly cake and The Second Wife blows out some candles. Is this not the perfect place for Hallowe'en?
So tell me Dear Reader, which restaurant feels most like home to you?
Cafe Pacifico
95 Riley Street, Darlinghurst, East Sydney, NSW
Tel: +61 (02) 9360 3811