It probably feels like a moot point to tell any Sydney-sider that we're in the throes of a love affair with Mexican food. It seems everywhere we turn, there's Mexican food here in Sydney. New places pop up, some better than others, some more authentic than others. Mexican food is easy to do badly. I can recall one recent awful meal at one restaurant where our soft tacos were swimming in half a centimetre of water and the beef was completely bereft of flavour. Thankfully we had forgotten to bring a camera on this impromptu visit and that ended up being a relief. But there are some that are trying harder than others.
Mexico Food & Liquor sits where District Dining used to. It's the newest restaurant for District Dining's chef Warren Turnbull who started off his Mexican love with a version of Mexico in Auckland in his native New Zealand. The colourful wall with murals and fresh flowers ushers you in and a comely skull beauty looks down at you from her perch above the greeting station. No inch has been left unthemed and the walls are covered with picture frames, deity figurines, Day of the Dead artwork and Mexican movie posters. And if you're waiting for friends because you've turned up early, that means lots to rest your eyes on and ponder.
At Mexico, there are no bookings for lunch or dinner. Dinner I understand but lunch time is usually a time pressed affair for most so on this Friday I worry about us getting in and out in a timely manner. Combine that with the fact that nobody is seated until all guests have arrived and I'm already a bit stressed. I sit at the bar surveying the various tequilas, apparently there are over 80 premium tequilas in total when suddenly I feel a hand on me. It's Buxom Wench and Silver Fox. A few minutes later, we're being led to the outer section which looks down onto busy Central station on Chalmers Street.
Jarritos Mexican soft drinks $5 each
The menu is easy enough to negotiate with a neat list of food on the left hand side while the remaining two thirds of the menu is taken up by drinks. The prices are reasonable and portions are said to be on the smaller side although we're told they're "sharing sizes" (which I'd interpret as larger serves so I don't quite get that). We start with Jarritos, Mexican soft drinks in alarmingly bright neon colours. Even though the colours look startlingly artificial, the mandarin does actually taste like mandarin (unlike say Fanta that doesn't taste like oranges). We also tried lime and pineapple which weren't bad but the mandarin was the most like the actual fruit. I know, who expects that a soft drink tastes like the fruit? What can I say, I live in hope ;)
Salsa roja, house made corn chips $6
The restaurant is busy and it's about twenty five minutes until we get our first bites of food. First to arrive are the house made corn chips with a salsa roja. The corn chips are crispy and thin and the salsa isn't bad although there doesn't appear to be much heat, spices or garlic in the salsa roja at all. The menu states that the hot sauces on the table are added to give heat although with chilli such an integral part of Mexican cuisine, I do wonder why it isn't just included in the food.
"Do it yourself guacamole", warm flour tortillas $8
The DIY guacamole comes out in a little jar and you are supposed to squeeze in some lime and mix it up which isn't really DIY as it is really quite made up already. The four warm flour tortillas are warm and very soft and we spread them with the guacamole. It's not bad but it too hasn't got a lot of flavour so we add some of the salsa roja and chilli sauce on the table.
Caramelised lamb soft taco with pomegranate, chilli, pepitas and Jalapeno mayo $7
The three tacos arrive next, each in a enamel covered metal bowl. The first one we try is the caramelised lamb soft taco with pomegranate, chilli, pepitas and Jalapeno mayo. The caramelised lamb is quite caramelised an almost a little burnt in parts and the chillis and pepitas add heat and crunch.
Black bean crema, eggplant pico de gallo, zucchini, queso fresco $7
I must admit that my favourite taco was the vegetarian one filled with black bean crema, eggplant pico de gallo, zucchini and queso fresco. The combination of flavours and textures was perfectly balanced and moreish.
Tomato, chipotle braised pork taco with lime, radish and grape $8
We chose one of the specials with pulled pork in a tomato and chipotle braise and this was paired with line, radish and halved grapes. Overall it was a nice enough combination although the eggplant taco above was still the pick.
Mexico's fried chicken $14
Now we're coming around to our favourite dishes. The fried chicken came with a line "not to be missed" and it is  indeed beautifully moist boneless piece of chicken with a crunchy batter with just the right amount of weight to it without being flyaway or tempura like or heavy as lead. Silver Fox is particularly smitten with this as am I but Buxom Wench gets the last piece thanks to a chivalrous Silver Fox. "It's what KFC wishes it was" he says.
Coffee and maple braised pork spare ribs, plantain chips, herb salad $16
The ribs are also terrific although flavours of coffee and maple aren't that apparent. If anything it tastes Chinese and similar to hoi sin marinated pork ribs that are deep fried and then doused in a flavoursome dark sauce. These come with barely crispy plantain chips, a floury type of banana although the sprigs of herbs on top appeared as more garnish than salad and probably didn't really warrant a mention.
Black olive stained chicken, oregano, smoked cheese, salsa borracha $14
Our last savoury dish was the quesadilla which unlike the rest of the dishes erred on the more generous size. This has a filling of pulled black olive stained chicken, oregano, smoked cheese and salsa borracha or drunk salsa. The salsa and some hot sauce is really needed to spice it up. Whilst it's filling, much of the flavour is muted until the salsa and hot sauce is added. Buxom Wench comments that much of the bold flavours that you'd find in Mexican cuisine are quite largely absent here and I agree.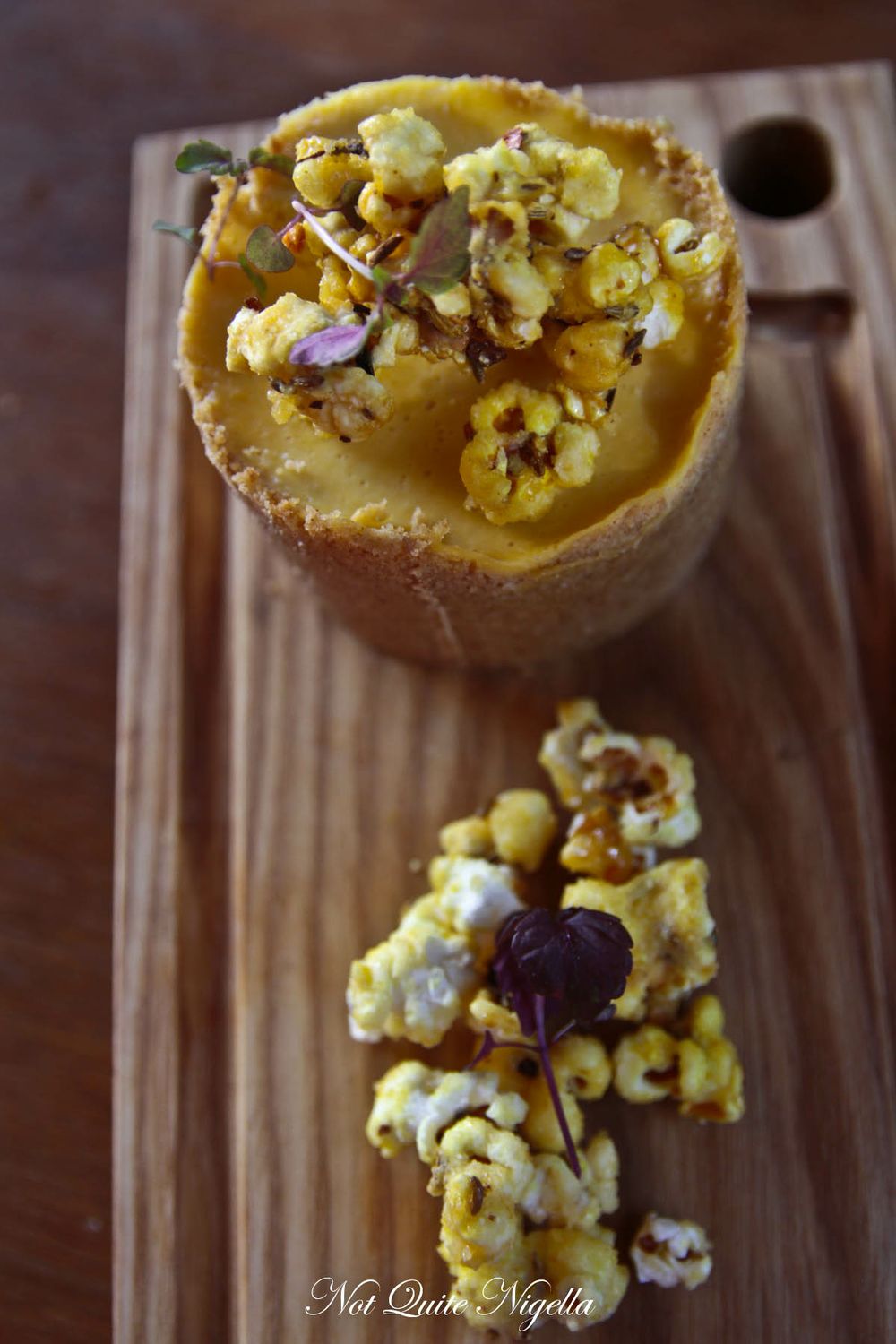 Tarta de dulce de leche and corn, candied spiced popcorn $10
We decided to share one dessert and were enthusiastically recommended this one by our waitress. It's a two parter with spicy, aromatic popcorn redolent in anise from fennel seeds. The other half is a thick biscuit base filled with a creamy pudding filled in the centre with that manna from heaven, dulce de leche or caramel that oozes out. Adding the popcorn to a mouthful of the cake is actually really good a combination. And we would have stayed around for longer if we could have but of course, real life awaits!
So tell me Dear Reader, do you go out for lunch or do you usually have lunch at your office? And when you go out for lunch, do you watch the clock?
Mexico Food and Liquor
17 Randle Street, Surry Hills, NSW 2010
Tel: +61 (02) 9211 7798
Open 7 days noon until late