Awards are controversial. Not only do people expect more but if it's closely fought they tend to compare the contestants. And that's exactly what I'm doing today when we're dining at Palace Chinese restaurant this beautiful Sydney Sunday morning. And why was I up so early? Well I have to admit I set the alarm ready to go to an outdoor festival only to wake up and realise that it was next week. Yes embarrassing. So Teena, Philippe and baby Annabel and I make hasty alternative plans to Yum Cha in the city as Philippe wants to trawl the nearby luxury goods strip later.
Even though we are dining relatively late at 2pm (Yum Cha ends at 3pm) there is still a sizeable amount of people in there. Mr NQN and I usually prefer to eat a bit late as I hate queuing for a table and at this time we walk straight in and are seated. And a good thing as Philippe claims to be a "Starvin Marvin" and within minutes, our table is filled with all manner of delicious dumplings. The bamboo steamers are a little fancier and the service a little pushier. When we say "No" repeatedly to one who proffers up a single steamed basket in an effort to offload it, she proceeds to put it down on our table and then reach to stamp the card.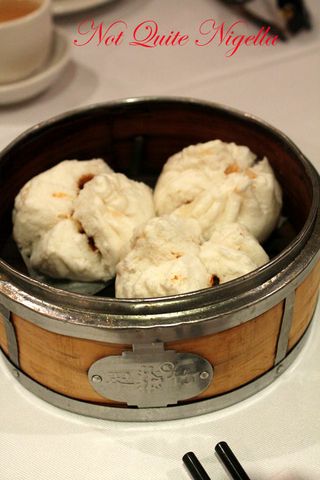 My favourite Yum Cha dumplings are the Har Gow. These are plump with prawns but a touch bland.
I adore spinach dumplings but these suffer the same fate as the Har Gow above. And I'm to learn that it's a bit of a trend for the steamed dumplings here...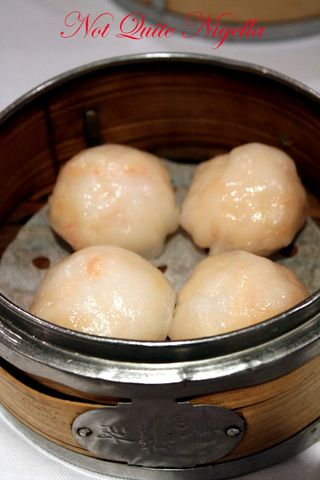 Yes again it is packed full of seafood but yes you guessed it, it was a bit bland.
These little bundles of steamed, flavoured glutinous rice are delicious with bits of pork and boiled egg inside.
Our only concession to the deep fried trolley is the Spring Roll. Crunchy with flaky pastry they're not bad although without a lot of filling.
These "slippery little suckers" are filled with plump prawns but the sweetish soy with a hint of sesame is lacking here and I find myself tarring this with the same bland brush.
My favourite item and not usually something that we order, it's crisp and perfectly seasoned. I am glad we said yes to this one as I was fearing for my tastebuds for a second!
A dessert trolley whizzes past with Western style fruit tarts, jellies, and puddings.
The eggy custard tarts are a little firmer than I like (probably as they were baked a while back and kept in a warmer). The pastry isn't as layered or amazing as I've had at other places. Indeed, I can't count the layers on some egg custard tarts at some places as there are so many.
The Mango sago pudding with cubes of jelly, slices of tinned lychee, pearl sago and large sago balls is quite moreish and a nice way to end a meal that was disappointing in parts.
There isn't anything particularly unusual here and for me the food, particularly the steamed dumplings, erred on the bland. If anything I prefer the Yum Cha at East Ocean or Sky Phoenix. What is interesting though is watching the trolley ladies after they finish. There are roughly 3 tables left at 3.30pm and the staff roll out a trolley of the leftover Yum Cha goodies to eat. Then out comes gigantic slices of leftover wedding cake for dessert!
So tell me Dear Reader, are you often disappointed when you eat out?
Palace Chinese
Shop 38 Level 1, Piccadilly Tower, 133 - 145 Castlereagh Street Sydney 2000
Tel: +61 (02)9283-6288
Open 7 days
On weekends parking vouchers can be purchased for $7
http://www.palacechinese.com.au