It's a girly afternoon that brings my friend Gina, Teena and I to Sky Phoenix. We've left the boys behind and are going to Yum Cha, shopping and the latest Sex and The City movie. The boys don't mind, they're more than grateful that they don't have to sit through the movie which for a straight man is as bewildering and foreign as washing the dishes or the world of shoe shopping. The only part that the boys would miss is the Yum Cha. We usually go to Sky Phoenix as a) it looks chic inside b) we never have to wait and c) the food is good and the trolley ladies always stop and explain to us what they have in English. Having waited once for a table for 2 hours at Yum Cha (Kam Fook), I've been permanently scarred by the experience and we've also had trolley ladies whiz past us not willing to stop (Marigold Citymark) where I also saw Adman Siimon Reynolds get just as frustrated at the trolleys flying past and not stopping for him either (I guess they really didn't know _who _he was ;) ).
We want to sit near the window but they won't let us, despite the fact that the two areas are empty and remain so even after we leave. Many trolleys stop by and we take advantage of this and crowd our table with dishes so that we can talk without being interrupted. The first dish we select happens to be a "kitchen special" ($9.80), a small square plate of pork pieces coated in a honey and black pepper sauce. The pork is crispy and fattily delicious and the sauce deliciously sweet with a hint of hotness. I don't know if the small serving necessarily warrants the price tag but it's delicious nevertheless.
The scallop dumplings are next, plump with seafood with the delicate translucent skin, although it could be prawns as well as the prized scallops for all we can discern.
The spinach and seafood dumplings are next, one of my firm favourites. They're delicious and flavoursome with crunchy pockets of water chestnuts and all at the table murmur our agreement at its goodness. And having so much spinach in them can only attest to how healthy they are, right?
One of my favourite yum cha dishes is next, the yam dumplings. Although I prefer the steamed dumplings, I can never go past these dumplings. Coated in a fine lacey golden deep fried outer that crumbles and collapses in the mouth to reveal a gooey yam mash centre with mung beans and pork. I love dipping this in sweet and sour sauce and reveling in it's soft and crispy textures.
The Har Gow is a favourite of mine and my husband's and we've been known to order 4 of these at a Yum Cha seating. These are 4 plump prawn filled dumplings. There are two kinds of Yum Cha restaurants, ones that will serve piddly little Har Gow with tiny minced up prawns or the ones that serve these big plump dumplings with whole or halved prawns. Thankfully most good ones will have these although when I do come across one of the smaller ones I'm not happy. It's also handy as it's the only Chinese Yum Cha item that I know how to say in Chinese without eliciting a puzzled expression.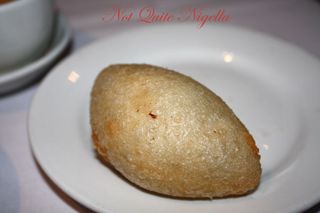 The Ham Sui gok (ok this is a second item I can vaguely pronounce), a pale, deep fried football of goodness, has crispy, sticky outer courtesy of the rice flour that sticks to your teeth. It's filled with a delicious minced pork and dried prawn interior. And despite my rather poor explanation, they are better than they sound.
We're done with our savouries now and going onto the sweets. We've spotted a cute pumpkin shaped fried dumpling and we're told it has not pumpkin, but custard inside. The pumpkin stem is actually the top of a bird's eye chili. As Gina points out, it's someone's job to put the little details on these things and one of them being putting the chili stem onto these dumplings. The blistered pale deep fried surface is similar to the Ham Sui Gok and hides a delicious thick custard inside. It's like a tastier, cuter custard puff.
Our last dish is the one chosen simply because it looked like sushi and we had never seen it before. It has a black sesame jelly outer and a mango pudding filling. Black sesame can either be gorgeous in desserts or jarring and in this case it is jarring with a smokey, savoury sesame oil flavour to it. We peel off the outer jelly and eat the delicious mango pudding jelly inside.
We're full and ready for a spot of shopping and the movie to end all girly movies. And the total damage? $56.10. More money for Manolos which would make Carrie proud.
Sky Phoenix
Level 3, Skygarden
77 Castlereagh Street Sydney NSW 2000
Open 7 days
Also a location at Manly, Rhodes and Castle Hill