Island time is a concept that applies to islands where things just happen when they happen. Case in point when we are high up above Hamilton Island the plane circling above. There is a layer of clouds below and the pilot is telling us that we'll be circling but "we have plenty of fuel". You see Hamilton Island airport is a sight only runway which means that planes can only land if they can see the runway clearly. You see it all conspires to create the Island time phenomenon.
It seems the other journos in the group are having trouble landing today and the Brisbane flight does the circling dance above Hamilton Island airport. It's in the final days of the Hamilton Island Race Week and as a keen sailor Mr NQN was rather jealous that I was going to be here. There are celebrities galore and the island is packed with all accommodation fully booked and during this time there is a 10 night minimum stay.
Clocking the time we notice that we're running late so we get into the golf buggy and high tail (well as fast as a golf buggy can go) to the jetty back near the main airport where we have literally missed our boat within minutes. You know that feeling when you can see the backs of the heads of passengers as they are pulling out? Not to worry, we could still make it to Daydream Island. But we would just have to get there in a roundabout fashion.
Late in the afternoon we finally arrive at our destination for the evening, Daydream Island. We are greeted with  a shell necklace placed around our necks and make our way to our rooms.
Daydream Island is more of a family style resort. They are mid a game of bingo in the lounge and the rooms are more family friendly than luxurious. Daydream is a small island about 1 km in length and about 500 metres in the widest section. It is one of the Whitsunday's 74 islands and is owned by vitamin tycoon Vaughan Bullivant.
We each get coral ocean balcony rooms on the third floor facing the beach which affords us a lovely view of the water and a slip of a balcony that fits a table and chairs on it. All of the rooms at Daydream are the same size and they are spacious and the only difference is the outlook. The bathrooms have a bath and there is a large king sized bed although some of the features are more basic than luxurious. There is no internet in the rooms and the only mobile phone network that works on Daydream Island is Telstra-just in case you were planning on getting some work done! ;)
We quickly freshen up and change and then head out to the marina again. And why? Because Daydream Island is the Whitsundays only island to have obtained a fishing license. They have a fisherman called Ash who catches the fish for them to serve in their restaurant. He returns every two to three days in the evening to show them what he has caught. The other islands in the Whitsundays get their fish from Townsville as there is no local supplier.
The haul is good and Ash shows them several fish including an enormous red emperor. Chef Ross Howell and Jason the food and beverage manager come down to inspect the fish and bring them back to the restaurant where they are cleaned and filleted ready for cooking. Tonight we will be trying the red emperor.
Chef Ross Howell filleting the fish
The three mermaids that overlook the Mermaids restaurant
We head towards Mermaids, the a la carte restaurant here. We pass by the swim up pool and pass many of the spindly legged curlews that walk between tables. They're an odd bird, not particularly aggressive and pose and strut as if the restaurant were their catwalk.
Mermaid dips $12
There are three types of dips, a sweet and light carrot and ginger dip, a rocket and garlic dip which is heady and packs a punch in both and a roasted red pepper dip which is also sweet and strong and out of the three the orange and ginger and the red pepper are favourites. The ciabatta bread is crunchy and perhaps a little too thick and dry for the dips.
Scallops and fish
We're dining a little off the banquet menu and a little off the a la carte menu tonight. The scallops are perfectly cooked and juicy and sit on a little smear of bearnaise sauce. The red emperor fillet from today's catch is a little on the dry side and cooked through completely and is served with an Asian style salad.
Fillet steak
The steak is cooked medium rare without us asking for it which is a relief as that is how we all like it. It is paired with a truffled mash which is wonderfully creamy and strong in truffle (and I finish every drop of this), a jus, some broccolini  which is always a good accompaniment to steak and two roasted vine tomatoes. The horseradish sauce topped steak is excellent and the combination of sides and sauces is excellent enhancing the flavour of the meat.
Cheese plate
Our dessert course is a cheese and crackers course. The blue is a roaring forties King Island and the brie is a triple brie from South Cape. And because it is warm, the brie quickly gets that luscious texture.
The next morning, at the crack of dawn at 6am I rise for breakfast and sleepily make my way downstairs where everyone else is bright eyed and bushy tailed. I'm not hungry at all given the late hour and richness of the meal last night but I help myself to a couple of the  pancakes from the machine that dispenses freshly cooked pancakes within minutes and take a sip of freshly squeezed orange juice.
We take a little tour of the southern part of the island which we didn't get to see with our late arrival. Unlike other  islands, Daydream Island is pretty much only made up of the resort and its activities and the motorised activities are located at the south end away from the rooms. And darlings don't worry if you haven't brought all of your clothes because there is a super cute clothing and a swimwear boutique! There is also an outdoor theatre where they show current movies three times a week.
There is also a chapel with a live web cam for people to view weddings if they can't make it there. We stop by Lovers Cove where there is a pop up bar and is more suited to couples.
Lover's Cove
Our last activity on Daydream Island is the Stingray Splash which is an encounter where you wade into the live reef and touch and feed stingrays. Daydream's "Living Reef" spans 2,650 square metres in several locations all over the resort. There are over 100 species of fish, 50 coral specimens and stingrays, sharks and sea stars that inhabit the living reef. And don't worry, I know you might be thinking what I was thinking about Steve Irwin but these are different stingrays and the ones here regularly have their barbs removed. We also get to pick up and examine sea stars as well as sea cucumbers which have a incredibly slimy coating! It's hard to believe someone ever thought to eat them...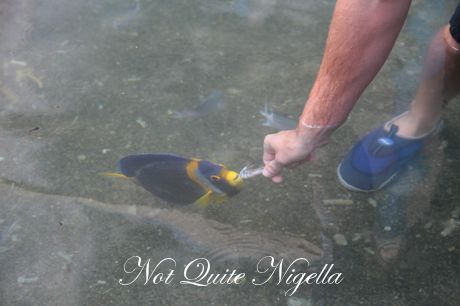 This little guy is called Jacques and apparently he has three girlfriends...
There are five species of stingrays including two very appropriately named Pikelet and Pancake. There is also a pair of raymoras called Romeo and Juliet because they are always together. We slip into water booties and wade into the water to knee deep and before standing on the mats. The guide Ollie tells us that we need to stand with our feet wide apart and steady on the ground so that the stingrays can pass through our legs.
A stingray is 85% muscle so they can knock you down if they want to (and they tend to knock down little kids)! He gives us each a glove for a hand as well as some food for them and sure enough they come sidling us to us brushing past us curious to feel our heartbeat.
Sea star
The feel of a stingray brushing past your legs feels soft like fur although if you get the snout it can be insistent. Daydream Island only allow a maximum of fifteen people to interact with the stingrays per day and the Stingray Splash is $38 per person and lasts for 45 minutes. The stingrays seems completely unbothered by human interaction and we watch at Ollie pats them and they seem to love the attention and the food. To feed a stingray you need to hold the food low as the mouth is on the underside of it.
We it was a short but sweet visit but stay tuned, next we are off to explore more of the Whitsundays!
So tell me Dear Reader, what is your favourite island destination?
NQN travelled to and explored the Whitsundays as a guest of Tourism Queensland and Tourism Whitsundays
Daydream Island
Boats leave for Daydream Island from Hamilton Island
http://www.daydreamisland.com/