I'm secretly starting to think that I'm a curse. I daren't whisper it to anyone but the last time I visited the Sunshine Coast the heavens opened and rain poured and soaked us to the bone therefore making a mockery of the name. Now during August, and supposedly during the  best weather season the mist, fog and rain has shrouded pretty Airlie Beach giving the markets a distinctly sodden aspect.
Still there's nothing quite like food to brighten the enthusiasm. Cupcakes to be specific as Amanda and I coo over sugary delights and butterfly topped cupcakes and the Mars bar topped cupcakes and cake pops. And for good measure and as a gift for my mother some macadamia brittle.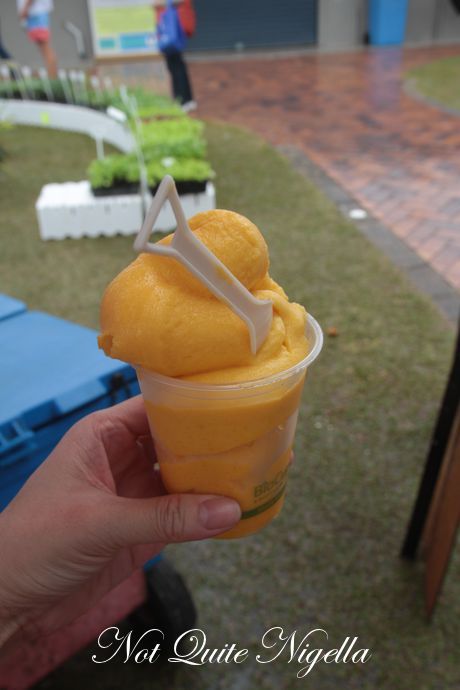 We try some Bowen mango sorbet which is simply frozen mango cheeks from Bowen which is about 80kms away churned up. It's refreshing but not particularly sweet but comes in a generous serve. There are also a proliferation of jam makers many of whom use fruit from their garden to make passionfruit butters, rosella and mulberry jam.
And of course fruit wine is popular here with the amount of fruit available. At Pacific Blue they tell us that their wines are on the dry side rather than the sweet.
A creative use for cans-and check out the chopping board prices!
We check into Peppers Coral Coast. This is my first time staying at a Peppers resort but I had always heard good things about Peppers. We make our way up the steep winding driveway to the top of the hill where the newest Peppers hotel lies. It's all open plan with the main restaurant area next to the reception area and next to that is the outdoor pool area and spa. There are 1, 2 and 3 bedroom luxury apartments available.
We make our way up to the rooms through the carpark. I always get a secret thrill out of seeing a new hotel room and my room, 123 is on the second floor of the building. There is an electronic key pass that requires a simple press and I open the door.
The two bedroom apartment is enormous with two bedrooms and two bathrooms, a kitchen and a separate lounge area and large balcony large enough for entertaining. Everything here is about the view too with floor to ceiling windows giving you glimpses of Airlie Beach below or the cockatoos that screech and dive bomb and land on balconies to be proffered food for a song and a sneaky look.
Second bedroom
Main bathroom
Second bathroom
The bathroom, well you know I do love a bath and this has one of those lovely deep square eight jet spa baths that you just instantly picture yourself reclining in languorously while  sipping some champagne. The amenities are excellent and plentiful and heck even the toilet roll is folded over in a neat shell pattern (I am a sucker for details). There are two sinks, an area for luggage, a separate shower and has that lovely soothing luxurious feeling. But enough dawdling and real estate perving! It's lunchtime!
Greg Devine
Lunch is downstairs in the tides restaurant where we will be sampling a selection of the dinner menu's most popular items. Chef Greg Devine formerly chef of Governor General Quentin Bryce, and Brisbane Royal on the Park introduces himself and our courses._
_
Four Tastes of the sea $22 served with 2010 Pike & Joyce Sauvignon Blanc, Lenswood, SA
_ _Our first course is the four tastes of the sea. Well you know how much I love seafood so I got a little bit too excited about this and polished it off in a few minutes flat.  This is a sampler dish with a prawn cocktail salad with marie rose dressing (mayonnaise and tomato sauce) and finely shredded baby cos leaves with prawn pieces and a whole prawn.
Then there was a briney pacific oyster with a sweet vanilla dressing and cucumber noodles which was refreshing and sweet. For mornay lovers there was a Hervey Bay oyster grilled on the half shell with a rich and creamy champagne mornay sauce and a salt and pepper battered prawn. Last but not least was the tempura battered local reef fish wrapped in nori which was so succulent and juicy with an appealing crunch on the outside that this was my favourite part. It is paired with a ponzu dressing which is sweet, salty and tangy.
_Black Angus beef fillet $39 served with 2008 St Hallet Garden of Eden Shiraz, Barossa Valley, SA _
_ _The black angus fillet is their most popular item and they tell us that at least three quarters of the restaurant's guests invariably order it. It is a Queensland grain fed black angus beef fillet from lower Rockhampton topped with a mushroom duxellle, a deep fried eggyolk, some truffle salt, Paris mash, asparagus spears and a shiraz essence. It is also perfectly cooked medium rare as ordered. The meat is tender and the rich Paris mash has a touch of thyme in it.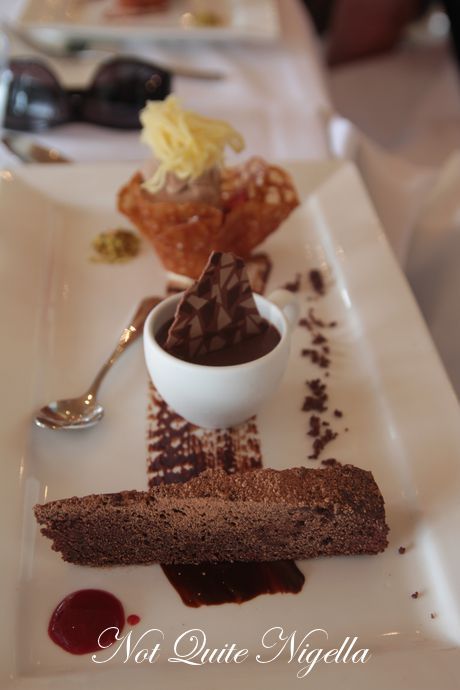 _ _
Valrhona chocolate tasting plate $30 served with 2009 Tamar Ridge Botrytis Riesling, West Tamar, Tas
_ _A lovely three part dessert this started off with a thin sliver of crumbly dry cocoa dusted cake, a petite pot of smooth as silk chocolate ganache in Valrhona 72% and a brandy snap basket filled with rockmelon balls and sweet strawberry slices and a house made chocolate ice cream. The chocolate pot is a favourite followed by the brandy basket.
Peppers also have an association with Masterchef and guests can choose to have a Masterchef experience with a copy of a the Masterchef cookbook, apron and an 8 course degustation menu matched with wine. Lunch goes all afternoon and there is also a twilight and lunchtime menu before the dinner menu commences.
When you think of the Whitsundays you tend to think of two things: sailing and pristine white beaches. But you don't really think of locavores or primary producers. Today's locavore tour is determined to change that. Run by Airlie Beach Hotel they take guests to visit four local farms where we will gather ingredients for a dinner and then sit down at their restaurant Capers for a three course meal using these products.
And somehow the reverse rain dances and the pleading while looking plaintively at the sky seems to have worked. I didn't much fancy visiting farms in the rainy weather and what do you know but the clouds lift and part during lunch to reveal...is that the sky? Sunshine beams down and the temperature swells and the humidity rises. We arrive at the Airlie Beach hotel and after being offered a bottle of water we pile onto a bus with the hotel's General Manager Mark on the microphone. He explains the day's proceedings that will culminate in a dinner and an 8pm finish. Bliss, just enough time to enjoy the spa bath in our rooms.
Our first stop is Whitsundays Hydroponics where Ros and Lok Shim grow a proliferation of lettuces hydroponically on their 130 tables. Each lettuce takes 2 months from seed to completion and when asked how many she grows here Ros laughs and says sheepishly "I don't know". These are then sold onto restaurants and markets. She shows us the pearlite that the lettuce grows in and tells us that it puffs up like popcorn in the water. The only pests they get are caterpillars and bugs although larger pests like ducks are not a issue.
Picking some lettuces
Our next stop is a five acre farm that grows a variety of fruit and macadamia nuts. Previously a rocky landscape with a single mango tree there are now lychee, mango, mulberry (and white mulberry), cumquat and lemon trees among other more unusual trees like jabacoda which is a brazilian fruit that resembles a grape and looks like a black cherry when ripe. Here David and his wife Lynie grow eight varieties of mango and have 150 trees and supply to the hotel's restaurant.
Brazilian cherry fruit which grows on the actual branches of a tree
That little green bud will turn into a mango
We also take the opportunity for some afternoon tea-a cup of fresh lemon myrtle tea which is steeped lemon myrtle leaves in hot water and scones with home made jam and cream.
I buy some dried banana for dried fruit freak Mr NQN
On our way to our next stop we pass by some paperbark trees where they often get supplies for paperbark to wrap seafood in.
We stop and pick some lemon myrtle leaves which are amazingly pungent and heady. And did you know that you need 1 tonne of lemon myrtle leaves to make 1 litre of lemon myrtle oil?
Beefalo
Baby beefalo
Our last farm stop of the day is Whitsundays Beefalo. Yep you heard right, beefalo! It's a cross between American buffalo or bison and Droughtmaster beef. This produces a low cholesterol meat that has the same amount of cholesterol as fish. Because they are a cross breed there is less consistency Christine says.
On the other end of the fat spectrum are the Berkshire pigs which are the special back pigs that has a wonderfully marbled meat aka the wagyu of pork. The beefalo are free range and grass fed while the pigs are fed a vegetarian feed as they find fish based feed affects the flavour of the pork negatively. Christina does not believe in grain feeding cattle because it not only presents health problems as cattle aren't built to digest grain but also because we miss out on the crucial Omega 3's that come from grass fed beef.
Hello sweet ones!
All of the pigs are allowed to roam free within their areas and none are born on concrete. two sows have had litters and it's a hard heart that can resist the pink snouted black piglets. I want to put one under each arm and run away!
And here on the farm is where we start the first course of our tour dinner with a fantastic creamy pumpkin soup with pieces of Berkshire bacon from the farms. It's creamy and smooth and full of flavour and I need to stop myself from finishing the whole bowl knowing that we have a three course meal waiting for us.
Coral trout
Saying goodbye to the beefalo and the pigs, we make our way back to the hotel in the town centre. The first drink is complimentary at the bar and we take a seat at the table set up for us. And just as promised, within 15 minutes our entree arrives. It's a  coral trout fillet with paper bark wrapped prawns and a tomato, corn, capsicum and crab salsa. The fish is excellent-succulent and tasty and given a richness from the generous amount of crab, corn and capsicum salsa which is heavy in the crab.
Chef Tim Whitehorn
And when we take a peek at the regular menu we see that there is a locally caught fish fillet main that has a guaranteed 80% local content and a "Made in the Whitsundays" main with a minimum 50% Whitsundays local produce content, POA (Price on Application).
Cassoulet and eye fillet
_ _
Green salad using lettuces picked that afternoon
_ _The cassoulet was a rich dish and being a regional area we suppose that beef reigns supreme. Whilst I would not have ordered this in this weather I do enjoy the Berkshire pork belly and beefalo cassoulet which is just packed with flavour and is a fall apart texture. The eye fillet is cooked well done so I leave this as I don't enjoy well done meat but the cassoulet? Well I just had to ask for that recipe. The first cooking takes about six hours and this cassoulet is about two weeks old with rich flavours. Am I game to make this at home? Absolutely!
Fruit salad
_ _And it's not often I go for a fruit salad but in hot, sticky weather then there's nothing better (apart from ice cream). The strawberries are exquisitely sweet, there is also sweet mango flesh and just for balance, some passionfruit as well as some vanilla panna cotta cubes and finely chiffonade mint to freshen it up even further.
The next morning after a refreshingly good night's sleep. The night before I fell asleep as soon as my head hit the pillow and there are some noisy neighbours that seem to like yelling and beating their chest and stomping about which is odd for this calibre of accommodation.
Now I know this sounds boring but I love just staying in a hotel room and ordering room service for breakfast. However most hotels don't offer room service as part of their package. But here at Peppers as breakfast downstairs is a la carte so room service breakfast is not a problem. When I wake up I place an order for breakfast and potter around enjoying the room.
Don't look at me that way... I was hungry ok? ;)
_
_
Kenilworth vintage cheddar omelette $19
Within about twenty minutes the breakfast arrives and the Neanderthals above my room have taken to their balcony so I flee inside for my breakfast (thank goodness for the iPod docking station that drowns out their grunts). I dig into my omelette. It's not bad with a nice slightly sharp cheddar mixed in and its well seasoned although slightly deflated. It comes with sauteed mushrooms and rocket.
Gourmet champagne breakfast platter $26
I couldn't resist the fruit breakfast platter as the sound of tropical fruit was calling to me. It's not quite the tropical fruit I was envisaging with no tropical food really. Instead there is granny smith apple, kiwifruit, strawberries and  orange. There are also raspberry muffins and a wedge of Kingaroy double soft brie, apricots, walnuts and crackers which I devour as I love a nice soft brie. The fruit was supposed to have a vanilla and black pepper dressing but this was missing. And yes the paper cup looks odd but that's the way the do room service tea as they tell us that they don't have enough pots. So the best thing to do is make the tea yourself as they have pots and teabags (no loose leaf) in the room.
And with that breakfast, I think I'm ready to see the day and visit our next port of call. Which Whitsundays Island is next? Stay tuned, Dear Reader!
So tell me Dear Reader, when you stay at a hotel, do you like ordering room service?