Out of the Whitsundays' seventy four islands, a mere eight are inhabited and the Northern most is Hayman Island, our third and final stop on our Whitsundays tour. Made famous recently by the devastation by two cyclones, the island had to be revamped, replanted, replenished and rebuffed. Enter the likes of Jamie Durie who was called in to tend to the gardens (and apparently he has expensive taste and required the buying up of thousands of exotic plants and clearing out exotic plant nurseries!). Reopened, slick and glowing at the beginning of August this year, we were curious to see what it was like.
We start our journey to Hayman by seaplane with Air Whitsundays where the seaplanes can go on both water and then land using their wheels. The flight to Hayman is only 10 minutes long as compared to 40 minutes by boat and we fly over water that turns from turquoise to the brightest blue passing other islands like South Molle and Hook island on the right.
And while I was mentally preparing to get on a dinghy the plane lands on the water with a small burst of foam before climbing up the ramp and depositing us dry and surprised on Hayman Island. Oh yes that deserved a round of applause and a happy dance :)
Our luggage gets whisked away (I just love it darlings when they deal with it for you) and we take the golf buggy ride to the main area where we check in. My first thought is that it the design and weather reminds me of one of those lovely resorts in Asia where they seem to strike the right atmosphere.
We have a pool room as this is the entry level of room so named because it faces the pool. The room is small, you can't argue that, but it's nicely furnished and I like the open plan bathroom and how the bath looks onto the bedroom which looks onto the pool. The design flows nicely.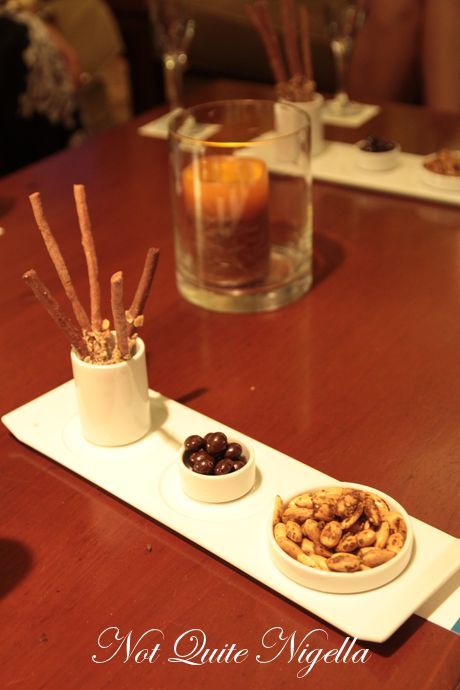 I shower and dress for dinner in a nanosecond (I have to say that shower recess is small and you do end up wetting the floor outside) and we reconvene and walk to the bar where we have pre dinner champagne before being told of our special treat that evening. We are to dine at the Chef's Table adjacent to the kitchen. Hayman Island is known for its food with a focus on fine dining eschewing resort style buffets that bloat with the best intentions. Here chef Glenn Bacon (yes with a name like that he really did have to become a chef) turns out exquisite portions in a kitchen that is apparently the second largest in the southern hemisphere, second only to Crown Casino.
We make our way to the kitchen via a small entrance clearly not made for guests. It feels a little bit hidden and exciting  and we walk through the Fontaine kitchen named after the hotel's main restaurant. There are chandeliers sparkling in the distance and an enormous table is set up for us. We are dining in the area of the Grand Manger room and the butchery although Glenn points out that "not all butchers have a grand piano."
The menu has a little description of the concept for the evening. It tells us that the chef's table originated in Europe in the 18th century when chefs would serve patrons dishes not normally available on the menu. And on tonight's menu there are some dishes that are only available through the chef's table (including a sublime strawberry dessert, but I'm getting ahead of myself there!).
Chef Glenn Bacon
The chef's table experience happens once a week and needs to be booked ahead of time but for more spur of the moment requests there is also the chef's bench experience which is a fourteen course dinner that can accommodate two people.
Table setting that includes tweezers
Delicious bread basket-but my strategy was to not fill up on bread!
Compressed kingfish, avruga yogurt, green apple noodles served with NV Moet et Chandon Brut Imperial, Epernay, Champagne France
_ _Our dishes come out quickly and I noticed that the first set of cutlery had a pair of culinary tweezers which are meant to be like chopsticks. Our first dish is compressed kingfish marinated in sea salt and extra virgin olive oil  and then vacuum sealed. It is served on a combed stripe of avruga caviar yogurt with little cubes of green apple and chilli and some slippery fall apart tangy green apple noodles. I normally love raw kingfish but I felt like there was something missing in this.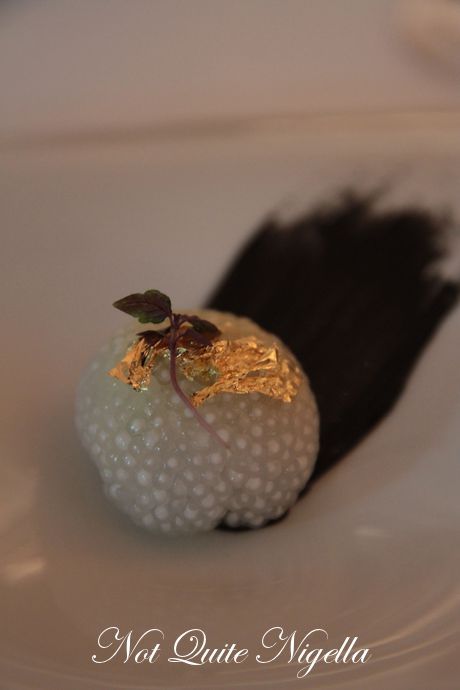 Two episodes of Queensland sand crab. One: pearls with ink
_ _This instantly reminded me of the sea pearls at Quay and I loved this tasty morsel with crab infused tapioca surrounding a mound of crab and lime. Glenn introduces every course and he explains the black slick as squid ink mixed with mayonnaise  as "everything tastes better with mayonnaise" (I love the stuff so I couldn't agree more). It is then finished off with a bit of 24 karat gold leaf. I immediately wanted a dozen more.
Two: truffled pumpkin, coriander sprouts, scratchings, pistachio crumble served with 2005 Stonier reserve Chardonnay, Mornington Peninsula, Victoria
_ _This dish used the last of the Manjimup truffles from W.A. for this year and the sweetness of the pumpkin and truffle bavarois tube, pumpkin puree dots went well with the pieces of draped crab and crunchy pork scratchings. It was heady and sweet and I do love black truffles with sweet flavour and this delivered in spades.
_Lamb shoulder, gently smoked under cherry wood, pickled cherries, organic quinoa served with 2007 Wither Hills "Taylor River" Pinot Noir, Marlborough NZ
_
Presented under a canopy of glass revealing smoke that faded away to clear, the lamb shoulder was gorgeously, unctuously soft  and Glenn explains that it was cooked for 24 hours at 62C to give it that desirably soft quality. The quinoa is flavoured with butter, rosemary and parsley and lamb jus. And this disappeared in about four bites it was so good.
Grainge fillet "carpet bag" served with 1999 Wendouree Cab Sauvignon, Clare Valley, SA
It's funny how a full tummy can make room for more food when your will to eat it surpasses the sensation of fullness (and that's without activating the emergency dessert stomach). The steak was wrapped in jamon iberico and then split in half and filled with a native Angassi oyster aka carpet bagged. The steak itself was cooked medium rare as ordered. It sat on a sweet onion velvet puree and came with a sweet shredded beetroot tart which complemented the salty oyster and steak with its inherent sweetness.
Frozen Hayman Sloe Gin martini
Now you could either serve sorbet in a shot glass or... you could serve it like this! And I think doing it in the latter fashion is likely to win friends and influence people a lot better. I've seen this done at Wolgan Valley and on tv where it was made in a balloon but chef Glenn remains mysterious about how the ice sculptture was made (with a balloon ;)). There is a scoop of 24 karat gold leaf on top of a frightfully good and superbly refreshing Chambord and pineapple gin martini.
starting to melt...
Melting...
Strawberry cheese cake implosion served with 2009 Alasia Moscato D'Asti, DOCG, Piemonte, Italia
I'm all for a bit of theatre at the table and on each plate was a sphere of white chocolate. Glenn brought around a teapot of hot strawberry coulis which he poured over each paper thin sphere which then melted to reveal a disc of soft cheesecake coated in crumbs and a scoop of strawberry ice cream, some dehydrated strawberries and pop rocks. I loved this dessert and even though I usually take a couple of bites of dessert and move on, I have to finish it as I am a sucker for strawberries and cream.
Valrhona manjari chocolate biscuit souffle, frozen honey comb mascarpone served with Valdespino 'El Candado" Pedro Ximenez, Jerez, Spain
_ _I've failed you Dear Reader, you see I had no room for this having bargained away my stomach space on the previous dessert. I am also not a big chocolate dessert eater at the end of a degustation. I tried some though and it is not so much a traditional souffle as it is a fondant with a soft, liquidey centre of chocolate. It sits on two chocolate biscuits sandwiching a disc of frozen honey comb mascarpone. And the red in the bowl? Why that is coloured cocoa butter.
Dinner is not quite done yet. After all there's no dinner without some petit fours which we get boxed up ready to take back home with us. And we are offered a tour from one of the chefs. He shows us the various kitchens and staff kitchens which need to feed 400 staff breakfast lunch and dinner.
Pastry chef Adonis
We take a look at the chocolate room where Valrhona, Callebaut and Cocoa Barry chocolates sit alongside chocolate sculptures.
And we conclude the tour with a visit to the Fontaine cellar where sommelier Alex pours us all a nightcap and shows us some rather precious bottles including a Château Haut-Brion from 1926 priced at $11,000. There is a Penfolds Grange from 1965 and an Armand de Brignac champagne at $1,600 a bottle.
Château Haut-Brion
Armand de Brignac
When we return to our rooms there is a boxed chocolate on our beds, a bottle of water and a pair of slippers waiting for us by the bedside table. I draw a bath - there are times when you just have to forget tiredness and make use of a lovely bath and call Mr NQN before slipping into bed and dreaming the night away.
The next morning the wake is cruel. The day before I had been allowed a sleep in so of course I awoke at 7:30am but this morning I had to get up at 7:30am and I couldn't muster up the energy to turn off the alarm. But I know that I have breakfast and a massage waiting for me so that's pretty strong motivation!
I make my way down to the Azure restaurant which is enormous and has a wide range of goodies including some interesting items like Berlin balls (custard filled donuts) and Philippino butter rolls which are sweet, soft and buttery and topped with finely shredded cheese.
I am not much of a breakfast eater (except at 10pm ;) ) but you wouldn't be able to tell from the amount that I loaded onto my plate could you? For starters there is the pancake machine and the ice cream machine that I bypassed in favour of the French toast (a bit more soaked and eggy would have been better) and the displays of yogurt and fruit are like a shop where you can just help yourself.
I take a Yalla banana yogurt which is creamy and moreish (and best not look at the amount of fat in each pot! ;) ). But it's yogurt right and it's dairy and calcium? I'll be saying that all the way to the fat farm. All of the cooked breakfast items are housed in blue Le Creuset pots and you help yourself to everything.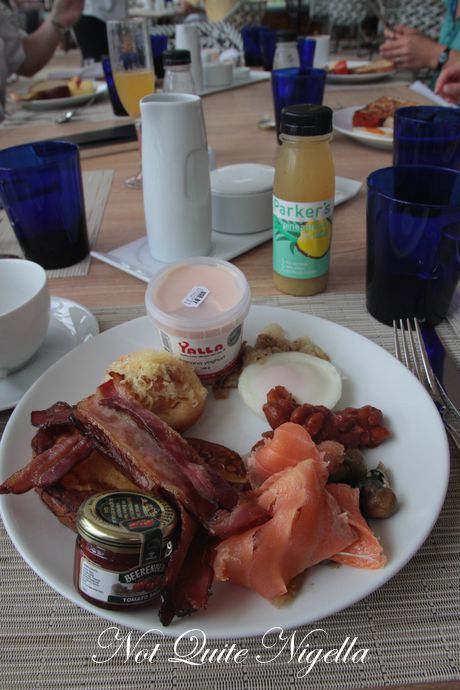 My favourites were the smoked salmon and the baked beans and mushrooms. There was also a juice bar where you could help yourself to Parker's organic juices. The pulpy pineapple and mint had a tropical touch to it.
Sparkling wine for breakfast?
Before I know it, it's time for me to make my way to the spa where I am booked in for a deep tissue massage. The spa has two sides, a side for the massages and Vichy showers on the left and on the right there is the garden rooms that reminds me of the Qantas first class spa rooms at Sydney airport with lush greenery. These rooms are for the facials.
I change in the ladies lounge into a robe and slippers and relax in another room where I fill in the forms.I'm introduced to my massage therapist Cara who takes me into the room to discuss the areas that I want particular attention paid to.
Cara works the muscles firmly checking if the pressure is ok. She uses long strokes and her elbows to get in deep and never loses contact with the skin. She uses a total of four fragrant and therapetuic sprays on me including a menthol spray on my back which is very hot-a bit too hot for me but I have sensitive skin. I turn over and she attends to all of the areas that are the sorest -my arms and hands and my head which always seem to have a permanent headache attached to it (it's not a tu- mah!).
The last touch is a spray from Pevonia one which smells heavenly. And before I float away I feel the towel uncovered on my feet and she slips a slipper on each foot and the robe over me. Afterwards I get a quick consultation where she shows me two products and I get changed. Guests are also offered the use of the sauna and spa after their treatment but alas I am on on the opposite of Island time and am due to check out. Back in the room I take a quick shower, wash my hair. The amenities are dispensed from large bottles and smell fantastic although a body lotion wouldn't go astray. And somehow during this process the porters whisk away my bags for me!
We make our way onto Hayman Island's boat where they offer sparkling wine, juice or water as well as a little snack plate with a smoked salmon sandwich, a caponata tart, house baked cookies and a boxed chocolate truffle.
But the Whitsundays haven't finished bewitching us and lulling us into their sense of island time. On the way back we catch sight in the distance of two whales breaching which they continue to do for what seems like minutes. I almost don't want to look at my clock.
So tell me Dear Reader, have you ever tried a chef's table or would you be interested in trying one? Or would you prefer to eat in the dining room?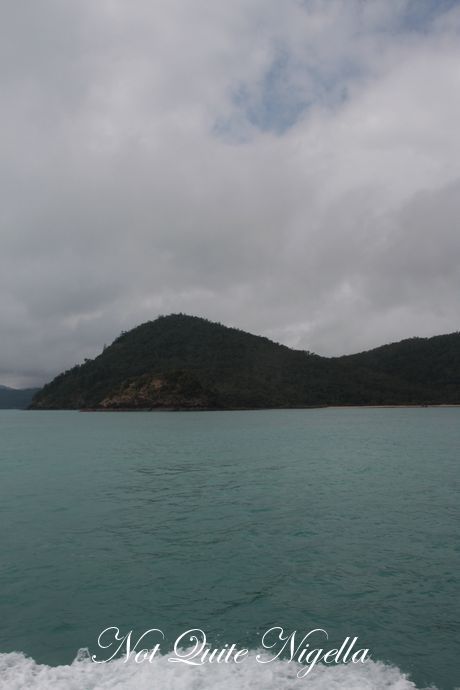 NQN travelled to and explored the Whitsundays as a guest of Tourism Queensland and Tourism Whitsundays
Hayman Island
www.hayman.com.au