"I think I can see cats" I say to my fellow travelling companions who are all similarly spaced out from the flight that we have just taken from Sydney to Edmonton. We had endured a 15 hour airline flight only to board another flight and by the end of the day we would have been up for over 24 hours. Still, there's nothing like a Canadian welcome to help you stay awake.
I decided that the best way to beat the already too long Sydney Winter weather was to head north like the geese (or was that south? Oh well I could never fly anyway). And heading North meant another visit to one of my favourite destinations, Canada. I had previously visited Montreal, Quebec and Vancouver but this time I was destined for Edmonton and Jasper. I think that you could play spot the tourist quite easily with us in Canada. The non Canadians are the ones looking the wrong way and driving on the wrong side of the road. They're also the ones that are stopping with excitement when they see two deer frolicking on the roadside.
Yes on the way to Jasper deer on the roadside is a common occurrence (and sadly I didn't have camera at the ready to capture them). We take the four hour drive from Edmonton to Jasper, the beautiful mountainside area just south west of Edmonton. Built within a national park they can only have a maximum of 10,000 residents living there and each one has to earn the right to reside there. Only people that work in Jasper can live in Jasper ensuring that there aren't empty holiday houses there during the year. At the moment there are 4,500 residents and 39 restaurants which means that there is one restaurant per 116 residents!
Jasper is a pretty town and the buildings remind us of European towns. Little boutique shops sell a variety of things and seeing the temperature has lowered quite a few degrees, I am glad that I bought my coat!
We alight the bus and are chomping at the bit to go shopping but lunch calls and we head into Earls on the Rockies which has a first floor restaurant and patio area that faces right onto The Rockies and the township below. The menu is large and I have a little trouble deciding what to order but I go for an entree and a main regretting the fact that we don't have time to try any of the desserts (the campfire s'mores were calling to me).
Leroy's Crispy Dry Ribs coarse salt and cracked pepper $9.75
I tried these as I had read about them but the little pieces of crispy dry ribs were a little too dry for me. I know it says dry but I thought a fattier cut of pork rib would have been better to use for this to give them a balance between juicy and dry.
Grilled Chicken and Baked Brie Ciabatta $13.50
The grilled chicken and baked brie sandwich is delicious. The chicken breast grilled and thick and the baked brie, fig jam and slices of fresh apple giving it a sweet freshness. It comes with a load of chips and sauce.
Lois Lake Cedar Planked Salmon with Yogurt Dill Sauce fresh dill, yogurt, salt and pepper, brown basmati rice and seasonal vegetables $23.00
_ _I was trying to be healthy so I ordered the salmon which is served with a yogurt dill sauce, kipfler potatoes and roasted carrots. The salmon was a little overcooked, I do like it only just cooked through or even slightly underdone but the potatoes and carrots were well cooked and seasoned. I wasn't a huge fan of the yogurt sauce on the salmon, usually I do like yogurt sauces but I didn't feel that this went well with it and the salmon would have benefited from just the fresh dill and lemon.
The Italia pizza $15
_ _
Los Cabos Chicken Tacos $11.00
Now by this stage I don't really know my fellow travellers and journalists as we have just met so I'm not ballsy enough to ask them to try their food. But give me time... ;)
Champagne Berry and Spinach Salad with Grilled Chicken $15.75
Hunan Kung Pao $13
The view from the balcony at Earls Jasper
We are dying to have a wander around the gorgeous little town to see what they have to offer. We pass plenty of charming shops (backed by a stunning mountain backdrop) where we take a peek inside.
And what do we have here? Why cookie cutters!
I think I will definitely have to buy you Mr Moose!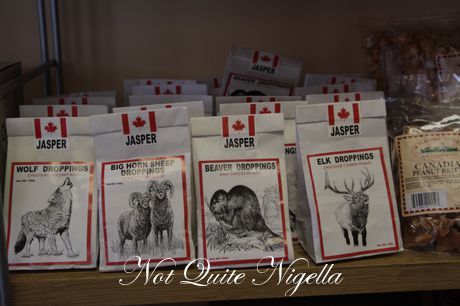 And I know Mr NQN will love some chocolate elk, beaver, sheep and wolf "droppings" ;)
Some gorgeous clothing (vintage and new) at Tea Leaf boutique
Oh hello there! A big horned sheep
_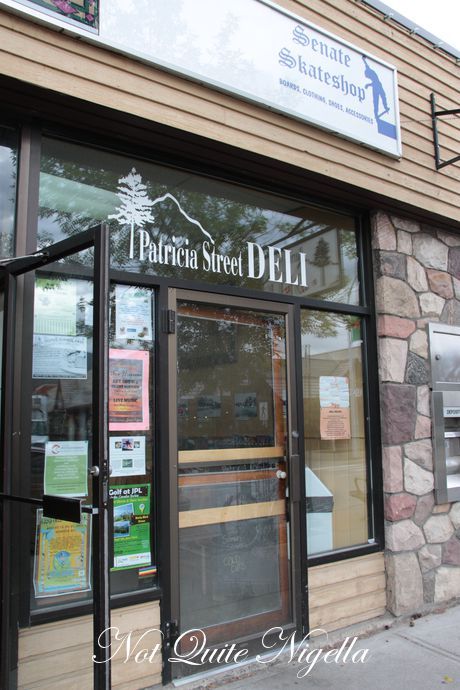 _
Because I had managed to lose my voice the lovely Sam offered to be my interpreter as I wanted to visit a few places and do some shopping and people tend to look at your strangely if you whisper hoarse things to them. We walked into the Patricia Street deli which was voted the number 1 place to eat in Jasper according to Tripadvisor. Inside it doesn't look like your typical Australian/Italian/European deli but there is one thing in common-a delicious smell. We watch as a queue of people who are eagerly queuing up for a bespoke sandwich of their choice.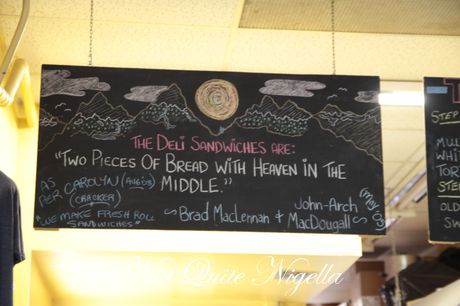 They are known for their rotisserie chicken so I wanted to try a roll with this chicken but with whatever else they recommended. Jeanette who owns and runs the deli and along with her husband Glen asked me if there was anything on the menu list on the chalkboard above that I didn't like and there wasn't so they made me a fresh sandwich. I spied two trays of freshly baked chocolate chip and oatmeal cookies and ordered some for good measure (research luvvies, research!) and then spy some girl scout cookies and get excited. I know it mustn't be exciting for Canadians or Americans but I recall seeing those on my favourite tv shows growing up and I always wondered what they were like so I buy those too for good measure.
Chicken sandwich $7.50
Eager to try my sandwich I unwrap it from its waxed paper wrapping where it resembles a giant wrapped lollie. It has been cut into half and is neatly layered. I take a bit into the bread, a multigrain roll with a light crunchy outer and soft, fresh interior and I swoon. It is a delightfully good sandwich with slices of the tender rotisserie chicken which trumps other chicken in sandwiches because it has that lovely rotisserie flavour and aroma. In fact it was what I could smell as soon as I unwrapped it. There were pickles, salad and cheese added to it and I prolong the sandwich by taking small bites of it. And as I'm writing it now I'd love another but alas it is a long drive back to Canada...
Cookies $2 each
The cookies are also good with a generous portion of chocolate chunks and a light but present oatmeal flavour.
_
_
Sam's favourite item-moose binoculars!
Sam and I do some shopping where we spy an odd and funny assortment of things. What do you think these are? Why they are moose binoculars! Because of course you might be hiding in the woods looking for moose. Sam buys some of these fill 'em up powdered sweets and fills them with rainbow colours from the Candy Bear Lair where there are chocolate apples, chocolate treats in bear shapes and all sorts of fudges.
A bear take on the three wolf moon tshirt!
We take a drive to the Jasper Tramway which provides an eagle's eye view of the Athabasca Valley and Jasper National Park. Unfortunately today there have been some high winds and we aren't able to ascend the 2,277 metres or 7,472  feet. _
_
If you are after a killer view of Jasper, then this is the best way to see it. Once you reach the top, you can enjoy a hot chocolate which some of our group did the next day (sadly I succumbed to illness and was at the doctor's at the time and had to miss it but from all reports it was spectacular).
The "Old Man" in the mountain
"No one is allowed to leave Jasper without seeing the old man in the mountain" Mary says to us. Can you see him above? He is in a reclining position with his right profile in shot. Still lost? His prominent chin is the darker shaded area or just look for his nose which is the highest peak.
We're off to check into our home for the next two nights at the Fairmont Jasper Park Lodge. Now I do like Fairmont hotels and I break my rule of not staying at chain hotels for them easily as each hotel has its own distinct personality and the Fairmont chain also has an environmental initiative where each hotel is provided with a budget to undertake their own contribution to helping the environment.
We drive through the grounds in a golf buggy and make our way across the 120 acres and 440 plus guest rooms. It's an enormous property complete with a boutique boulevard and beautiful grounds that appear to be well maintained. We pass a stunning lake and then some wooden cabins. Then we pass blocks of apartments also built out of wood.
They greet us with our keys(old fashioned actual keys) and we make our way to our rooms. My room is 247, a Fairmont level room, and is on the second floor of a block of rooms. It's a bit old fashioned and needs a bit of an update. Perhaps the other rooms are newer but the grounds are definitely more of an attraction than the rooms themselves. The bathroom is very small and you couldn't have more than one person in there at a time and there is a patio outside although this was made less attractive a prospect due to numerous cobwebs. However inside the room it is clean and there is a cheese and fruit plate to greet us.
There are some nice Fairmont touches like plush robes and a good toiletries selection and the staff are excellent and very deferential as they are at all Fairmonts. And the Fairmont beds are among the most consistently comfortable that I've tried and I always collapse in them and am asleep within seconds (no mean feat for someone who has trouble falling asleep and meditating). I even looked into buying one for our place in Sydney but alas the shipping was prohibitively high.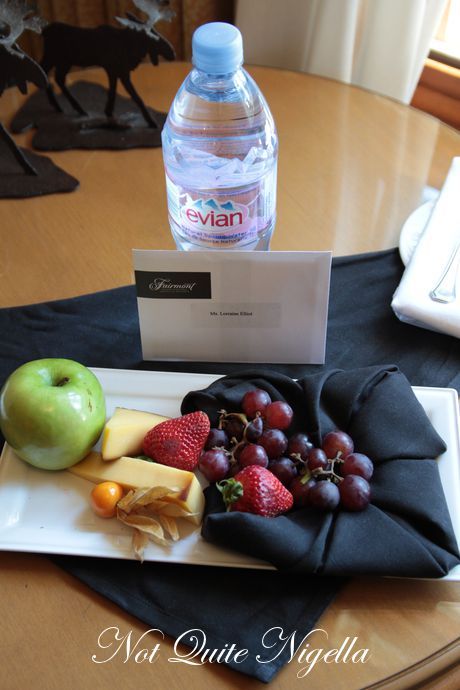 The internet is fast (and complimentary if you are a Fairmont President's Club member as I am) but on the flipside there were no slippers or minibar. Overall, it's a different experience from our other Fairmont experiences which are replete with special touches and we all felt that the Jasper Park Lodge's rooms need an update to bring them in line with the lovely main lobby and grounds.
After freshening up and doing some work I get ready to go out to dinner. Which brings me to one of my favourite meals in Jasper. Tekarra Lodge is well known around these parts and internationally as the lodge has hosted guests such as Marilyn Monroe, John Travolta and Lance Armstrong. Their cabin lodges have no television, internet or phone to help people escape the rat race but what they lack for in communication they make up with food. Even though we were all stuffed to the gills from lunch there was no way that anyone was missing this dinner. The restaurant itself is housed in a separate building and inside it is dimly lit with a fireplace and it instantly feels enveloping and calming.
Chef David George Husereau comes out to greet us and we take a look at the menu. Mary from Jasper Tourism tells us that every summer David closes down the restaurant and visits the United States to gain inspiration. He is a colourful personality and was shortlisted for Top Chef Canada and describes vegetarians as "a whole lot of Mondays at once."  I'm tempted and encouraged to go for the three savoury courses plus a dessert course and in the interests of comprehensive research (yes I'm still towing that old bone), I have to admit that it sounds like a delightful idea. And because my fellow travellers (a mix of media and travel wholesalers) are wonderful they choose their dishes for maximum sampling and photographic opportunities. Our waiter Paul introduces himself and he is polite, warm and deferential.
Crispy Spiny Lobster Roll with Tobiko, Sweet Chili, Chinese Mustard and Shoyu $13
I couldn't go past the crispy lobster roll because I do adore Japanese food. This was a sushi roll filled with lobster, tobiko (flying fish roe) , sweet chilli as well Chinese mustard which was quite mild and it hits all the perfect notes. There's a bit of ginger amongst the creamy sauce and there is a side serve of fresh salad with cucumber, tomato and onion.
Juniper rubbed "Sous Vide" Bison with Mushroom Antipasto, Housemade Ricotta, Pine Nut and Truffle Oil $15
I tried a little of Fernando's juniper rubbed sous vide bison which was thinly sliced and topped with a finely sliced mushroom antipasto, little dabs of house made ricotta and a pine nut truffle oil. It was one of those bites where you really appreciate the balance of flavours.
Trio of Wild Salmon-Premises Smoked Sockeye with Horseradish Vodka Foam; Ponzu Marinated Pepper Crusted with Sweet Onion-Tempura Salmon and Pea Shoot Roll, Wasabi Lime Butter $19
One of the more popular entrees was the trio of wild salmon and this dish came with a little theatre. A small glass dome was lifted to reveal a little smoke for the hot smoked salmon in the centre. I tried some of Tina's dish and I particularly adored the ponzu marinated pepper crusted salmon with a sweet onion tempura followed by the pea shoot sushi roll with a very light hint of wasabi lime butter. Lastly was the very smoked salmon which is really more for fans of heavy smoking.
Hutterite Chicken Noodle Soup with Foie Gras/Smoked Chicken Tortellini in Consomme $12
Poured at the table, I ordered this chicken soup on the waiter's recommendation and because I was interested to try a Hutterite recipe. Hutterites are a type of people similar to the Amish or Mormon with a presence in Alberta. The chicken soup has three home made pasta tortellinis filled with a lovely smoked chicken and foie gras filling. The soup itself which is just what I need with my ailing throat, is a dark chicken soup quite heavy in thyme (a bit too heavy for me) with a secondary taste of celery.
"Sous Vide" Venison Loin with Minted Squash Puree and Alberta Rose Hip Jus $44
My venison was sous vided for 20 hours at 104 fahrenheit giving it a tenderness but it also was more cooked through as I am used to it rare inside and the sous viding and subsequent cooking through actually gives it a different flavour. It comes with two sweeteners, a minted squash puree which is naturally sweet and an Alberta rose hip jus which went well with the venison.
Macadamia Crusted Lamb Rack with Crisp Truffle Mashed Potato $35
Tina's lamb rack was tender with a delicious macadamia crust on top which was crunchy and crispy giving the tender lamb a nice contrast.
Alberta Beef Fillet with Uptown "Scalloped" Potato, Natural Jus, Caramelized Onion $42
I try some of Fernando's Alberta beef fillet with a neat rectangle of scalloped potato, a natural jus and sweet caramelised onion and it is sensational. In fact it is probably my favourite of the mains. The beef has a wonderful char on the outside and is cooked perfectly medium rare on the inside. I don't want to give it back but really Fernando doesn't really know me that well and he works for one of the two main news sites in Australia so he could spread some rumours of food thieving!
"The Duck"-2 Preparations, Crisp Confit Duck Leg and Seared Muscovy Breast with BC Cherry $35
I try some of Mariam's duck-the seared muscovy breast is excellent particularly when paired with the soft, sweet British Columbia cherries although the confit is a little salty and not quite as lusciously soft as I've had.
The Muse Plate $20
What is that boy scout saying? When in doubt always choose the dessert platter? Or perhaps that was just mine. When we ordered this with our waiter Paul he recommended that we get a separate order of the souffle because once you try it you just must have more.
This plate featured a ginger steeped creme brulee which had an afterkick of ginger, apple shortbread cake with almond which was good with a lot of pastry. There was also a fantastically smooth and creamy maple fudge which was surprisingly my favourite out of the plate and their signature warm Callebaut chocolate souffle which was really more a liquid centred fondant than a souffle. As a fondant it was delicious and Fernando manages to down several of them when we fail to finish them as we are too full.
Voice completely gone now we get a taxi back to the hotel. And since the grounds are so big and everyone seems to know or have worked at Jasper Park Lodge at one time, the taxi drivers here don't mind taking you straight to your door which is a nice touch. And the taxi drivers we had in Jasper were friendly. The taxi driver this evening tells us about the Northern Lights and another time we get a taxi driver who was a young internet success story who moved from Toronto  to drive taxis in Jasper because he just loved talking to tourists. I guess it's that kind of town.
So tell me Dear Reader, could you see the old man in the mountain? And if you made a tidy fortune like our taxi driver did what would you do with yourself?
NQN travelled and explored Canada as a guest of Tourism Edmonton, Tourism Jasper and Travel Alberta
Earls In The Rockies
2nd floor, 600 Patricia St, Jasper, Jasper National Park, Alberta, Canada
Tel: +1 (780)852-2393
Patricia Street Deli
606 Patricia St, Jasper, Jasper National Park, Alberta, Canada
Tel: +1 (780) 852-4814
Jasper Tramway
Whistlers Mountain Road Jasper, Jasper National Park, Alberta, Canada
Tel: +1 (780) 852 3093
Jasper Park Lodge
Old Lodge Road Jasper, Jasper, Jasper National Park, Alberta, Canada
Tekarra Lodge
Highway 93A South, Jasper, Jasper National Park, Alberta, Canada
Tel: +1 (780) 852 3058