Now last time I told you all about the high end of Jasper, Canada. How about the fun and wild side of Jasper? One that has me donning buttless leather chaps (no perhaps not what you were thinking ;)), eating "evil" food and visiting a brewery for a beer sampler that looks a bit like this?
Papa George's
I was still jetlagged and with the start of laryngitis, it was a hard night sleeping and the alarm sounds at 6am. Prying open my eyes and getting out bed I get ready for this morning's breakfast at Papa George's on one of the two main streets of Jasper called Connaught. Even though it is Summer we should have packed more warm clothes and worn double socks because it is cold! In fact you can tell the native Jasperites or Canadians because they're the ones wearing shorts and short sleeved tshirts
Papa George's has a few tempting items and I'm having trouble narrowing it down but thankfully Tina and I have paired up and we share items. I try the Papa Skillet Carnivore and order an orange juice. Service wise, there's one lovely New Zealand born waitress and a couple not quite as cheerful and we seem more of an annoyance to her than anything else.
Orange juice, small $4
The freshly squeezed (well not to order but freshly squeezed that morning) was wonderfully sweet and I downed every sip.
Papa Skillet Carnivore $13
_ _Well the menu did warn that this dish was mountain sized and it absolutely was. About 20 cm in diameter (silly me, I didn't bring my ruler along with me) it was piled high with chorizo sausage, bratwurst, capsicum and little hash brown nuggets smothered with cheese, green onions and a scrambled egg omelette as well as a serving of salsa and sour cream. And whilst it may look a bit too much, it was absolutely delicious. It was the undeniable favourite at the table (and at that size I shared it around) and the salsa and sour cream meant that it was a little bit spicy and a little bit creamy. I'm getting hungry thinking about this now and this has got to be the best value breakfast ever.
Breakfast burrito $12
I try some of Tina's breakfast burrito and the tortillas here are more corn burritos whereas we usually tend to see the softer flour tortillas in Australia. This warm corn tortilla is filled with two scrambled eggs, cheese, green onion and tomato and is also served with the sour cream and salsa. It's good but when you compare it to the Papa Skillet, size triumphs in all arenas! Like the Papa Skiller it is huge and most can only finish half of their burritos.
Our driver from SunDog, Carolyn with her floppy eared dog hat
Maligne Lake Tours
We are next off to Maligne Lake (pronounced Maleen) for a cruise out to tiny Spirit Island. It's about an hour's drive and on the way who better to show up for a curtain call than a black bear (which incidentally can come in all sorts of colours apart from black including white). We are alerted to this as there are cars up ahead that have themselves slowed down for a look. All wildlife, including things like Elk are best left alone and the recommend a distance of at least two buses away when interacting with wildlife (we learned that from a taxi driver ;) ).
We make it to Maligne Lake and wait to board our boat and by now I have lost my voice if not my will to food shop.We spy some Nanaimo bars, that uniquely Canadian bar hailing from Nanaimo in BC.
We board our boat and our guide and driver proceed to entertain us with stories and information. It's their personalities and the killer view that make this a great trip and the perfectly aqua green water stuns us (although the guide tells us that it is an optical illusion).
We make it to Spirit Island which is a small island actually connected to the land for some photographs before heading back for some BBQ. There are freshly cooked bison and beef burgers with a drink for $10 (or $8 by themselves) and they are self assembly so you can add your cheese (yellow or orange slices), onion, pickles, tomato, lettuce, sauce and mayonnaise. It's actually very good with a nice moistness and char to the burger and the bun is also toasted.
We were supposed to go for a hike but I needed to see the doctor so Mariam and I went back into town to see a GP and test out the health care system for a complete change in itinerary. I've never really gotten to test overseas health care systems so this is a first. At the clinic in Jasper (the only one) they work by appointment only and to see the doctor it was $120CAD plus the cost of the two medicines ($38). Thankfully I have trusty travel insurance!
Jasper Brewing Company
So, what else do I need to show you? Oh that's right, beer! Lunch is at the Jasper Brewing Company or what they call a "roadhouse" and this is where we are confronted with a beer tasting that would make any beer lover happy. Many order the six beer sampler and expect small glasses of the beers. But no that's not what they had in mind and six beers are delivered in a wooden carrier.
Mini road side sliders $11.99
The menu, surprisingly, has an Asian influence to it in some of the menu items crossed with roadhouse favourites. I do love a good slider and these are three small cheeseburgers with sauteed onion and "the usual fixings". The buns are soft and fresh, the patty juicy and sweet with the onions and they are the perfect size for sharing.
Monkey fingers $11.99
I promise you these weren't actual monkey fingers-they were chicken tenders crumbed in, believe it or not, banana and panko! The banana doesn't really deliver much of a banana-ey flavour in itself but the fingers are excellent especially dipped in the sweet chili sauce. There is also a sweet mango curry which is tangy and also good with it.
Bang bang chicken wings $12.99
_ _The chicken wings were coated in a crunchy batter with the buffalo hot sauce. They're great and I chuckle as I think of my Canadian friend Gina who loves these very chicken wings served with crudites and blue cheese dip.
Sweet potato fries $9.99
The sweet potato fries are also crunchy and served with an utterly moreish dijon mustard aioli which I immediately had to ban myself from.
Crispy Thai beef salad $17.99
I was a little too full so I wasn't quite in the mood for the crispy Thai beef salad with a sesame vinaigrette and deep fried noodles and to be honest, I really preferred the starters that we had instead.
Crispy buffalo chicken sandwich $13.99
I did manage to sneak in a bit of Tina's buffalo chicken sandwich though and it was my favourite main with a crispy deep fried chicken fillet with bacon a light blue cheese dressing and cheese. The combination of the flavours was juuust right as Goldilocks would have said (and I think I've become a bit obsessed with bears now).
Double dip calamari $11.99
I didn't try this but can you believe that this is a starter size! :o
Cream Ale battered fish and chips $13.99 for two pieces
Jasper Motorcycle Tours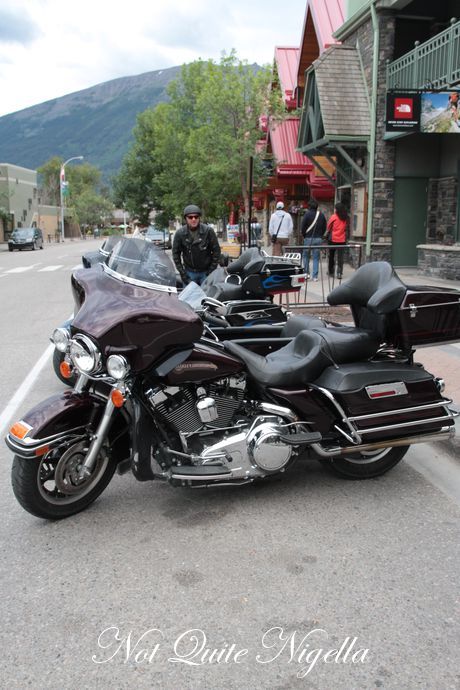 And even if I can't talk I can take a motorcycle ride. Our next stop is where we will strap on some leathers and ride on the backs of Harley Davidsons as well as a trip in a sidecar.
We arrive at the Jasper motorcycle company where we are to be suited up. Putting on the chaps is interesting and they pretty much do all the work (although a tip, don't wear a skirt like I did, I'm such a newbie to motorbike riding!). Chaps on, the next item of attire is a very clever heated vest that connects to the sidecar and the back seat of the bike. After that the leather jacket is added on top, a skull cap (and a face mask if you feel the cold) and then gloves, sunglasses nad a helmet.
Before today, I've never quite understood the appeal of motorbikes. They're always the noisy things that rev and make a lot of noise. Until I got on one of course. There are three Harley Davidsons lined up each with sidecars. And as soon as the engine grunts underneath us we are off for an 1 hour ride to explore the Jasper Outskirts with our biker guide Stanley. We will make our way up past Edith Cavell Mountain and look at the views of Athabasca valley.
People smile at the motorbikes and we watch a dad in his shiny sedan with his family in tow give us the thumbs up. The bikes catch people's attention and there is a wistful look on the faces of many of the men folk.
Stanley explains the environments and things of interest that we see. The trees that we pass have the bottom metre of bark scraped off and he tells us that is from the elk who rub the velvet on their antlers off against this.
When we reach the peak we take photos and swap seats and I get on the back of the bike. I've never ridden on the back of one before so this is an experience for me. The key is to hold onto the rider's waist and lean when he does. It's a fantastic experience and I see why people love it so much. The wind awakens you and the sights are so much closer. And what do we see? The two other bikes are up ahead and have slowed considerably which is a common sight in Jasper when wildlife appear.
A black bear (this one is considered "cinnamon" coloured)
Why it's a black bear only metres from us feeding! Although he isn't technically black in colour, this is one of the colours of the black bear come in and they consider this "cinnamon" coloured. We keep at a distance, ready should he dislike our company, before heading back to the town after an hour of cruising around and seeing the sights. And the price for this ride is a very reasonably $75 a person. Even though I couldn't speak, I whispered to them that I had a fantastic time.
I make my way back to my room where I do some work and bizarrely become absolutely ravenous by about 6pm (only surprising considering how much food we've had). We've got a reservation at Evil Dave's in the town centre. The original Evil Dave was the chef from Tekarra restaurant David Husereau who sold it onto current owner Mike and liked the sound of Evil Dave's so he kept the name. The slogan is "wicked food and great service" and all of the menu names have an amusing twist to them and true to the slogan our waitress Erin is fantastic.
Luscious Lollipop shrimp $11.99
Said to be their signature dish is a shrimp prawn lollipop breaded in coconut, deep fried and served on a stick. It comes with red currant, sweet chilli and mango mayonnaise sauce. Ours are good, the shrimp still quite juicy although the outside is a little over fried.
Cowboy sushi
They seem to like deep frying their sushi rolls here and this is no exception! Filled with grilled tenderloin it is wrapped in sushi rice and nori and then flash fried and served with a generous serve of wasabi aioli. I quite like these although there is a bit too much wasabi for me (yes I'm a wasabi chicken).
Beautiful Brie for two and bread $19.99
Now I know deep fried cheese isn't exactly healthy but this was everyone's favourite starter. It was an almond and panko crushed whole wheel of French brie which is crunchy golden sitting in a melange of sauces with pear puree, red currant sauce and balsamic. It has a wonderful combination of sweetness and tanginess from the balsamic but the brie iself has such a wonderfully crisp exterior and melty interior.
Malicious Salmon $28.99
OK entrees here are mains (like in America) which confuses our Australian and UK travellers. The malicious salmon is said to be their signature main and it features a portion of blackened Atlantic salmon topped with a sweet curry yogurt which actually tastes very similar to bearnaise sauce, and also comes with dill scented stir fried vegetables on a jasmine rice. The salmon is tasty especially with the sauce and the rice has an unusual texture, almost crunchy.
Nefarious chicken $21.99
I try some of Tina's Nerfarious chicken which is a panko crusted chicken breast paired which has that lovely crispness and crunchiness to it from the panko breadcrumbs, similar to the brie.
Mad Cow Lasagna $22.99
_
_
Glad Cow (vegetarian version) $19.99
Convicted Felon $24.99
Banana split for two $12.99
Now this is why I really like travelling with this particular bunch of people. Because when we were looking at ordering savouries we had already perused the dessert menu and decided that we wanted each and every one of the desserts. The banana split looks heavenly with three scoops of the Champan's vanilla ice cream, halved banana, raspberry coulis, chocolate and caramel sauce, flaked almonds, maraschino cherries and whipped cream. It's rich and we do our best but can't finsih it as it is a large serve.
Mousse head $9.99
I thought this might have come with pretzel sticks for ears to simulate a mousse head but perhaps I'm the only one silly enough to do that. It is a white chocolate mousse with blueberry compote served in a hot chocolate glass and is sweet with the white chocolate and blueberry. I would have preferred raspberry to the blueberry as I like the contrast between the tart raspberries and the sweet white chocolate.
Sinful Sundae $10.99
The sinful sundae is another rich, sweet concoction made with the Chapman's vanilla ice cream, chunks of double fudge brownie squares, a chocolate and caramel sauce and whipped cream. I must admit that I'm getting really full and all of the desserts are very similar so they're melding into one quickly!
Wicked cheesecake $9.99
The Wicked cheesecake is a toffee crunch cheesecake made with Skor bars which are similar to Dime or Daim bars-those terrifically delicious crunchy salted caramel and chocolate bars. It actually looked like a slice of bannoffee pie with the fluffy topping of whipped cream.
Iniquitous ice cream $4.99
I know, more ice cream! And although the desserts were nice, none of them really stood out to me because they were all quite similar. This one had all three toppings of raspberry, chocolate and caramel on it and although that is quite fun I think having just one would be wisest. It is a huge serve though for the price!
Baby brownie $4.99
A half serve of the double chocolate brownie I have to say that it is another large serve and looks like a full sized serve to me rather than a baby sized! It is a rich brownie wedge served on a raspberry coulis and some whipped cream. Nice and rich but not small at all! ;)
Elk bathing
But of course Jasper isn't quite done with us and we are not done with the "Wild" side of Jasper because what do we spot the next day on the way back to Edmonton but elk having a dip in the lake! We are greeted with a dazzling array of wildlife so perfectly timed that we wonder if Jasper Tourism weren't just staging this for us! ;)
_
_
The giveaway is of course the huge crowd lined up and they seem content being only a few metres away and appear used to people completely unspooked by the fact that we are only metres away. We aren't allowed to get out of the vehicle as it is illegal to do so but it doesn't stop others from getting in quite close and Carolyn tells us that she once saw a man get charged by one that got too close. The man got to the safety of his car just in time to save his life but his car didn't fare so well!
Jasper traffic jam
A bit further down the road there's a little traffic jam. And what was the cause? Bighorn mountain sheep licking the salt off the road as if they didn't have a care in the world! They do look like goats don't they? And a baby appears too-isn't it cute?
The wildlife isn't done with us yet and see two large elk, one that has started to lose his velvet which he does by rubbing his horns against the trees.
And on that wild note, we sad goodbye to scenic Jasper!
So tell me Dear Reader, what is the most exciting wildlife encounter you've ever had? And do you prefer wild or calmer holidays?
NQN travelled and explored Canada as a guest of Tourism Edmonton, Tourism Jasper and Travel Alberta
Jasper Park Lodge
Old Lodge Road Jasper, Jasper, Jasper National Park, Alberta, Canada
Papa George's
404 Connaught Drive Astoria Hotel, Jasper, AB T0E 1E0, Canada
Tel: +1 (780) 852-2260
Maligne Lake Tour
http://www.malignelake.com/
Jasper Brewing Company
624 Connaught Drive Jasper, AB T0E 1E0, Canada
Tel: +1 (780) 852-4111
Jasper Motorcycle Tours
610 Patricia St.
Tel: +1 (780) 931 6100
Evil Dave's Grill
622 Patricia Street Jasper, AB T0E 1E0, Canada
Tel: +1 (780) 852-3323