I must admit that I don't know much about clubs. I only belong to one association and that's not really a club whereas social clubs are an area I have yet to explore. So when I heard that there was a new Shanghai Chinese restaurant in the Castlereagh Club in the city I had no idea where that was-well apart from guessing that it was on Castlereagh Street because of the name.
One beautifully balmy evening I meet Mr NQN and his colleague Viggo at his work and we walk to the Castlereagh Club where we meet Viggo's wife Louise for some Shanghai treats. Shanghai Cuisine seems to have taken Sydney somewhat by storm. Witness the number of soup dumpling places in the city with windows where patrons can watch the dumpling aunties fold and pleat an endless amount of dumplings. And them might be fightin' words but I had read in the media that the owners of Lynn they thought that their xiao long baos were better than Din Tai Fung's.
First things first. Why the name Lynn? We have to ask the woman who seems to be the owner-only because she comes over to every table to shake every diner's hand and ask their names (think "genki" crossed with Tony Robbins). She tells us that the reason why it is called Lynn is because Chinese restaurants often have names that aren't particularly memorable citing variations on golden, dragon, palace, kingdom etc so she decided to give the restaurant a person's name. They decided on Lynn because it is a name both in Chinese and Western culture. And she tells us that everyone now calls her Lynn.
Open for 5 weeks now the restaurant is fairly busy on this mid week evening. The opening special of 20% off the food bill until the end of October has probably tempted some and looking around many of the patrons are Chinese. The dishes on the menu marked with a red "Lynn" are the house specialties. The glass fronted kitchen takes up much space and we can see the chefs cooking and making noodles. The head chef (we deduce from the pictures on their website) Rong Bau stretches some noodles. To order you fill in the form and mark the quantity you would like of the item. Service is well meaning but at times can be awkward and a request for water is met three times with a cheery "Of course ma'am, no problems!" but no water. A small Lazy Susan sits on one end of the table with soy sauce, vinegar, chilli oil and other condiments.
The order form
Cucumber roll with garlic in special sauce $6.80
We start with the cucumber roll which looks quite different from it does in the picture where it looks glossy and braised. These are slices of thinly sliced cucumber rolled with a pickling juice over it-in fact it smells just like my mother's cucumber pickles. There are also pieces of chilli and slices of garlic. It's a bit watery and I much prefer my mother's version as that has a good balance of flavours.
Shredded chicken in bean jelly on peanut sauce $8.80
The shredded chicken and cucumber sits on a bed of slippery mung bean glass noodles which I remember eating when I lived in Japan. They are very slippery and have no flavour in themselves (and no calories or no fat!) but we mix them up with the peanut sauce to give us a cooling noodle salad.
Crispy smoked fish with Shanghai flavour $9.80
The crispy smoked fish with Shanghai sauce has a sauce similar to Peking spare ribs-sweet, spicy and very flavoursome with a nice hit of star anise. The only issue is that there are lots of bones-and I mean a lot. It appears that they have sliced the smoked fish in vertical slices keeping the spine bones in. However the flavour is good so we polish off this serve to the end.
Combo milk tea (rainbow, pearl jelly and grass jelly) $5.90
The drinks arrive during the entrees after a few requests. The combo milk tea is a super sweet concoction with round pearl jelly drops, grasses jelly and rainbow coloured jelly pieces all suspended in a bottom layer of syrup and then topped with sweet milk tea. It's actually quite nice indeed although very sweet indeed even when stirred through. And yes grass jelly tastes a little...grassy!
Famous Shanghai pork buns 6 for $8.80
Ahh the famous xiao long baos-the ones that the people at Lynn have been claiming are better than Din Tai Fung's. They even serve them here the same way with fine shreds of ginger, vinegar, soy and chilli oil on offer. We take a bite. the skin is paper thin and almost translucent and the dumplings are plump with soup. They're ever so slightly larger than the Din Tai Fung ones but not by much but other than that they are very similar. They're also prettily pleated and disappear into the mouth with much satisfaction, the soup so plentiful.
Pan fried Shanghai style pork buns $10.80
The pan fried pork buns also have soup in them but less for these ones. The crispy bottoms could do with another minute in the pan for the really crunchy sensation although they are crispy. These are Viggo's favourite.
Baked sesame pockets with sauteed minced chicken and preserved vegetables sprinkled with pine nuts $16.80
The sesame pockets are empty puffed up pockets paired with a mince filling similar to a filling for sang choy bao in texture. There is minced chicken, bamboo shoots and preserved vegetables and a generous sprinkling of pine nuts. You spoon the filling into the sesame pockets and eat them. It's an innovative dish and one that we haven't seen before with a satisfying flavour. And Mr NQN nicknames them "the things that look like sausage rolls" ;).
Shredded beef wok fried with sweet and sour sauce and a hint of chilli served with pancakes $18.80
This dish tasted very much like Imperial beef, the flour coated and deep fried beef strips that have a sweet and slightly sour sauce to it. However I never thought to put the filling into pancakes which is actually a great idea and these are great in the pancakes when fresh and hot. The ratio is a little off-there is a lot more filling to pancake and one thing we notice is that there was no offer to upsize the quantities of six in this dish and the above one and below one to accommodate the fact that we had four people which would have been a nice gesture. We do ask for some more pancakes (the rest of the filling fills up at least four more) and that's no problem and extra pancakes are charged at 50c each which is fine although we notice that we've been charged twice for this item. And when we ask for more Teresa trills "I didn't hear please!!"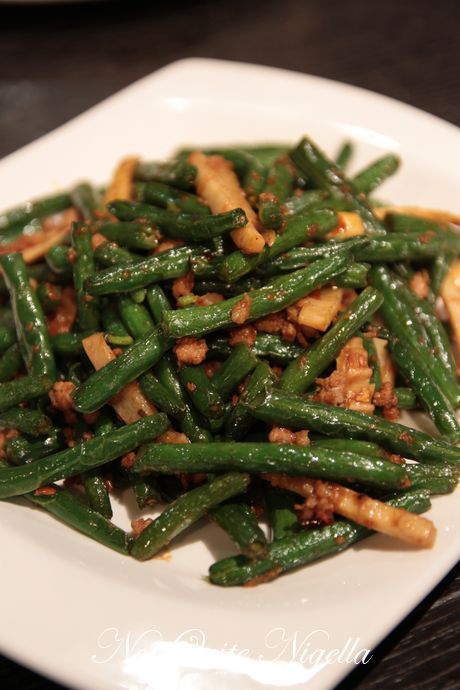 Sauteed string beans with bamboo shoots $12.80
The sauteed string beans with bamboo shoots were well cooked but the description didn't mention the ground pork in it so I don't know how vegetarians would fare with this menu. But nevertheless it is a pleasing vegetable side dish that gets polished off and the bamboo shoots are taken from the top of the shoot and sliced vertically.
Nanjing crispy duck served with golden buns (half duck) $25.80
The duck was the last dish to arrive and we were already pretty full from the rest of the food. These were said to be served with golden buns but the buns are white steamed buns shaped like butterflies. You split them open in the middle and spread some hoi sin sauce on them and then wedge some pieces of duck in them.
The butterfly bun
Opening up the butterfly bun
Again they're good but you do need about double the amount of buns for the duck (not that you'd complain about getting too much meat, that's generally a good thing) but the portion sizing in relation to the wraps and buns seems to be a bit off.
Steamed pumpkin pastry dumpling with lotus paste $5.90
Sticky and sweet these were cute as a button and had a mochi type of outer and a sweet lotus inner and stuck to the chopsticks like well.. white on rice ;).
White fungus, lotus seed and red date soup $5.80
This was like one of those soups that you get at the end of a long Chinese banquet. It was a pot of sweet, hot soup with clear white fungus which honestly isn't as odd as it sounds-it has a very mild taste and certainly not that of mushrooms. There are two lotus seeds and two red dates soaking in the soup and it gives a nice warmth and final satiety at the end of the meal.
There's more noodle twirling in the kitchen...
So tell me Dear Reader, who do you think makes the best xiao long baos? And do you belong to any clubs?
And it looks like a noodle jumping rope!
Lynn Shanghai Cuisine
Ground Floor, The Castlereagh Club
199 Castlereagh Street, Sydney CBD, NSW
Tel: +61 (02) 9267 7780
Open Monday to Saturday 11:30am-9:30pm
20% off food bill until the end of October if you make a reservation online and put it in the voucher field-cash only