"One thing that I have to tell you is that cows have right of way here" Tania tells us when we arrive at Norfolk Island. Good to know, after all I understand that communicating with a cow and arguing the merits of road signs might be a fruitless task.
Norfolk Island is an island about a two hour flight out of Sydney and is actually considered an international destination so you do need your passport to get there. Norfolk Island, along with Pitcairn Island, are both sites of the famous "Mutiny on the Bounty" where Fletcher Christian started a mutiny against Captain Bligh and set him adrift on a boat with some of his men.
Currently with a population of 1,700 people, the island is a very unique one. For starters, there is currently no income tax (although this is set to change in the future) and it also currently has no welfare system so that everyone on the island has to work to afford to live there. Also apart from seeing cows on the side of the road (270 cows on the roads, 1,700 cattle total on the island but bulls are thankfully penned) you may also see geese and feral chickens. Residents of Norfolk Island are allowed to own up to ten cows per person and twice a year there is a cattle muster at various points around the island where they are drenched and vaccinated.
There are quirky touches where a street called Cascade road has houses named after their rooves for example "blue roof", "can't see the roof" and "rusty roof." Feral chickens roam around strutting proudly, everyone waves at each other when they pass each other on the road and no-one needs to lock car or house doors. Roads have names like Robbers Lane, Puppies Point, Cats Lane and Grassy Road and phone numbers are a mere five digits long.
O.K. we probably need to address the elephant in the room, yes mature travellers love Norfolk Island. They come in couples or large groups and are often repeat visitors coming once a year. When the Sydney customs officer saw that I was headed there he remarked that I would be the youngest person there and when I had a look at my fellow passengers on the flight, he had a certain point. I was determined to find out whether a) there is much of a food scene b) whether there was something for younger people to do and c) why mature travellers love it so much!
We start with a half day orientation tour with Norfolk Touring which takes you around all of the key points and ends with morning tea at the Christian house (descendants of Fletcher Christian) and a stop at the wharf where we see fishermen taking in and filleting a large catch of grouper caught using rod and reel and a bronze whaler shark swims up to the water to munch on the discarded heads and bones. Two crabs perform a mesmerising waltz each pincer clutching a piece of fish while they eat at the meat.
This is a common sight as many go fishing to stock their deep freeze. There aren't professional fishermen here on the island, most residents are recreational fishermen and they simply go out in their boats, fill up several tub's worth of fish and bring them back to the island to cook them. They keep the fish for when the weather and conditions aren't right to go out to sea to fish. Our tour guide John Christian tells us that there simply aren't a lot of good fishing days a year so they need to make the most of it while they can. There isn't a limit on the amount of fish you can catch nor do you need a license. They can catch anything from cod, grouper, kingfish, trevally, snapper and what seems to be the most common Norfolk Island fish, the red throated emporer or trumpeter fish as they call it.
St Barnabas Church is left unlocked 24 hours a day, 365 days a year for anyone to enter and the only rule is that you have to close the door. The pews are made out of Norfolk pine and NZ Kauri tree with incredible details like mother of pearl in lays.
So what is the food scene like here? Well tourism is the top industry which means that there are plenty of restaurants and accommodation and there are some gems within the area to be found. They do have to grow a lot of items here because importing items from Australia is expensive at a cost of $500 per cubic metre in or out. Because the produce is grown here, the food is very seasonal.
Norfolk Blue
"You know about paddock to plate? Here we do conception to plate" says Robyn Menghetti. Armed with a background in agriculture (but she notes, not livestock) and her husband a native Norfolk Islander they set about breeding Norfolk Blue cattle, an extremely hardy and tasty beef cattle found only on Norfolk Island. Thought to have originated from a "Blue Bull" called "Dr. Blue Suit" it inter bred over a hundred years with the British cattle breeds Hereford, Friesian, Red Devon, Murray Grey to produce a blue coloured cattle breed and Norfolk Island is the only place that you can taste this beef.
The restaurant was originally set up because Robyn and her husband wanted to showcase their beef as they found that it just wasn't being displayed to its full advantage. The Norfolk Blue breed of cattle has a calm temperament and is extremely drought hardy. Robyn tells us that on Norfolk Island there were two severe droughts while they were farming cattle and within about 2 months their cows had bounced back while other breeds took as long as a year.
Now after five years of breeding and their first attempt at artificial insemination just today, they barely have enough beef to supply to the restaurant it is so popular. The atmosphere and service is very welcoming. We take a seat on the enclosed, sunny veranda and decide that having beef is the best way to go-after all why eat fish at a cattle farm (although you can, it is on the menu).
The Asian beef salad is fantastic and so generously portioned with ten (yes I counted ;) ) big slices of juicy, grilled beef amongst pieces of lettuce, cucumber and tomato with a delicious sesame dressing drizzled on top of it. It sits in a deep fried cracker cup and the serving size is that of a main. I immediately start worrying about whether we will be able to fit in the mains.
We decided to try the beef liver pate as you don't often see it on menus instead seeing more chicken and duck livers. This one is strong, as expected and the first bite makes me think of that unmistakeable aroma of the Easter show. It is paired with a beetroot jam, carrot jam and a caramelised onion and crostini crackers.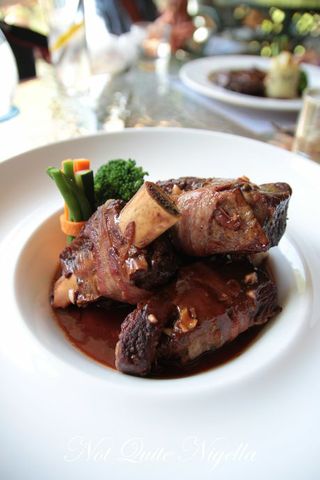 We see the serves of the other tables dishes and they look enormous and this is no exception. The beef short ribs are divinely soft with a rich, sticky sauce and really just fall apart so very appealingly. They come with a quennelle of onion skordalia (mashed potato made with olive oil) and some steamed vegetables but it's really all about the ribs isn't it?
_ _The scotch fillet, and all beef served here is Robyn's Norfolk Bue breed unless they tell you (the restaurant is so successful that she had to buy in 100 kgs of hand picked Australian beef) is cooked perfectly medium rare and is tender and tasty.
Holy heck, I knew Mr NQN would like this and I was right. The pie is sweet with mango and local pineapple and a thick layer of vanilla custard on a sweet pate brisee base. And it disappeared in a flash under the fast work of Mr NQN's fork. I barely got a mouthful in!
We go and meet the cattle with Robyn who takes us out on part of the 70-100 acre property, the largest contiguous farm on the island. She is hoping to start farm tours for guests around Christmas time this year and they have just gotten approval to have their own slaughterhouse on the site so the food miles will be even shorter than they currently are (which is just over the fence on the adjoining property).
She shows us one of her herds which have just undergone the A.I. process with a "Bluee" Angus Shorthorn breed which is part of their original genetic makeup. There are indicators on their backs which show if the cow is in season and when they are and stand for a bull it will release a dye on their back.
The cows are a lovely blue grey shade and there is only one other cow in the world that has a blue colour called the  Belgian Blue but this is quite a different cow. And the next step for them is the idea of exporting the beef. In order to do this they need to get more supplementary feed and lease more land but these are both on the agenda.
Apart from the cows we go into another paddock where we meet Blue Boy who is Robyn's pet. She raised him after he was abandoned by his mother and she clearly has a soft spot for the steer who she gruffly calls "useless" and tells us that he eats a lot. But she won't let him be put down-after all he is her pet.
Next to Blue Boy is seven year old Big Blue and he is a big one indeed. She tells us that he is probably too big to breed with the heifers but he is a docile gentle soul. He stares at us placidly with limpid eyes and lets out a squawk when we leave. Although at his size you'd expect him to let out an earth rumbling call. "He just wants to be with his girls" she says.
Stefano's
Our first dinner late when we arrived was at Stefano's, the island's only Italian restaurant run by husband and wife team Stefano and Hilary. To the right is a bar area and to the left is the tables. And smack bang in the centre is Stefano who is busy making pizza while Hilary tends to a customer that would like some dessert.
The antipasti platter is made up of some of their favourite nibbly items and this includes an excellent roast vegetable salad, marinated feta, globe artichokes, some cold meats and salami, a spicy smoked salmon and cream cheese parcel as well as a thin garlic bread. It's all very good and the highlights were the roast vegetable salad and the spicy smoked salmon.
The pepperoni pizza has a topping of pepperoni, sun dried tomatoes, mushrooms, basil pesto and black pepper and a lovely thin crust.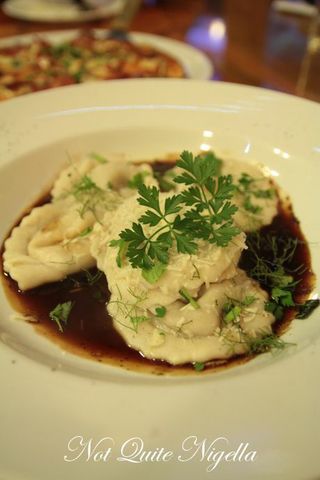 The duck ravioli has a delicious flavour to it and is house made. I would have liked a bit more filling to it but as far as flavour goes, it is very good.
_
Grilled local fish $24.50_
_ _This is the popular local fish, the sweet lipped emperor or the trumpeter (different from our trumpeter fish). They are generous, thick and moist fillets lightly floured and pan fried and comes with some deliciously seasoned chips and salad.
As we're learning, because they are an island, people need to grow things here because otherwise things have to be imported at some expense. The salad features vegetables grown in Stefano's and Hilary's garden and is dressed in a lovely sweet balsamic vinaigrette dressing and features crunch from fresh carrots, tomato, cucumber, soft lettuce and beetroot leaves.
Broad Leaf Villas
We check into our accommodation at Broad Leaf Villas which are recently renovated villas that are just outside of the cattle grid but about 5-10 minutes walk to the town centre. There's a charming touch on the kitchen table, instead of a welcome fruit basket there is a basket of produce: a carrot, a quarter of a lettuce, half a papaya, two cheese, bacon and onion buns and a slice of coconut cake. We're told that people don't tend to buy fruit as they grow it at home so what is available at the shops is usually vegetables.
_The welcome basket _
The villas are suites with the bedroom as a separate partitioned off area and all water supplied is rainwater. There is also a kitchenette and a television although if you do want internet, it is comparatively expensive at $9 a hour and because it is all satellite the best reception is actually in fact when you are sitting outside on your balcony (something I only figured out on our last day). And included in your stay here is the half day tour around the island which is a nice touch.
Hilli's
_
_
_
_
Driving around the island waving at each car is fun and we go to Puppies Point to watch the sun set and check out this enormous tree before going out to dinner at Hilli's one evening. Hilli's is right next to Fletcher's Cyclorama which is an enormous wrap around painting done by a local artist that sums up Norfolk Island's history to a soundtrack and takes about 20 minutes to walk and read through (tickets are $14 for adults).
The gallery store has some of the island's prettiest gifts to take back home. I nab myself a teatowel and there are also chic Norfolk Pine linen cushions. Next door Hilli's is open all day for breakfast, lunch and dinner. We were originally scheduled to go to the Island Fish Fry where you get to try the local, fresh caught fish and traditional Norfolk Island food but unfortunately there weren't enough people that had booked it so it was postponed. Another dinner that would have been very interesting was the progressive dinner where you visited four local resident's homes for four courses-three of them are qualified chefs and it would have been fun to do this but alas we weren't there on the days that this is on.
The restaurant is busy and I'm still full from the meal at Norfolk Blue so I intend to just have a salad. I've been quite besotted with the salads here at Norfolk Island and I'm sure it's largely in part due to the freshness of the salad ingredients that are grown in their gardens. Tonight the salad has a mixed of soft lettuce leaves, chunks of roasted pumpkin, cubes of feta and a nice crunch is given from macadamaias.
_ _Again the local fish is the trumpeter or red or sweet lipped emperor which comes with a light, creamy, lemon sauce and is a nicely cooked and still moist white fish. It sits on a bed of sauteed silverbeet, a creamy bean and shallot risotto, a terrifically light sweetcorn and prawn souffle that is dreamy and feather light. All prawns and shellfish have to be imported from the mainland.
At first glance the cannelloni looks a bit glossy and bare on top but the cheese and filling is all on the inside. Mr NQN loved the cannelloni filled with goat's feta and ricotta whereas for me, something rich was not what I was after, I was more smitten with the succotash like base with creamed Lord Howe Island garlic, beetroot, concasse and tomato emulsion. The only produce that they can't grow and have to import are onions, garlic, ginger and potatoes.
This strawberry frangipane tart had me swiftly asking for the recipe. The crust was so, so deliciously short and buttery and the almond frangipane filling just wonderful with the occasional baked in fresh strawberry. There was a ring of sweet, tangy balsamic reduction. It also came with  three strawberry jam filled donuts that were dense and thick (more like deep fried little cakes than the fluffy yeasted donuts and a small pot of cream. I mean if you're eating jam filled donuts you may as well have the cream right?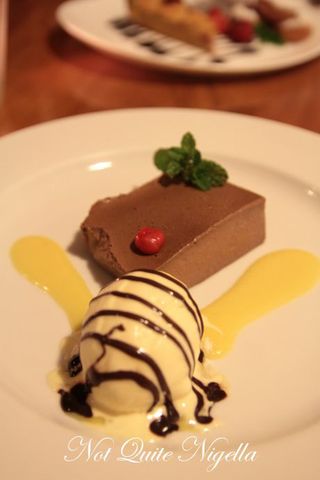 "Oooh what's this?" I say to Mr NQN at the small red, bumpy item on the corner of the chilli milk chocolate panna cotta slice. I pop it into my mouth thinking that it's one of those candied sweets but promptly spit it out gulping down water. It's a tiny, potent chilli! It comes with a passionfruit cream which actually helps to calm down the fire on my tongue as well as a milk ice cream which tastes very similar to the blue ribbon ice cream.
So this was just over a day on Norfolk Island and we had so much more food to discover, plus of course quirky touches! Stayed tuned for another episode of Lost At Norfolk Island ;)
So tell me Dear Reader, which island do you think you would like to live on? And have you ever been to Norfolk Island?
_
_
Norfolk Touring
Tel: + 6723 22232
Norfolk Blue
100 Acre Farm, Norfolk Island 2899
Tel: +6723 22068
Stefano's
Burnt Pine, Norfolk Island,
Tel: +6723 22557
Broad Leaf Villas
Taylors Road, Norfolk Island
Tel: 1300 171 548
Hilli's
Queen Elizabeth Avenue, Norfolk Island
TeL: +6723 24270