Welcome to the second and final part of our visit to Norfolk Island where I'll share with you some more secret treasures of living on this fascinating island. And first of all you should believe them when they tell you that Norfolk Island's Farmers Market are "wee" - they really do mean it. In fact it's about three stalls big. Perhaps the lightly falling rain has something to do with it but we nevertheless proceed to visit the three stands. First up is a stall manned by three young local boys selling little fudges and chocolate cups for 50c all made by one boy's mum. When we ask the boy if he minds if we take a photo of the fudge he says no problems "It's not trademarked." Brilliant!
The second stall sells local pork which is bred on their 25 acre farm near pictureque Anson Bay. Among the many cuts, there are ham steaks and pork smoked over pine wood. If only we had time to buy and cook some!
Our third stop is the stall owned by fruit and vegetable grower Matt Bigg who supplies to most of the restaurants on the island and also to the consumer trade. There are only four fruit and vegetable items imported into Norfolk Island and these are only brought in because the growing conditions aren't quite right for them and they use so many of them that they couldn't produce enough.
Matt, along with a few other producers supply the entire island with fruit and vegetable produce and he tells us that the key for a grower on Norfolk Island is variety. He has to virtually stock a greengrocer's selection for the public, many of whom already have gardens but perhaps don't grow enough to eat.
There are bowls of orange and purple beetroot, cucumbers, enormous zucchini, several types of hydroponically grown soft lettuce, cauliflower and it looks like the type of produce that you might find in a home garden rather than with the uniformity of supermarket specimens. None of his produce is ever sprayed. He works to maintain a healthy soil so that the crops don't become susceptible to pests. And did you know that  here on Norfolk Island butcher  shops actually sell fruit and vegetables in the store?
We follow Matt back to one of his two farms. He is a Pittcarin/Bounty descendent and the operation has four staff in total to meet the demand for supply. There are many hydroponic trays of red oak and butter lettuce which flourish when grown this way. "It's either feast or famine here" he says and when a crop is in season it is absolutely abundant and if the weather conditions change which is their biggest challenge then things can become a challenge. He points at the row of bananas "We use bananas as a windbreaker. We are a small island in the middle of the Pacific Ocean and we are open to the elements" he says.
One of the advantages to the island microsystem is that they are absent of many pests like fireblight, boil smut disease and fruitfly. Before we go, he comes out showing a pineapple which another grower has just started growing. He's excited at the quality of the pineapple and it is a new item for the island-it has been about 20 years since pineapples were grown on Norfolk Island.
Sublime
Just nearby to Matt's farm is the very aptly named Sublime Lounge, a cafe restaurant with a cool, laid back surfy vibe to it. And unlike many restaurants here this has an ocean view. The cafe is outfitted with covetable vintage pieces with a sightly Scandinavian look to some of them. Chef Shari Bates is busy writing up today's specials on the blackboard and we take a seat drinking in the sea views. Because all of the produce is so seasonal a blackboard is practically a must on the island because some items tend to pop up when the produce is ready.
We've quickly become accustomed to the Norfolk Island customs-waving at passing cars, slowing down for cows and we take a look at the local newspaper which is out every Saturday when this notice caught our eye...naughty thieves!
_ _
The chicken citrus salad has a strong flavour of lime and their lime is quite a strong lime giving the salad a distinct tartness. I find the lime here on the island stronger than the limes we get at home. It is offset with nectarine, roasted sweet potato, papaya,cucumber, carrot, toffee peanuts and tender chunks of marinated chicken as well as pretty petals!
_ _
Local fish on Turkish $19.50
We've learned by now that the local fish is definitely the trumpeter (red throated emperor fish) and so we order this on a Turkish bread with some delicious tomato and herb pickle and soft salad leaves. And although I'm trying to eat healthily the chips are really crunchy and delicious and I figure one or two can't hurt ;)
Mr NQN has been eating lightly so he could easily and happily fit in dessert. The apple and pineapple crumble is an enormous serve, more apple than pineapple really (although given the scarcity you can't blame them), topped with a light biscuitty topping and served with a vanilla ice cream.
The base of the toffee nut tart is buttery and short and the centre is filled with a liquid caramel that oozes out once you cut into the walnuts and sliced almonds. It is paired with a lovely cinnamon spiked ginger ice cream that goes well with the tart.
We do a lightning quick stop by Sweeties who make truffles and chocolates. We tried the local hazelnut milk truffle and the local cherry guava truffle in dark chocolate. They use Nestle couverture chocolate for their chocolates.
Norfolk Island also has to be one of the most picturesque cemetaries ever with a water view. It is free for locals to be buried here  and if a visitor happens to pass away on the island it costs $40 and that is to cover materials for the coffin. It is the only cemetery that allowed convicts to be buried along the distinguished officers.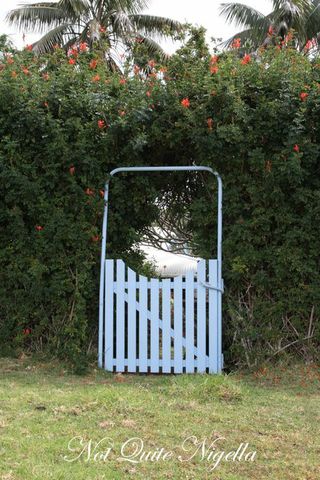 Two Chimneys
We stop by Two Chimneys winery where eight years ago Rod McAlpine and his wife Noelene planted their first grapevines. Two years ago they did their first crushing and within 2-3 months this year they will have their very first wine. Until now they were buying grapes and having them made by Cassegrain. Receiving a Churchill Fellowship to study viticulture this is their first wine making venture spurred on by his love of wine and currently it is just the two of them here at Two Chimneys.
We try their range of wines-John is confident and says that the volcanic basalt porous soil with  deep top soil will provide a good drop but the soil and weather means that Pinot Noir, Sauvignon Blanc and Shiraz aren't good grapes to grow. The NV Sparkling cuvee is a brisk little drink with tight little bubbles and I quite like the 2009 Verdelho.
Noelene makes up all of the platters and visits to the winery that require these platters require around 24 hours to ensure that the provisions are in stock.  There are three cheeses from a Mersey Valley extra crumbly, brie and a cheese ball rolled in crushed nuts. There are also kalamata olives, cornichons, bread and butter pickles, a chicken roll stuffed with dried apricots, prune & pistachio,  slices of baguette with shiitake mushrooms, salted zucchini. There are also two types of crackers,a water cracker and a pufed rice cracker with three "pastes" which are a hummus dip with sweet chilli, beetroot dip (my favourite) and a "grapefruit pesto" which is like a marmalade.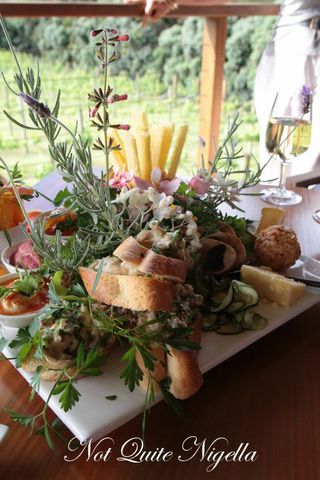 And lastly but not least is the fruit where we get to try the cherry guavas which grow abundantly (and almost like a pest as locals tell us). They are tiny round cherry sized fruit, red in colour with a tart flavour to them without that grainy texture that guava can have. There is also yellow guava which is sweeter and closer to the regular guava that we get in Australia.
Dinos
Our last dinner while on the island is at Dino's. It is a restaurant housed in a home and yet it is said to be some of the best food on the island. Named after chef Dean who along with his wife Helen (who makes the desserts) it is welcoming. When you walk in there's a warm atmosphere, plenty of art on the walls and it's only when you enter the kitchen which looks like a regular's home kitchen or the bathroom where a large free standing bath sits that you realise that you are dining in someone's house (albeit a qualified chef's house...).
On the side of one locked door is where the family lives and when the restaurant is closed for the two days in the week, Dean takes away all of the restaurant furniture and brings out the family couches. They have a permaculture garden that supplies them with some of the restaurant produce and it is a restaurant where you definitely need to book ahead.
We are having dinner with Kath and Matt who live nearby. Kath is from Norfolk Island while her husband Matt is originally from Newcastle and moved here over 20 years ago. I ask them about their garden and Matt reels off as astounding list of fruit and vegetables that they grow in a space that measures about 5 by 3 metres. "Like the Chinese way of growing, we utilise every single inch" he says. They grow celery, beans, broccoli, carrot, silverbeet and broccoli as well as more exotic fruit like bananas, Hawaiian passionfruit, cannonball passionfruit, babaco which Kath describes as looking like a long, slender male papaya and with a fluffy, spongey inner and she tells us that it tastes like four different fruits in one mouthful!
Kath and Matt grow not only fruit and vegetables but also their own coffee! They get at least 2 kg of beans a year and you can also buy commercially grown Norfolk Island coffee under the Anson coffee brand. They tell us of the feral chickens and how people can actually kill and eat them and that the meat tastes stronger and more flavoursome than regular chicken. It is also tough so whilst it's not ideal for roasting, it is great for soups and stews.
_ _
Pizza with prosciutto, spicy sausage and anchovy $20
We are so busy chatting to them that we almost forget about the food-almost! The pizza has a nice thin crust and has a generous serving of anchovies, perhaps too many clumps of them and I think they would have been better spread out as they are very concentrated in flavour.
_ _
Salad
The salad is excellent with some of the best roasted beetroot I've had-sweet and with that lovely caramelised edge to each piece. There are also soft lettuces, feta and roast potato pieces and I end up eating quite a bit of this salad.
_ _Similar to the other salad this has a juicy slice of pork loin on top which is tender and cuts easily. The walnut vinaigrette adds a nutty richness to the salad leaves.
Seafood Bouillabaise of local fish, king prawns, scallops and mussels in a tomato, garlic and chilli broth with risotto and garlic crostini $35.50
This was my pick and it was enormous! Helen did warn us that the entrees were generously portioned but we opted for mains anyway. There are two large king prawns, local fish fillets, scallops with the roe on and mussels and garlic crostini which is slightly burnt on the edges. Try as I might I just can't finish it but it is delicious.
Braised chicken, local bacon and spicy sausage fricelli pasta, shavings of parmesan and feta and tomato salad $35.50
The pasta with a generous amount of chicken, sun dried tomatoes, herby pesto, olives, feta and large shavings of parmesan is filling and full flavoured. Mr NQN and I alternated between this and the seafood bouillabaise.
Local Sirloin of beef with red wine and thyme jus and cafe de Paris butter, new potatoes and fresh vegetables $35.50
Now I'm not a licorice person at all but I had been convinced to try this and I in turn convinced Kath who is also not a licorice lover to try the licorice ice cream. Simply put, it is sublime and you wonder why on earth you don't eat licorice more often it is such a natural pairing with the ice cream. They're served as three slices of creamy ice cream, all made by Helen and there is also caramel and rum and raisin which are also good but really, the licorice is the star.
And just so we can try it, Kath and Matt ask for a little tray of the cherry guava paste which is made here. It has a slightly tart aspect to it which contrasts with the sweet sugar crystals that give it a grainy, light crunch. A magnificent meal to end our trip. We farewell our dining companions Kath and Matt and get ready for our early flight the next morning.
The next morning, bright and early at 6am we arrive at the airport. Above is Norfolk Island's slogan "Inasmuch!"
And who should arrive but Kath and Matt with a tray of all of the food that we were talking about last night! They had gotten up early to prepare it just so we could try it. We were beyond touched!
The mada is made up of grating up green banana and them simmering spoonfuls of it in coconut milk where they form into dumplings. It isn't sweet and it reminds me of eating grits or quinoa porridge-quite nice and filling.
Matt made the Tahitian fish using trumpeter which he tells us isn't the ideal fish as it takes longer to cook through whereas other fish is softer so he can cut it up into larger pieces which gives a better texture. Still the citrus, coconut milk, spring onion and tomato are a delicious, refreshing combination that is similar to Fijian kokoda.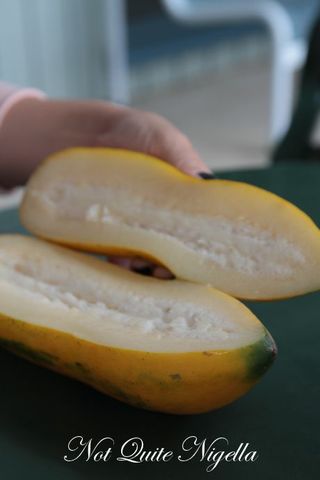 The babaco fruit slices easily and reveals a fluffy, spongey centre and a soft, tart fruit. And just as Kath and Matt mentioned it tastes of passionfruit and then citrus and a whole lot of different fruits, all in the one bite!
My favourite is the Hawwaiian passionfruit which is best opened by smashing it between your palms (although Kath and Matt's kids do it on their foreheads!). The shell is soft and spongey and easily broken and inside there is a thin, almost see through layer protecting the seeds. And the seeds are divinely sweet and easy to eat-completely without the passion fruit tang or flavour. I could eat dozens of these!  They also gave us some bananas from their garden to eat on the plane but Mr NQN naughtily ate them all while I was asleep!
I warned the absent minded banana thief Mr NQN "Now honey don't forget that once we're back in Sydney, you have to lock the car door right? And don't wave at people when you're driving, they won't understand...".
So tell me Dear Reader, have you ever tried growing your own fruit and vegetables? And have you ever thought to open a restaurant in your house?
Farmer's Market
Burnt Pine town next to the Tourist information centre, on every Saturday
Sublime Lounge
Stockyard Road, Kingston, Norfolk Island
+6723 22228
Two Chimneys
Two Chimneys Road, Steeles Point, Norfolk Island
+6723 24410
Dino's
Bumboras Road, Norfolk Island, Australia
+67 23 24225