There are certain events that I won't invite Mr NQN to. Well, I'll run them past him but I always know the answer. High tea and art galleries are two that he isn't interested in. But luckily for me I have friends that are interested in both and rather than sit through hours of him sighing and fidgeting like he did when we saw "The Queen" I'd much rather invite a friend who will appreciate it a bit more. So when I was invited to sample the Art Gallery's Picasso menu and have a look at the exhibition I asked Queen Viv and she responded with enthusiasm. Phew! I had chosen the correct dining partner.
There are some tables that are the most coveted at the Art Gallery restaurant. These are the three north facing tables with a view of the botanic gardens and Woolloomooloo wharf. Queen Viv and I settle into the corner one at 6:30pm on a Wednesday when the art gallery is open late for "Art After Hours" and they hold these dinners. There is a set menu with 2 courses for $55 a person and there is also a deal where you get entry and the two courses for $75.
As befitting the Picasso exhibit, the food is Spanish inspired and there are three choices in the mains and desserts. The set menu also includes a glass of wine, beer or soft drink. Service is friendly and unobtrusive. We are both drawn to the pork belly but we thought that we should stick to more Spanish sounding dishes although it does prompt me to wonder out loud "Who in their right mind says no to pork belly?". While we wait for our meals we watch the boot campers downstairs. "Poor ants" Queen Viv says observing them sympathetically.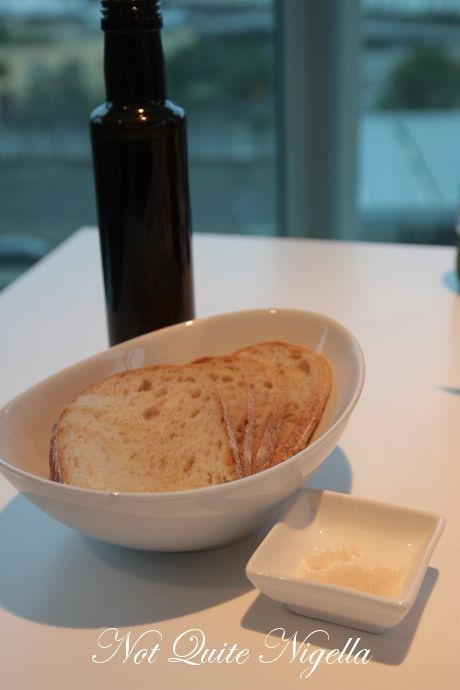 Bread
Bread arrives and it comes as four thin slices with a lovely olive oil.
Pearl barley, wild mushroom risotto, zucchini flower, murcia al vino
The mains don't take long to arrive and I try the pearl barley and wild mushroom risotto topped with a single deep fried tempura zucchini flower that is stuffed with murcia al vino cheese, a  soft goat's cheese that has a lovely texture not dissimilar to regular goat's cheese. The pearl barley risotto is full of flavour as are the mushrooms (and does anyone ever order wild mushrooms and think of that recent sad story with the death cap mushrooms or is that just me?).
Pan fried barramundi fillet, pimento, confit cuttlefish and fava beans
We both love eating fish but I was tipped off to a problem when Queen Viv started sprinkling a lot of salt and pepper on her half of the dish. When I tried it I had to do the same as it just wasn't seasoned and even when we seasoned it it really didn't have a lot of flavour. The confit cuttlefish was nice and tender but the fava beans were very hard too so alas this dish was disappointing.
Warm almond cake, honey roasted figs and saffron ice cream
All was turned around with this dessert, a rectangle of moist, warm almond cake, strong in almond and served with lovely soft honey roasted figs and a divine saffron ice cream which had just the right amount of saffron in it. This is a dessert to eat by yourself under the covers after a hard day at work-it hugs you back.
Crema Catalana
We chose this because I know that Queen Viv loves a good creme brulee. The top has a nice, thin, crackly crust and the flavours of citrus and cinnamon are excellent although the custard isn't as silky as one would want and at a guess, possibly wasn't strained in a sieve. It came with a crunchy nutty biscotti.
We are then off to the Picasso exhibition and they have timed tickets for entry because of the queues to go in so you are best to book online and specify the time that you want. Not a bad idea as you don't want to jostle others to get the magic spot in front of your favourite Picasso painting or sculpture. It's a large exhibition and shows how his work has changed and how he developed his style as well as his influences. I was quite taken by La Celestina, one of his striking early works.
So tell me Dear Reader, do you go to art galleries or museums often? And do you tend to go with friends or your other half?
NQN and Queen Viv dined as guests of Trippas White
The Restaurant, Art Gallery of NSW
Art Gallery Rd, Sydney, NSW
Tel: +61 (02) 9225 1819
Lunch with Picasso, every day throughout the exhibition from 12 midday. Dinner with Picasso, Wednesday evenings. High Tea with Picasso  every day throughout the exhibition from 2pm.