I've always wanted a library at our place. We do have an entire wall of bookshelves now but little did I know that to get the cosy library feel all I needed were some comfy couches, some bright cushions and some library look wallpaper! ;) I've arrived at The Duck Inn, a name that is a pun in itself. Formerly the Duck and Swan Hotel in Chippendale, a sliver of which can be glanced from busy Cleveland Street, it has been revamped and redone so that there is a bright breezy beach house vibe to the main dining room.
The duck, who has seen more than most ducks having been kidnapped and all...
The menu is well priced; entrees  are$14-$16 with an enormous platter enough for two at $22. Mains run from sausages and mash and burgers at $17 to $18 to a fillet of beef and trimmings for $28 and salmon for $24. There is cider on tap and an outdoor area that holds trivia nights, Uno nights and the most creative high fiving competitions. They've just had a leap year dinner where everything on the menu only appeared on the menu on that one night and will not again until the next leap year!
We take a seat at the Beachhouse which looks out onto the back courtyard where dogs are welcome.
The Apple Thief Pink Lady Apple Cider
The Apple Thief Pink Lady cider is definitely the latest cider drink to create a buzz - the lovely Erin from the Food Mentalist who is a cider aficionado calls this her favourite cider in Australia and it's easy to see why. Tasting fresh like pure apples it is very drinkable with not too much of a puckery tang to it.
Platter of Prosciutto, Marinated Artichokes, Sun Dried Tomatoes, Pickled Onions, Rocket, Parmesan & Toasted Sourdough $22
Our eyes widened as this was brought to the table on a large wooden chopping board. It was enormous and enough for two to share for lunch by itself.  There was soft, grilled bread with a nice char to it, some pickled onions with a balsamic drizzle on top, sun dried tomatoes, marinated artichokes, prosciutto curls and a rocket salad with parmesan and a balsamic dressing. It took all our strength to pull ourselves away from this and save stomach space for the main courses (although by pulling ourselves away we just asked it to be put to the side in case we wanted to pick at it, we weren't quite willing to give it up).
Fish Finger with Lime, Chilli Mayonnaise on Sourdough Roll $12
How much do we love retro food at the moment? This fish finger sandwich is a house made crumbed fish fillet in a horizontally sliced sourdough roll spread with a spicy lime and chilli mayonnaise. The chips were a little cold by the time we got them and there was a bit too much bread to the fish fillet (we both took off the top half of the bun) but the fish fillet was moist on the inside and crunchy and golden on the outside and the mayonnaise gave it a lovely kick.
Rare Roasted fillet of beef with Cavalo Nero, Horseradish butter and red wine jus $28
At the other end of the menu spectrum is the beef fillet cooked perfectly medium rare and serve with a light horseradish butter (that wasn't particularly horseradishy) on a mound of cavalo nero and red wine jus. It was a simple but perfectly cooked steak and a good quality one at that.
Pear and blue cheese salad with rocket, caramelised walnuts and vinaigrette $16
The thinly sliced pear, rocket and blue cheese salad had a nice combination of crunch and sweetness from the caramelised walnuts and a tanginess from the vinaigrette.
Vanilla Bean Crème Brulee with Almond Biscotti $10
Can you believe how much two girls can eat? Well we had to eat more in the name of research! ;) We started with the vanilla bean creme brulee, lovely and silky underneath a crunchy cover of toffee.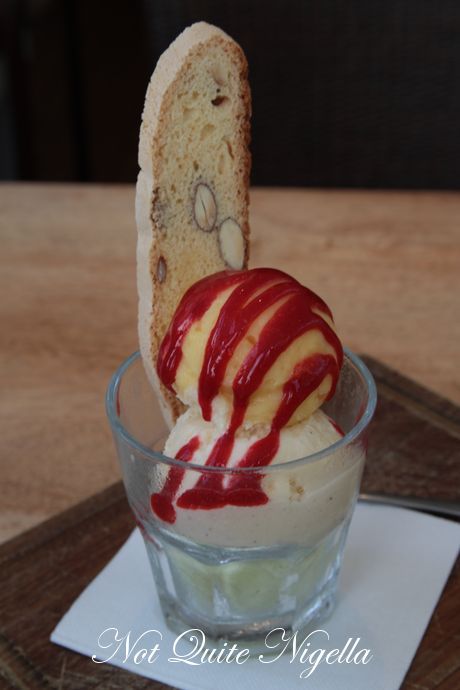 Pistachio and coconut ice cream, mango sorbet, almond biscotti and raspberry coulis $10
The ice creams and sorbets are bought in and there was a pistachio (which tasted more like almond than pistachio), a coconut ice cream with bits of shredded coconut and a mango sorbet which was a refreshing counterpoint to the creamy ice creams. They came with a crunchy almond biscotti and a drizzle of raspberry coulis.
Both of us are full and we murmur "no dinner" before saying "Ok who are we kidding? There's always dinner!"
So tell me Dear Reader, if you have a big lunch do you ever skip dinner? Or is there always dinner no matter what? I'm the latter, guilty as charged! ;)
NQN and guest dined as a guest of The Duck Inn
The Duck Inn
74 Rose Street, Chippendale, NSW 2008
Tel: +61 (02)9319 4415
Custom made chairs