It was a cold, winter's night and the wind was blowing gusts and people in any direction at whim. The rain pelted down and it felt like it could almost snow.
"It's just like the other day when I was in Johannesburg" I muttered to myself. It was literally two days before this that I was watching snow flakes fall on my eyelashes and down to the ground in South Africa (I can't wait to share those stories with you!). Smitten by the country itself, I gathered Mr NQN, Louise and Viggo to see whether they would be interested in some South African food.
I've often said that Sydney has such a variety of restaurants that you could eat from pretty much any country in the world here any night of the week. And when I first heard of Lucky Tsotsi, my ears perked up as I was told that it was a South African restaurant, a cuisine that isn't very common here.
First things first, what is a tsotsi? It's slang for thug or thief. And a Shebeen? It's a makeshift unlicensed bar or shack, said to be part of African township life. I must have picked up a South African accent along the way because as soon as I walk in they ask if I'm from South Africa. I answer no, but offer up some slang that I learned during my time there including lekker (meaning nice) and now now (some time in the future). Add a few "ya yas" and you're almost there! ;)
Upside down chickens and sharks
People are friendly here. As I am waiting for Mr NQN, Louise & Viggo, two South African gentlemen start talking to me and invite me to sit at their table. Alan is from Cape Town and Derek from Zimbabwe and they tell me that they've come here  a few times, lured by the authenticity. Which brings me to the decor: inside the walls are made of corrugated iron and recycled timber. A smattering of South African signs and license plates adorn the walls as are clocks that show the times throughout the region. The signs read prices with cheeky notes like "not in Rand" and the menu is dotted with words like "lekker."
I had purposely waited until I had returned from South Africa to visit Lucky Tsotsi so that I could see how it compared to food there. The menu and drinks are all served at the bar and upstairs is the restaurant area. Viggo has a Windhoek beer, one that he enjoys immensely for the strong hops flavour and Louise has a glass of South African white wine.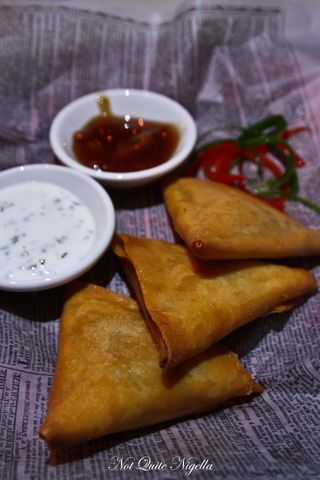 Sipho's Durban Samoosas with lamb $9.90
The food comes out quickly-I mean really quickly! Durban is an area rich in Indian cuisine and the samoosas are filled with lamb and are deep fried until crispy on the outside with a soft, flavoursome filling inside. They come with a minted yogurt and a Mrs Balls chutney (which coincidentally, I have in my fridge).
Inkosi chicken wings $11.90 for 6
I do love a good chicken wing and these fall straight from the bone and had a tingly spiciness to them that appeals to Mr NQN and I.
Oom Karel's African platter $19.90
The African platter had a range of sliced Biltong which has the flavour of coriander seeds. This is made for them at a nearby butchers. The platter also comes with dry wors or dried sausage which is chewy and some spiced dried corn which is addictive as well as some dried fruit and nuts.
Bakgat Bunny Chow $15.90
I was interested to see how they would do Bunny Chow. When we were in Durban with chef Neil Perry, "Bunny chow!" became somewhat of a chant for all of us but especially Neil who was eager to try the local offering. And in Durban, whilst the curries were nice, they were served in hollowed out government white bread which soaked up all the sauce and became wet. Here, it's served in a small cob loaf that does a better job containing the mild curry sauce and soft chicken pieces and I prefer the bunny chow here than the one in Durban as the bread suited it better.
Jo Burger Boerewors Sliders $14.90
The boerewor sliders are essentially two fat sausages encased in a small bun with onions, tomato sauce and mustard on top.
Meneer's ribs pork $19.90 half rack
Served on a bed of chips, the pork ribs came with what was described as a "lekker barbecue sauce" which was tangy and full of flavour. The ribs were soft and fell off the bone easily and this was a favourite at the table with the boys particularly liking these.
Samp and beans $8.90
Said to be a favourite dish of Nelson Mandela, the traditional dish of samp (cracked hominy or grits) and beans is flavoured with onion, tomato and capsicum. It's mild tasting and pure comfort food and I find myself drawn to this dish over and over again.
Lorena Maria's 1/2 Mozambique chicken $16.90
We were a bit full by the time this arrived. Whilst it was good and the peri peri chicken tender,  I still compared it to the butterflied Mozambique chicken I had in Durban which came with a gorgeous tangy sauce and I preferred that one because of the sauce.
Malva pudding $7.90
Louise enquired about dessert as there was none on the menu. The South African classics keep coming with Malva pudding which is a baked pudding with a sweet syrup-much like a sticky date pudding without the dates or aromatics added to it. Here, it is soft and moist and served with two scoops of vanilla ice cream.
Koeksusters $8.50
Koeksusters are also called "cook sisters" and are sweet, syrupy donut types of sweets that are thick and soak up much of the syrup. They're denser and thicker than regular donuts and a bite into them reminds us of those Indian jelabi sweets.
From left to right: Springbok, Sowetan Long Drop and African Apple shooters $7 each
And no night in South Africa is complete without a springbok or two! The one on the left is a springbok and it is a double layer shooter which has a bottom layer of peppermint liqueur and a top layer of Amarula liqueur which is similar to Baileys creme liqueur with the flavour coming from the Marula fruit. There's a little too much peppermint in these whereas the ones I had in South Africa had a bit more Amarula and downing one was like a liquid Mint Pattie. This one was more pepperminty. We also tried the Sowetan Long Drop (not the nicest name admittedly, we suppose referring to long drop toilets) and has chocolate and banana liqueur and the African Apple which was tart and a bit medicinal.
There's a little South African joke on their facebook wall-explained by Louise's friend by text below when she enquired what "Vleis-book" meant ;)
So tell me Dear Reader, have you ever tried South African food? And after you visit a country, are you more inclined to seek out food from that country?
Lucky Tsotsi
245 Oxford Street, Darlinghurst NSW 2010
Tel: +61 (02) 8354 1306
Open Tuesday to Thursday 5pm-midnight; Friday & Saturday 3pm-midnight; Sunday 12pm-10pm