Dear Reader, do you find that sometimes, things don't quite work out the way that you want them to but perhaps may lead to benefits or ideas later on? You may not know it at the time, and your fists might ball, teeth grit and eyes move heavenward searching for an answer but, eventually, you start to see the silver lining. And apparently that's along the lines to what happened for Al Carbon Food Truck owner Attila Yilmaz .
One of the ten food trucks that was set to launch in Sydney during 2012, his truck took longer than expected to be completed. In the meantime, with a catering business set up in Canterbury, he was serving up samples of his tacos. After that, frustrated at the delays taken to finish the trucks, he decided to open up his warehouse space to diners on certain days and the reviews came thick and fast. With reputedly some of if not the best soft tacos in Sydney combined with it's slightly out of the city location and the fact that diners never quite knew when it would be open helped to ensured its success.
A former police training officer, Attila swapped his life in uniform to a life following in the footsteps of his Turkish father who owned kebab vans in Canberra. Attila was injured several times in the line of duty but it wasn't the physical scars but the psychological ones that put an end to his career as a Senior Leading Constable. The case was a particularly brutal 2008 murder involving family members. He recalls the day with sober sadness and as the first responding officer on the scene, had to check the victim for a pulse. As a family man, he couldn't reconcile the brutality of the murder of a family member and was honourably discharged from the police force and put into motion, a plan that he had been thinking about for years.
The idea first came to him during undercover work in a park that was notorious for muggings and assaults at night. He thought that by activating the space using parking food trucks with their ensuing crowds would make the area safer for people to walk through. To research Mexican cuisine he travelled through Los Angeles and Mexico and "was downing thirty tacos a day" he says. He travelled with Bill Esparza from the blog StreetGourmetLA and met up with Tijuana based photojournalist and blogger Jason Thomas Fritz Of TijuanaLandia whose atmospheric black and white photograph of the Day of the Virgin of Guadalupe festival sits pride of place beaming down on diners. A version of Guadalupe is Guadalupita and La Lupita is a shortening of the name.
Named Al Carbon which means "cooked on charcoal", the food truck pops up every few days at a location. However, currently because they need a truck to tow them, they are at the mercy of the truck driver's schedule.  The current legislation limits food trucks to stints of three hours including set up which Attila tells us is too short a time period as his self designed truck takes about thirty minutes to set up. This time and place limiting legislation is set to change shortly. To supplement the food truck, he opens up this location about twice a week and also caters for festivals and events.  Some customers come from as far away as the Central Coast, Manly and Liverpool while some follow him from lunch to dinner locations eating twice in a day.
Social Media has helped in numerous ways - one day he tweeted that he would offer a designer a lifetime supply of tacos in exchange for help with branding. He didn't expect that the head of Interbrand brand management would respond and after an initial meeting, Interbrand were offering their services free of charge and "then we had twenty two staff turn up!"
Every day there are about twenty phone calls asking if they are open. I had called up a few weeks ago to see when they would be open and Attila had answered the phone and a date was set and one warm Sydney evening, Girl Next Door and I were on our way to Canterbury. Even though it's a main road, there isn't much open on the street except for one telltale sign and when we walk in, the atmosphere is welcoming and the crowds are excited.
The black and white image glows on the right and exposed light bulbs hang. There's a mix of people from families, younger groups and couples. The action is in the  grill, where meats sizzle away on the charcoal getting that crispy char to their edges. A tortilla machine dispenses freshly made flour tortillas and Attila and his young, friendly staff are busy serving, slicing and talking to customers.
Ordering is like a yum cha menu where a two sided slip of paper gets marked every time you order something and you pay using the slip at the end. We take a seat towards the back where the food truck is parked. There are large share tables and smaller tables and you can also stand up and eat in the food truck itself.
We start with a range of the food-it's hard to decide so we try a bit of everything. The menu changes regularly and there's a mix of nibblies, salad, wings and tacos. Drinks include a Mexican Coca Cola (according to Girl Next Door, it's stronger in syrup and similar in flavour to postmix Coke) and Agua Frescas which are cold, fresh fruit waters. Today's flavour is raspberry and lime which is generous with real raspberry with the piquancy of lime.
Each taco is served with the meat on it and you simply add the sauce that you want from a choice of salsa rojo, salsa verde, habanero and peanut sauce and then the salads or vegetables.  The most popular taco is the 'Al Pastor' with charcoal grilled pork and roasted pineapple which is grilled whole. The sweetness of the pineapple is an ideal foil for the pork and the filling is generous in this-not too much so that the taco bursts but in the ideal proportions for ease of eating and enjoyment.
The watermelon is cut into triangles and served with a stringy queso de Oaxaca cheese that is especially made for them. The cheese is mild and moreish and is similar to the feta and watermelon although the queso de Oaxaca is less salty than feta. Saltiness and spice is provided by the chilli lime salt which is liberally sprinkled on top to give it a tangy spiciness.
One of their most popular items is the charros beans which reminds us of nachos. Girl Next Door exclaims that it's like nachos but better and it's true, while nachos is great for the first minute or so, it becomes wet and soggy quite quickly. This retains a crunchy element through the Salsa Chiltepil which is a delicious mix of sesame seeds, pepitas, three types of chilli and spices. The Chiltepil is also sold in containers, great in place of chilli or hot sauce. The Crema Mexicana is very similar to a yogurt labne and is a creamy addition to the chips and beans.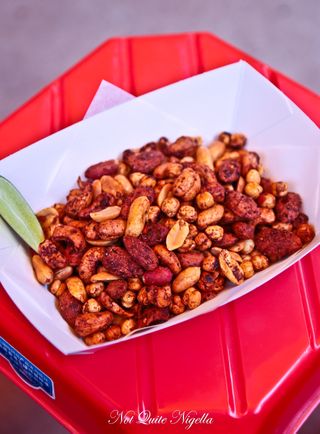 The spiced nuts are a generously portioned serve of nuts, ideal to go with one of their Mexicali Sol Cervesas or Rio Bravo beer. They're crunchy, aromatic and slightly spicy with chilli and includes peanuts, cashews and almonds.
There were four types of tacos available that night and the second taco that we tried was filled with tender chicken which we topped with a salsa and a pickled radish salad. The chicken marinade was full of flavour and this along with the char imparted a fantastic flavour to the meat.
The carne asada beef was tender and juicy and we paired this with a salsa rojo on their recommendation. I also tried the habanero sauce and the peanut sauce which were also very good, the former hot but not burningly so.
I saved my favourite taco for last. Inspired by L.A. food truck Mexicali and Co, this is a cheese stuffed bacon wrapped japaleno pepper with a green chilli salsa. And holy heck it is good - undoubtedly spicy but worth the huffing and puffing (chase it with a chilli and lime salted piece of watermelon, I promise it works!) . They were so good that I took some home for chilli loving Mr NQN.
The hot wings were spicy and char grilled wing and drumstick pieces. I grew up loving and eating chicken wings-they're my chicken cut of choice really, and I was so excited to get to try these as I'd heard that they were fantastic and they didn't disappoint. To the side were corn chip and a lime garlic crema.
Ready for dessert? Raspados means "to shave" and the fresh cucumber raspados is topped with strawberry and pomegranate coulis, agave syrup and chilli and lime salt. You can definitely taste the cucumber but it's never too "green" or savoury simply giving it a freshness and the strawberry and pomengranate coulis tastes of fresh fruit. The texture of the ice is soft and melts on the tongue and it is a perfect combination of sweet, salty and spicy in one. We're sitting next to a couple that are so enamoured of their raspados that they're downed in a few minute's flat!
We also get to try the mango raspados which is the most popular flavour. One spoonful is and I can see why and if I liked the strawberry and cucumber raspados before, I love this one even more. The mango is so fresh and creamy and goes perfectly with the sweetened condensed milk and chilli and lime salt. And a bit of exciting news that Attila shares with us is that he will be launching a new van in the next few weeks called El Diablito Ice. They will be serving a couple of flavours of this ice along with Sonora Hot Dogs which are sausages stuffed with cheese and wrapped in bacon housed in a ciabatta type roll.
Attila also kindly gives us a taste of their newest experiment: the roasted banana raspados made with coconut horchata which is an aromatically spiced rice drink. The roasted bananas are sweet and strong with true, real banana flavour (I particularly like how there are no artificial cordials, just fresh fruit reductions) and although full, it's hard to stop spooning these refreshing ices.
Girl Next Door reluctantly leave and offer suggestions for place to pop up-okay they were suspiciously right near where we live but you can't fault a gal for trying can you? Especially when Locked tacos, wings, charros beans and raspados are involved...
So tell me Dear Reader, this is all philosophical but do you think that things happen for a reason? And have you ever eaten from a food truck or tried a pop up restaurant? What do you think of it?
La Lupita
325 Canterbury Rd, Canterbury NSW 2193
Tel: 0416 061 974 (call to check when they are open or follow on facebook)
http://www.facebook.com/LaLupitaSydney