Dear Reader, throughout your every day life, do you have a soundtrack going through your head? When dramatic moments fall is there exciting music and when sadness cloaks your mood, do you hear sombre tones? Well, when we were on our way to Yellow, all I could hear was that Coldplay song.
Yellow, the new restaurant by Bentley Bar's Brent Savage and Sommelier Nick Hildebrand is in the Yellow building, a former art gallery and artist's collective on Macleay Street. Coloured the sunny shade as a nod to Vincent Van Gogh, it was a place where artists such as Brett Whiteley, George Gittoes, Bruce Goold, Peter Weir, Philip Noyce, Albie Thoms and Aggie Read collaborated and displayed work. Prior to its current incarnation it was Yellow Bistro where Lorraine Godsmark seduced the neighbourhood and beyond with her cakes, pastries and meals.
It's a Monday evening so we suppose that the customers are more locals-there's a woman with her jacket wearing dog sitting outside and families and small groups and the restaurant is quite full for such a wet and rainy Monday. Prices are very reasonable and I'm almost shocked when I call them and find out that I can indeed make a booking with so many places that no longer take them.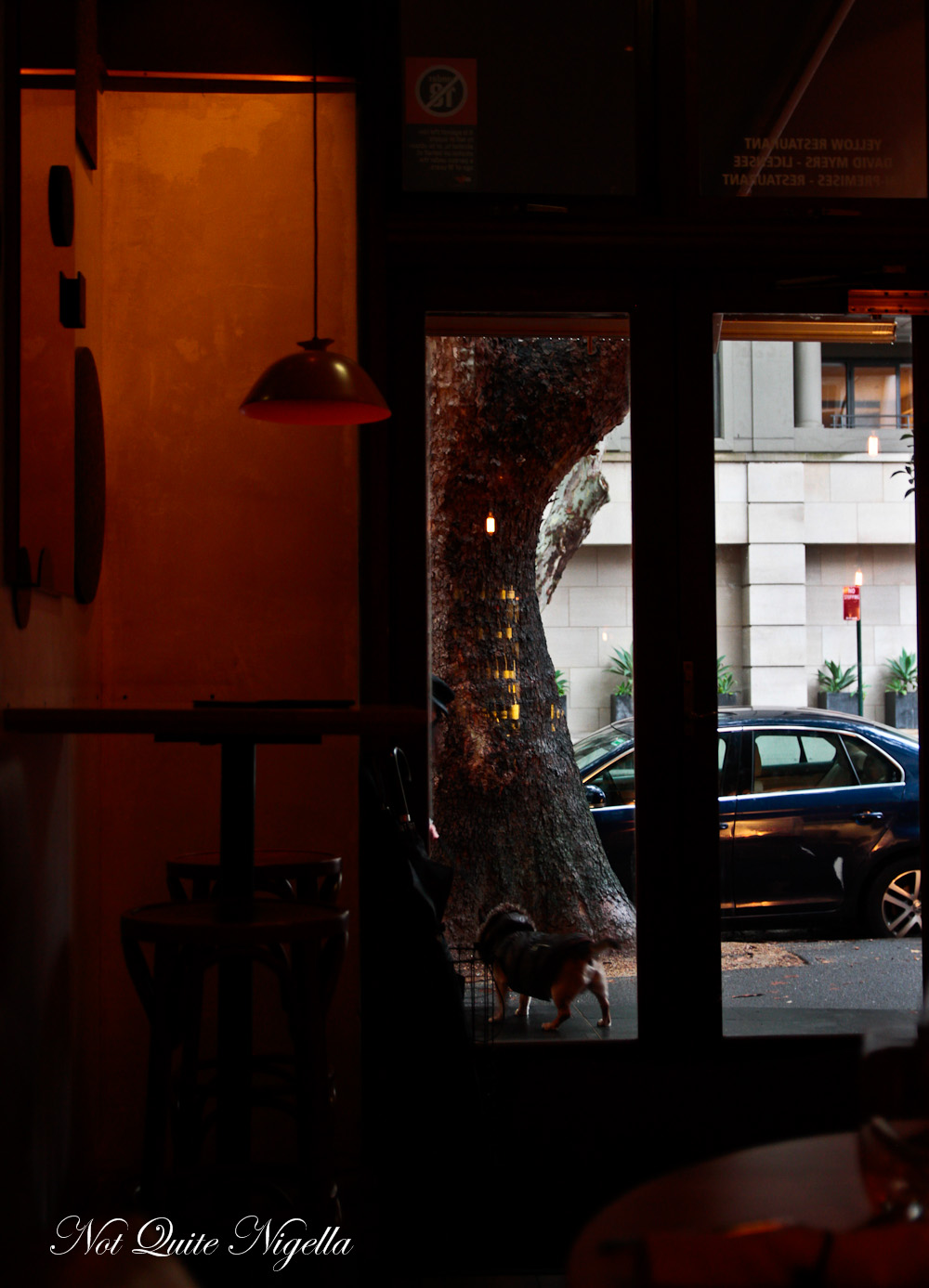 Some house baked bread and cured butter hits the table. The bread has a thin crackly crust and a dense, soft crumb. We look around and it looks totally different from when it was the patisserie. It's darkly lit and moody and modern but with rustic touches with unfinished walls and diners rest against soft, silver cushions. Service in house is good although service over the phone is rushed and breathless and makes me feel as though I'm interrupting them.
Lamb Tongue, Pickled Green Raisins & Puffed Black Rice $17
The first entree was on recommendation from our waiter. It's a well balanced dish made up with tender pink lamb's tongue, pickled green raisins and crunchy puffed black rice. There are two sections of grilled witlof curled over with give the dish a bitter touch.
Pulled Pork Shoulder with Kohlrabi & Dandelion $20
Coming from someone that rarely needs to add salt to a restaurant dish, both Belinda and I found ourselves reaching for the salt for this. It's soft and rich and served with kohlrabi ribbons as thick as papardelle and dandelions but needs more seasoning.
Glazed Eggplant with Quinoa & Broccolini $26
I don't know what is happening to me but whenever I see eggplant, let alone glazed eggplant, my mouth starts a Pavlovian response. Although other dishes were recommended to us, we went with the glazed eggplant which was soft, glossy and luscious. It sits on a bed of soft quinoa and is topped with crunchy broccolini with a bright green emulsion swirled at the side.
Lamb Belly with Broad Bean, Celery and Purslane $27
Another recommendation was the lamb belly which undergoes four steps of cooking from brining, sous viding, roasting and grilling before it hits the table. The lamb belly comes out as a very soft rectangular slab underneath a cloak of broad bean, celery and purslane. This also needed a bit of seasoning and acidity as it was very unctuous and rich and we couldn't finish our serve. The skin on top also wasn't crispy as described when we ordered it.
Goats Milk Yoghurt Ice Cream Sandwich with Pistachio & Orange $15
If you like your dessert tangy and we mean with an almost sherbert tang, this is the ice cream sandwich for you. The goat's milk yogurt almost fizzes on the tongue and the sandwich is topped with candied pistachios, strawberries and orange segments. Belinda is not a fan of this dessert at all and finds it "confusing, I don't understand it."
Coconut Sorbet with Lime, Mint & Cucumber Soup $15
Meanwhile we both overwhelmingly preferred the coconut sorbet, displayed as a white edge of pristine white coconut snow with a centre of lime curd with mint and cucumber. This too is refreshing, edging slightly in the green or savoury category in bites. And don't worry, for those seeking comfort in chocolate, there is also a frozen chocolate parfait on offer.
And even as we leave, the song Yellow is all that I can hear...
So tell me Dear Reader, do you have a music soundtrack going in your head? What is the current song in your head?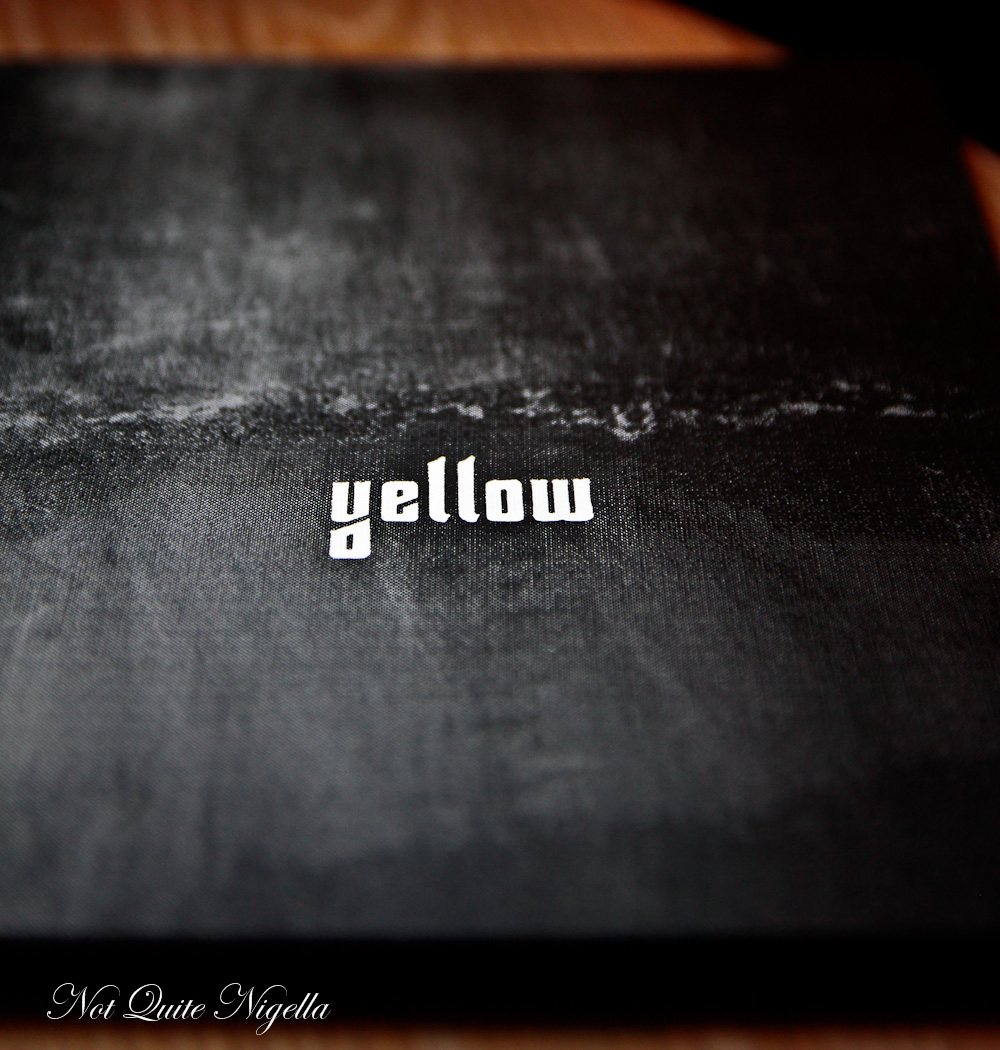 Yellow
57 Macleay Street, Potts Point, NSW 2011
(02) 9332 2344
Open daily for dinner
http://www.yellowsydney.com.au/