"Um, is that...pot that I can smell?" I say to Belinda mid-sentence. I sniff the air and there's no mistaking that distinctive smell. Is this part of the whole Jamaican experience at Jonkanoo I wonder? After all marijuana and Jamaica are inextricably linked. It seems not as the smell disappears a few minutes later. Perhaps it's a Surry Hills local but we get the message, there's definitely a casual vibe here.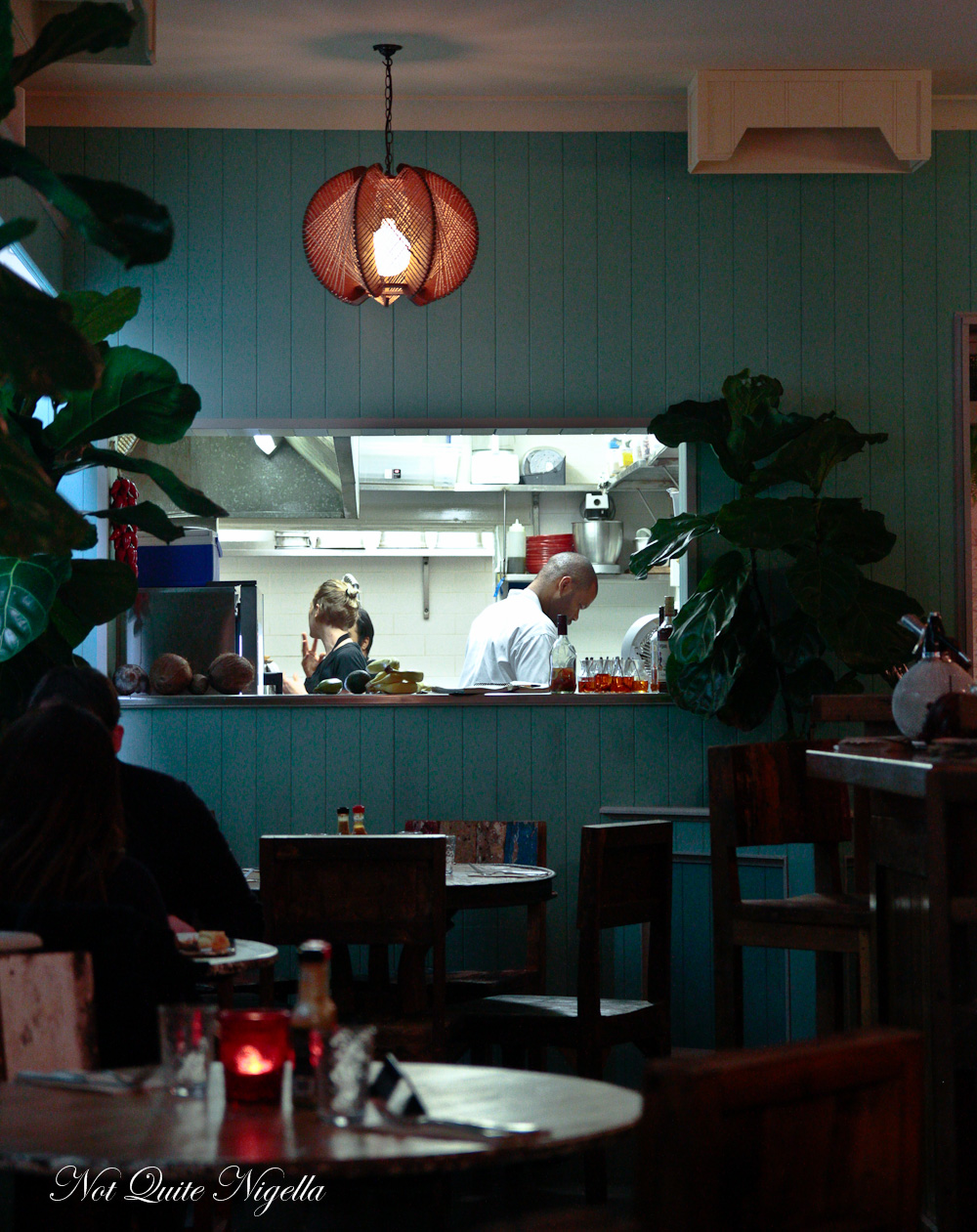 Jonkanoo was a recent recommendation from reader Dan. Jonkanoo or a Junkanoo is a street festival held on December 26 and January 1st in the Bahamas that is also celebrated in cities where there is a large Bahamian population. Excited at the prospect of Caribbean food I made a booking for Mr NQN, Belinda and I. Alas I had some trouble getting a response to my booking message and I would go through to the answering machine every time that I called. We eventually just turned up one Sunday night and thankfully they were open and found a table for us.
Jamaican born Chef Damion Browne is working in the kitchen and the room is vibrantly decorated with painted aqua wood panels with rustic painted wooden chairs and tables. Caribbean music plays and there are two bottles of Uncle Tyrone's hot sauce on the table. The menu is divided into sections.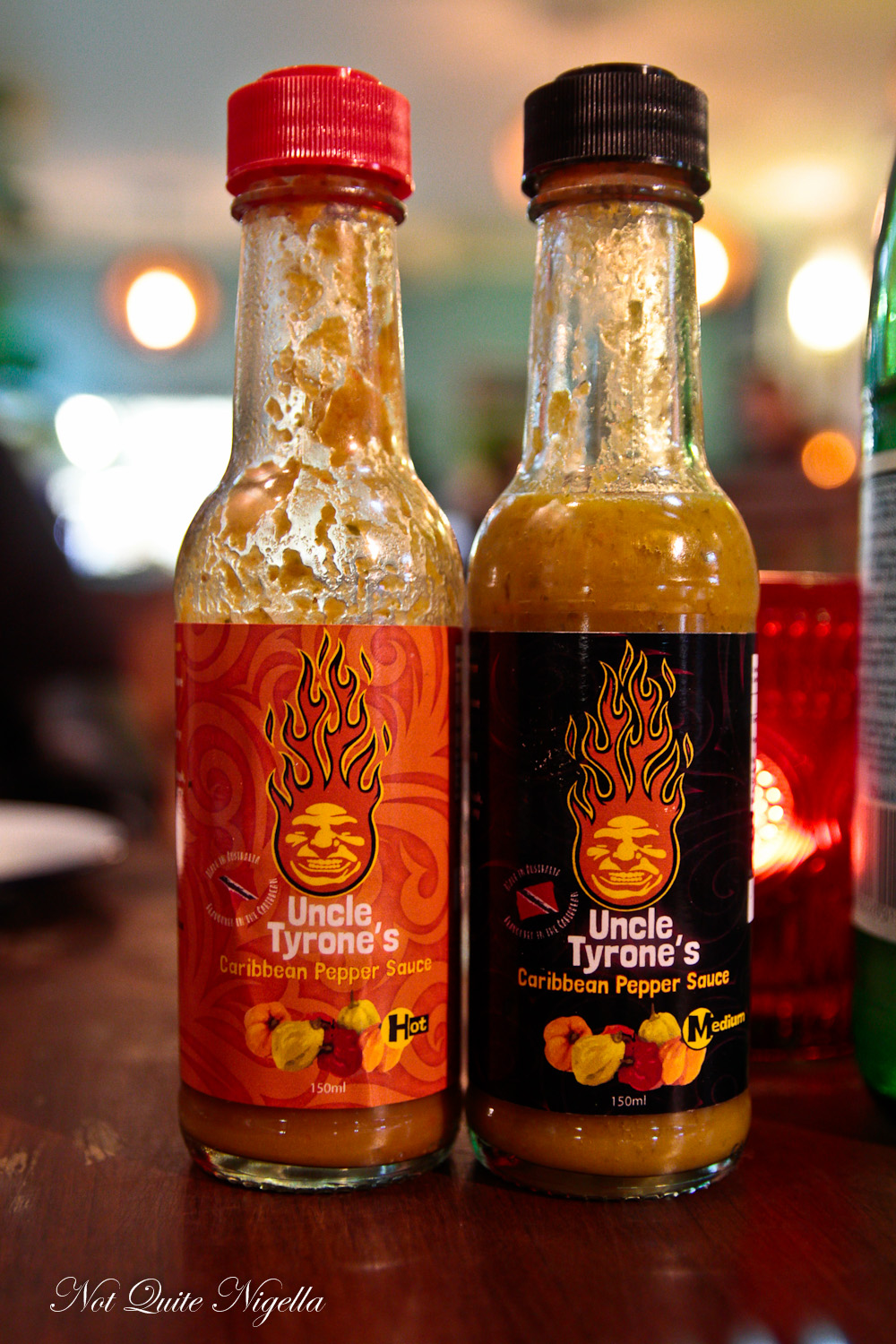 "Little tings" are entrees while "Bigga Tings" are mains. The menu covers Trinidad, Jamaica, the Bahamas and Haiti and ends with three options for dessert. Rum and Mezcal are big here and we order a couple of cocktails to start. There is a page of classic cocktails and then a page of their specialty ones.
Where is the love? $17 (back) and Sorrel Flynn $17
As the waiter sets down Belinda's cocktail he says "I hope you will find the love" most sincerely. I almost expect him to break out in song and serenade her. The "Where is the love?" is a deliciously drinkable cocktail made with Kraken Spiced Rum, lime, pineapple and passionfruit with a inch thick of foam on top. The "Sorrel Flynn" is made up of Bacardi Oakheart, Bacardi 151, mint, lime and sorrel juice. Sorrel is Jamaican for hibiscus which explains the shade and flavour of it over sorrel the herb. It is a very popular ingredient and grows abundantly across the island.
Oysters natural with 'Jamaican gravy' $3.50 each
We inquire about the Jamaican gravy (hoping that it's nothing like roast gravy!) and they tell us that it is a rum mixed with scotch bonnet peppers that you pour over the oysters yourself. They bring us three Sydney rock oysters and we douse them with a little of the spicy rum and a squeeze of lime before downing them. I come up coughing because the first thing to hit my throat is the chilli rum but it's actually not that spicy and really quite good (hoarse, whispery, choking voice notwithstanding).
Trini carnival doubles curried chana, peppa & mango $12
These Trinidadian carnival doubles are a cousin to a burger. A popular street food, the "buns" are made up of a deep fried flour based bread given its distinctive yellow shade from turmeric. These are sandwiched together with chana or chickpeas with small pieces of soft mango. These come with a little flask of oil that looks much stronger than it actually is. The best thing is to add one of the two hot sauces on the table to spice it up.
Soused mackerel, ginger ale & sweet potato chips (gf) $19
The soused mackerel is a dish from the Bahamas and comes as five pieces of raw fish in a sweet vinegar sauce with ginger ale, cucumber and crispy sweet potato chips. We all enjoy this dish and the sweet potato strips give the whole dish a nice finish.
Accras salted cod fritters, lime aioli $18
These salted cod fritters have an appealing chewy texture with a delicious filling. They're served with a pot of lime aioli.
"Got some spare change?" a man says dipping his head in past the doorway and holding out his hand. He disappears when nobody has any before staff can do anything. I remember sitting in another restaurant a few doors down years ago and the same thing happened back then.
Curry goat (gf) $22
The mains arrive and the boneless goat curry is fantastic the meat so delectably soft that it melts in the mouth. The goat is slow cooked "with granny's curry spice". We pair with a serve of rice and peas. The peas are actually red kidney beans and the rice and beans are cooked in a coconut milk. It's comforting and good in that starchy, carby way.
Rice and peas $9
Jerk Chicken $14 for ½ pound
The specialty of the house of course has to be the jerk meat. The menu explains that they are sold as "Jerk Tings by di pound". You can buy half a pound of jerk chicken for $14 or a full pound for $28. The jerk chicken and pork are marinated for at least two days using a family spice recipe and then cooked in a custom made smoker. The result is spicy, juicy and oh so tender chicken that falls off the bone. It is served with a tropical slaw and "coco bread" aka a soft, folded over coconut milk roll.
Mofongo de cerdo $12
Unfortunately our order for the Mofongo went missing so this came out much later than everything else which was a shame as we were quite full by then and this would have been good with either the goat curry or the jerk chicken. Mofango is a bowl of crushed plantain with squares of super crunchy pork crackling mixed throughout. The plantains are not dissimilar to mashed potato without being too starchy while the small pieces of crackling give it an unexpected texture.
Rhum baba $13
The desserts didn't really appeal to us as much as the savouries and although none of us really love rhum babas, we were persuaded to order this one by our waiter. The donut shaped baked cake is doused in a syrupy St. Aubin Agricole rhum from Mauritius and topped with crème Chantilly that is very, very strong in cardamom.
Chocolate banana fritter $12
The chocolate banana fritter comes out freshly fried and paired with diced grilled pineapple and a scoop of vanilla ice cream.
The bill comes with some old school eclair lollies providing fodder for some nostalgic ramblings. Perhaps in a few years we'll be saying "Remember the Caribbean place where there was the aroma of pot..."?
So tell me Dear Reader, do you remember the names of places that you've eaten years before? Do you remember what you ate? Have you tried much Caribbean food or visited the Caribbean?
This meal was independently paid for.
Jonkanoo
583 Crown St Surry Hills, NSW 2010
Tel: +61 (02) 9699 0019 http://www.jonkanoo.com.au/
Monday, Wednesday and Friday 6-10pm
Tuesday Closed Friday - Sunday 12pm-3pm/6pm-late