In New Orleans at night, the gaslight lanterns flicker and you can immediately see why this unique city is a lure for tourists as well as the other wordly. Countless tales reverberate around the mismatched pastel shaded houses of vampires or at least blood drinkers. A stay in New Orleans isn't complete without a ghost tour.
Two of the most famous convicted blood drinkers are brothers John and Wayne Carter who lived in a first floor apartment on Royal Street. They were found guilty of murder after a young girl escaped from their apartment with her wrists slashed claiming that they had drunk not only her blood but that of many others. Fourteen bodies were found in the apartment.
Curious details like upside down keyholes and spikes deterring visitors cause us to point and exclaim at every turn. Adding to this are the fact that burial plots are shallow because the water table is so high. If you bury a casket a few feet under the surface, it will either float or fill with water so all cemeteries here have above ground tombs.
There are sirens beaming at night and we see our nearest store is the "Voodoo convenience store". A man passes us and quips "You better watch your back! If you got money you got honey!"
We head towards our dinner destination. Galatoire's is New Orleans fine dining restaurant where gentlemen must wear jackets and women dress up to match. It is also one place where having a booking does not pay. Considered to be a place for society to eyeball each other, the ground floor is the place to be seated -to get a table here however you cannot book. Booking is for the upstairs or less desirable floor.
The clientele is older and apparently the regulars are such a fixture that over a thousand receive their bill by private monthly account. A gentleman comes over to us and introduces himself as a Galatoire - he comes from a line of Galatoires and the restaurant has been in operation since 1830. Our server is friendly and gives us her personal favourite recommendations without prompting.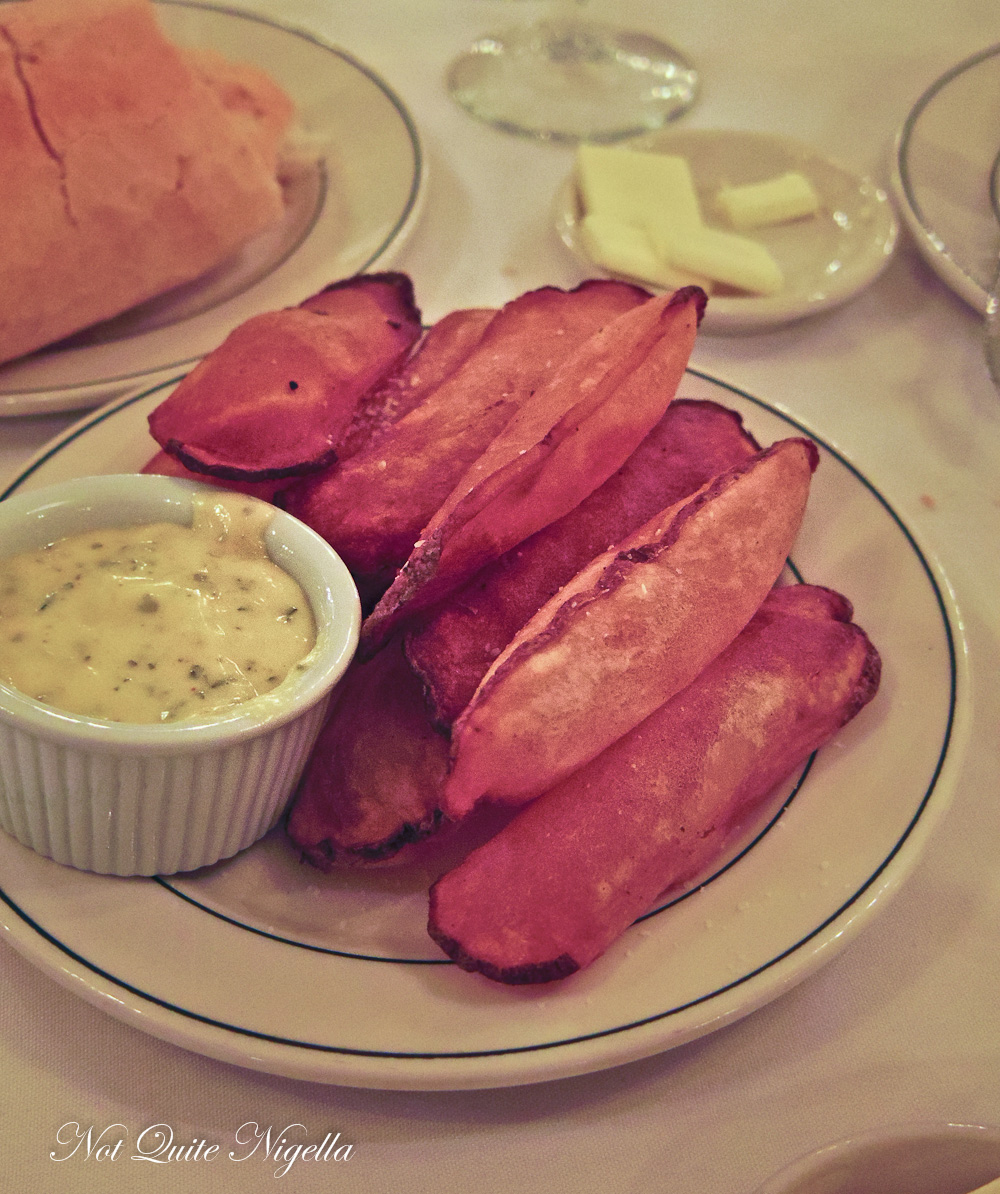 Potato souffle $3.50USD
There is one thing that we knew that we just had to order - the potato souffle. They are puffed up potatoes filled with air and served with a bearnaise sauce. The way that they make these potatoes is to slice them on the bias and then deep fry them twice - the second deep frying puffs them up. They're good although they're best eaten with fingers as a fork and knife deflates them whereas biting into them to experience the sensation of them collapsing in the mouth is best.
Salad $13USD
The salad was fine although a tad underseasoned and this is a half serve as they split the salad in two for easy sharing. There were bits of lump crabmeat and shrimp in it although I felt like the dressing wasn't quite what I was hoping for.
Shrimp Étouffée $21USD
Knowing the étouffée is a both a Creole and Cajun dish with a history tied to Galatoire's, we had to try it. The shrimp is very tender and not overcooked in any way. Étouffée means smothered and the sauce is a dark shade and tastes similar to a bisque where seafood stock is boiled down to a concentrated stock. A little goes a long way of the sauce that is darker than other étouffées than we've seen. Originally étouffée was seen more in the bayous with the Cajuns but a waiter brought étouffée to the chefs at Galatoires where it became very popular.
Crab Gratin $25USD
Our next dish is the crab gratin and it is absolutely full of large pieces of crab meat. It's a mild dish, especially following the full bodied étouffée and some more seasoning would have really made this dish.
Bread Pudding $7USD
The bread pudding is chunks of white bread wedged together and baked. It is decorated with slices of banana on top and a smooth caramel sauce. I must apologise for the odd colours in the photos, the lighting in Galatoire's is hard to photograph in.
Black bottom pecan pie $8.50USD
I was really hoping for a bit more crunch and pecans in this black bottomed pecan pie. The black bottom refers to the chocolate crumb base and the pecan filling is soft with a layer of chopped pecans on top.
There's no respite from the constant humidity and we leave the cool surrounds of Galatoire's to return to our hotel. The Grand Dame of New Orleans hotels is the iconic Roosevelt hotel, part of the Waldorf Astoria series of hotels. It sits in the French Quarter in a prime location and walking in you instantly feel a sense of history. Built in 1893 as The Grunewald hotel it rebranded to the The Roosevelt in 1925 in honour of President Theodore Roosevelt.
After almost four decades as the Fairmont, it was damaged in Hurricane Katrina. After $170 million restoration in 2009 it is now restored to its former glory and returned as The Roosevelt. Previous guests include political royalty President John F. Kennedy and rock and roll royalty Elvis. "The King's" entourage occupied the entire top floor of the hotel. Celebrities like Louis Armstrong, Ray Charles and Frank Sinatra have also played the bars.
I swing open my suite's double doors. The suite is enormous at 300 square feet. Marble floors and luxe drapery frame the waiting room and there are antique style furnishings and art deco pieces every way you turn. It's opulent without being garish.
I walk into the bedroom and turndown service has been performed. There's a king sized bed and on top of this is a soft robe and a tray containing a comprehensive assortment of Salvatore Ferragamo products from an anti aging face mask, lip balm, hand cream, shoe mitt, sewing kit, comb, face towel and face cream.
Two chocolates sit on the pillow and a pair of slippers points out from the bed. There's an iPod dock too (something I always like to play music and charge my phone). And one thing that I like about it was that the light on the dock wasn't glaring - I usually have to unplug the docks as they are so bright that they inhibit sleeping.
The bathroom is also spacious and has a large bath, four headed shower (including two massage heads) and another television (there are three in total in the suite) and another assortment of Ferragamo products with shampoo, conditioner, body wash, soap and cream in three sets: one by the bath, one the shower and one on the sink. There's also a loofah and a face washer in the shower. With all of that I might have missed the sizable walk in closet too!
The only negatives are the internet - at $14.95 per device per day it feels mercenary or at least you should be able to connect multiple devices. Also the bottles of water and many of the amenities are not restocked daily but only given once during your stay.
Downstairs are the bars and restaurants including their Fountain Lounge where local chef Justin Ferguson hones classic Louisiana dishes into elegant versions worthy of the setting.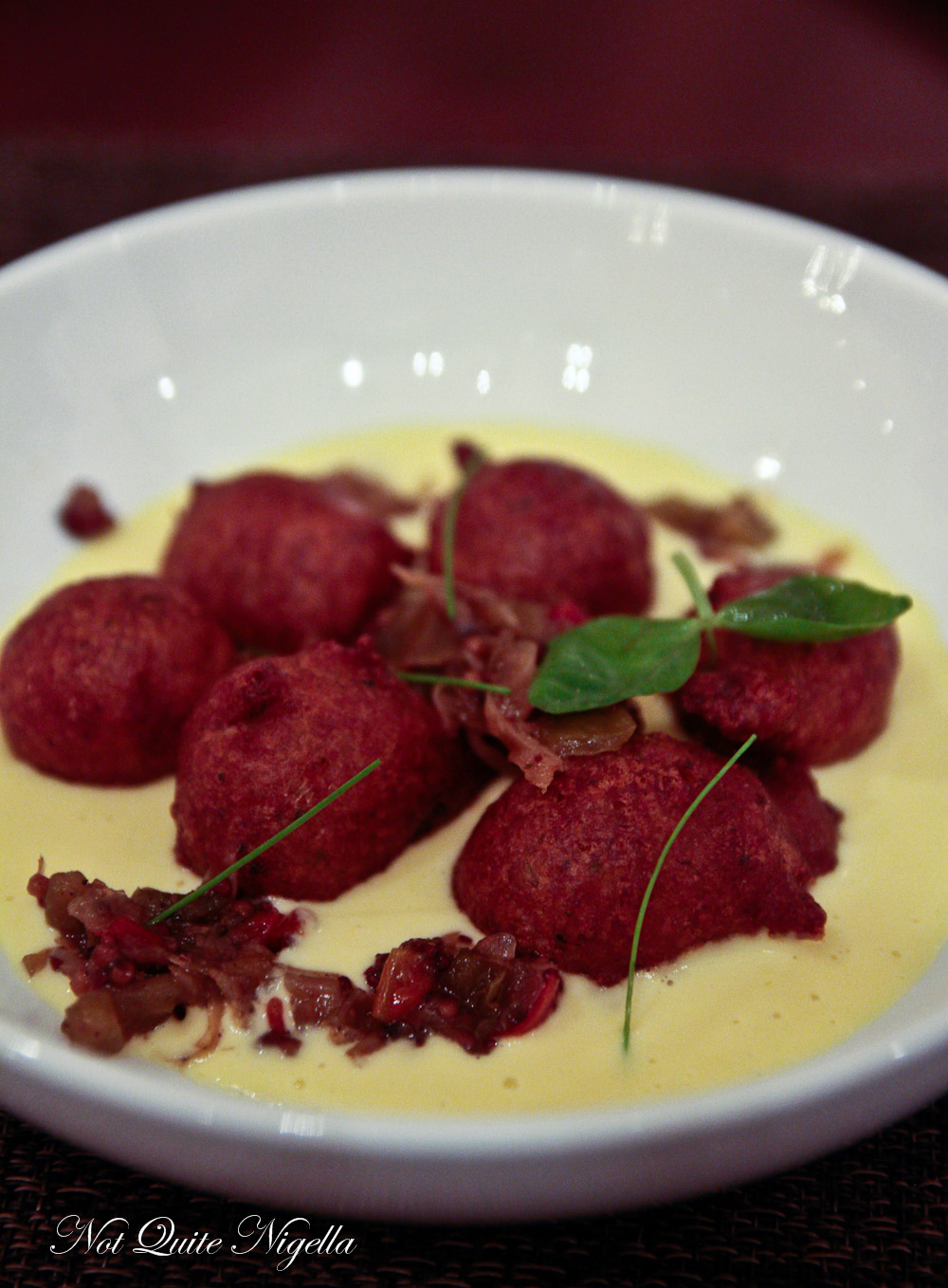 Crawfish andouille croquettes $9USD
Planning your next trip? Ensure you have the right coverage with HeyMondo travel insurance that includes COVID-19 protection. Plus, if you use our link, you'll receive 5% off the price. Find the best deals on flights from all airlines in various currencies with SkyScanner and set up alerts to get notified when prices drop. For reliable transportation options, look no further than 12Go Asia, offering train, bus, ferry, and flight transfers worldwide. Book your transportation now and enjoy a stress-free journey.
When you purchase through these links I will get a small commission at no cost to you. Thank you for supporting me! :)
The crawfish andouille sausage croquettes are a good small plate to share. The small balls of golden croquettes are filled with a flavoursome combination of crawfish (like a small lobster that are found in the marsh areas) and andouille sausage, that speaks to the Acadian or French influence in Creole cuisine. This sits on a sweetcorn puree with chow chow cabbage pickles (another Acadian item originating in Nova Scotia) with chive oil.
Skillet Shrimp $10USD
The skillet shrimp is his interpretation of a classic dish where he concentrates and dehydrates the spices and components into powders and serves it with a ham hock jus, okra and tomato butter.
But you know that you just cannot new New Orleans without stopping by Cafe du Monde for beignets right? And that's what we do the next morning. Most restaurant and eateries open from between 11am-2pm and close until 5pm but at the legendary Cafe Du Monde, hot beignets are churned out 24 hours a day. Of course it's a touristy spot but even the most jaded traveller wouldn't pass up a soft, spongey powdered sugar dusted triangle.
Located on Decatur street, there is an outdoor area but the muggy conditions force us inside to the air conditioned comfort. The menu is displayed on the side of the napkin holder. I watch as a woman tucks a napkin into her t-shirt and proceeds to lift a thick powdered sugar coated beignet to her mouth.
Beignets $2.42USD for three
Belinda and I split an order of beignets and they come out a few minutes later hot to the touch and blanketed in sugar. There's a bit too much sugar for me but I'll always remember the sensation of sinking my teeth into the deep fried, puffy, spongy dough-there is some weight to the fried pastry and gratifyingly there's no taste of oil, just pastry and sugar.
While most visitors stay around the French Quarter (and there's plenty to see and it's all within walking distance). We drive to the uptown Garden district and to the American Sector. Magazine street is a long street that traverses through many neighbourhoods. About 15 minutes away from the French Quarter is a quirky local neighbourhood favourite called Casamento's.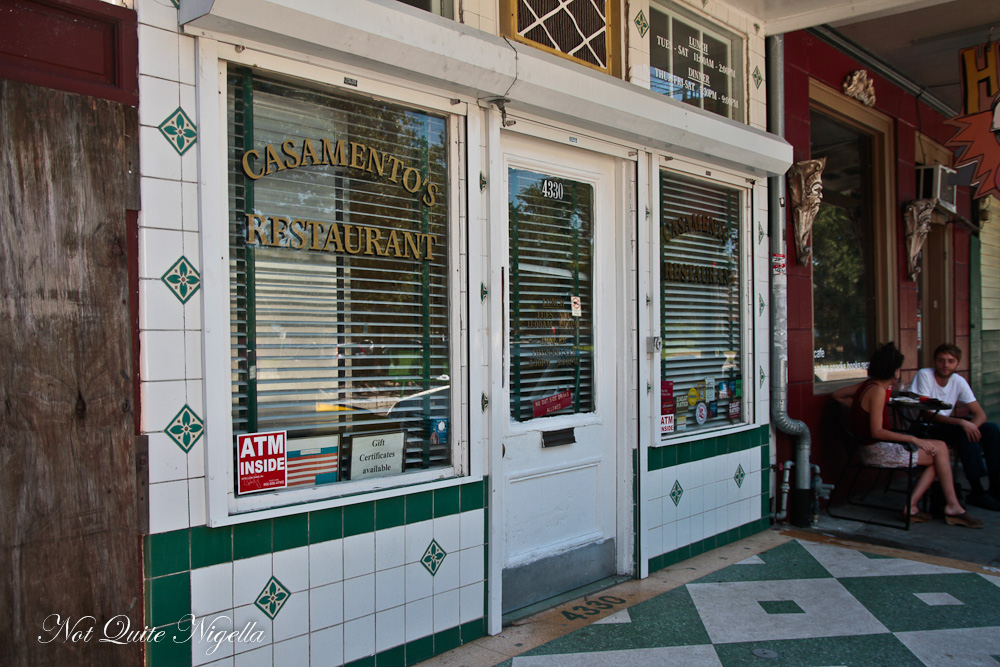 Established in 1919 by Italian immigrant Joe Casamento he set about building a restaurant using building traditions from his native Italy. He tiled the restaurant surfaces because tiles were easier to clean and for years customers have compared it to a giant swimming pool.
Indeed walking in and smelling the ocean fresh oysters that are delivered in large sacks you can't help but think of the sea or at least being at the beach in one of the kiosks.
The food is well priced and the service is very friendly and welcoming as befits a neighbourhood favourite. We make our order and I excuse myself. The bathroom is located after the kitchen and I walk past large metal pots filled with oysters sizzling in oil.
Cup of gumbo $4.75USD
Served with saltine crackers the gumbo has shrimp in it and is thick with rice and plenty of seafood flavours. It is soothing for my sore throat and I find that I have really enjoyed all the various gumbos that we've had.
Crab claws $6.25USD
I was curious to try these and was just hoping that they weren't that strange sort of crab claw entree that you get at Thai restaurants which is just the pincer with lots of seafood extender attached to it. These aren't and they're made with a small mouthful of sweet crab meat on the end - just enough to dip in a seafood cocktail sauce and suck right off the claw, each mouthful punctuated with a kiss sound. The plate comes with a small metal cup with a wedge of lemon where you can make your own seafood cocktail sauce with the horseradish and ketchup on the table.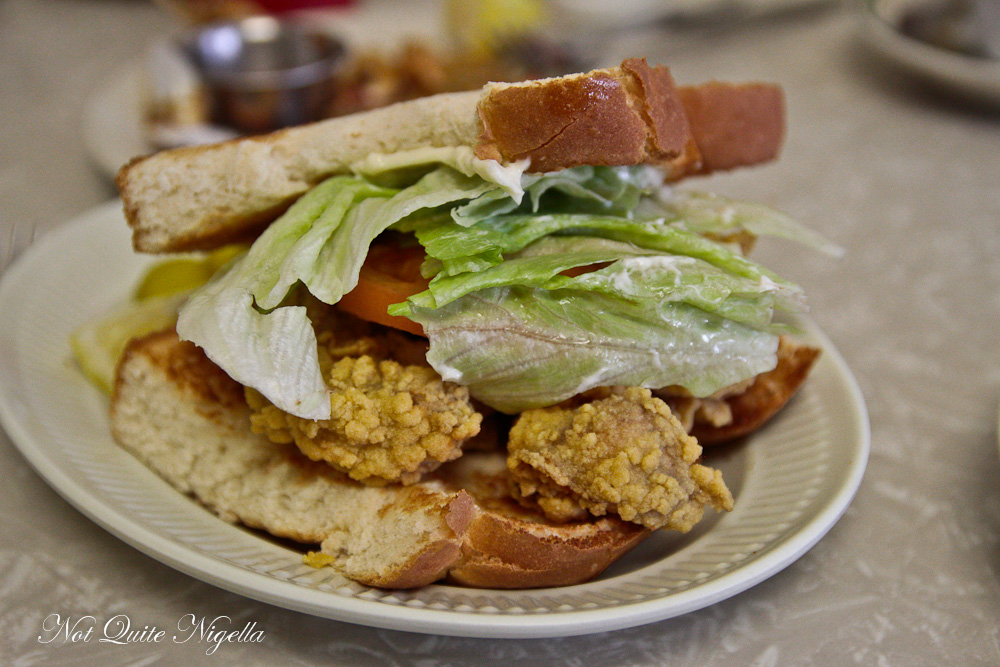 1/2 Oyster loaf $7.95USD
The term oyster loaf was the original term for the po' boy in the 1800's. I have found the po' boys a bit too bready for my taste but Casamento's oyster loaf addresses that problem neatly. Made using their own pan bread, it's two soft, squashable pieces of bread wrapped around the serving of oysters with mayonnaise, lettuce and tomato (the last three optional). I even add a little of the seafood sauce that I've made into it. Engineering wise, the bread is soft but still holds together and it malleable enough to wrap around the crunchy, breaded oysters perfectly. Ahh I've finally found my perfect po boy on our final stop in New Orleans!
So tell me Dear Reader, have you ever tried Creole or Cajun cuisine and what do you think of it? And ghost tours - yay or nay? And Happy Thanksgiving to my American readers!
All meals in this post were independently paid for.
Want to read the other road trip posts? Here they are!
Road Trip USA: Phoenix to Albuquerque
Road Trip USA - A Breaking Bad Pilgrimage to Albuquerque
Road Trip USA - Quirky Albuquerque, New Mexico
USA Road Trip: New Mexico to San Antonio, Texas
USA Road Trip: Spicy San Antonio, Texas!
Road Trip USA - A Pilgrimage To Lockhart, The BBQ Capital of Texas
Road trip USA - Hoedown in Houston
Road Trip USA - Turning Cajun in Lafayette, Louisiana
Road Trip USA: There's Nowhere Like New Orleans Part 1
Galatoire's
209 Bourbon St, New Orleans, LA 70130, United States
Phone:+1 504-525-2021
http://www.galatoires.com/home
Dining Room Sunday: NOON - 10 p.m. Monday: CLOSED Tuesday - Saturday: 11:30 a.m. - 10 p.m.
The Roosevelt New Orleans · A Waldorf Astoria Hotel
130 Roosevelt St, New Orleans, LA 70112, United States
Phone: +1 504-648-1200
http://therooseveltneworleans.com/
Cafe du Monde
800 Decatur St, New Orleans, LA 70116, United States
Phone:+1 504-525-4544
http://www.cafedumonde.com/
Open 24 hours
Casamento's
4330 Magazine St, New Orleans, LA 70115, United States
Phone:+1 504-895-9761
http://www.casamentosrestaurant.com/main/main.html
Tuesday - Saturday 11:00 am - 2:00 pm
Thursday - Saturday 5:30 pm - 9:00 pm
Closed June, July and August and all Major Holidays