A wise woman once said, "Food provides much more than just fuel." That wise woman was Jo Seagar from the cafe, cooking school and bed and breakfast of the same name. On our last day visiting the Christchurch and Canterbury region, we are roaming the verdant hills of Canterbury and looking for country style delights. We start the day off in Oxford, about 45 minutes out of Christchurch.
Always ready with a quip or a wise word, Jo is originally from Auckland where she trained as a nurse. After living overseas and forging a career as a nurse, one day she and some friends contemplated their Bucket List. On her list was a wish to have have a country cooking school. Now she has published ten cookbooks, is a regular contributor and cover girl with the Australian Women's Weekly and hosts her own television school all from her home base in Oxford.
Chai latte $4.50
Jo's cooking style is based on simple Italian cooking but she has a healthy obsession with baking too. The display of baked goods at her cafe proves testament to that and we escape the chill and warm up inside. My chai tea is delicious and all coffees and teas come with a square of what Jo calls "Vitamin Free Fudge", a delectable number that I'm sure is designed to lure diners to buy it in bigger blocks it's that good.
Waffles with bacon, banana and maple syrup $18
The cafe serves heart country style breakfasts, some with a kiwi twist including poached eggs benedict with beetroot cured local salmon. I'm more lured by the sound of maple syrup doused waffles piled high with crispy bacon with a token shout out to fruit by way of banana. It must be something in the country air or the early hour but I polish off this entire thing sans the banana (only because there must be at least three bananas in this) stopping only to do a sneaky walk by the cake display.
Lemon sour cream cake $5.70
"May I have one of those?" I say pointing at a sour cream lemon cake. It's as delicious as it is pretty, the sour cream pound cake moist but dense. It is topped and sandwiched with buttercream and a there's a splodge of lemon curd and a mint leaf on top. And as if to suggest that I might have a problem with sweets, I also try a large yo-yo cookie too. It's soft and melts in the mouth and before I know it, the whole thing is gone and I can't remember a damn thing...oops.
Yoyo $3.20
Now that we've started the day with a hearty breakfast, we take a drive to Pegasus Bay Winery that provides us with views of lush greenery and fluffy clouds of cream lambs grazing under trees. There are slightly rolling hills and gentle curves on the way to the world class and well regarded winery.
The cellar door is open 7 days a week from 10am-5pm and they provide complimentary wine tastings. There are two ranges, the Pegasus Bay which is made for cellaring and the more drink ready "Main Divide" brand. The winery was established in the mid 1980s on a property that has a wide range of soils with unique micro climates that enable them to produce items like Bordeaux style reds and a good range of estate grown wine.
All of their wines have opera themed names based on matriarch Christine Donaldson's love for opera. Prima Donna 2011 is made from grapes on old root stock with the ripest grapes on the oldest vines. We try a good range of their Pegasus Bay wines and some of their limited run wines finishing off with two dessert wines and a gewurtztraminer.
We head out to the dining area which has two large wine bottle chandeliers. The view out of the picture windows look out onto the lush grounds. We sample their house platter that comes with a glass of wine of our choice.
Pegasus Bay Platter for two $80
There is a mix of warm and cold food items on the platter. My pick is a duck egg and wild mushroom omelette with chevre cheese that is all gooey deliciousness and the Canter Valley duck salad. There is also a range of charcuterie, chutney and pickles, local olive oil and a side of home made bread. Of course given the earlier gluttony, we can only pick at the platter.
I am aware that food and wine trails don't usually involve a helicopter ride but when trying to cover ground, it would only be rude to refuse a ride in one of my favourite modes of transportation. We are now headed south towards the Selwyn region of Christchurch (about an hour by car) to graze and sip from the Selwyn Food & Wine Trail. I strap myself in tight with the three prong seatbelt and get the camera ready.
I'm heading back to a familiar place. Regan the pilot from HeliPro lands the helicopter on Otahuna Lodge's expansive 30 acre property. The trees and grass quiver and waiting for us at the front door are Otahuna's owners Hall Cannon and Miles Refo. I first visited the lodge in 2010 staying in the Verandah Suite. Things have barely changed since my last visit in the manor originally built as a wedding present in 1895 by Sir Heaten Rhodes for his young bride Jessie.
Hall and Miles purchased the property in 2007. Its last incarnation prior to their purchase was as a hippy commune. Only a single piece of furniture and the original gold leaf wallpaper in the dining room remained and they decorated the lodge sympathetically and appropriately for the style. The estate sits on a completely man made hill, constructed so the house would afford the original owners a spectacular view of the Southern Alps.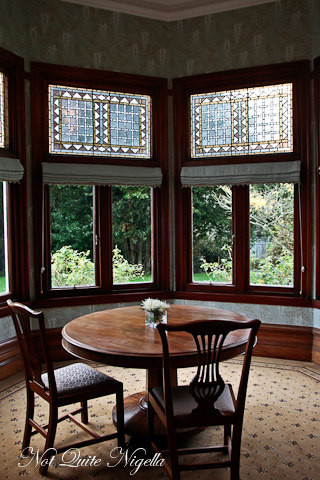 The Christchurch earthquakes affected the eleven chimneys that service the property's sixteen fireplaces and there was some glass damage but overall the lodge was not greatly affected as it is a wooden property (houses made of brick of concrete were less fortunate).
Architecture, history and design buffs no doubt coo over the details - Otahuna Lodge has the highest historic rating possible and some may notice the numerous doors throughout the lodge. Part of being a historic house is that they cannot remove any doors as it serves as intent of how the house was used. The Rhodes' were also Japanophiles so there are occasional Japanese touches throughout the very English Victorian manor. It's also worth a wander around the gardens with their 20,000 trees planted 115 years ago. Over the course of a year they will grow and harvest 120 types of fruit and vegetables and their herd of pigs provide the charcuterie.
Usually only lodge guests are afforded the opportunity to visit the exclusive lodge (although they do have open days once a year) but during Winter, Otahuna Lodge is holding cooking classes. Executive Chef Jimmy McIntyre shows up to 10 guests how to prepare a 6 course feast in their sun dappled kitchen as well as tours around the impressive grounds. Guests then sit down to eat the food matched with wines primarily from the Canterbury region. The activity that lasts from 10am-4pm is $220 per person.
A little further south is the town of Lincoln, about 5-10 minutes drive from Otahuna Lodge. The Tea House serves lunch, dinner and in the afternoons a repast in the form of afternoon tea. The idea for the tea room came from owner Vanetia's wedding business where guests would be served afternoon tea for their reception option. After the earthquake she decided that people needed a place where they could feel treated.
Vanetia took a tour from Christchurch to Invercargill to source a range of vintage cups and saucers for her tea shop. The late 19th century villa is furnished in blues as well as gold and black. Guests can order a royal high tea for one along with a tea. The Turkish apple is a particularly favourite while the green sencha tea with lime and lemon is refreshing.
The three tier stand features a range of sandwiches from a heart shaped ham sandwich to a three tier chicken and egg sandwich. There are also warm mini pies and quiches. The top layer holds a half scone with cream and jam on top and a macaron while the middle tier holds the sweets. They're all good but the highlight is the light as air passionfruit cheesecake or the crispy shortbread star dotted with lemon curd.
Although Selwyn and Canterbury isn't known as a huge wine region, there are certainly wineries producing great wines. As many of them are small producers, often cellar doors are open by appointment only. Enter Celia and Hennie Bosman of True & Daring wines. She was a ballerina and he was a diplomat and they met in Europe. True and Daring mainly produce one wine, a Riesling that is mostly exported to the US, specifically California.
The cellar door at their winery opened in its current form when Celia realised that nobody would visit a winery for a tasting of one wine. They now stock a range of wines from boutique and small winemakers that normally wouldn't have their own cellar door along with a range of local foods. The cellar door is open from Wednesday to Sunday from 12pm-5pm and typically will have between 3-5 wines to taste and from 15-20 wines to buy, all from the Selwyn region.
We're trying four wines today along with some produce from the Selwyn Food & Wine Trail prepared by chef Lauren Carmichael from Langdale Vineyard Restaurant. The wines include a Lumique Rosa, True & Daring Riesling, The Braided River Rose and a Sandihurst Pinot Noir (the original name for the True and Daring vineyard). They're lovely wines and certainly worth stopping by, particularly if you don't have a lot of time and want to taste a lot of wines from the region.
These are washed down the some fantastic as well as Graf Station cheese which is also found on the food and wine trail. The fenugreek cheese is particularly good and Lauren is kind enough to gift me with some to take home which Mandy from The Braided River delivers to my hotel the next day. Because as we learn, some folk are like that. They go that extra mile.
So tell me Dear Reader, do you always finish everything on your plate?
NQN travelled to and explored Christchurch as a guest of Christchurch and Canterbury Tourism
Seagars Cook School and Cafe
78 Main Street, Oxford 7430, New Zealand
+64 3 312 1435
http://joseagar.com/
Pegasus Bay Winery
263 Stockgrove Rd, Waipara 7482, New Zealand
Phone:+64 3-314 6869
http://www.pegasusbay.com/
Otahuna Lodge
224 Rhodes Rd, Christchurch 7672, New Zealand
Phone:+64 3-329 6333
http://www.otahuna.co.nz/
The Tea House
6 Robert St, Lincoln 7608, New Zealand
Phone:+64 3-325 7242
http://www.theteahouse.co.nz/
True & Daring Wines
1320 West Coast Road, West Melton, RD 1, Canterbury, NZ
Tel: +64 3 3478269
http://www.trueanddaring.com/