This post is my annual look back into the past year blogging. We look into 2014's most popular recipe, travel and restaurant posts and I share with you some of the most touching emails that I've received from readers. May 2015 be a wonderful year for you!
What a year it has been! I am cautious to proclaim 2014 a great year because while for me, it was relatively kind and benevolent, for many it has been awful and they are glad to have seen the back of it. This is because so many terrible things happened during it, unearthly tragedies like several airline disasters and the Sydney siege to name just a few. I wondered, was every year like this? Do we forget about the other years once a new year rolls around?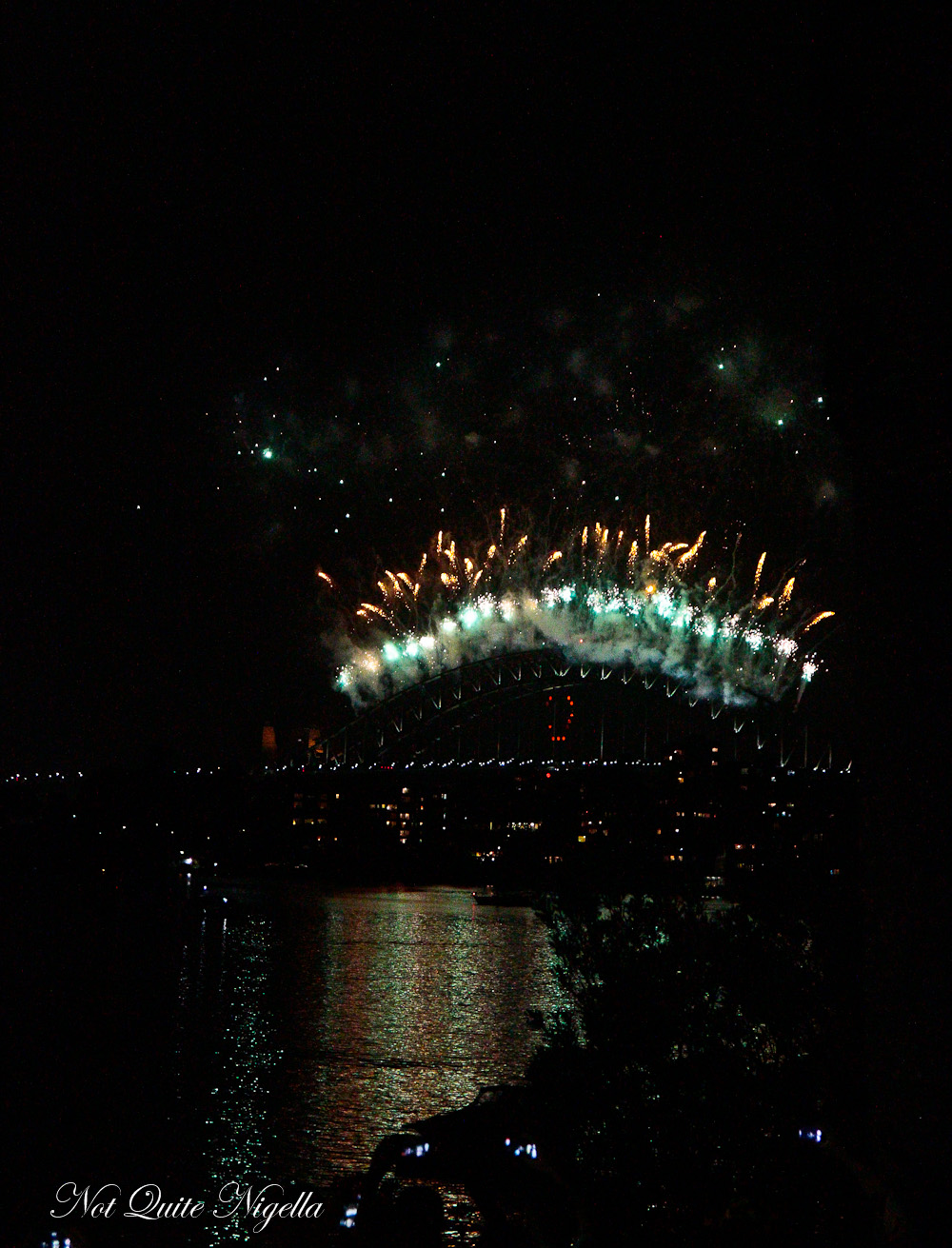 The view from our NYE vantage point at Anna & Simon's house in Cremorne Point
As I am writhing this I am sitting here on the cusp of New Year's Eve wondering what next year will hold. 2013 was so hard to top with the release of my book - a friend asked me how I was going to top it which just instilled in me a sense of panic more than anything else. I had to top that year? No pressure! I do know that even after seven years, I still love what I do and a large part of that has to do with you Dear Reader.
Some of you have been with me since the beginning over seven years ago and to see your comments, emails and messages still thrills me beyond belief and the new readers, you are so welcome into this little corner of the internet too. When you tell me that you tried a recipe and loved it or that you used my blog for travel planning ("I did so much research from your site before travelling and came up with our itinerary (basically copied everything you did)" - Leanne Mc.), then I am beyond thrilled.
There are messages from readers like Jenny N. "Hi Lorraine! I come from a sort of strict Asian background and when I fell in love with food instead of science or maths I felt like it wasn't a real path to follow so I kept it a shameful secret. I then came across your blog and read your book and realised I'm part of this foodie family that loves food for its comforting warmth. I no longer felt stupid for reading menus during English classes (I'm currently doing my HSC haha) or timing my days according to meals. I just want to thank you for having such a positive impact on my life."
And there were the heart-breakingly beautiful words of Miss R. who is living with an eating disorder. "Your book was quite special for me to read, because you taught me that it is possible to have a healthy relationship with food. You taught me that food isn't the enemy; it brings joy and happiness, excitement and anticipation. You taught me that food should not be feared; it's a necessary part of life that should be enjoyed. You taught me that you can still be a beauty-obsessed, shoe-loving, bubbly woman, and enjoy your food. You can treat yourself and indulge in a scrumptious 2000 Feuilles from Pierre Hermé. (The Paris chapter was my favourite, by the way. I went on exchange there in 2010 and was lucky enough to be placed smack-bang in the middle of Paris. It's a place that I still hold very dear to my heart.)"
Dear Reader perhaps these emails will show you why I love to blog and why I can't imagine doing anything else. Last year I did a year in review and shared the top 5 posts. I found it so interesting to see what caught your imagination and interest and this year's is no different. Every year brings with it trends and surprises so without further ado let me wish you a heartfelt wonderful 2015-may the food always be delicious and the happiness abundant! Onto the most popular posts!
Love,
Lorraine
xxx
The Most Popular Recipes of 2014!
Ahh ramen! I LOVE that the most popular story is how to make your own ramen. It goes to show that my Dear Readers are intrepid and willing to go that extra mile with making their own items from scratch. In second place, props must go to the in laws for their raw vegan chocolate energy balls. I have eaten these over the years and they are absolutely delicious. And who knew that the humble lemon curd would be so popular? I have claimed that it is the best lemon curd and I have to stand by that. Then rounding out the top 5 are two of my mother's recipes, two favourites that I grew up eating: her chicken and corn soup and her satay chicken with her very own unique method. And that paleo trend was huge at least for much of 2014 with many of the top 20 recipes being paleo friendly. I wonder if it will last?
The Most Popular Eating Out Stories of 2014!
Who knew that freezing our butts off in Alexandria would prove to be the most popular eating out post of 2014? The rest of the top 5 and indeed the top 10 shows that people aren't just interested in finding eats in the inner city and eastern suburbs of Sydney! If there was a popular region in the top 20 (and perhaps it is because I spend so much time in it), it's the inner west of Sydney which was well represented.
The Most Popular Travel Stories of 2014!
A chocolate store owner once told me that I had a very strong readership in Canberra because of the number of Canberrans that visited her store after my story went up. She may be quite right, the most popular travel story of 2014 was one that debunked the idea that Canberra was staid and boring and showed the hipster and design side of Australia's capital. Airline reviews are also very popular with many making up the top 10. This year I wondered if readers would be interested in cruises. It turns out you are and all of the Queen Mary 2 stories were hugely popular!
So tell me Dear Reader, what did you think of your past year? And were any of these stories your favourites or did you have others?