Glasgow, the vibrant, music loving city has a surprising number of fantastic eateries. From a modern take of kedgeree to the national dish of curry to the sweetest, most delicious "squats" or shellfish and langoustines, Glasgow surprises with every turn. And I should know because I spent a whole day eating this fabulous city!
I learned a curious thing about people from Scotland the other day. Someone from Scotland is called a Scot A person from Glasgow is called a Glaswegian. But there there is no name for someone from Edinburgh - they simply tell people that they are "From Edinburgh". Another thing I learned is that there is somewhat of a running feud between Edinburgh and Glasgow, both cities about an hour apart from each other.
It is our final stop of the Scotland trip and our late arrival into Glasgow means that I have just less than 24 hours to try as much as I can from this city. And by try I mean eat. It's a challenge that I am happy to try and meet. So where should one start the day if you have 24 hours in this city? One prime spot is at Hutchesons's in the Merchant City area.
Grand is an understatement about this breakfast, lunch and dinner and bar establishment. The A listed house was formerly part of the National Trust and a hospital although there is nothing sterile of vaguely hospital-like about this place. The staff are welcoming and even though I see that the breakfast has already finished they do not bat an eyelid when I ask if I can order breakfast and welcome me to pick a table.
I pick a curve hugging booth for two and settle in and look at the menu. The winds are chilly and it takes me a minute or two to warm up. The menu has a delicious range of hot breakfasts from omelettes with fine herbs, eggs royal, Scottish smoked salmon Benedict, pastries to a full Scottish fry up. But considering that I am about to eat everything I can in this city, it's best that I give the latter a studious miss.
I start with a hot chocolate, laced with salted caramel, salt and laden heavily with whipped cream and mini marshmallows. It requires a straw to drink but it's satisfying although the salted caramel is mild in this.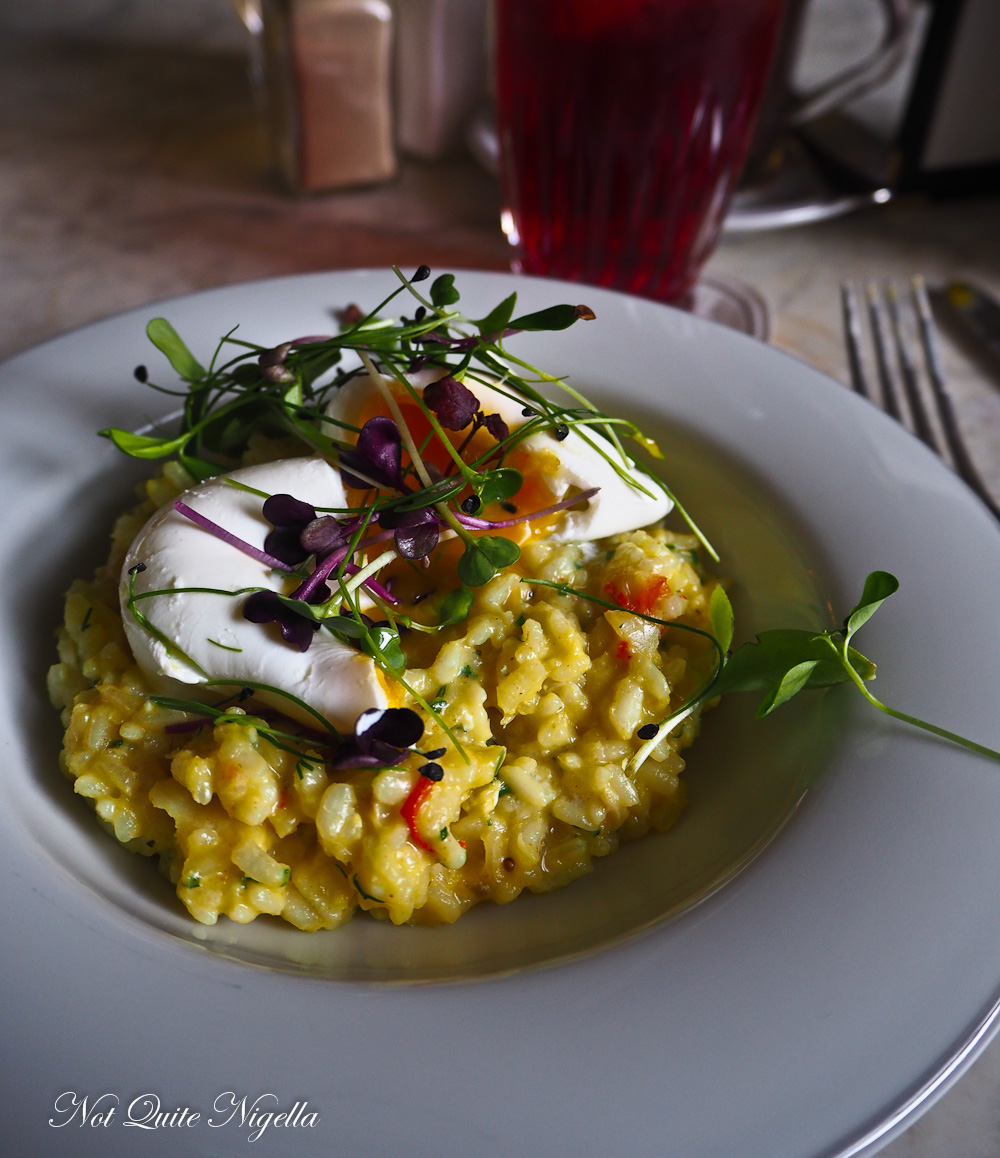 My breakfast is the classic Scottish dish kedgeree. This is a luxurious version of the simple spiced fish and rice dish. This reminds me of risotto, the grains of rice have a tiny little bite at the end. The origins of this dish are muddied and several theories abound but all agree that it is of Indian origin.
Indian food is synonymous with Glasgow food. It's big business here and Indian was the first ethnic cuisine to take a strong foothold and nowhere else is it stronger in Scotland than in Glasgow. Glaswegians hold huge affection for a series of restaurants called Mother India. With three locations here I jump in a cab to the location on Kelvingrove Gardens on Argyll/Argyle street.
It's just before 1pm and come 1pm the small cafe fills up. I try a chai masala as well as a Scottish drink called Irn Bru - its the only soft drink to outsell Coca Cola. Orange in colour it tastes like creaming soda. The masala tea comes already steeped in milk and sweetened and eases the cold from my bones swiftly.
Clockwise from bottom: fish biryani £5.20, South Indian lamb and ginger £6.25, butter chicken £4.95
I choose three dishes - two of the most popular and one special of the day. The Indian courses are described as tapas-style small servings so that you can choose two per person. The butter chicken is divine, the sauce irresistible and the chicken tender. I tear off some of the peshwari naan, promptly get desiccated coconut all over the table and dip this this in the butter chicken. It is a match made in heaven. The lamb and ginger is meltingly tender and full of flavour from the coconut, tamarind and ginger strands. The delectable sauce is absolutely made for the biryani.
The fish biryani is a special of the day (there is a different one for every day of the week). Generously portioned, it is replete with the most tender smoked haddock and salmon underneath the half egg. I can't even get close to finishing it but it is absolutely fantastic and I wish that I could take this home with me for some stellar leftovers.
I watch as two women receive their dessert - two enormous balls of syrupy gulab jamun and an equally large and round scoop of vanilla ice cream. It's with a measure of difficulty that I stop myself ordering one for myself. I am off to my second lunch of the day, just a short walk down the Argyle Street. I pass by a mosque built in the dark orange sandstone that I see quite a bit throughout the city that dates back to the Victorian era. There are plenty of retro themed shops, vintage stores, eateries and organic produce shops.
There is an undeniable buzz about Crabshakk. Perhaps it is because it is one of the smallest restaurants in Glasgow where people scramble for tables. It's easy to miss it, although it is clustered with a charmingly retro outfitted Old Fish Chippy shop and their oyster bar Table Eleven a few doors down. Crabshakk, as the name suggests focuses on seafood and proudly Scottish seafood. I have a reservation (always advisable because of the restaurant's size).
There's a bit of mis-communication because someone was meant to join me but wasn't able to make it. I am nursing a drink and waiting for 30 minutes to order food. Staff are very friendly but busy running back and forth delivering piping hot plates of chowder, house cured gravlax, langoustines, brown crabs, fish and chips or the fresh seafood from the specials board. That's where I find my favourite dish.
Squats £7
What is a squat? It's a tiny lobster. It's also one of the most delicious things you'll ever eat and may ruin your for lobster. Here it is served cold in a generous portion. You pull the head and claws off (suck the sweet head for some other-wordly delectable goodness). Then you grab the tail bottom side up and push the meat up from the bottom of the tail to the top. It comes out in one piece and it is so tender and sweet it is worth the little effort. It also comes with lemon mayonnaise but quite honestly you don't need it.
Crab Cakes £8.35
The crab cakes are their specialty and it is easy to see why. Although they are small, they're full of crab meat but the richness is offset with some seasonings and green onions. Served with a salad and lemon mayonnaise they're small but immensely satisfying.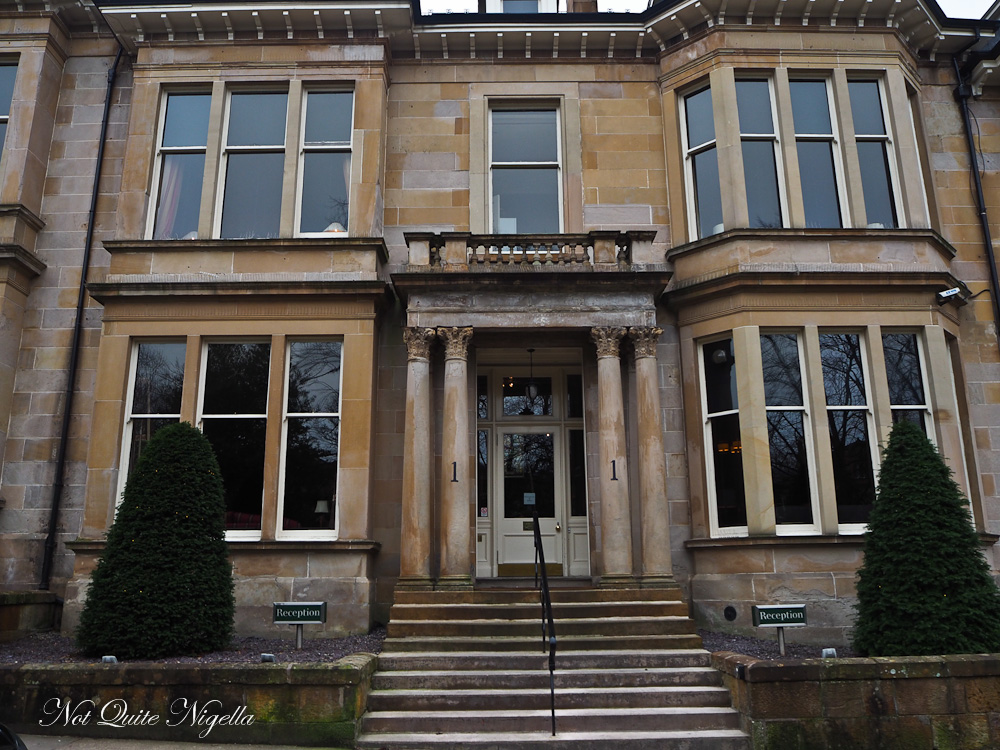 I'm staying at the Hotel du Vin which is situated at One Devonshire Gardens in Hyndland, an affluent residential area. However it isn't centrally located so taxis are best to get around. It's an interestingly laid out hotel made up of a series of five adjacent houses.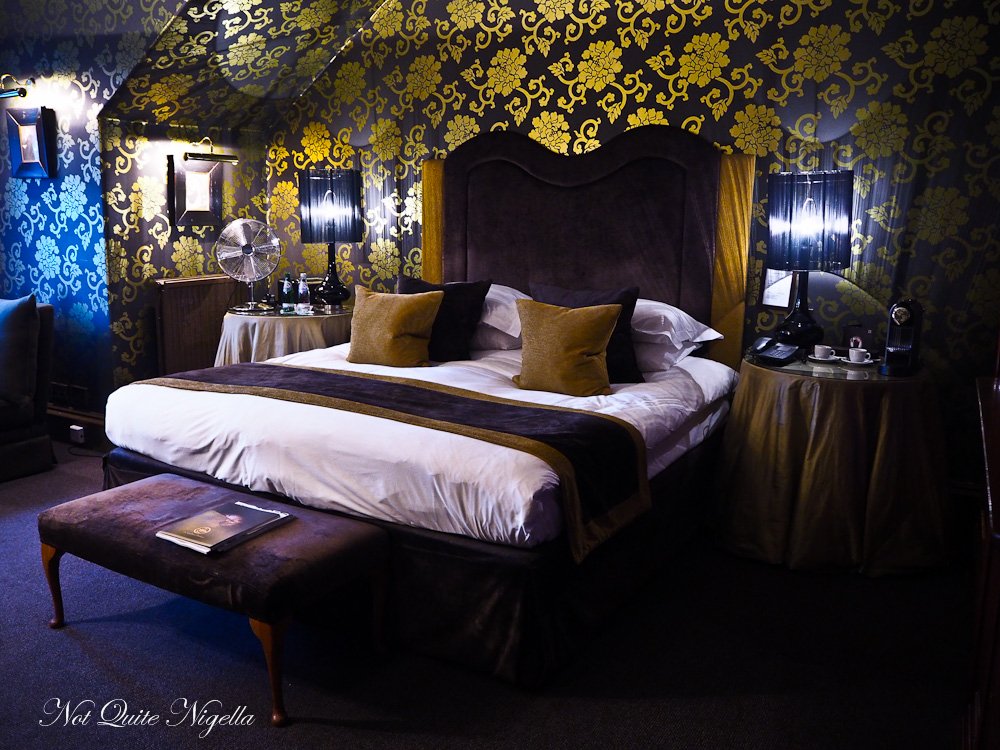 It reminds me of a jewellery store or boutique. Each room is named after a wine. Mine, the D'Arenberg is a small room, very sexy but very small in size. Each room is decorated quite differently and I found that other writers liked their rooms more although I didn't get to see them.
The desk is small and it's hard to fit a computer and work items along with the tea and coffee set and a bit of reshuffling needs to be done. There is also a lack of plugs near the desk so that makes working a bit awkward. It's also very dark and because of its size there is no real nook for luggage to sit. I'm excited to see an iPod dock but it doesn't work for my iPhone 6 and neither does the adapter. Internet is fast and free for multiple devices.
The bathroom is spacious although it could use heated floors given the cold. There is a separate bath and shower and the bath fills quickly and I thoroughly enjoy a warm soak in the bath.
A little closer to the hotel is the location for dinner Stravaigan. Stravaig means "to wander" and guests can eat in the cafe bar on the ground level or wander downstairs to the restaurant. It's a little on the noisy side this evening with one table of very how shall we say...hearty laughers!
The food here is Scottish with plenty of meat and seafood options but also incorporates Asian and Indian influences. I'm tossing up between quite a few things but then they tell us the special: langoustine.
They're split open and cooked simply with a garlic butter. Tender, creamy and soft they're perfectly cooked (there hasn't been any rubbery or overcooked seafood on the whole trip). The meat comes out easily enough and we suck on the heads until the traces of garlicky butter are gone.
Argyllshire venison osso bucco, rainbow dauphinoise, wilted spring greens, salsa verde £15.95
I wanted to try the venison osso bucco because I've never had it made with venison before, only veal. It isn't particularly different from veal osso bucco, perhaps a little drier but still delicious and soft. It comes with a purple, sweet and regular potato dauphinoise and wilted greens.
Hazelnut coffee financier, cherry marshmallow, chocolate mousse, white chocolate and parsnip ganache £6.95
The hazelnut and coffee financier is a slender rectangle of rich chocolate and hazelnut cake (the coffee flavour is very light, inasmuch as I can't really taste it at all) with airy chocolate mousse and squares of cherry marshmallow. It probably doesn't really need the white chocolate and parsnip ganache spread on the bottom.
There's a phrase in Scotland about going out. If you're going for a lat night out it's called going "out" but a particularly late night that sees you returning in the morning is termed "out out". And it seems most appropriate given Glasgow's music scene that we venture out after dinner. Glasgow is the UNESCO City of Music in Great Britain.
We end up at an Irish Pub called Jinty McGuinty's on the cobble stone fairy light illuminated Ashton Lane where there is live music. I order a Dark and Stormy which seems almost silly given the glittery lights outside.
So tell me Dear Reader, what is your favourite type of seafood? And has a country ever surprised you with its food? And are you disappointed in me that I didn't try a deep fried Mars Bar? ;)
NQN visited Scotland as a guest of Visit Britain and Visit Scotland. All meals except for Stravaigan were independently paid for.
Hutcheson's
158 Ingram St, Glasgow G1 1EJ, United Kingdom
Phone:+44 141 552 4050
http://www.hutchesonsglasgow.com/
Monday to Sunday: 9am to Midnight
Mother India
1355 Argyle St, Glasgow G3 8AD, United Kingdom
Phone:+44 141 339 9145
http://www.motherindia.co.uk/
Monday to Thursday & Sunday: 11:30 - 22:00
Friday and Saturday 11:30 - 22:30
Crabshakk
1114 Argyle St, Finneston, Glasgow G3 8TD, United Kingdom
Phone:+44 141 334 6127
Tuesday to SUnday 12pm-12am (closed Monday)
Stravaigan
28 Gibson St, Kelvinbridge, Glasgow, Lanarkshire G12 8NX, United Kingdom
Phone:+44 141 334 2665
Monday to Friday 9am-1am
Saturday and Sunday 11am-1am
http://www.stravaigin.co.uk/
One Devonshire Gardens
1 Devonshire Gardens, Glasgow G12 0UX, Scotland
https://www.hotelduvin.com/locations/glasgow/