*Departing Edinburgh, our mixed group of writers make our way west towards Loch Lomond. What we didn't count on was the thick blanket of snow that covered the normal Heather dotted greens of Loch Lomond. Snow however does make one crave whisky and it was at the world renowned Glengoyne Distillery that we learned a thing or two about whisky before making our way to the stunning Cameron House, our hotel for the evening. *
Coorie doon: to cuddle up or snuggle in in Scot-speak. Especially useful when it is snowing.
It's an early departure from Edinburgh the next morning as we are headed towards Loch Lomond at the start of the Scottish Highlands. As I shake off the last crumbs of breakfast (Scottish salmon, and lots of it), I notice the snowflakes in the window outside. By the time we set off out of Edinburgh and make the one and a half hour's drive to Glengoyne Distillery in Dumgoyne the snow is falling heavily. The neat edged rectangular farmhouses stand out from the stark white landscape, their peaked rooves covered in snow. Snow hits the bus windows thick and fast and at all angles giving one the effect of what it is like to live inside a shaken snow dome.
The yellow wild flower petals peek out from the white snow while herds of fluffy sheep graze on the snow covered grass. Before long we reach the start of the highlands, near where the lowlands border - in fact Glengoyne's two building sit on the border with one building in the lowlands and the other in the highlands.
And on a cold day what better way to warm up than with a wee dram of whisky? Glengoyne offers guests a Master of Malt tour that starts with a tour of the facilities to see each step of the whisky making process. They tell us that the distillers have been making whisky (initially illicitly) since 1833.
Whisky requires three ingredients: water, malted barley and yeast. The water for Glengoyne's whisky is from Glengoyne Burn visible from the back of the main house. Although it is cold, it's meditatively beautiful watching the waterfall and the snow capped trees. Did you know that it takes 1,000 litres of water to make 1 bottle of whisky?
Glengoyne is a single malt whisky and proudly so. There are essentially two kinds of whisky: single malt and blended. Single malt means that it comes from one distillery while blended is a mix of different distilleries of up to five whiskies. The base for a blended whisky is also different with about 60% less expensive grain alcohol which is why single malts are more expensive.
Glengoyne's whisky does not use peat and to create its distinct flavour and gorgeous dark amber shade they use Spanish sherry casks from Jerez. These are expensive compared to bourbon casks - the sherry casks cost £700-800 while the bourbon casks are £70. The slow distillation process is their signature. Our guide Alistair show us the casks behind lock and key and point to a row of four casks, some ageing since 1972, all four worth £2 million in total.
After the factory tour guests get to taste some single barrel whiskies and mix up their very own bottle of cask strength whisky (there is also a chocolate and whisky matching experience available along with several other tours). We take a seat in the tasting room to sniff and sip and concoct our own recipe.
There are five whiskies to choose from starting with the American oak bourbon hogshead barrel whisky. This is a sweeter whisky compared to the sherry barrels that have notes of treacle, chocolate and raisins. After some mixing and pouring we all come away with a glorious 200ml/7floz. bottle of our own whisky in a presentation box which I will give to Mr NQN.. The entire tour is £55 per person which is very good value.
Soup of the day £3.95
Hungry for lunch we head towards Blanefield, a few minutes' drive away. Blaine Valley Inn is a charming country pub that does classic Scottish pub food. As it is so cold I immediately go for a bowl of chicken and rice soup that comes with slices of bread. It's a hearty, warming soup.
Steak, sausage and ale pie £8.50
It's pie week in Scotland when we visited so it seems like a most fitting time to have a steak, sausage and ale pie with large chunks of tender, slow cooked beef, sliced up sausage, the tang of ale and with a side crunchy golden chips and hot buttered vegetables.
Hand battered haddock
I try some hand battered haddock and chips and the batter is crunchy and golden and the chips delicious.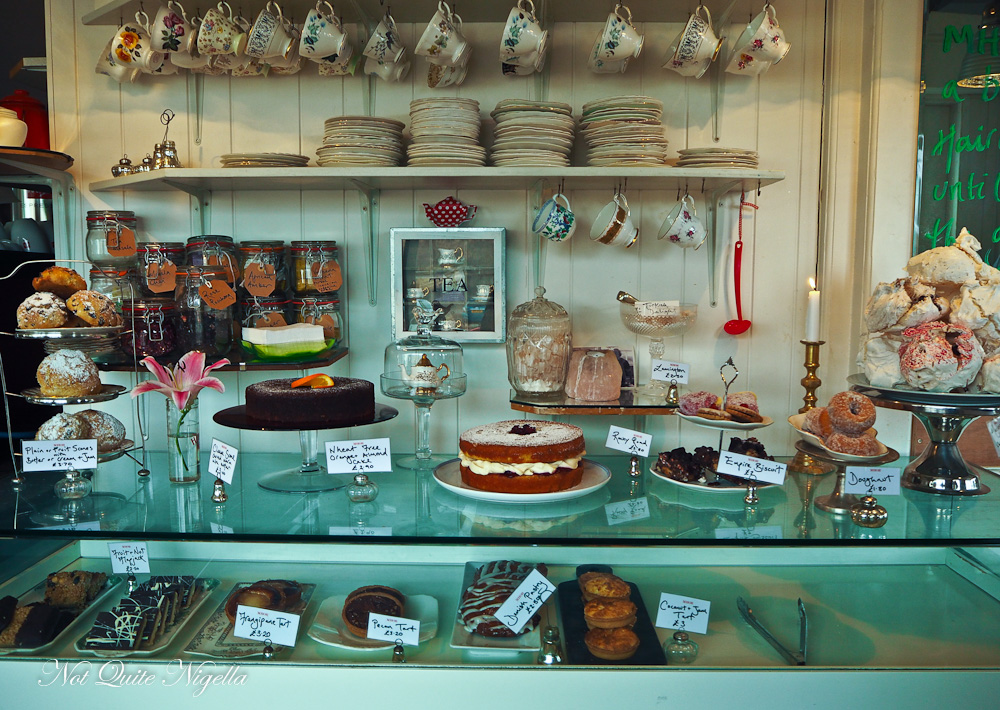 The cake and sweet display at Mhor84
Another stop along the way a little further along in Balquhidder, Lochearnhead towards Loch Lomond is Mhor84. Some call Mhor84's chef and owner Tom as eccentric. To me, he talks a mile a minute with a cross between a Welsh and a Scottish accent. If you concentrate hard you'll get to hear gems like "Empire Biscuits are honest biscuits!" and how in the Scottish tradition a McNab is "catching 2 grouse, 1 salmon and 1 stag. A Royal McNab is that in addition to shagging the cook!"
Mhor84 is the cafe and motel version of the upmarket Monachyle Mhor restaurant and hotel just nearby. Mhor Bread and Mhor Fish round out Tom's offerings and he and his wife have just bought additional apartments to supplement the seven well priced and comfortable motel rooms. Mhor84 serves lunch with top quality ingredients and Tom's brother is the farmer that supplies the meat to the quirky cafe. The cake display has everyone transfixed and there's a flurry of activity photographing the house made cakes, biscuits and slices.
The space is full of comfortable nooks and crannies to explore - there's also a games room for teenage and small children's entertainment. But we're focused on the food. Tom also does whisky pairings with food and when we order the oysters with a whisky cream and shallot topping he pairs this with a 10 year old Glengoyne whisky.
"Whisky needs food," he explains and elaborates that Indian food is particularly good with whisky. And he warns us against swirling and aerating it in the glass like a wine. Instead you simply tip it near to your nose once and twice to get the aromas. Swirling it simply releases the ethanol which will inevitably cause people to recoil.
Scottish rarebit £8
All this chilliness makes me want to burrow or coorie in under a giant cheese toastie so I go for the Scottish rarebit. Here it is topped with chopped leeks, mature Scottish cheddar, mustard and ham on a thinly sliced and toasted sourdough. Tom pairs this with a 15 year old whisky. It's instantly comforting and delicious and best eaten with the hands as the bread is quite toasted and crusty.
West Coast crab cakes, vine tomato, shellfish bisque £8
The crab cakes are made up of pure, rich crab, perfectly picked without any shell at all. They're golden crumbed and crunchy and sit on a bed of finely diced vine tomato salad and to the side is a little jar of shellfish bisque. The bisque is slightly warm so this is perhaps more a salad than a winter warming soup. It is delicious however.
Our next stop is our home for the evening. Cameron Lodge is an 18th century baronial mansion located at the start of Loch Lomond. Named after Cam Sron meaning crooked nose, the name references the peninsula that protrudes from the loch. The hotel with 132 rooms sits on a 100 acres of woodland and lawns.
It's perhaps not the best day to see the lodge or the loch. In warmer months the green surrounds and heather make it appealingly colourful. At the moment it is almost like a black and white landscape. Hurrying inside we make our way to the rooms. Alas the snow and wind have called off a boat ride (if a strapping, ruddy cheeked Scot in all weather gear describes it as "brutal" and says "it will hurt" you tend to believe them).
Cameron House is enormous and my room #81 is right at the end on the bottom level on the corner that affords me views of Loch Lomond. Each room is decorated in a different style and configuration. This is a spacious room bedecked in dark, seductive colours with a grand and very comfortable king bed. There's a work desk with four squares of tablet (like fudge) as a welcome. Internet is included but is patchy with some down time and poor reception at this far end of the hotel.
There's also two comfortable velvet wing chairs on a slightly elevated "stage" area. The modern bathroom has a separate shower and bath and heated floors (oh heaven!). I do some work and then take a hot bath to take the chill off. The March snow is a surprise to those in Loch Lomond.
Come evening, we all adjourn at The Great Scots bar where cocktails are ordered. The bar features black and white portraits of great Scottish actors, singers, artists, royalty and sports people. There is a cocktail called the Kilt Lifter made with Glenmorangie whisky over crushed ice with ginger beer and lime.
The Kilt Lifter
Dinner is also in-house at the Cameron House Grill restaurant. There are two restaurants in the hotel: a Martin Wishart Michelin starred restaurant and this one. As soon as we walk in everyone stops and takes their cameras and phones out. What would stop a group of travel writers in their tracks?
Not the Loch Ness monster but a smoked salmon bar. There are four types of smoked salmon: regular, whisky cured, beetroot & honey and gravlax. These are served with accompaniments as an entree.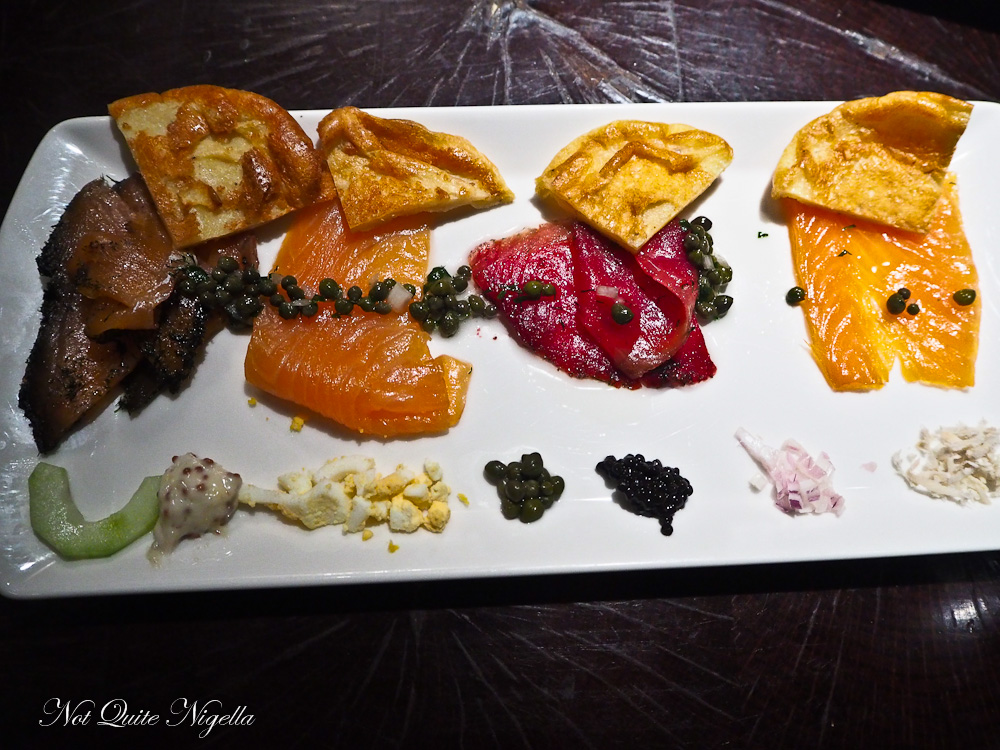 Cameron Grill Scottish Salmon Bar
Of course I had to order this and it's actually a generous serve of each, so much so that I can't finish it (the lunch, plate of biscuits and fudge and two cups of tea might have had something to do with it too). The smoked salmon is paired with baby capers, boiled egg, onion and caviar - the only strange note is the freshly grated coconut that doesn't really pair with the salmon.
Seared bream fillet
If I thought that the entree size was generous then the main is even more so. It is two fillets of bream and an enormous smoked haddock fishcake, a generous size of wilted spinach and mustard hollandaise. While the haddock is well cooked and the fish cake is good, it's large size is a tad overwhelming to try and finish.
Isle of Mull cheddar
The cheese course also comes from the land of the giants. There are two large wedges of Isle of Mull cheddar cheese with Scottish oatcakes and fruit chutney.
By now, we're completely full to the brim but with snow falling outside a walk isn't an option. Instead we go around and check out everyone else's rooms. Only two rooms are similar with each person's room varying wildly. Some are long and grand with plenty of details, others have a bed big enough for three while others have smaller, more compact rooms. But like Goldilocks, there's a bed that will fit just right for someone.
And up next is my favourite stop on our Scottish tour: the Isle of Skye!
So tell me Dear Reader, do you use whisky to warm up? Do you have a favourite whisky brand or type (single malt, blended)? Are you good with snow or are you a bit of a chicken like me?
NQN visited Scotland as a guest of Visit Britain and Visit Scotland.
Glengoyne Distillery
Dumgoyne, Near Killearn, Glasgow G63 9LB
http://www.glengoyne.com/ Open 7 days
Blaine Valley Inn
54 Glasgow Road, Blanefield, Glasgow, Stirling G63 9BP, United Kingdom
http://blanevalleyinn.co.uk/
Mhor 84
A84, Balquhidder, Loch Lomond and The Trossachs National Park FK19 8NY, Scotland
Tel: +44(0) 1877 384 646
http://mhor.net/mhor84-motel/
Cameron House
Loch Lomond, Alexandria, United Kingdom
http://www.qhotels.co.uk/our-locations/cameron-house/