When I first put up images of my trip to Scotland on Instagram, people would comment "I love Scotland!" which is something that had never happened before with other countries. And by the end of our trip, had you asked me what I thought of this gorgeous country, I would end up saying the exact same thing. Come along with me on my trip to Scotland to celebrate 2015, the year of food and drink, starting with the capital city of Scotland, Edinburgh.
Tourists and those in Scottish tourism often lament when the sun comes out. "It's bad for business," some say. Indeed the picturesque country has played the backdrop for many films in the recent and long past. And it's true, for whenever you think of Scotland, you think of mist shrouded rolling green hills with a grey blue sky with clouds threatening to burst with rain. Bright sunshine almost seems out of place.
When I arrive in Edinburgh, the weather seems to have received the memo. Before we descend, the pilot warns us to enjoy the last rays of sunshine high above the clouds as the weather below in Edinburgh is drizzly and grey and a chilly 5°C/41°F. I've dressed for the occasion mindful of the bone-chilling winds.
And why am I here exactly? 2015 is Scotland's Year of Food and Drink and for the next week I will be travelling around Scotland to see what food this country has to offer. Arriving in Edinburgh, the capital city of Scotland, I hear the strains of the Scottish brogue around me with its smooth syncopated rhythm and rolled r's.
The car pulls up outside the G&V hotel and the first sound I hear is...bagpipes? And then there's the man in the kilt which along with the mists and the bagpipes are three things ticked off the mental list of Scottish icons all within the first hour of arrival.
My hotel the G&V Royal Mile hotel is located in the heart of Old Town. Formerly the Missoni hotel it is a quirky, stylish boutique hotel with 136 rooms and suites. Service is deferential and accommodating. Although I'm checking in very early, my room in ready.
I head upstairs to my room #420. It's a Signature Room and the room size is compact but after about 24 hours on a plane I'm just grateful to be able to settle in and have a long, hot shower. The room's decor reflects that of the lobby with colour block walls in turquoise and royal purple. A black and white Missoni print hangs on the wall.
The view from the two slender vertical windows is of Arthur's Seat, the peak of series of hills. The king sized bed looks very inviting and is wonderfully restful-that evening I slept like a baby from 10pm to 7am which was very satisfying to try to combat jetlag. The pillows are so nice and comfortable I make serious inquiries about purchasing them. There is plenty of closet space and the mini bar items are either healthy or boutique brands with French teas.
The bathroom is a sexy dark room with black bathrobes, a spacious shower and gorgeous Arran Aromatics toiletries, a Scottish brand that uses food friendly aromas like bergamot, mandarin, mint and lavender. Other designer features are a Bang & Olufsen television and the Jacob Jensen phones although it's a bit of a guess where to dial and that's where the minimalist design element comes into it. Wifi is fast and free for unlimited devices and you can also borrow laptops and iPads from the hotel during your stay. Or game consoles if you need them. Check out is a very civilised 12 noon.
There's the sound of the bagpipes playing faintly in the background as I do work, have a shower and potter about my room. In the afternoon I meet up with my blogger friend Vohn from Vohn's Vittles. She's going to take me on a wee tour of Edinburgh (see, it didn't take long for the Scottish vernacular to creep into my vocabulary!). We step out onto the Royal Mile, a long stretch of road that cuts through the centre of the city. It is said to be about one Scot's Mile long - longer than an English mile. The Royal Mile isn't a term for locals though, that pegs you as a tourist. For locals, it is the High Street, that UK term for the main shopping and trading street of a city or town.
We pass St Giles' Cathedral and Vohn points out the Heart of Midlothian, a granite mosaic. In the past there used to be a prison set on the location and the heart shaped feature marks the doorway to the prison. It is said to be good luck to spit on the heart. Fans of the opposing team of the Heart of Midlothian F.C. also spit on the heart. As if by cue, two young men spit on the heart. I wonder if they're football fans or two luck seekers.
As we walk through the city we pass by small closes, the Scottish word for alleyways. These small alleyways used to be where vendors sold goods and it is hard to imagine there being enough room for vendors and browsers. Street artists perform and the area is popular for tourists.
We pop into some food shops. I'm curious about the food in Scotland. Fudge is big business and we stop into the Fudge Kitchen where they're mixing and pouring the last batch of fudge for the day, a chocolate and orange number. Fudge tastings are offered and they are sweet, smooth and delicious. Fudge is of course different to the very Scottish item called Tablet where the consistency is grainier. We end up buying some liquid fudge packets, a great idea for a hot chocolate where you empty the soft, liquid fudge into a cup of milk for an instant hot chocolate. I buy some for Mr NQN.
Vohn tells me that at certain times of the day, Fish vans can be found in Edinburgh. People line up for the fish, fresh from the boats. Popular purchases are haddock (smoked and fresh)and Scottish salmon.
Macaroons are Scottish sweets that are confusing because they aren't quite like French macarons or macaroons as Australians know them. Instead they are like a coconut ice shaped into log form and coated with a chocolate like coating and coconut.
We end up at Cranachan & Crowdie. The Royal Mile is full of touristy food stores selling shortbread and other classic Scottish food but Crancahan & Crowdie only focuses on artisanal Scottish brands. Arizona born owner Beth is a fantastic advocate for the brands and her enthusiasm is infectious, her store a testament to the beauty of sourcing local foods. A map on the back wall of the store shows exactly where everything comes from. She offers us tastings of the Rock Rose handcrafted Scottish Gin. The aroma is so complex and floral that it could be a perfume.
She gives us samples of an intriguing chocolatier that focuses on producing chocolate using the olfactory senses. This is actually run by two women called Eda and Kirsty who produce it under the brand name Edward and Irwyn. Trained in France, they produce their chocolates in Edinburgh in divine flavours like "cacao nib, vanilla, tonka beans & chilli" or "beetroot, green mandarin and vanilla". The real Scottish honey honeycomb covered in chocolate is divine and I end up scooping up and buying every chocolate that I try. Sampling is offered here and every Thursday night they feature a new producer to sample.
She stocks plenty of Scottish cheeses that never really make it to Australia. A classic soft, fresh curd is Crowdie and Black Crowdie is made by rolling it in pinhead (steel cut) oatmeal and black pepper. It has a soft, slightly crumbly texture. This is the cheese after which the store is named. Cranachan is a classic Scottish dessert made with cream, raspberries and toasted oats and a dash of whisky. Fresh crowdie can be used in place of cream at times.
My last purchases are shortbread (of course) but also a spurtle. This is what Scots use to stir their porridge with. Octogenarian Davy Duncan hand turns these spurtles in a water powered mill in Aberdeenshire. I bid the lovely Vohn farewell and thank her for taking the time to show me around Edinburgh.
The next day is a chilly one but bathed in broad strokes of sunshine. It's the perfect weather for a day trip to Fife, about an hour and a half away from Edinburgh by car. Brenda Anderson from Tasting Scotland is a former chef who holds bespoke food tours be it for a day or a few weeks.
The county of Fife (residents are known as Fifers) has a population of 365,000 and span 1,350 square kilometres in size. It's mostly known as an agricultural area with much of Scotland's oats being produced here as well as cattle, venison, sheep and buffalo along with soft fruit like berries and vegetables. And that's not even mentioning the gin distilleries. Fife's unique microclimate allows it to become such a fertile farming region.
We pass the Firth of Forth and the landscape gives way to lush pastures and farmhouses. "It's quite normal to be stuck behind a tractor in Fife," Brenda says while driving us. We pass through towns like Ladybank and Cupar and before we know it, we have arrived at the North Eastern corner of Fife at the historic town of St Andrews. It is also the town at which Prince William and Kate Middleton first met and the location of University of St Andrews which is where they both obtained their degrees.
We turn right into Balgove Larder. This farmhouse larder also has a royal connection and it was at the house behind the shop that Prince William and Kate lived with a flatmate. The owner of the estate is a distant relative of the Queen of England.
During the warmer months, the outside barn is a steak barn where steak, salad and chips are served. The farm shop and cafe is a very popular destination for lunch and Brenda has set up a meat demonstration with one of their butchers for us where he will debone a shoulder of lamb. The meat fridge is fascinating with plenty of haggis, black and white pudding. Lorne sausage is sausage mince shaped into a rectangle. It is sliced up and serves at breakfast. Legs of lamb are sold as "gigot", a French term.
There's a cornucopia of food to buy from the fresh section and the pantry section and while we browse, Brenda reserves us a table at the cafe. She has ordered us a mix of local delicacies including luscious Highlands venison, hot and cold smoked salmon, St Andrew's farmhouse cheddar, oat cakes and Scotch eggs as well as terribly good chutney. It's a delicious Ploughman style lunch.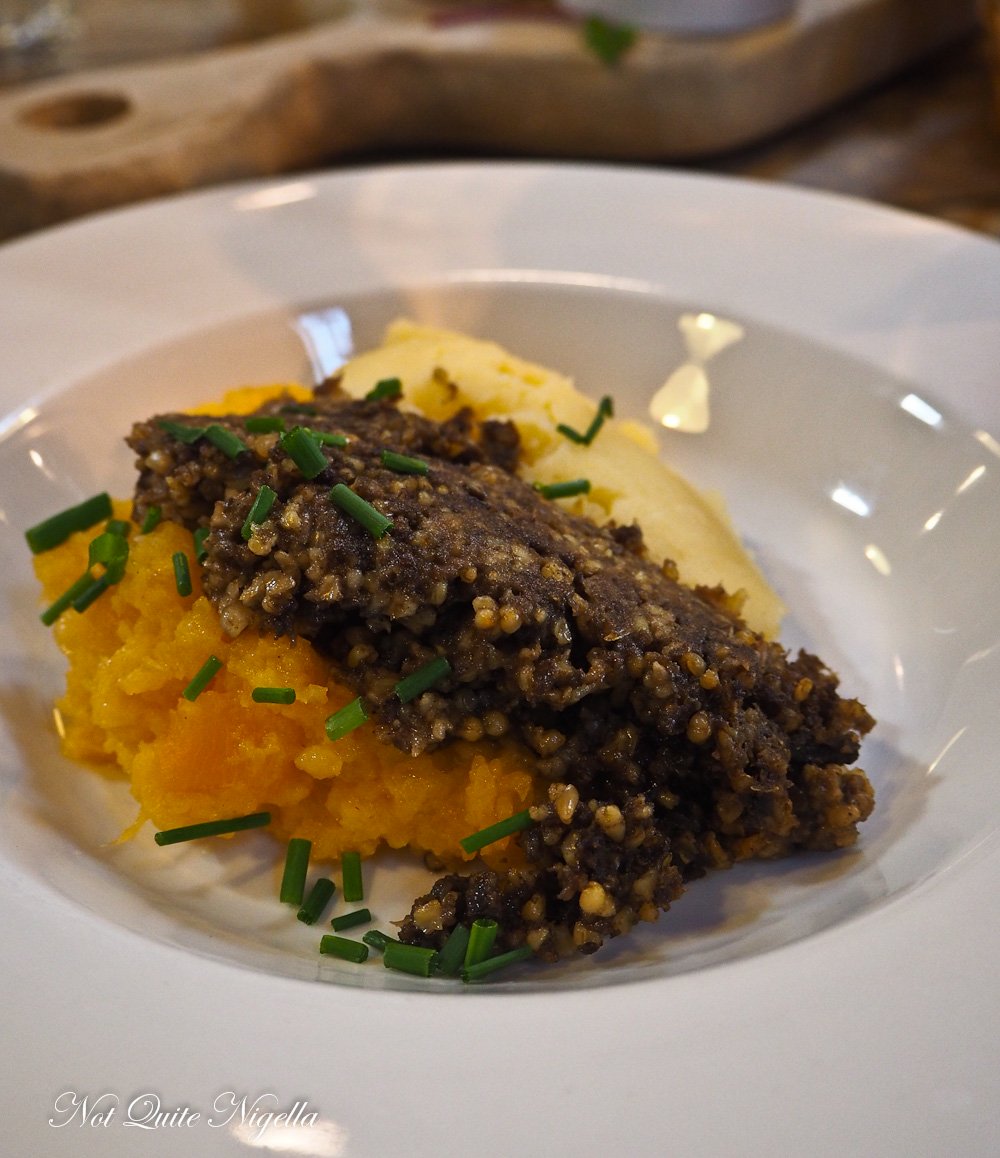 At the request of another writer, she orders a serve of haggis. And this is no ordinary haggis. For those of you unfamiliar with the dish most commonly associated with Scotland, haggis is a sheep's pluck i.e. the heart, liver and lungs mixed with pepper, spices and oatmeal and served in a sheep's stomach. And in 2014, Balgove's haggis was awarded "Haggis of the Year" by the Great Taste awards. It is traditionally served with "neeps and tatties" i.e. mashed sweet orange turnips and potatoes. The haggis has a pronounced depth of flavour to it and a distinct offal taste to it and it goes well with the two accompaniments.
After a spot of shopping we take a drive towards the Eden Hill Brewery that produces beer, gin and whisky. It is Scotland's first brewery and distillery in one location. For something to be able to be called Scotch whisky it must age in a barrel for minimum period of 3 years and 1 day. Their American and French barrel aged whisky is slated for release in 2017 but for the moment there are several types of small batch beers and some creative gins available. Many whisky makers cannot afford to simply wait for their whisky to age and often accompany its manufacture with another spirit. Gin is experiencing quite a revival internationally and here at Eden they do several types including an intriguing hops gin.
The guide Steven gives us a tour of the distillery and explains the processes. The bottles are all hand filled and hand labelled. Although their beers and spirits are only found within Scotland, they have already found a market overseas in China and soon to be in the United States.
To toast one's health in Scottish, one says "slàinte" pronounced slahn-ja. To this end, we're given a tasting of three beers and four gins. The most popular beer is a full flavoured and heavily hopped concoction called The Clock. I like the claret finished beer with all of its complex flavours.
Australian galaxy hops
The first is a clear gin made with seabuckthorne that comes alive with some Fevertree tonic water. Another favourite is the hops gin, with a darker tint to the liquid. They use Australian galaxy hops to flavour this gin. Others really like the limited edition Love Gin with its pale pink hue and made with red rose petals, marshmallow root, goji berries and whole hibiscus flowers. And a tip to really taste the aroma of gin beyond the initial hit of ethanol? Cup the glass tightly with your hand and tip it upside down for a second and this will wet the palm of your hand with gin. Then rub the gin between your hands to release the aroma!
Warmed up with shots of gin and beer, we head back towards Edinburgh stopping at a couple of sites along the way. We pass the ruins of the former St Andrews Cathedral. With a facade still standing the Roman Catholic cathedral fell into disuse in the 16th century. We drive past the Royal and Ancient Golf Club, Scotland's oldest golf club and also a golf club that still does not allow women.
Our last stop is Crail, a fishing town in Fife that used to be largest market for produce in Europe during the medieval times. It's quiet now although it's not hard to imagine the amount of trade that used to take place here. People would buy heron or "silver darlings" and haddock and make sun dried haddock. The houses in this area all have orange tiles because they would trade salted herring with the Spanish for their tiles.
Dinner that evening is at The Gardener's Cottage at the Royal Terrace Gardens. It's a place that is on (worldwide) trend. There's a vegetable patch outside, shelves of house made pickles and everything is sourced to be as seasonal as possible. There are only share tables and one private dining room that can seat up to eight. The restaurant is housed in a historic building at the base of Calton Hill in a World Heritage Site. It is co-owned by chefs Dale Mailley and Edward Murray.
It seems the sort of place that would be run by hipsters if it were in Sydney but there aren't any hipsters. I don't mean that unkindly either to them or to hipsters, but this could be plonked down in the middle of Surry Hills in Sydney quite comfortably.
There's no menu on the table - there is only a set menu for £35 which is detailed on the chalkboard outside but that seems a moot point because even if you walked past and saw the menu and wanted to have it, you'd need a booking and these seats are hotly contested. We ooh and ahh at the mysterious pickles in the jars. There are items like "Sticky willy" (a vegetable that sticks when thrown), roast elderberry stout and salted radish pods.
We order a selection of drinks. I choose a Winter cocktail which is made with Armagnac VSOP, Elements Eight spiced rum, milk, cream and demerara sugar. The Armagnac and rum are generously poured and it tastes like a dessert in a glass.
Brill
The first course arrives and it resembles an oval dumpling. It's a fillet of brill with roast apple sauce, kholrabi apple salsa and wilted garlic. The brill is well cooked and still buttery tender while the garlic adds aroma and the apple sauce sweetness.
Celeriac Soup
A plate of toasted spelt bread comes out with the next course: a celeriac soup. The cheese is given creaminess from the Tunworth cheese cream and there's just the slightest drizzle of browned butter and hazelnuts in mine although I saw more browned butter in others which would have added much aroma.
Braised hare salad
The braised hare is cooked until very soft and served atop beer mayo, cress leaves, roasted carrot, purslane and croutons. While I really like the hare I felt that this dish needed something to bind it together and while the beer mayo sounded like it would do it, there was a smidgen of it on my plate.
Roe deer
The roe deer fillet is cooked through and comes with a beetroot puree, charred red onion a wild leek and garlic barley and a turnip and yogurt crisp. The sweetness of the beetroot is good against the deer or venison but I prefer medium rare or rare venison.
Palate Cleanser
The palate cleanser is an Alexandra granita. What is Alexandra? It's also known as horse parsley due to its large size. It also makes for a refreshing and sweet granita alongside poached rhubarb, rhubarb sorbet and an oat crisp.
Bonnet goats cheese Ayrshire
The next course is a cheese course. The Ayrshire goats cheese has a nutty flavour and a firm texture and is paired with a delicious leek cracker and rowan berry jelly.
Seabuckthorne and chocolate slice, rye bread ice cream
The last course is a seabuckthorne berry custard filled puff pastry layered dessert. There's a dark fruity chocolate on top. This dessert is for those that don't like their desserts very sweet. The dark chocolate and seabuckthorne is tangy. I particularly like the rye ice cream with tiny crunchy pieces of rye croutons.
The last course comes just as our taxis are arriving but I can't resist popping these morsels in my mouth. The pear donuts are light in pear but are soft and coated in sugar. The caramel cup is sticky sweet with a thick chocolate layer in them. It's a sweet but perfect ending.
So tell me Dear Reader, have you ever visited Scotland and what were your impressions of the country and food? Are you fans of haggis or Scotch eggs? And when you encounter good luck locations or symbols (Trevi Fountain, Heart of Midlothian), do you participate in the custom and throw coins or spit?
NQN visited Scotland as a guest of Visit Britain and Visit Scotland.
G&V Hotel
1 George IV Bridge, Edinburgh EH1 1AD, United Kingdom
Phone:+44 131 220 6666
http://www.quorvuscollection.com/gandv-hotel-edinburgh
Crancahan & Crowdie
: 263 Canongate, Edinburgh EH8 8BQ, United Kingdom
Phone:+44 131 556 7194
https://www.cranachanandcrowdie.com/
Tasting Scotland
http://www.tastingscotland.com/
The Gardener's Cottage
1 Royal Terrace Gardens, London Road, Edinburgh EH7 5DX, United Kingdom
Phone:+44 131 558 1221
http://www.thegardenerscottage.co/