There are three things that I think of when I think of Scotland: haggis, whisky and Harry Potter (the latter more to do with the city of Edinburgh). And on one day, I explored and tasted all three learning about the interesting history of whisky, how haggis has modernised and how Harry Potter came to be! Come take a look at one of the most sumptuous locations I have ever dined at: Prestonfield House!
It is often said and proven that the thing that foreshadows doom is the failure to adapt to modern times. This can applies to many things but food is an interesting one. "Haggis has definitely modernised" says chef Tor of Edinburgh New Town Cookery School. She cites how haggis is used in Scotland in burgers, on top of pizza and even battered and deep fried as a pakora.
As if to further illustrate her point she shows us three haggii made by Findlay's in Portobello, a boutique butchery known for their haggis. There is a traditional haggis, a venison haggis - there's even a vegetarian haggis made by another brand. And now as the result of being asked to create a haggis for a Scottish groom and his Indian bride, an Asian haggis. Indian spices and chilli add much to this dish and I am smitten with this version. Who knew that Asian haggis would be so good?
If anything was close to a national dish of Scotland then it would be haggis. It is made up of the pluck which is the heart, liver and lungs of a sheep. It was called the pluck because the organs used to be plucked out of the carcass in one motion. And today we are making haggis filled feta parcels.
The process is easy; it's a matter of brushing butter on two sheets of filo pastry and then cutting the pastry into squares and filling them with rolled balls of the haggis filling before baking these in a hot 200C/400F oven. She explains that today most people buy haggis premade - Findlay's is available at the butchers but MacSweens is a popular supermarket variety. Both are packaged in heat proof plastic rather than in the stomach of the sheep. They can either be roasted or boiled in the bag, the latter ensuring that the haggis stays more moist.
Scottish poet Robert Burns's "Address to a Haggis" cemented the poet's bond with the dish and come January 25th, people will hold Burns's suppers where they serve a haggis. After reciting "An' cut you up wi' ready slicht," a knife is plunged into the haggis and it is all very ceremonial in nature.
We are also learning about one of Scotland's classic desserts. Cranachan is a mix of whipped double cream, raspberries, honey, whisky and toasted pinhead (steel cut) oats. It's one of those ridiculously easy desserts that also happens to taste fantastic. I plan on making this at home and adding some vanilla shortbread to it.
If haggis and cranachan are Scotch classics, then it would be remiss and arguably a hanging offence to ignore the importance of whisky to Scotch culture. And in Edinburgh, the Scotch Whisky Experience caters to those curious about the process of scotch making as well as keen enthusiasts. Visitors can start their silver or gold tour on the barrel tour which is a fun eight minute tour that explains how whisky is made all from the comfort of an enormous whisky barrel (it's all very Disneyland-esque and very fun!).
There are also VIP tours on offer - the first tour of the day involves technical discussions and tastings and the last tour of the day means that you can spend as much time as you want is the world's largest whisky collection.
It's a room with 3384 bottles of whisky, all bequeathed by a Brazilian collector Claive Vidiz who simply asked that the collection of bottles remain together and in Scotland. It's a jaw dropping collection with some bottles from as far back as 1897 and 1904. Some of the bottles shows signs of evaporation - when evaporation occurs in the barrel then it is called the "angel's share" but it seems like the angels have been taking their share from these bottles too!
We adjourn to the bar to try three whiskys - there are over 100 distilleries in Scotland and here they serve 420 whiskies in the bar. We try three hand picked whiskies. Our guide starts with a single malt whisky from Oban and explains that it is aged for 14 years in an oak cask. Single malt simply means that it comes from a single distillery, nothing else. The more a whisky matures, the more the harsher alcohol evaporates. She also explains that adding water to the whisky releases the aromas.
Our next whisky is the Highland Park from Orkney, another single malt whisky aged in bourbon and sherry barrels. It has the flavour of peat as well as a sweet aroma not unlike fruitcake due to the sherry barrels.
Our third whisky is the most controversial and it is said to be a whisky that you will either love or hate. It is the strongest flavoured whisky - even their bottle makes this claim. Laphroaig is a single malt whisky produced in Isley where it is aged for 10 years in bourbon barrels. It has a strong antiseptic aroma and one sniff and I am reminded of hospitals.
Interestingly, many of the distilleries are located in the highlands and away from business centres such as Edinburgh and Glasgow as when it came time for authorities to come around to check on whisky production, it was more difficult for the tax man to come a knocking further away in the highlands.
Scallops, langoustines and surf clams with a shellfish bisque and Islay whisky
We adjourn to the centre's Amber restaurant for lunch with a matching dram of whisky with our dessert. Our entree is a delight as it is a range of Scottish seafood including salmon with roe, scallops, langoustines and surf clams with a shellfish bisque and Islay whisky sauce. All of the seafood is perfectly cooked and tender and even though I ate a good amount of haggis balls, every morsel is eaten on the plate.
Orkney fillet of beef
The main is an Orkney fillet of beef with stovie potato cake and quennelles of pureed confit carrots. The beef is good and cooked medium. The potato cake is a tad starchy and dry and the carrot sweet and I really preferred the entree to the main.
A selection of Scottish cheeses
Dessert is either sticky toffee pudding or a selection of Scottish cheeses. I go for the cheese because I rarely see Scottish cheese in Australia and I'm not disappointed at all. There is a delicious Auld Reekie smoked cheese, a Dunsyre Blue cheese, a Clava brie and a Gruth dhu or a Black Crowdie cheese rolled in black pepper and pinhead oatmeal. They're all sensational cheeses, particularly the blue and smoked cheese.
"Is that...snow?" we say as we watch the flurries of snow rush past our window. It is indeed snowing which is slightly disconcerting given that the sun was shining brightly just a couple of hours earlier.
Not a whisky fan? How about gin? Stepping into the Edinburgh Gin Distillery is like coming across a speakeasy. Located in the basement floor of a former disreputable nightclub the large wooden door swings open and we push aside a long black curtain and walk past some booths. At night this turns into a gin bar called Heads and Tails but during the day it is the Edinburgh Gin Distillery producing some of Scotland's best gins.
Gin: don't do it ;)
We take a seat and they start the tour. Our guide Ewen explains the history of gin making which is a less than salubrious one involving dead cats, broke kings and the undesirable effects of gin made with turpentine. It's a far cry from the processes of today and he hands around jars of spices including juniper, the base for gin as well as cassia, coriander and angelica. He also passes around a bottle of Jennever, a precursor of gin that has a rich aroma.
And did you know how a gin and tonic came about? It was the Royal navy that paired three essentially separate and unpalatable but health-giving items together. Limes were fed to seamen for scurvy, tonic for anti malaria and gin for well...anti mutiny.
As part of the tour they show us the two custom made copper stills that produce the gin in a five hour distilling process. The tour ends off with a fantastic gin and tonic in the comfort of one of the booths.
We're given a bit of free time to do as we please. Everyone splits off into different directions and I have one place in mind to visit. Just 200 metres from the G&V Hotel is a rather special place called The Elephant House. This is one of the locations at which author J.K. Rowling worked on her Harry Potter series of books. There is usually a queue outside The Elephant House and it is clearly signposted as a Harry Potter location of note but at the moment that I walk in there is no queue.
The friendly waitress shows me to a table and as I get closer, I realise that she is leading me to the table at which J.K. Rowling was interviewed. She removes the Reserved sign (I didn't book and was just a regular customer) and I take a seat.
It is said that when she was dreaming up the details to the story she looked out the window and saw Edinburgh Castle high up on the hill and that became the inspiration for Hogwarts. And when I look left out the window I see the castle through the window just as she would have. See a little video that I made below-warning it's very rough (like all my videos! ;) ).
There's a cafe menu but I feel like something more like a tea. I ask what J.K.Rowling would order and the waitress says that it was filtered coffee as it was the least expensive drink. As it is quite late in the day I go for a Japanese cherry tea, a green tea with cherry flavour and a slice of lemon and lavender sponge. The texture of the sponge is fresh, springy and light and the sour cream icing with the distinct flavours of lemon and lavender is the perfect afternoon treat.
That evening, I get dressed for a rather special location. At the high end of the scale is Prestonfield House about 20 minutes drive from the centre of Edinburgh. And may I preface my review with saying that as soon as I walked in the door, I was overcome really quite strongly.
It was love at first sight and the home of my fantasies. I was spellbound. As we walk through the building and look out the windows, thick flakes of snow fall creating a magical winter scene. A gasp escapes from my mouth as it is straight from a beautiful Christmas scene come to life.
It's a very special house with a rich history. One of the original owners Sir William Dick gave away so much money to the broke Scottish exchequer that he himself became bankrupt. Back then it was a crime to be bankrupt and he died a sad death in prison. The family were so poor that they were unable to pay for his funeral expenses for 6 months.
Within twenty years his son Sir James Dick had restored the family fortune as he shared Sir William's talent for trading. Over the years the house has played host to Benjamin Franklin, painter Allan Ramsay, Margaret Thatcher, William Churchill as well as a raft of modern day celebrities such as Sean Connery, Elton John and Catherine Zeta Jones. Now restaurateur James Thomson owns Prestonfield House, he of The Witchery restaurant in Edinburgh.
A ghost is said to haunt the house, she is a young girl who passed away from tuberculosis. A portrait of her hangs in the main lobby area and it is indeed one of those portraits where the eyes disconcertingly follow you as you walk past.
I am absolutely transfixed by every feature in this home because it is as though someone has plundered my mind and created my perfect home. From the all pink powder room where you could quite happily spend time chatting to girlfriends to the specific rooms like the Italian Room, the Tapestry Room, Yellow room and Whisky Room with antler chairs and lounge it is at the same time jaw droppingly beautiful but comfortable and welcoming.
We are here to have dinner at Rhubarb, their restaurant on the ground floor. The restaurant is divided into two rooms, both identical copies of each other. It is called rhubarb because Sir Alexander Dick was the first person to bring rhubarb to the United Kingdom and a rhubarb patch remains to this day that is used in the restaurant.
We start our evening in the Leather Room where the walls are covered in enormous 17th century detailed leather tapestries from Cordoba. I order a Kir Royale which I sip on while the fireplace roars but the urge to explore this magnificent estate proves too strong and I find myself peering into rooms like Alice in Wonderland. And it is a wonderland of sorts with plush antique furniture, gold velvet walls, black lacquer furniture and antique equestrian portraits.
The men's bathroom (yes I checked that out too) has antique playing card wallpaper and a series of framed certificates and cheques that pertain to the estate. We are politely called to dinner downstairs in the Rhubarb restaurant. I take a seat at the table and to my right is an adorable table for a couple, the seats pointed out for a little bit of people watching.
Skye Langoustine £21
The Skye langoustine beignet is a Sound of Sleat prawn or languostine in a fluffy, crunchy batter with smoked eel in brown butter powder crumbs, pickled trompette mushrooms, grapes, winter truffle and bittercress. The langoustines are tender and melt in the mouth although the truffle flavour was very mild in this dish.
Goose £29
The roast Gressingham goose breast is served with a foie gras haggis, gingerbread baked turnips, Douglas fir potato puree, kumquats and jus. The component I was most interested in was the foie gras haggis and it comes as a crumbed log. It's absolutely delicious and the goose has a succulent texture to it.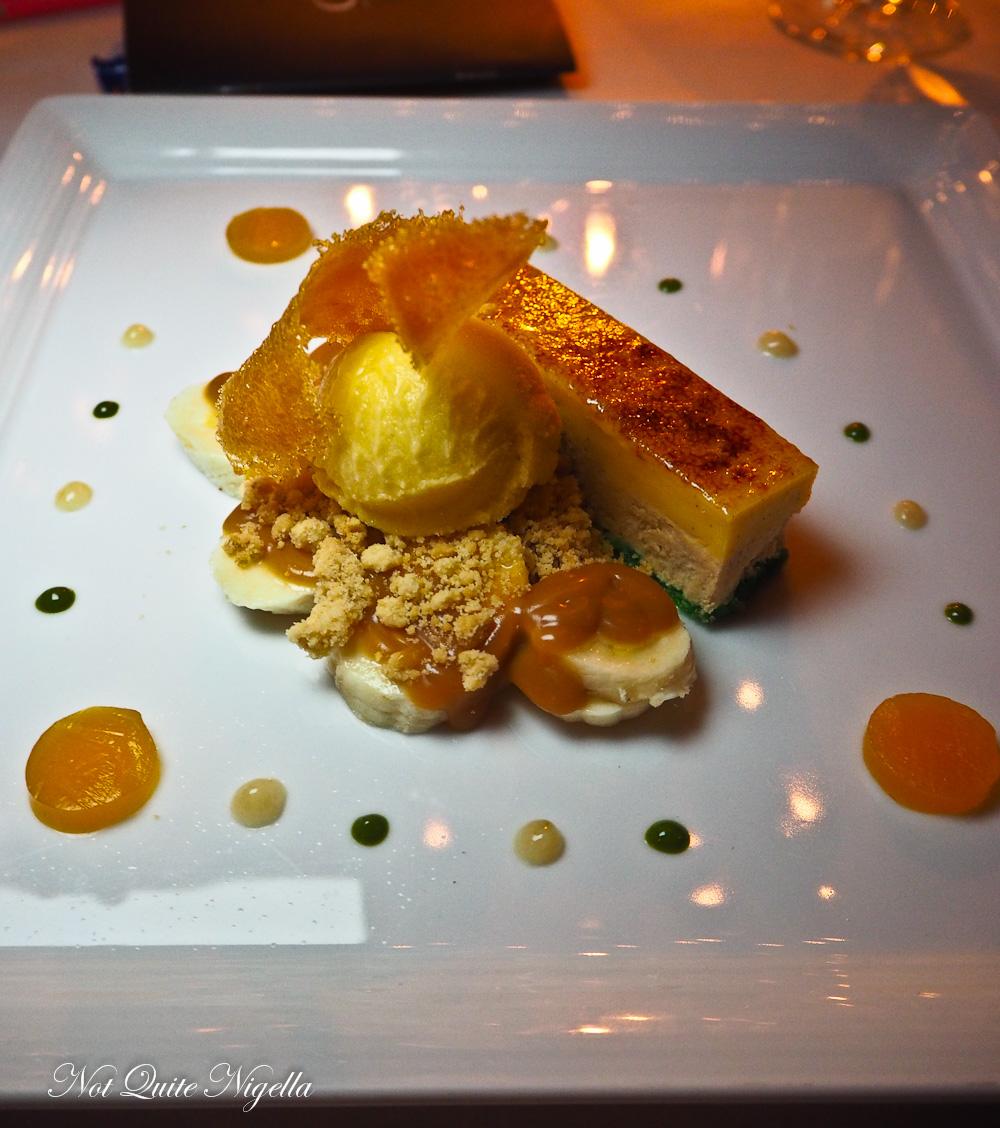 Banana £9.90
The banana dessert is salted caramel sauce on slices of banana topped with a fine almond crumble. To the side is a slender slice of bruleed hazelnut praline mousse, pistachio dacquoise with a banana and passionfruit sorbet. It's absolutely delectable although it is a sizeable dessert and there was alas no way that I could finish it.
And for the next post, we're off to another area of Scotland!
So tell me Dear Reader, what things do you think of when you think of Scotland? Are you more a gin or whisky drinker? And are you a Harry Potter fan? If you could meet any writer, who would it be?
NQN visited Scotland as a guest of Visit Britain and Visit Scotland.
G&V Hotel
1 George IV Bridge, Edinburgh EH1 1AD, United Kingdom Phone:+44 131 220 6666 http://www.quorvuscollection.com/gandv-hotel-edinburgh
New Town Cookery School
7 Queen Street, Edinburgh EH2 1JE, United Kingdom
Phone:+44 131 226 4314
http://www.entcs.co.uk/
Scotch Whisky Experience
354 Castlehill, Edinburgh EH1 2NE, Scotland
Phone Number: +44 131 220 0441
http://www.scotchwhiskyexperience.co.uk/
Edinburgh Gin Distillery
1a Rutland Place, Edinburgh, Midlothian EH1 2AD, United Kingdom
Phone:+44 131 656 2810
http://www.edinburghgindistillery.co.uk/
The Elephant House
21 George IV Bridge, Edinburgh, Midlothian EH1 1EN, United Kingdom
Phone: +44 131 220 5355
http://www.elephanthouse.biz/
Prestonfield House
Priestfield Road, Edinburgh EH16 5UT
Phone: +44 (0) 131 225 7800
http://www.prestonfield.com/