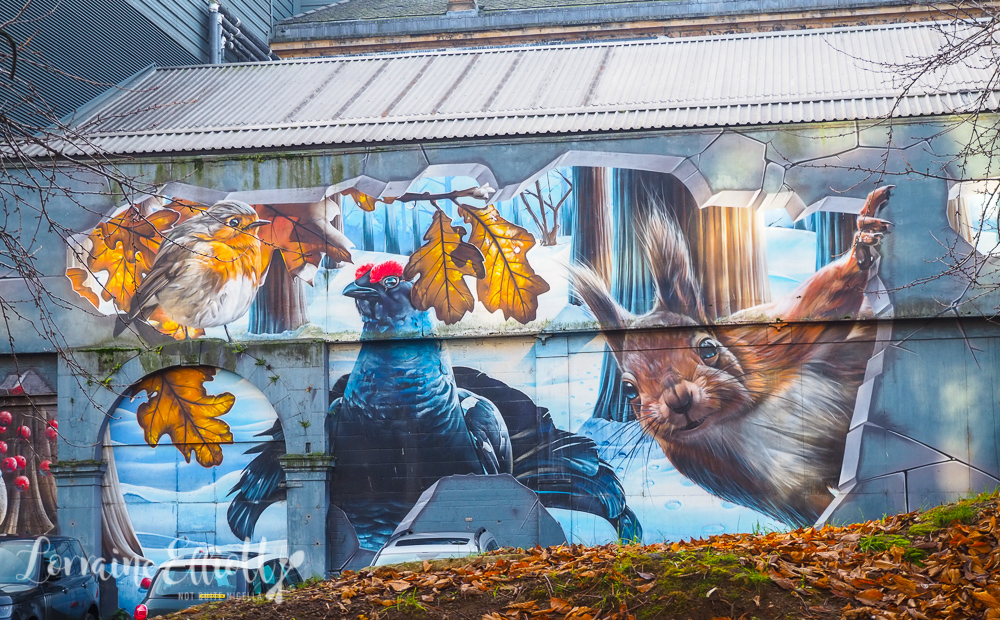 Glasgow is a city with plenty to do including some things that you'll only find in Glasgow. From visiting the Necropolis to do a Haggis Pakora cooking class to eating a traditional Scottish meal Glasgow never disappoints!
1. Learn How To Make Haggis Pakora At Mister Singh's India
Mister Singh's India an Indian restaurant with tartan floors and kilt wearing staff that is known for seamlessly blending Scottish and Indian food. On Sundays they hold pakora cooking classes. Now pakoras are massive in Scotland. In fact chef Josh tells us in his Scottish Indian accent that possibly more pakoras are eaten in Scotland than in India!
Pakoras are deep fried fritters and they come as several types: chicken pakora, mushroom pakora, vegetable pakora and the Scottish specialty: haggis pakora.
Different batters for different kinds of pakoras
Josh shows us how to make the various types of batter for pakoras using a range of spices, ginger and onion and how to dip the chicken or haggis cubes in them to create a base for the pakoras. Only garam flour is used in pakoras making them gluten free (although haggis has flour).
Haggis cubes (right) ready to make into haggis pakora
So why the love of these deep fried morsels? When Josh first moved here he was stunned at the number of pakoras that the kitchen was making - he wondered if there was an event they were catering for.
Haggis Pakora
But no, it was just the Scottish love of pakoras. Some say that because pakoras are usually made in India during rainy weather, it has become popular during Scotland's omnipresent rain!
After the demo class we take a seat in the restaurant where we will be enjoying a 3 course dinner that follows the class. Even at 4pm on a Sunday the restaurant fills with customers. We start with a plate of pappadums, mango chutney, yogurt and onion pickles which we crunch on while deciding on what to order from the menu.
Mango Lassi
Service is really lovely and friendly and the manager comes around to talk to each table making sure that everyone is happy.
Bombay Chicken Wings
Mr NQN loves the Bombay chicken wings that come spiced and juicy with a little bit of heat to them.
Chicken Poori
I'm really smitten by the chicken poori because any sort of sandwich appeals to me. This is a blistered, flaky flatbread filled with warm saucy tandoori chicken.
Prawn Ambala
The prawn ambala is the Singh family signature dish which has been in the family for over 60 years when Jit Singh brought it over from India. It has a nice amount of heat that lingers nicely on the palate. The prawns are small and almost blend into the sauce and it goes well with the yogurt that they give us.
Haggis Bhooma
Our other main is the haggis bhooma with a rich ginger, garlic and tomato based sauce with haggis that is mixed into it (rather than the chunks in the haggis pakora). In fact you only get the merest hint of haggis in this. I mop this up with the soft, fresh naan bread and rice.
Gulab Jamun
Whatever you do, save room for the warm gulab jamun. I adore these dumplings and these log shaped gulab jamen are among one of the best I've eaten.
Mister Singh's India: 149 Elderslie St, Glasgow G3 7JR, United Kingdom. https://www.mistersinghsindia.com
2. Visit The Necropolis
"We're crossing land of the living to the land of the dead," says Ruth Johnston, chairman of The Friends of Glasgow Necropolis. We're on the Bridge of Sighs and it takes us across to see the monuments and graves of those interred at the Victorian cemetery. Below our feet is a road but 9 feet underneath that still runs a river that leads to the River Clyde. "There are many secret things here," says Ruth also pointing to gold leaf doors and telling us that there is a tiny secret door that only those that have the key can use.
Glasgow's Necropolis cemetery was once the highest point in the city. It was created by some members of the Merchants House, a wealthy group of Glaswegians many of whom were freemasons (there are many freemasonry symbols dotted throughout the Necropolis).
Now 50,000 souls are buried here on the 37 acre or 15 hectare site. Ruth and her colleagues at The Friends of Necropolis raise money to preserve the large scale area and hold tours. She is wearing a black velvet cape, her hair red with purple eyeshadow and the rain doesn't seem to bother her as she leads us around the cemetery.
Bridge of Sighs
As a Victorian cemetery each gravestone or monument is rife in symbolism. If you were a cook your stone may have a whisk on it, if you were a sailor there may be an anchor. Broken columns don't mean vandalism - they can mean that the head of a family or a young person in that family died.
The lovely thing about the Necropolis is that anyone could be buried at this interdenominational cemetery. It's still a working cemetery and as long as you have a crypt you can be too. The Queen of Gypsies Corlinda Lee, iron mongers, rugby players and golfers are buried here. Charles Rennie Macintosh also designed a Celtic Cross for the grave of Andrew McCall a high ranking police offer. Mackintosh grew up in a house looking over the Necropolis.
Then there is a link to the death by chocolate killer Madeleine Smith. She was a wealthy, young socialite who had a rich fiancé as well as a secret lover. In 1856 Emile L'Angelier, a warehouse clerk became her lover which was unheard of at the time and the relationship was unbeknownst to her family or her fiancé William Minnoch.
Madeleine and Emile wrote each other explicit letters and when she became engaged to Minnoch she had to break her relationship off with Emile. He threatened to take their private letters public. She continued to meet with him serving him hot chocolate. One night Emile developed severe stomach pains and died. Arsenic was found in his system.
Madeleine's letters became public and she went to trial. At the time there were three verdicts: not guilty, guilty, or guilty but unable to be proved so. She was the considered the latter. She and William Minnoch broke off their engagement and she moved to America. William is buried in the Necropolis.
Up until 1832 and the introduction of the anatomy act (where doctors, teachers of anatomy and bona fide medical students could dissect donated bodies), body snatchings would occur. Prior to this, those wishing to study the human body only could obtain the bodies of murderers. "We didn't have many murderers," says Ruth and when I ask her why she says, "We sent them all to Australia," with a glint in her eye.
Tip: afterwards, to warm up cross the road and have a Gaelic coffee or a drink at the Cathedral House Hotel a welcoming pub.
Glasgow Necropolis: Castle St, Glasgow G4 0UZ, United Kingdom. https://www.glasgownecropolis.org/
3. Eat At Cafe Gandolfi
There a Gaelic saying at Cafe Gandolfi "Well fed well blessed" or "Deagh Bhiadh, Deagh Bheannachd". Here it's like stepping into a different time, the light giving it almost a different patina. Yet the café with carved Tim Stead furniture is more Hebridean than Merchant Square.
Cafe Gandolfi is well loved among locals. There's the fish restaurant and a cafe located in the former cheese markets. The name Gandolfi comes from the camera company Louis Gandolfi founded; the cafe's original owner Iain Mackenzie is a keen photographer.
Homemade Fruit Scone £2.95
The ethos is anti fast food and the menu warns that during busy times hot breakfasts can take up to 30 minutes. It's a good excuse to try the homemade sultana scone served warm with butter and raspberry jam. It's very warm and comforting with a short texture and plenty of golden raisins.
Gandolfi Swiss Style Muesli £5
Mr NQN has the Swiss or bircher style muesli with dried fruit, freshly squeezed orange juice, nuts and seeds topped with fresh fruit, yoghurt and honey which he really enjoys.
Gandolfi Vegetarian Breakfast £10
I do appreciate the appeal of a full breakfast but I don't think I've eaten this much meat in a long time so I go for a vegetarian full breakfast. It has a slice of fried halloumi, a delicious vegetarian haggis, two field mushrooms, a grilled tomato and a fried potato scone, baked beans and your choice of eggs and sourdough toast. I particularly like the eggs and vegetarian haggis on the sourdough toast.
Eggs Hebridean £8.95
I also make fast work of my share of the eggs Hebridean. It's a split, toasted muffin with the most fantastic Stornoway black pudding, poached eggs and hollandaise.
Cafe Gandolfi: 64 Albion St, Glasgow G1 1NY, United Kingdom. https://www.cafegandolfi.com/
4. Dinner At Two Fat Ladies
If ever you were to conjure up what a traditional Scottish restaurant would look like, it might be Two Fat Ladies At The Buttery. There would be antique wooden furniture upholstered in tartan prints, kilt wearing staff and a warm fire blazing on a cold winter's evening.
Two Fat Ladies is located in Anderston, sort of between downtown and the west end Glasgow. Service is genteel and charmingly Scottish. Housed in a Buttery that began life in 1856 there aren't actually two fat ladies involved, rather the name comes from 88, the number of the address of the owner's first restaurant. 30 years worth of crockery collected by the owners lines the upper skirting boards.
This is the sort of place for a special occasion meal and the prices reflect this but you can also eat reasonably with their lunch and pre theatre menu which is 3 courses for £25 or 2 courses for £20 at dinner.
There is just one additional challenge: trying to resist extra serves of the bread. They have two types of house made bread: polenta loaf and rosemary focaccia. The focaccia is hard to pass up and the staff will gently ask if you'd like more and you'll have to try and resist (or not!).
West-coast scallops, Macsween veggie haggis, scampi bisque cream £5 supplement
The scallops aren't usually on the pre-theatre menu but you can order these for a small supplement and they're worth ordering because it is their signature dish. There are four enormous west coast scallops on a round of Macsween vegetarian haggis with a scampi bisque cream. This is one of my favourite courses and the vegetarian haggis goes well with the scallops for a dish that really embodies Scotland.
Finely sliced smoked Scottish salmon, lemon & horseradish potato salad, minted lemon & cucumber salsa (GF)
We also tried the cold smoked Scottish salmon with a lemon, horseradish and poppy seed potato salad and a minted lemon and cucumber salad. This is nicely balanced with the cream and fresh elements.
Scottish sirloin steak, smoked garlic mash, Stroganoff-style sauce (GF) (£5 supp)
Mr NQN loves the steak which is unusual for him as he's not really a steak person. It's a Scottish sirloin cooked medium rare as ordered with a smoked garlic mash and a mushroom Stroganoff sauce. He makes quick work of the tender steak.
Catch of the Day
The catch of the day is sea bream with peas, bacon, pearl onions and cream. It's sizeable too with two enormous fillets of well cooked sea bream on a generous amount of vegetables. At this point I make use of the bread to mop up that sauce.
Creamed Savoy cabbage with smoked bacon
It's a toss up between the triple cooked fries and the creamed cabbage but they steer us towards the cabbage. It's creamy savoy cabbage with plenty of chopped, smoky bacon in it.
Banana cream choux pastry, chicory & coffee essence sauce
Choux pastry desserts are one of my favourites and I had to go for the banana cream filled Paris Brest with swirls of chicory and coffee essence sauce. The choux is crisp while the cream tastes of fresh banana.
Homemade brandy basket with duo of ice creams
"Would you like a third scoop of ice cream? We have chocolate brownie," they ask and yes we certainly would. The brandy snap basket is crisp and sits in a pattern of fruit coulis. Inside are three scoops of house made ice cream: a creamy kiwifruit, a chocolate brownie and my favourite a caramel shortbread with white chocolate flakes.
Two Fat Ladies At The Buttery: 652 Argyle St, Glasgow G3 8UF, United Kingdom. http://twofatladiesrestaurant.com/buttery
So tell me Dear Reader, would visiting a Necropolis appeal to you? Have you ever tried haggis pakora?
NQN visited Glasgow as a guest of Glasgow Life, Visit Scotland and Visit Britain but all opinions remain her own.