Our last night in United Kingdom was in Edinburgh just before flying back to Sydney was a bit closer to the airport due to our early flight time. The Dunstane Houses are a pair of buildings opposite each other that are a short walk to the Haymarket area of Edinburgh. Awarded Edinburgh's Most Romantic Boutique Hotel at the Scotland Hotel Awards in 2019 the Dunstane Houses have an added advantage in that they are around 10 minutes away from the airport so perfect for early departures with style!
It's snowing and night time when we arrive at Dunstane House. We have a short stint there with less than 12 hours staying there but we are happy for a good night's sleep before our flights home. Dunstane House was originally a house that was converted to a hotel by couple Shirley and Derek Mowat. They first bought Dunstane House and then a few years later bought the Hamptons House across the road.
We are staying in the Ronaldsay suite in Dunstane House, a gorgeous ground floor suite. The heavy wooden door opens to a suite decorated in blues and with luxurious wool textures.
The free standing bath tub by the bay window is the first thing that catches your eye and then it's the king sized bed which is immensely comfortable with fantastic pillows and sheets. Internet is fast and free and there's also a Smart TV.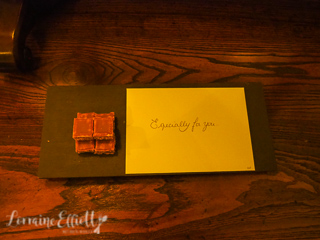 The room has antique furniture and a tea and coffee service. There is a tray of Scottish tablet waiting for us too and I nibble on this sweet, sugary textured treat while checking out the features of the room.
The bathroom has a smart black and white colour scheme, heated floors and towel rails with Noble Isle toiletries. The shower has two heads: a monsoon shower head and a detachable pressure head.
As we have such an early start the next morning we make our way to the Ba' Bar, the restaurant's in-house bar and restaurant with an ample and varied supply of whisky and gin. We take a seat by the fire and order some things from the snacky bar menu.
Miracle on 47th Street £10.50 (left) and The Mad Hatter £10.50
I adore mulled wine and similar drinks especially once the temperature drops and The Mad Hatter is exactly what I want. It's Amarosa Rosehip Liqueur, lemon, cinnamon and Earl Grey tea in a teapot. The first cup has the alcohol in it, subsequent cups are spiced tea but I sip eagerly, warming up from the inside. Mr NQN has a Miracle on 47th Street with Pickerings 1947 gin, Luxardo maraschino liqueur, orange and ginger beer.
Taste of Scotland £13.50
We try some sampler platters. The Taste of Scotland hot platter has a delicious sausage and black pudding Scotch egg with some Campbell's haggis fritters on mashed turnips and a mini fish and chips. I ask for some tartare sauce on the side and it's full of pickles just the way I like it. It's a very satisfying platter of favourites.
Taste of Orkney £13.50
The Taste of Orkney cold platter references where the owners hail from originally. It's smoked Orkney mackerel salad, Orkney smoked salmon, chutney, oat cakes and Orkney Grimbister cheese that is a delightfully mild and creamy cheese.
Honey glazed carrots £3.50 Parmesan and truffle fries £4
And because we love our vegetables (fries count no?) we order some sweet honey glazed carrots and parmesan and truffle fries on the side.
Orkney Fudge Cheesecake with fresh berries and raspberry coulis £6.50
I love the light texture of the Orkney fudge cheesecake which I assumed to be dense and heavy baked. Instead it's light and fluffy and not overly sweet, just nicely balanced.
Apple Pie Terrine, cinnamon crumble, fresh apple and caramel custard
This is actually from the dinner set menu but guests can also order it. I have to literally wrestle this away from fruit loving Mr NQN. It's an apple pie terrine with a shortbread crust and soft cooked apples topped with a cinnamon crumble with caramel custard.
It's a quick shower and off to bed where we sleep like babies until it strikes time to leave for the flight the next day. We are both sad to leave our beloved Scotland!
So tell me Dear Reader, do you try and stay closer to the airport if you have an early flight? And if your room has a bath, do you use it?
NQN was a guest of Visit Scotland and Visit Britain but all opinions remain her own.
The Dunstane Houses
The Dunstane Houses, 4 W Coates, Edinburgh EH12 5JQ, United Kingdom
Phone: +44 131 337 6169
thedunstane.com