It has been 4 years since my last visit to Scotland and I couldn't wait to go back and spend a bit more time in one of my favourite countries and explore a bit more of Edinburgh and Glasgow. Take a look at the enchanted city of Edinburgh and see what there is to do in Edinburgh's city centre!
1. Have Afternoon Tea Unlike Any Other
Mr NQN and I are visiting Scotland in November which goes to show you just how much I love going there because I am terrified of the cold! My first meal in Edinburgh is the perfect way to start our time in the city. It is afternoon tea at the Balmoral Hotel's Palm Court. They are known for their afternoon tea, a very genteel past time where tea is poured at a height. Actually, its the site of our first fight of the trip. Mainly because Mr NQN refused to give me his sandwich. You see in my defence your honour, the sandwich was particularly delicious.
Let me rewind. The afternoon tea at Palm Court is a four course affair. It is a lovely room with high sweeping ceilings, an iridescent silver tree, a harpist playing and is surrealy gorgeous. Our four courses is preceded with glasses of Piper Heidsick champagne.
The tea ceremony is a big feature of the afternoon tea. Tea pourers take silver pots and pour the tea from a great height. We try the Rare Breakfast Blend, a black tea as well as the Emperor's Golden Eyebrow, a Chinese tea from the Wuyishan Nature Reserve in the Fujian Province.
They use 3 grams of tea per pot and add 95C water to it and then steep it for 20 seconds. You should be able to get 8 pots of tea out of this and each pot tastes slightly different to the other. The first is very mild, the second tannic while the third is floral and smooth.
The three tier stand of savouries comes out. There is a sausage roll with pistachios and a creamy quiche with a beautifully short crust. Then we segue into two tiers of sandwiches including a turkey and cranberry bun, a cucumber ribbon sandwich and my favourite the ham, tomato and cheese sandwich which we fight over.
"You know that sandwiches are my obsession and you don't even like them," I tell Mr NQN who remains unmoved by my pleas and chomps on his slowly staring me in the eyes. What a psychopath. Our lovely waiter Yanni settles the issue by bringing out some more sandwiches, courtesy of the lovely chef Alex. Calm is restored and we go onto eating the smoked salmon on rye three tier sandwich.
The scones come out next and there are two types: plain and fruited. They bake scones four times a day so that they are fresh and warm. They come with clotted cream and strawberry jam. They're divine.
The comes out a trio of desserts. There is a chocolate financier with dulce de leche, a cranberry crackle choux with toasted almonds on top and vanilla cream and a cube of rich fruit cake with a torched marzipan icing on top. It's hard to choose a favourite but it's perhaps the choux.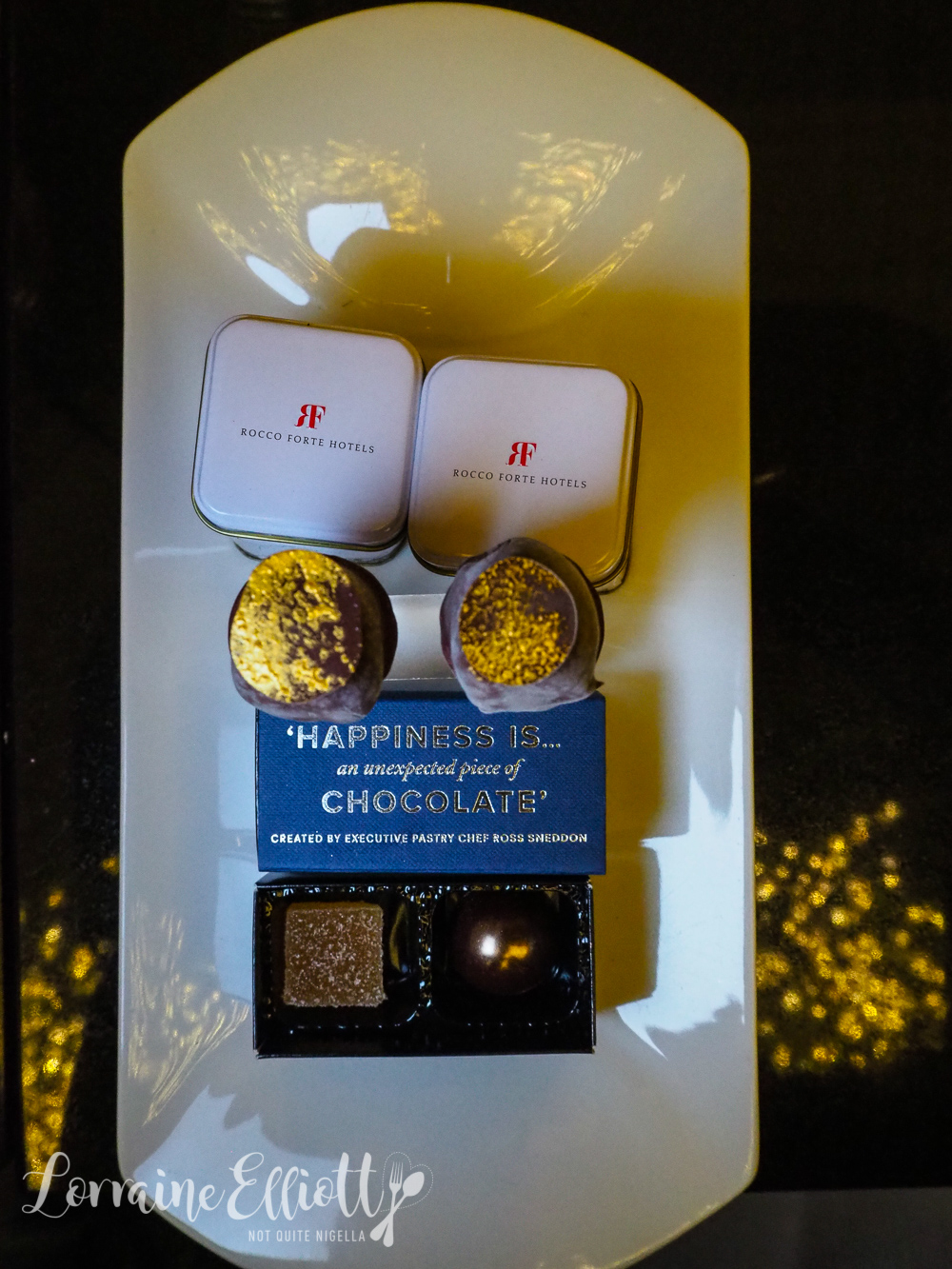 The last course is a lovely surprise. It's a mini mango sorbet cone dipped in dark chocolate as well as a canister of tea and a box containing a pate de fruits and a chocolate truffle!
Palm Court, The Balmoral. 1 Princes St, Edinburgh EH2 2EQ, United Kingdom. Open 7 days Monday 8:30am–7pm.Phone: +44 131 556 2414. roccofortehotels.com
2. Go Shopping
Edinburgh is also good for a spot of shopping. Pure cashmere is well priced here even with the exchange rate and I have a pair of cashmere gloves that I bought here on my last trip that I still use.
For something uniquely Scottish and sparkly head to Hamilton and Inches, a silversmith, watchmaker and jeweller on George Street, one of the main retail streets.
Me learning how to solder
They are one of two jewellers that work with Scottish gold. This is a relatively new development as gold has just started to be mined in Tyndrum. Scottish gold is a unique shade - it's warm and rosy in colour due to the mineral deposits in the ground where it is mined.
Shoppers are offered glasses of champagne when they shop and are invited to take a seat near the fireplace. The royal family are customers and the company holds a Royal Warrant. Sometime Edinburgh resident JK Rowling was gifted a Hamilton & Inches charm bracelet from her publisher featuring charms from the Harry Potter books.
We are given a backstage tour and watch the young team of silversmiths at work engraving, soldering and crafting beautiful pieces. The amount of detail to these pieces are remarkable and there are clever touches like flowers unscrewing from brooches to become earrings.
Hamilton & Inches: 87 George St, Edinburgh EH2 3EY, United Kingdom Monday to Thursday 9:30am–7pm, Friday 9:30am–6pm, Saturday 9:30am–6pm, Sunday 12–5pm. Phone: +44 131 225 4898. hamiltonandinches.com
3. Eat Haggis
Nearby at The Scotsman Hotel we have lunch at the Grand Cafe where the steak house sized menu offers up a bit of everything. We slide into a green velvet booth and survey our choices.
We opt for Scottish food from a Haggis wrapped Scotch egg on a bed of mashed potato (delicious) to a haggis mashed potato side with haggis swirled through the creamy mash.
We also try their Shepherd's Pie, the signature dish with plenty of sweet braised oxtail topped with mashed potato.
The Scotsman Hotel: 20 North Bridge, Edinburgh EH1 1TR, United Kingdom. Phone: +44 131 556 5565 scotsmanhotel.co.uk
4. Explore Grassmarket
Nearby is the area of Grassmarket with a range of shops and dining options. We stop by Mary's Milk Bar, a sweet pastel pink confection of a shop. It's tiny and very popular and even in the wintery cold customers arrive in droves to order ice cream.
These ice creams are made fresh daily by Mary herself and the display shows a half dozen flavours of ice creams and sorbets in flavours like milk, dark chocolate, seabuckthorne ripple, black sesame, and a cranberry and orange sorbet.
After a short wait we nab a seat in the pastel green corner near the window and sip on a devilishly rich Hot Chocolate Float with a scoop of ricotta and coffee ice cream. I've had a lot of hot chocolates and this is easily one of the very best I've had.
Mr NQN enjoys the double decker ice cream scoop with seabuckthorne ice cream on top and cranberry and orange sorbet on the bottom. Before I leave I buy a couple of blocks of Mary's chocolate in Spicy Sriracha Almond milk chocolate and Old Bay Spice white chocolate.
Just around the corner from Mary's is a set of stairs that leads to a great photo vantage point. The Vennel stairs aren't insurmountable, they look harder than they are and you will be rewarded with a lovely, moody photo at the end.
Go back down along Grassmarket and stop at the Greyfriars Kirkwood cemetery which some say is the most haunted cemetery in the world. Whilst it is haunted by several ghosts one of the most popular stops is by the bronze statue of Greyfriars Bobby, a sky terrier dog.
Planning your next trip? Ensure you have the right coverage with HeyMondo travel insurance that includes COVID-19 protection. Plus, if you use our link, you'll receive 5% off the price. Find the best deals on flights from all airlines in various currencies with SkyScanner and set up alerts to get notified when prices drop. For reliable transportation options, look no further than 12Go Asia, offering train, bus, ferry, and flight transfers worldwide. Book your transportation now and enjoy a stress-free journey.
When you purchase through these links I will get a small commission at no cost to you. Thank you for supporting me! :)
Folklore or clever marketing says that the loyal dog guarded his owners' grave for 14 years until its own passing in 1852. Greyfriars Bobby has been the subject of many books and films.
As always there is a JK Rowling connection. The author lived in Edinburgh for many years while writing the series and at Greyfriars Kirkwood there is a grave bearing one particular name: Thomas Riddell. Given that the graveyard is nearby the Elephant House Cafe (see my last visit where I sat at her table), some say that it inspired some of her writing.
5. Take In The View From Calton Hill
If the weather is inclement, Arthur's Seat is likely to be a touch muddy so for a view of the city head to Calton Hill where you can get a panoramic view of the old town (and new town) from up above. If you time it with lunch, The Lookout is said to have great food too and on weekends the lunch offering is a multi course degustation.
6. Eat Scottish Food
We are back on George Street for dinner. The Printing Press on George Street offers traditional and modern Scottish dishes with steaks, pheasant and enormous Orkney scallops. The restaurant area is behind the bar area which is very busy on the Saturday night that we visited.
The building where the Printing Press is located is the former home of writer Susan Ferrier, said to be the Scottish equivalent of Jane Austen and is part of the Inter Continental Hotel.
Smoked haggis, puréed neeps, crispy potato £7.50
I don't know about you Dear Reader but I absolutely love haggis. This smoked version is made up of soft, spiced and smoked meat on a bed or pureed neeps (turnips) and a disc of crispy potato on top. The sauce balances this well and while it is very rich we end up finishing it all and wishing we had ordered some bread to mop it up.
Hand-dived Orkney scallops, puréed and pickled cauliflower £12.50
The hand dived Orkney scallops are a very popular entree. These are enormous beasties, cooked well and served on a bed of cauliflower puree and a piece of turmeric pickled cauliflower. The scallops are so meaty and I have to cut them into six pieces to eat them!
Grilled North Sea stone bass, brandade, creamed leeks, shallot, truffle £18
The fillet of North Sea Stone Bass is excellent. With a wonderfully crispy skin and succulent meat it comes with diced shallots, creamed leeks and brandade. There is said to be truffle on this but it is very light.
Rib-eye 255g/9oz £31
It was a toss up between the game bird or the steak but we were persuaded to try the steak as it is Scotch beef cooked on charcoal. The steak is cooked perfectly medium rare and luscious with a side of chips, cherry vine tomatoes and your choice of béarnaise sauce, peppercorn sauce or bone marrow gravy. I ask for both the bearnaise sauce and bone marrow gravy and they're both very good but I especially enjoy the bone marrow gravy with a strong hit of tarragon.
Shetland Black potatoes, herb butter £3.50
Having never seen or tried Shetland Black potatoes before we had to order some to go with the fish and steak. These are dark potatoes, not quite completely black when cooked but certainly dark with a herb butter with a sweet and earthy flavour to them.
Dark chocolate and banana soufflé, vanilla ice cream £7.50
The soufflé takes around 10 minutes to make and when it arrives our lovely waitress adds a scoop of vanilla ice cream to it. It's lovely and light with flavours of fresh banana and bittersweet dark chocolate.
Warm treacle tart, clotted cream £7
However I only have eyes for the warm treacle tart. It may look unassuming but it's buttery and sweet with lovely crunchy bits in every mouthful from the toasted breadcrumbs. There's a quennelle of clotted cream and some charred orange segments but I finish off every crumb of this tart before wondering if I can recreate this at home.
The Printing Press: 21-25 George St, Edinburgh EH2 2PB, United Kingdom. Open 7 days 11:30am–1am. printingpressedinburgh.co.uk
7. Stay At The Balmoral Hotel
Last but definitely not least is our accommodation. Our home for a couple of nights in Edinburgh is The Balmoral, a stunning 5 star hotel located right on Princes Street just near the Grassmarket area. It is part of the Rocco Forte family of hotels.
First open in 1902 it has gorgeous décor, deferential service and incredible views of Edinburgh Castle and Arthur's Seat. It also has its own clock tower and train station below. The clock is always running three minutes ahead of time so that people don't miss their trains-the only exception for this is Hogmanay in the new year so people don't miss the new year's chimes.
Our suite is the Brodick Suite on the third floor. It is one of the hotel's Classic Suites-there's even one named after JK Rowling. When the Harry Potter author was completing her last book Harry Potter and the Deathly Hallows she booked a suite at the Balmoral for some peace and quiet. Her room #552 on the fifth floor has an owl knocker. Inside the suite is a bust of Hermes which she signed after completing the book.
The suites straddle tradition and contemporary whilst the furnishings have botanic themes including a delicate wallpaper to the mirror frames and paintings. The marble bathroom is completely modern with heated floors, luxurious towels and Asprey toiletries.
The king sized bed is very comfortable with excellent quality bedding and a good range of pillows. Turn down service is performed every night where they lay out slippers and give you some chamomile tea. A bottle of sparkling and still water is also provided daily.
There's plenty of room for luggage and dressing with a walk in robe and a library of books offers solace from the chill outside.
Suite guests also have their own privileges that include an in-suite check in, complimentary in-suite breakfast (or breakfast at Brasserie Prince by Alain Roux), concierge services and garment pressing.
The breakfast in the suite is superb-the smoked kippers are delicious, the Scottish pancakes fluffy and served with fresh berries or you can also opt to have poached eggs and avocado on toast with smoked salmon on the side.
You can also order something as simple as boiled eggs specifying the amount of minutes you'd like them cooked. Each morning they would knock on the door and wheel in a table and set up breakfast and I would eat it wondering just what kind of divine life is this?
The Balmoral: 1 Princes St, Edinburgh EH2 2EQ, United Kingdom. Phone: +44 131 556 2414. roccofortehotels.com/hotels-and-resorts/the-balmoral-hotel
So tell me Dear Reader, have you ever been to Scotland? Do you ever fight over food?
NQN was a guest of Visit Scotland and Visit Britain but all opinions remain her own.