There's lots to do in Central Glasgow from street food, vintage and food markets, a climb to the top of the city lighthouse, free art galleries, afternoon tea to fabulous cafes serving incredible breakfasts and cakes!
Please note: I am still sharing travel stories because we all need a distraction but given the current situation with COVID-19, I am by no means encouraging travel during this time. Please stay safe, stay home and stay healthy :)
There's a different energy to Glasgow than Edinburgh. The accents are different and the people are different. That's not to say that I prefer one to the other but so many people proclaim themselves Glasgow people or Edinburgh people. Take a look at some fun and delicious things to do in the centre of Glasgow!
1. Shop & Eat At The Platform At The Arches Weekend Markets
It's early Sunday afternoon when our train arrives in Glasgow's Queen Street Station from Edinburgh. Our hotel room in the centre of the city isn't ready so we drop our bags and head to towards the Friday and weekend markets at the Platform at the Arches at Argyle Street Arches. This is a vibrant market where street food carts, vintage stores and artisans meet.
It's bustling and busy from the moment we walk in. Coloured balloons and lights give it a festive atmosphere and it's nice to be inside from the cold. The arches are train tunnels and platforms that have been repurposed for dining and retail.
The furthest in section is the bar with plenty of beers and a brewery on site. The middle section houses all of the food stands and we take a seat there to see what is available.
There are stands for Mexican tacos, Korean and Japanese ramen but I gravitate towards Shrimpwreck, an award winning street stall that featured on My Million Pound Menu.
I order a Shrimp Bun which is perfectly coked battered shrimp (why do people seem to overcook shrimp or prawns?) with smoky bacon, red onion, pickles, and lashings of Marie Rose sauce. There's just the right amount of battered shrimp in these and I would have happily polished off the whole thing if Mr NQN weren't looking at it so hungrily (that's the problem with sharing).
Mr NQN sprained his ankle the night before so I situate him at a table with a glass of Irn Bru (an orange coloured Scottish soft drink that sort of defies flavour description) and go off to check out the other sections.
I spy a cross stitch stand called Pie In the Sky with hoops with feminist messages-I want to buy them all but settle for a couple for myself and Christmas gifts and dream of starting cross stitch myself.
The hot brownie stand sells warm brownies with soft serve and the sauce of your choice-I bring back a salted caramel brownie with caramel sauce and vanilla soft serve to Mr NQN.
Platform At The Arches: 253 Argyle Street, G2 8DL Glasgow, United Kingdom Friday & Saturday Midday - 10pm / Sunday Midday - 6pm
2. Breakfast At Singl-end
There's something that Britain does so well that is vastly underrated. It's cakes in all shapes and forms. I'm not talking about fancy French patisserie here, I'm talking wholesome home made beauties heaving under a thick layer of frosting, beautifully decorated with fruit or herb fronds - imperfectly real in appearance yet perfection in taste. And the sight that greets us as we walk into Singl-end in the Merchant Quarter sets my heart beating fast.
I've gone ahead of myself though. Singl-end is really mainly a breakfast, brunch and lunch sort of place but it's more than that. They bake all of their bread in-house (except the Altamura bread). There are two Singl-ends and the one in the West end is a bit more experimental while the central Glasgow version is a little more mainstream (but at five minutes' walk from our hotel, who's complaining?). All of the cakes and cookies are made on site and there is plenty of choice for vegans or vegetarians too.
Sunshine on Glasgow £4.95 and Cure yer heid £4.95
We take a seat in the light filled conservatory area-I've already studied the menu online so I know what I want. It's two juices to start: a Sunshine on Glasgow with Mango, pineapple, passionfruit and banana topped with coconut milk and a Cure Yer Heid with strawberries, raspberries, blueberries, banana and ginger mixed with orange juice.
Meaty Baked Eggs £11.00 with Mozzarella £1
I've seen plenty of pics of the meaty baked eggs (there's also a vegetarian version). It comes out on a cast iron skillet and is a deeply flavour and rich casserole of homemade pork and fennel sausage, cannellini beans, tomato and chilli with a choice of bread. I go for the focaccia made with potato. It's slightly different from traditional focaccia and is more spongey and crumpety and less light but no less delicious. I don't know how anyone could finish an entire serve of this as it is very generously portioned and the mozzarella is a worthwhile addition.
King prawns, chorizo and potato hash, garlic butter and poached egg £11.50
I don't usually go for specials but the specials here are really worth trying. This dish is more lunch than brunch but that's just semantics. We try their sourdough which they've been making for four years now and it is fantastic. It comes topped with king prawns, cubed chorizo and spiced potatoes with garlic butter and a poached egg. I mop up the garlic butter juices with the bread.
Because the whole display was tantalising me we finish with some cake. I loved the look of the carrot cake with pecans and cranberries topped with rosemary and redcurrants and a delicious whipped cream cheese frosting.
And if the dark chocolate oatmeal sandwich cookies are on offer, you'd best order one of these with a cup of tea or coffee and sit back and enjoy the rain outside.
Singl-end Merchant City: 15 John St, Glasgow G1 1HP, United Kingdom. Open 7 days 8am–5pm. Phone: +44 141 552 4433
3. Visit The Lighthouse, GOMA and The Glasgow City Chambers
Just around the corner from Singl-end we work off that delicious breakfast and pop into GOMA or the Gallery of Modern Art. All museums and galleries are free in Scotland which is a smart way of allowing everyone to enjoy art. There are four levels as well as a fun gift shop where you can find some great gifts.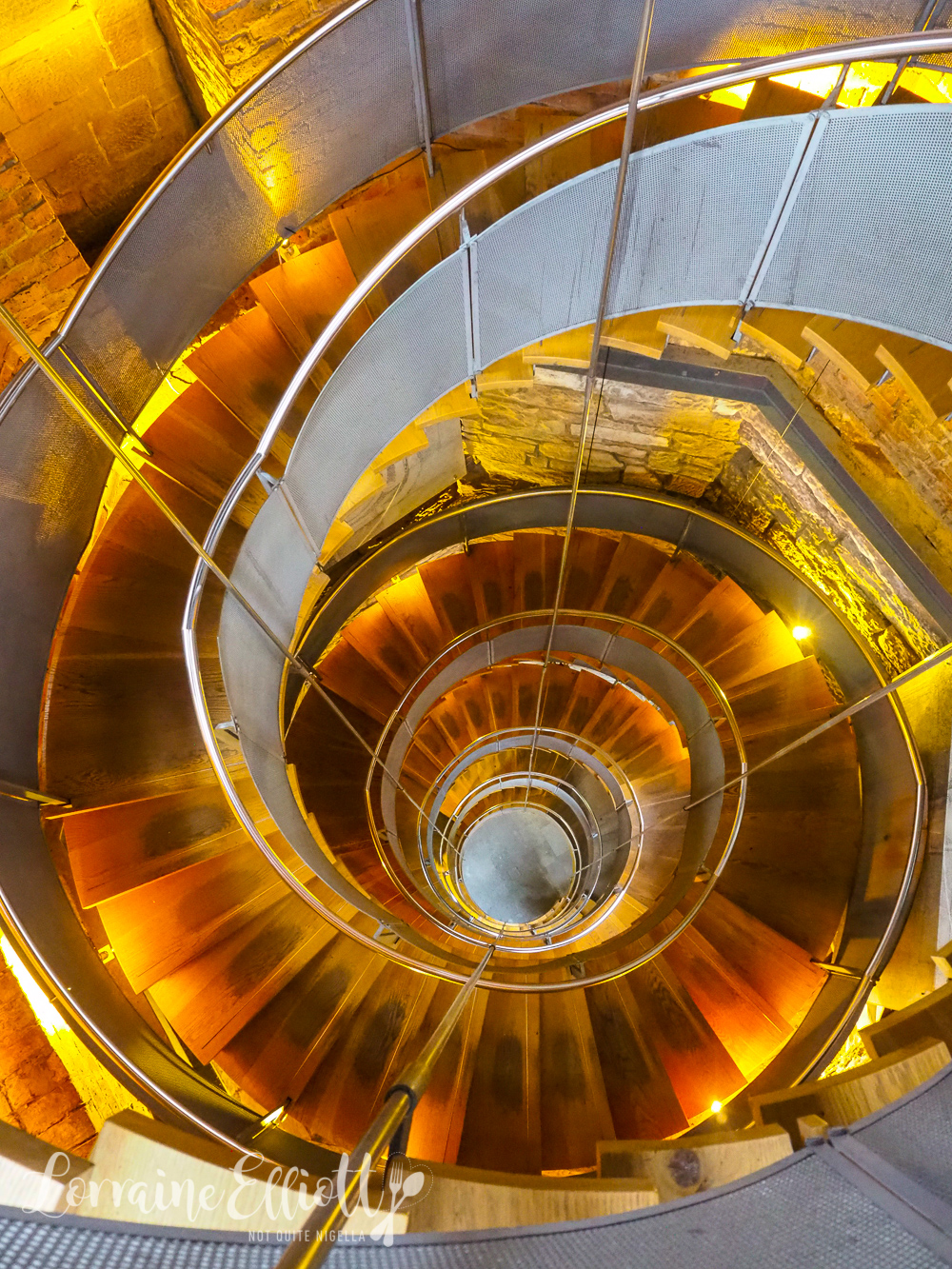 Less than 5 minutes walk away is The Lighthouse and Scotland's Centre for Design and Architecture. The Mitchell Street building was designed by a young draftsman called Charles Rennie Mackintosh who would later go on to become one of Scotland's most successful architects and designers. Glaswegians are very proud of him and much of the city shows his influence.
The view from the lighthouse
You take the escalators up to the third floor and then it's climbing six flights of a helical staircase to see a panoramic view of Glasgow's cityscape below. It's well worth the climb and the photos looking down or up are stunning. Mackintosh designed the tower where the lighthouse stands to contain an 8,000-gallon water tank to protect the building from fire.
Also closeby is the Glasgow City Chambers. The Beaux arts style city chambers were opened by Queen Victoria in 1888. It overlooks George Square and was built as a symbol of wealth and prosperity of Glasgow (it cost £578,232 back then which is equivalent to £40 million today). They hold tours of the building or you can walk in and take a peek at the grand beauty and its ornate Carrara marble staircase.
GOMA: Royal Exchange Square, Glasgow G1 3AH, United Kingdom Hours: Monday to Wednesday 10am–5pm, Thursday 10am–8pm, Friday 11am–5pm, Saturday 10am–5pm, Sunday 11am–5pm. Phone: +44 141 287 3050
The Lighthouse: 11 Mitchell Ln, Glasgow G1 3NU, United Kingdom. Monday to Saturday 10:30am–5pm, Sunday 12–5pm
Glasgow City Chambers: 82 George Square, Glasgow G2 1DU, United Kingdom Monday to Friday 9am–5pm. Saturday & Sunday closed. Phone: +44 141 287 2000
4. Walk Around The Glasgow Christmas Markets
Right in the middle of downtown Glasgow there are two Christmas markets: the Enoch Square ones that are only on weekends and the George Square markets on every day from the 24th November to the 29th December.
There are lots of food, rides, place to have a drink with a big diversity of food on offer. The mac and cheese which is somewhat of an obsession here has one version that is topped with haggis and another with turkey stuffing and cranberry sauce. Grab a mulled wine, some crepes or some giant marshmallows coated in chocolate.
5. Have Afternoon Tea At Mackintosh At The Willows
No stay in the UK is complete without an afternoon tea and the one at Mackintosh at the Willow is as much about exquisite cakes as it is about the soul of Glasgow through its most famous architect and designer Charles Rennie Mackintosh, born in Glasgow. This is an exquisite afternoon tea and one that I will do a separate story on. There are afternoon teas available at many of the 5 star hotels too.
Mackintosh At The Willow: 215 Sauchiehall St, Glasgow G2 3EX, United Kingdom. Open 7 days 9am–5pm. mackintoshatthewillow.com Phone: +44 141 204 1903
6. Stay At Native Glasgow
Our home for our 4 night stay in Glasgow is the Native apartments. The location is smack bang in the middle of the city action. They bill themselves as a serviced apartment crossed with a boutique hotel. The one bedroom apartment is spacious although it is quirky too and quite dark (for rooms with more light, choose a penthouse apartment).
The bedroom door and the door to the living room are both heavy fire doors that are designed to remain shut. When we asked for some door stoppers we were told regretfully that they weren't allowed to give these out to guests due to the strict fire regulations. There aren't any trestle tables for the luggage so we end up moving chairs to prop open the doors and stow our luggage.
The bathroom is spacious with plenty of sink space. Small bottles of shampoo, shower gel, conditioner and lotion are given although these aren't replaced and servicing was only done one night of our four night stay with a rather curious job of making the bed. The towels are thick and good quality.
The bed is a queen bed and is quite comfortable. The internet is fast and free and there's plenty of closet space to hang things. One of the main reasons why we were staying here apart from the location and it being more spacious than a hotel was the laundry and dryer. There is also a kitchen with a combi oven to cook in as well as a bar fridge and dishwasher.
The view from the Penthouse
Native Glasgow: 14 St Vincent Pl, Glasgow G1 2EU, United Kingdom. Phone: +44 20 7313 3886. nativeplaces.com/property/native-glasgow/
7. Brunch At The Anchor Line
We also have breakfast next door to Native at the Anchor Line restaurant which is a restaurant with an interesting history behind it. It is where the Anchor Line ships used to sell tickets and the plaques on the walls represent the different ships that were part of the fleet.
The breakfast cocktail list is as big as the food menu with the majority of it made up of various types of benedicts from ham, Scottish, black pudding and there's also a full Scottish breakfast which we're rapidly getting accustomed to here.
Scottish Full Breakfast £9.95
There's a potto scone, back bacon, Scottish pork and herb sausage, vine tomatoes, portobello mushrooms, four slices of toast and two eggs served whichever way you'd like. We ordered poached eggs and they were perfectly runny inside.
Royale Benedict £8.35
Like the Royale Benedict with Scottish smoked salmon has two poached eggs atop layers of Scottish smoked salmon on a toasted English muffin.
Bloody Shame and Virgin Bellini £3.95 each
The yogurt and muesli comes with pots of delicious cherry compote and honey along with a tasty untoasted muesli. We wash this all down with a Bloody Shame, a virgin Bloody Mary which is beautifully spicy as well as a virgin bellini which comes with a choice of raspberry, peach or strawberry. We choose the raspberry and it's delightful.
The Anchor Line: 12–16 St Vincent Pl, Glasgow G1 2DH, United Kingdom. Monday & Tuesday 9am–11pm, Wednesday & Thursday 9am–12am, Friday 9am–1am, Saturday 9am–12am Sunday 10am–11pm. theanchorline.co.uk Phone: +44 141 248 1434
So tell me Dear Reader, when you visit a new city do you stay in the central area or do you branch out and stay in neighbourhoods? Have you been to both Edinburgh and Glasgow and if so, are you more an Edinburgh person or a Glasgow person?
NQN visited Glasgow as a guest of Glasgow Life, Visit Scotland and Visit Britain but all opinions remain her own.