The West End of Glasgow is the hot spot for restaurants, bars and quirky boutique shops. You could spend days eating your way around the area encompassing Byres Road, Kelvingrove and Finnieston. The Times proclaimed Finnieston to be "the hippest place in the UK" while the Independent listed it in the, "top ten coolest neighbourhoods in Europe". See what makes it so special!
Please note that this story was written before the start of the COVID pandemic but the businesses featured are still in operation.
Glasgow's West End is located 10 minutes drive from central Glasgow. In the West End there is entertainment and it is also the home of the Kelvingrove Art Gallery and Museum. For foodies, the West End is where you'll find a lot of Glasgow's hottest restaurants.
I could tell that Mr NQN was regretting getting the hop on and off bus as I was getting increasingly hangry. I had come hungry for my self-styled West end Glasgow tour and we wait as the bus makes its slow journey to the West End to Byres Street. I briefly consider hijacking the bus to get to brunch earlier.
Kember & Jones
Our first stop is brunch or more accurately lunch by the time we get there. Kember & Jones is a popular café with a warm atmosphere and really lovely service.
There are only front bar seats available but since there's an adorable little West Highland Terrier puppy there that is exactly where I want to be.
While waiting on the bus to get there I had already decided on what to order. I order a plain hot chocolate and Mr NQN has a cortado (like a latte).
Crab and Cucumber Sandwich £8.95 Cortado £2.50, Hot Chocolate £3.20
The crab sandwich is packed with plenty of crab with a poppyseed and herb mayonnaise on wholemeal bread that tastes almost cake-like. I also really enjoy the onion and white bean salad on the side as well as the leaf salad.
Fish Board £9.95
It's a little awkward to eat this on a board but the fish is divine. There is hot smoked salmon, cold smoked salmon, mackerel pate and a cubed beetroot and dill salad with toast. It is wholesome, tasty and filling and the salmon is excellent quality.
Kember & Jones: 34 Byres Rd, Glasgow G12 8TD, United Kingdom. Wednesday to Sunday 9am–6pm, Thursday 8am–10pm, Friday 8am–10pm. Phone: +44 141 337 3851
SugarFall
You can smell the cakes baking at SugarFall opposite Kember and Jones. Aiste Berlinskaite and Karolis Juskenas both hail from Lithuania and SugarFall is their cake shop open for just one month at the time of our visit in 2020.
Some of the cakes have an Eastern European and Russian influence from the honey cake that they renamed the honeymoon cake.
Honeymoon Cake £3.40
This is a wonderfully moist and tender cake with honey, spices and whipped cream. Teas and coffees come with a Biscoff cookie and there are also bags of mendiants, gold rolled candied nuts and cookies for sale too.
Sugar Fall: 153 Byres Rd, Glasgow G12 8TS, United Kingdom Open 7 days 10am–6pm. sugarfall.co.uk
Starry, Starry Night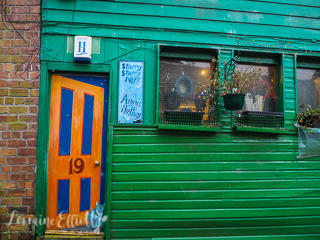 Vintage clothing lovers, head down Dowanside Lane to Starry, Starry Night, a vintage clothing and accessory store with Victorian era clothing through to the 1980's.
Starry Starry Night: 19 Dowanside Ln, Glasgow G12 9BZ, United Kingdom. Phone: +44 141 337 1837
Ubiquitous Chip
A little further along the road is the Ubiquitous Chip on Ashton Lane and a must stop in the west end of Glasgow. The Scottish pub has a warm, welcoming atmosphere and delicious Scottish pub food. Surprisingly, that morning I woke up with a craving for haggis.
Everyone talks about their venison haggis which you can have in the casual eatery or the restaurant downstairs. Or just pull up a seat at a sewing table in the main pub. We order a warming mulled wine, a Skye liqueur coffee and feast on the delicious venison haggis which has been on the menu since 1971.
The Chip's own venison haggis, champit tatties, neep cream £9.95
The haggis comes as three quennelles with mashed turnips, mashed potato and the venison haggis in the centre. It also comes with a whisky cream sauce. And they also do a vegetarian version of haggis!
Ubiquitous Chip Open 7 days 11am–1am. ubiquitouschip.co.uk Phone: +44 141 334 5007
Tantrum Doughnuts
About 20 minutes walk away is Tantrum Donuts whose donuts have taken Glasgow by storm. There are two types of donuts here: a brioche yeasted donut and a old fashioned cake style donut. The yeast raised brioche dough is proofed for 16 hours and most of the selection is made using this dough. There are also vegan donuts available.
Vegan Blueberry Jam Glazed Doughnut £2.25
The key to Tantrum's donuts are the creative flavours like Chocolate Millionaire Crémeux, pistachio & hibiscus, creamed corn custard with toffee cream or cheese and popcorn. Ironically given their whimsical flavour offerings, their most popular donut is the vanilla crème brûlée brioche doughnut made with Madagascan vanilla bean custard. OOFT...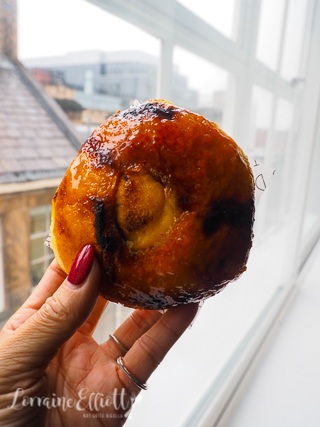 Creme Brulee Doughnut £1.90
Tantrum Doughnuts: 27 Old Dumbarton Rd, Glasgow G3 8RD, Monday to Friday 9am–6pm, Saturday 10am–6pm, Sunday 10am–5pm. Phone: +44 141 339 9319
The Hive, Hidden Lane
Our next stop is a short 10 minute walk away towards Argyle Street. A search for the Hidden Lane Tea Room leads us to a spot of shopping.
There are around 100 artisans on Hidden Lane with a collective of shops around here that sell everything from art, trinkets to jewellery. There are alsos services, an art gallery, a couple of yoga studios and lots of small businesses located here.
Decadent Riot is the perfect spot for quirky Christmas gifts (think your besties, not your parents unless you have super cool parents). I buy a teatowel, socks and stickers and before I know it, I've done all of my Christmas shopping.
The Hidden Lane: 1103 Argyle St, Glasgow G3 8ND, United Kingdom. Open 24 hours
Hidden Lane Tea Rooms
To warm up we stop into the Hidden Lane tearooms. I can't finish a full afternoon tea considering what I've eaten but they also have a smaller version called a "Wee Tea" which is an assortment of dainty sandwich triangles, a scone with clotted cream and jam and your choice of tea which are basically my favourite parts of an afternoon tea.
Chilli Chocolate Rooibos Tea £2.25
The tea menu is full of treasures including my favourite London Fog tea (Earl Grey tea, vanilla and steamed milk) as well as a chocolate chilli rooibos with steamed milk.
Wee Tea £6.50 + £1.50 extra for London Fog Tea
The sandwiches are fabulous and very fresh and my favourite is the coronation chicken sandwich. The scone is a rose and honey one, enormous in size but melting in texture and divine slathered with the thick cream and strawberry jam.
The Hidden Lane Tea Room: 1103 Argyle St, Glasgow G3 8ND, United Kingdom. Monday to Friday 10am–5:30pm, Saturday 10am–6pm, Sunday 12–6pm hiddenlanetearoom.com. Phone: +44 141 237 4391
The Gannet
The Gannet is one of Glasgow's Fine Dining establishments in Finnieston. The name was inspired by Peter, Ivan and Pete Reid's trip to Scotland's Hebridean coastline.
This was one of the best meals I had this year and there's a separate story on The Gannet if you want more detail but all I will say is that if there is one meal you want to pre-book ahead of time, it's a special dinner at The Gannet.
The Gannet: 1155 Argyle St, Glasgow G3 8TB, United Kingdom Hours: Monday Closed, Tuesday & Wednesday 5–9:30pm, Thursday to Saturday 12–2pm, 5–9:30pm, Sunday 1–3pm, 5:30–9pm. Phone: +44 141 204 208
Kelvingrove Cafe
Kelvingrove Cafe next to The Gannet is a café during the day but really comes alive at night. After your meal at The Gannet pop by next door for a warm welcome and pull up to a table by the fireplace. Staff are welcoming and lovely and patrons are chilled and friendly. The drinks menu focuses on craft cocktails, amaro and fortified wines.
A Death On the Nile £9.50 and Eastward Flight £10
The hardest thing about your visit here is which cocktail to order because they all sound fantastic. My choice is a light and feminine "A Death on the Nile" with Tanqueray Sevilla, Cocchi Americano, violet, orange, rose and a bit of fizz from Cava.
Mr NQN has a Eastward Flight with The Botanist, Noilly Prat, curry leaf, anise, lime, whites and matcha sherbet which is a frothy but well balanced concoction-and yes the curry leaves work in this. The snacks are also tasty - sip your drinks with enormous green olives with pickled chillies and sweet, spicy mixed nuts. It was a long day but a delicious one full of good food!
KelvinGrove Cafe: 1161 Argyle St, Glasgow G3 8TB, United Kingdom. Open 7 days: 9am–1am. Phone: +44 141 221 8988
So tell me Dear Reader, have you ever visited the West End of Glasgow? When you travel, do you ever have a day where you go from one eating establishment to another?
All of the meals in this post except for The Gannet were independently paid for.