There is no other word for the Isle of Skye than magnificent. Even the light is different in this unique island located in the Inner Hebrides of Scotland. Photographers flock to it to take images of its natural landscape. Food lovers also make a pilgrimage to this island to try one or both of the Michelin starred restaurants. Come along to see my favourite stop in our visit to Scotland!
"Is there an "r" in this month?" our Wilderness Scotland guide Malcolm O'Reilly asks us. He is holding up a freshly boiled limpet and is poised to hand it over to one of the group of travel writers. Superstition says that you can only eat freshly foraged seafood on months containing the letter "r" avoiding the months of June, July and August because they are the hottest months and ones prone to algal bloom.
We are standing on the rocky shores in front of Kinloch Lodge on the glorious Isle of Skye and foraging for a mid afternoon snack. So far we've found sea lettuce (delicious and salty), a live mussel and with the swift actions of a rock, dislodged several limpets from their rock homes.
The limpets have a chewy, flat round section not unlike calamari and a soft, puffy stomach that contains some delicious iodine-rich juices. "See the sky up there?" Malcolm asks. "That's what we call a mackerel sky," and he points out the wavy pattern much like that on the skin of a mackerel.
Foraging is a popular past time here and Malcolm looks down at the beach scene, apparently picked over by other keen seekers of food. The "right to roam" access and Scottish outdoor access laws allow people to enter private property with the purpose of cutting across and this is not considered trespassing as long as they are respectful of the property and do not tamper or damage anything. They can access "most land and inland water including mountains, moorland, woods and forests, grassland, fields, rivers and lochs, coastal areas, most parks and open spaces, golf courses (to cross them), day and night."
Boiled limpet
The foraging process is one that Kinloch Lodge's chef Marcello Tully and his team does regularly. For an island with a population of 10,000 there are two Michelin starred restaurants (Kinloch Lodge and The Three Chimneys) and a remarkable food scene that sees foodies make pilgrimages to the island to visit the restaurants and forage along the coast.
The Isle of Skye is one of Scotland's 790 islands and is located on the West coast of Scotland. Across from the Isle of Skye is Knoydart where the world's most remote pub The Old Forge is located. At the bottom of the island is Loch Morar where "Nessy's" lesser-know cousin is said to reside. The views and the light make the Isle of Skye a favourite for photographers and I snap shot after shot, the golden hued light hitting everything just so.
Kinloch Lodge is a beautifully unique hotel and restaurant. Voted in the world's top 25 small hotels by Conde Nast magazine, it is utterly charming and cosy. We rush in through the front door where we are greeted with genuine country charm and offered a seat in the large waiting room where glasses of champagne and a roaring fire awaits us. And afternoon tea. Let's not forget afternoon tea.
The afternoon tea can sometimes be had with Lady Claire McDonald from the McDonald clan that owns Kinloch Lodge. Paintings and pictures of the ancestors and family pets give this a comfortable warmth. It is almost like visiting a family member.
We nibble on freshly made sandwiches - there's an excellent cucumber and cream cheese one as well as a local Aultbea smoked salmon sandwich. There is also a raspberry mille feuille, chocolate opera cake, scones and an excellent buttery shortbread. All washed down with bottomless cups of tea. It's an effort to get up from the warm fireplace and comfortable lounges.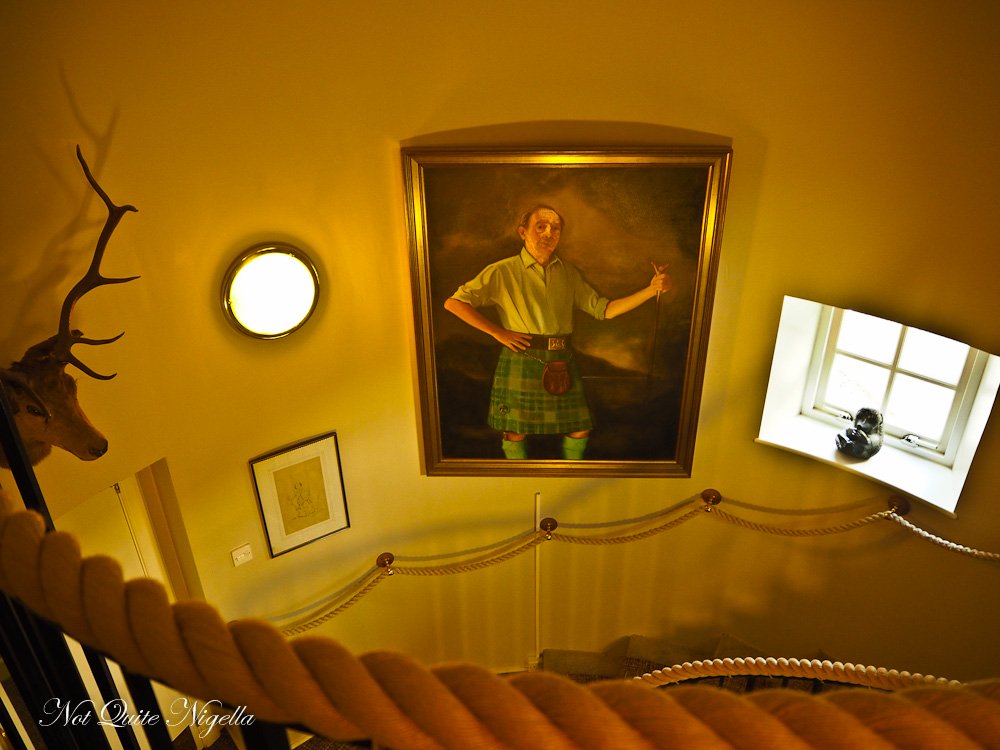 Guests rooms are divided into the original building and the adjacent building and the latter is where most of the guests rooms including mine are located. I climb up to the top floor of the spiral staircase. All of the rooms are slightly different in layout and said to be decorated to reflect Skye's landscape. My room #19 is enormous and has a good sized sitting room with views of the sea loch Na Dal in Sleat.
This follows on to the bedroom, a spacious room with a very comfortable king bed fitted with Egyptian sheets and a dressing table. I must admit that I did a little dance when I saw my room as it was so spacious and warm. Central heating keeps everything beautifully toasty.
The bathroom is adjacent to the sitting room and features a claw foot bathtub, heated floors a separate shower and L'Occitane toiletries. Wifi is free and fast - pleasantly surprising given the island's remoteness. Kinloch's famous shortbread is provided along with a tea and coffee service.
View from the room
Dinner at Kinloch Lodge is certainly something to be behold and it starts with drinks and and canapes in the front drawing room of the main building. The building that we are sitting in is about 700 years old while the accommodation building was built 25-30 years ago but was designed to look like the original building.
It was here that enormous decisions as to go to war or not with competing clans were made. There are large clans such as the McDonalds and the Campbells but then smaller clans sit underneath the larger clans. These are known as subclans.
The canapes are delicious, particularly the bajee with plenty of nubbly spices. There is also a soft beef crumbed ball and a fantastic crab creme fraiche in a shot glass. Non guests of Kinloch Lodge can also dine here and a five course dinner is £70 per person.
Slightly Spiced Pea Soup
We had been left the menus on our beds in our rooms so I had an inkling of what to expect but it doesn't quite prepare me for how exquisite the meal is. Even the simple soup at the beginning is perfectly conceptualised. The spicy pea soup has just the right amount of creaminess and flavour with a resounding but not overwhelming linger of spice at the end.
Mallaig Seabass Fillet, stuffed wtih warm lobster mousse, white wine, loal mussel cream sauce
The menu changes every three days or so although if there are guests staying longer then they will rejig the menu to suit them. The Mallaig Seabass fillet is two pearlescent seabass fillets generously filled with a warm lobster mousse. There is a white wine and local mussel cream sauce that brings this divine dish all together.
Pork Belly and haggis crumbs
The next course is a perfectly sized piece of melting pork belly on haggis crumbs with a green pea puree. This is a great example of modern Scottish food with traditional Scottish ingredients.
Black Isle lamb fillet, nutty herb crust, dauphinoise potatoes, Jerusalemn artichoke
As the courses go on, there are moans of "beautiful" and "perfect" coming from everyone and I would have to agree on all counts. This is the last savoury course and it is a beauty with a Black Isle lamb fillet with a nutty herb crust on top, a round of purple dauphinoise potatoes and thinly sliced and deep fried Jerusalem artichokes and jus. The dish is perfectly balanced and if it were decorous to lick a plate I would have but given that the dining room is decorated with paintings of the McDonald clan I feel their watchful eyes on me.
Marcello Tully
Passionfruit parfait, knockraich yogurt sorbet
There is a choice of a parfait or cheeses from the cheese trolley that feature a mix of Scottish and French cheeses. It takes all my will not to dive into the cheese trolley but I go for the passionfruit parfait, a light panna cotta style parfait that is the perfect level of tart and sweet. There is a refreshing yogurt sorbet on the side.
We retire to the drawing room in our accommodation wing for whisky and drinks. The staff ensure that everything is topped up and ready for us asking if there is a particular spirit that we would like to have. The fire crackles as the winds whip up outside and its the perfect conditions for a sound night's sleep.
And where are we headed off to next Dear Reader? Why the next chapter is my very last stop in Scotland: Glasgow!
So tell me Dear Reader, have you ever foraged for food? Do you plan your trips according to the food that you can eat? And are you much of a photographer and if so, what is your favourite subject for photographs?
NQN visited Scotland as a guest of Visit Britain and Visit Scotland but all opinions remain my own.
Kinloch Lodge
Sleat, Isle of Skye, Scotland IV43 8QY
Tel: +44(0)1471 833333
www.kinloch-lodge.co.uk