The 70's movie horror classic Carrie gets a modern update in cake form. This Halloween Carrie Dolly Varden doll cake promises maximum horror and gore but also maximum edibility with a rich and moist red velvet chocolate mud cake inside its striking exterior.
The best thing about reciting movie quotes in work meetings is how you can find someone in your office with a common interest. Through merely reciting one line, you have a whole new realm of conversation over the water cooler or in the elevator. Mr NQN was telling me recently about one of his colleagues. She is looking to date and so Mr NQN brought up a quote from one of his favourite movies Borat.
"Do you have plough experience?" he asked in a Borat accent.
Unfortunately, the thing about movie quotes is that the person that you are saying it to has to have seen the movie to get the joke. She hadn't and he could tell from her perplexed and slightly aghast expression that she wondered why he had switched from his broad Australian accent to that of a possibly Kazakhstani accent and why he was asking if she ploughed.
"Borat!! You know right?" he said trying to cajole a laugh out of her, or at least a resolution that didn't have her calling Human Resources for harassment and overt sexism.
Sometimes I quote movies to him and he doesn't quite know what I'm talking about. You see he grew up without a television in his house (they were hippies) and so he missed out on many movie classics. Like Carrie. I'm talking about the original version not the remake which I have yet to see.
SPOILER ALERT AHEAD: The 1976 movie Carrie featured Sissy Spacek as a high school teenager who had telekinetic powers. It was based on a Stephen King film and directed by one of my favourite horror directors Brian de Palma. There were classic lines especially from Carrie mother Margaret White like:
"They're all gonna laugh at you!"
"I can see your dirty pillows. Everyone will."
"Pimples are the Lord's way of chastising you."
The movie ended in a prom scene where Carrie ends up covered in pig's blood, a cruel prank from her peers. A while back I bought a top of a Dolly Varden doll as I've never made one before but always wanted to. It sat in my baking tools drawer for ages until I thought of what I wanted as my Halloween main cake. Every year I try and make something big and gruesome and this year I crawled back into the recesses of my mind and the prom scene was clear in my memory. My first Dolly Varden cake would be Carrie!!
You can buy a Dolly Varden cake mold to bake the skirt in but as I have no room on my kitchen for molds I improvised and use my pudding container which has a similar shape, just not quite as tapered at the top. I also used a 15cm/6inch tin to add a bit of height at the bottom of the cake just to keep it in proportion. The advantage of making the first Dolly Varden cake a Halloween one is that you don't need her to be pretty and perfect because you will end up decorating it with red sparkle gel on top!
I did use some poetic license with this Carrie cake. In the original movie her look was much more gruesome and her white dress was soaked with blood but I wanted it a bit prettier with drips (did I really just say that?) so rather than drenching her with edible blood I went with a red and white contrast. Carrie is also blonde but I only have a brunette doll. I won't say that this is easy, it is a big cake that serves say 30 or 40 people but if you are going to go down the route of 3D sculpted cakes then this is a good one to start with because any mistakes can be covered with edible blood. And last of all, I have to say that this red velvet mud cake is absolutely delicious. In fact the only thing I lamented was that using the pudding steamer meant that there was very little leftover to eat!
So tell me Dear Reader, what is your favourite horror movie? And have you seen the original or remake of Carrie? Would you have recognised the Borat quote?
Here's a little video of how to make the Carrie cake! Thoughts? Comments? I'd love to know what you think of it? x
Want other gruesome Halloween cake ideas?
DID YOU MAKE THIS RECIPE? Share your creations by tagging @notquitenigella on Instagram with the hashtag #notquitenigella
Carrie: A 3D Doll Cake From The Dark Side!
An Original Recipe by Lorraine Elliott/Not Quite Nigella
Cake part is best baked a day or two ahead of time
Preparation time: 30 minutes
Cooking time: 2 hours
Decorating time: 2.5 hours plus 1 hour refrigerator time
For cake
500g/17.6ozs. butter
375g/13.2ozs. white chocolate
3 cups white sugar
3 cups water
3 eggs, at room temperature
3 tablespoons Lorann Red Velvet food colouring
3 cups plain all purpose flour
3/4 cup cornflour or cornstarch
2 teaspoons baking powder
For ganache
750g/26.5ozs. white chocolate
2/3 cup cream
3 teaspoons oil soluble red food colouring powder (you can also use Lorann's red velvet food colouring, just whisk it with the cream)
To decorate
Cake base
Gold lustre paint
50g/1.7ozs. white and pale pink gum paste (you can also use fondant but gum paste sets quicker)
4 toothpicks
Masking tape
1 sheet pretty paper (I used a cupcake liner)
Cake turntable
Angled spatula
Cup of lukewarm water
750g/26.5ozs. white fondant
Cornflour or cornstarch
Rolling pin
Paring knife
Smoother (a square of overhead projector film will do)
Dolly Varden torso pick
Paintbrush
Silver lustre powder
A small bucket
Edible gold stars
2 tubes of sparkle red gel
Step 1 - Make the cake: Preheat oven to 150C/300F and line the base and sides of a pudding or Dolly Varden tin with parchment. If you are using a pudding tin, measure to see the height, I needed another 1.5 inch tall cake underneath to make her look tall enough (this recipe is for a 2 litre pudding tin plus a 15cm/6inch round tin OR a Dolly Varden cake tin). If you are using a Dolly Varden tin you do not need this extra cake at the bottom.
Step 2 - In a large saucepan heat the butter, white chocolate, sugar and water until melted. Cool for 15 minutes. Whisk the eggs and red velvet mix together and add to the chocolate mixture. Place the flour, cornflour/cornstarch and baking powder in a very large bowl and whisk until combined.
Step 3 - Make a well in the centre of the flour mixture and add a couple of ladles of the chocolate mixture in and mix to combine. Add the chocolate mixture in five or so lots stirring to prevent lumps. Adding it slowly means that you shouldn't get any lumps.
Step 4 - Scoop into the pudding and round containers leaving at least an inch on top for the cake to rise. Bake for 1 hour and 20 minutes for the 15cm cake (check the centre for doneness) and then continue to bake the pudding shaped cake for another 40 minutes or until a skewer inserted comes out clean. Please note if you are using a Dolly Varden mold you may need even longer as the mold is taller than a pudding mold. The most crucial part is right in the centre so you may need another 20-30 minutes (the cake is very moist and you're baking it at a relatively low temperature so don't worry too much about over cooking it). Cool completely in the tin and wrap in cling film. This can be made 1-2 days ahead of time.
Step 5 - You also need to make the crown and bouquet ahead of time. Roll out the white gum paste and then cut out a crown shape. I used the blunt end of a paring knife to imprint little diamonds. Allow to set and then paint with gold lustre dust.
Step 6 - Make flowers. Roll out the pink gum paste until very thin and then cut into four thin 4mm/1/6 inch strips. Take a small pinch of the gum paste and roll it around one end of the toothpick, like a matchstick head. Dampen very lightly with a drop of water. Roll around one strip of the pink gum paste around the matchstick top and press gently to seal. Repeat with remaining toothpicks. Allow to dry and then secure the four "roses" together with masking tape. Then wrap with a small triangle of paper.
Step 7 - On the day you want to assemble this make the ganache. Melt the white chocolate in a microwave or a double boiler. Whisk the cream with the food colouring and add this to the chocolate. It should thicken. I find it the best texture if it goes in the fridge for 15 minutes to firm up a little but you don't want it too stiff.
Step 8 - Trim the cakes - remove the crusty top on both cakes and make sure that thew cake is flat. Reserve the cake if you are using the pudding mold - you want about a cupcake's worth of cake crumbs spare if you are using a pudding mold because this has a flat and wider bottom than the Dolly Varden mold. Place the cake base on the turntable and place some ganache in the centre. Start with the 15cm/6inch round. Spread ganache on top and smooth with the spatula.
Step 9 - Cut the pudding or Dolly Varden cake into two horizontally and place the wider piece on top of the cake round. Top with ganache and spread to the sides. Add the other half of the mold on top. Crumble the leftover crumbs with a tablespoon of ganache and shape into a ball. Place on top of the skirt to create more of tapered shape. Trim the cake if neccesary to produce a smooth gradient (luckily we didn't need to). Cover with the ganache using your angled spatula. It doesn't have to be perfect but it should be thick enough so that you don't see any of the cake. Place in the fridge for 1 hour for the ganache to harden.
Step 10 - Clean your angled spatula and take a glass full of lukewarm water. Smooth down the ganache - you can be pretty firm with it to create a smooth surface. Dip your spatula into the water and then press gently but firmly and the gancahe will smooth under your pressure. Smooth over the whole cake. Brush with a bit of the water to help the fondant stick.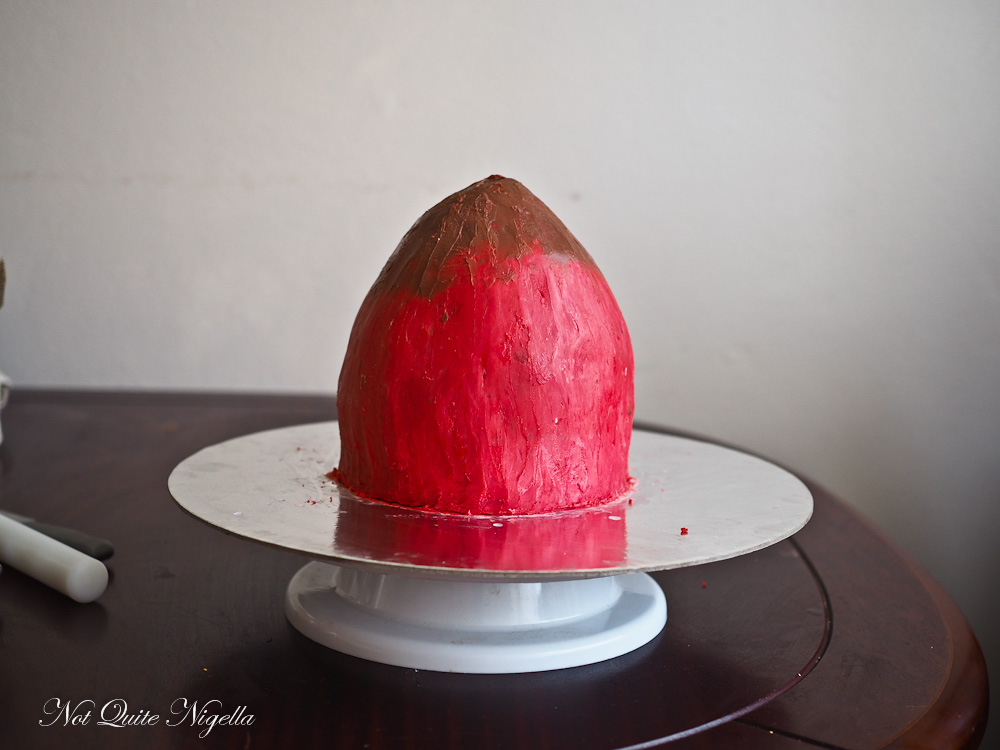 I put the crumbled cake on top afterwards but only because I realised that the doll's waist was too small for the pudding mold. Ignore this step if you are using a DV mold
Step 11 - Clean your work surface well and make sure that it is totally dry. Sprinkle cornflour/cornstarch over the surface and roll out your fondant to become a large rectangle. Fold over the fondant and place on your forearms and gently lift onto the cake (sometimes having someone there to assist really helps). Cut off the excess fondant with a knife and trim. Always work with fresh from the box fondant as you can easily buff it to get rid of any joins or cracks. Smooth the edges with the smoother and buff and buff until you get rid of any cracks. There will be a join and this is what we will make the back of the cake.
Smoothing the fondant
Step 12 - Remove any red bits from the leftover fondant and roll out a small rectangle and make a bodice and straps and press it onto the doll.
Step 13 - Using a paintbrush, brush over with silver lustre powder.
She was so pretty I wanted to keep her like this!
Step 14 - Now comes the fun bit! Place the bouquet in her arms (use the tip of the toothpick to wedge it into the dress if needed). Drip the red sparkle gel all over Carrie. I combed her hair to give it more of a wet look too. Also place the bucket and the crown at her side and drip red sparkle gel all over these. I also mixed up a little red colouring and water to draw a bit of extra blood too.
Cake stand from Faye Cahill