The neighbourhoods of Toronto are a distinctive feature of Canada's most populated city. Unofficial counts have the city with 240 neighbourhoods, each with its own distinct character. To start off in Toronto we visit two neighbourhoods popular with food lovers: Kensington Market at St Lawrence Market where we grab one of Toronto's signature dishes: a peameal bacon sandwich.
"What just came out of the oven?" Agatha Podogorski says, leaning across the counter at a shop in her neighbourhood of Kensington Market. Agatha knows that there's nothing like a fresh out of the oven baked good.
It's my first day in Toronto after visiting the Yukon and it almost feels like a different country. Canada is like that. It's broad and far reaching with so many distinct areas and Toronto is a busy city in contrast to the easy going rustic nature of the Yukon. But Kensington Market with its strong nod to the artistic community that resides there and the varied ethnic population of Toronto is a nice way to ease into life here.
Earlier that morning, Agatha had met Vicki and me at Bar Raval on College Street. True to its name there is an eclectic selection of restaurants and eateries. Bar Raval serves tapas from 7am-4am, 7 days a week. Owner Grant van Gameren is the chef de cuisine. The woodwork inside the bar draws you in - Agatha tells us that it cost half a million dollars to create that alone.
Cafe Raval $4.80CAD
It's the perfect place to start off with a coffee as well as one of their donuts. I try the Cafe Raval, a tall mocha coffee which is very good indeed. It's usually a stand and eat sort of establishment and Agatha tells us about they've recently added seats and tables outside. The donut is topped with fermented rhubarb strips and sweet almond frangipane. It's a sweet start to the day and I love the tart contrast of the slightly crisp rhubarb on top.
We take a walk down Augusta Avenue past a colourful range of shops. We pass a car with greenery growing in it parked along the street. This is the third garden car and Agatha tells us that the second car was stolen and found parked by a railroad track. This is a piece of public art that is displayed for the warmer months and is removed during Winter. It's original name is the "Community Vehicular Reclamation Project."
Agatha also points out the various garden installations above shop awnings. The community here is passionate about protecting the neighbourhood from large multi-nationals. She recounts proudly that around two decades ago Nike tried opening up a store in among the vintage stores and bloody red sneakers were dumped on their doorstep. The shop closed within a month.
Back to the bagels. The bagels at NuBugel come in a variety of flavours and can be filled with items like corned beef, smoked chicken or one of the seven flavours of cream cheese. I ask Agatha for her favourite recommendation and she usually has them plain or with the dill pesto, a cream cheese thick with aromatic dill. It's hard to stop at one bite.
Many different ethnicities are represented not just here but in Toronto. There's a Mexican food court store that rents out kiosks and serves as an incubator for businesses where they can try out their products for sale on customers. If they prove popular they go on to larger premises. We stop by the Pancho's stand for a freshly fried churro stuffed with dulce de leche. It's deliciously crunchy and sweet.
"Only attractive men can work there and only attractive women can work there," Agatha says pointing at Cheese Magic and the Market Bakery. We pop in to Cheese Magic that has a wonderful selection of cheeses both local and from overseas. I try a Niagara Gold from the Upper Canada Cheese Company.
She explains that at one stage during the early 1900's Ontario was the largest producer of cheddar cheese as the British commissioned them to make so much of it to export to Britain.
Our next stop is Sanagan's Meat Locker where Peter Sanagan sells a range of fresh meat and cured meat products. There's a great range of pies as well as sausages and cured meats. I try a sample of Slingzaga sausage made by chef Grant Van Gameren of Bar Raval - this is made with water buffalo. Their meat terrines are also fantastic and I try a pork and dried fruit one studded with dried apricots and figs.
We pop into Blackbird Baking Co. a few doors down where they use locally grown wheat. Red Fife is a heritage grain that was found growing in Peterborough and they use it in some their loaves along with spelt and rye.
On our way to St Lawrence Market we pass through Chinatown's Spadina Avenue, one of two in Toronto. Women sell vegetables on the foothpath and Agatha says that many of them are her neighbours who build structures in their front gardens to grow their produce.
Robot vs Man
We stop by Super Noodles where Agatha recounts a recent meal. You can either get your noodles hand pulled by a gentleman that works there or you can get them done by a robot. The resulting noodles are entirely different from each other and many prefer the hand made noodles over the robot made ones. On this street is also People's Eatery with a half Jewish half Chinese menu. Not on the same plate so it isn't fusion cuisine but the dishes are served alongside each other.
We jump in a taxi and make our way to St Lawrence Market. Toronto's other public market along with Kensington this is a covered market located in two buildings whereas Kensington Market is more separate shops down a street.
Some of the shops display produce that is proudly from Ontario-this has become a recent trend. But we are here for a couple of things: the latest food trend in Toronto is seafood which is curious because a lot of it has to be brought in from a great distance. And the queues at Buster's Sea Cove over other stalls attest to this love. We order a halibut on a bun (there's also lobster on a bun and crab on a bun).
It is battered and deep fried and served on a warm, toasted bun with plenty of sauce and salad. It's very good the fish still juicy and moist inside.
But the thing that we are here for is said to be the quintessential Toronto food item: a peameal bacon roll. At Carousel Bakery they sell plenty of these and are said to make the best in the city. The griddle full of slices frying attests to the sheer number sold even at this earlyish hour of 11:30am.
Peameal bacon is thick cut back bacon or loin of pork that has been sweet brined or cured and then rolled in cornmeal. The consistency of this bacon isn't crisp, it's softer and it hasn't been smoked. Here it comes with just the meat and you simply add the sauces from a range.
How Peameal bacon is sold
Mayonnaise is said to be a must as we watch as a gentleman who seems expert at it also applying barbecue sauce so we follow suit. It's generously stuffed with bacon in a soft bun. The bacon does taste different to the bacon that we are used to. It's certainly softer and less fatty, sort of like eating the eye of bacon but it is sweeter and doesn't have the smoked quality.
For my hotel I'm ensconced in Yorkville, a gorgeous area of Toronto that has tree lined streets, boutiques, galleries and museums. My home for all four nights is The Hazelton, one of the city's best hotels. It's a contemporary luxury boutique hotel with sleek finishes, wonderful service and a focus on Canadian artwork.
From the moment I check in, I'm made to feel welcome. Service goes the extra mile and when I find that I can't log onto the internet they come up immediately and rectify the issue. My room #403 is on the top floor - the hotel is deliberately kept low profile so that it fits in with the neighbourhood.
The main bedroom has a wonderfully comfortable bed with smooth, silky sheets and a great selection of pillows that aren't too hard or too soft. It's a bed I sink into and fall asleep straight away in. There is also a three seater lounge, armchair, large working desk with plenty of plugs. Internet is fast and free for multiple devices.
There is a spacious walk in closet space and a mini bar where soft drinks are complimentary as well as a Nespresso machine and boutique teas. There aren't many snacks, just sweets which is probably not a bad thing as it keeps temptation at bay.
The black marble bathroom is stunning and spacious with plenty of places to spread out (what I like to do when I'm staying somewhere for a few days). Products are by L'Occitane and there are thick robes, slippers by the bed and thick towels.
Can we all agree that these are the best hotel room light switches ever?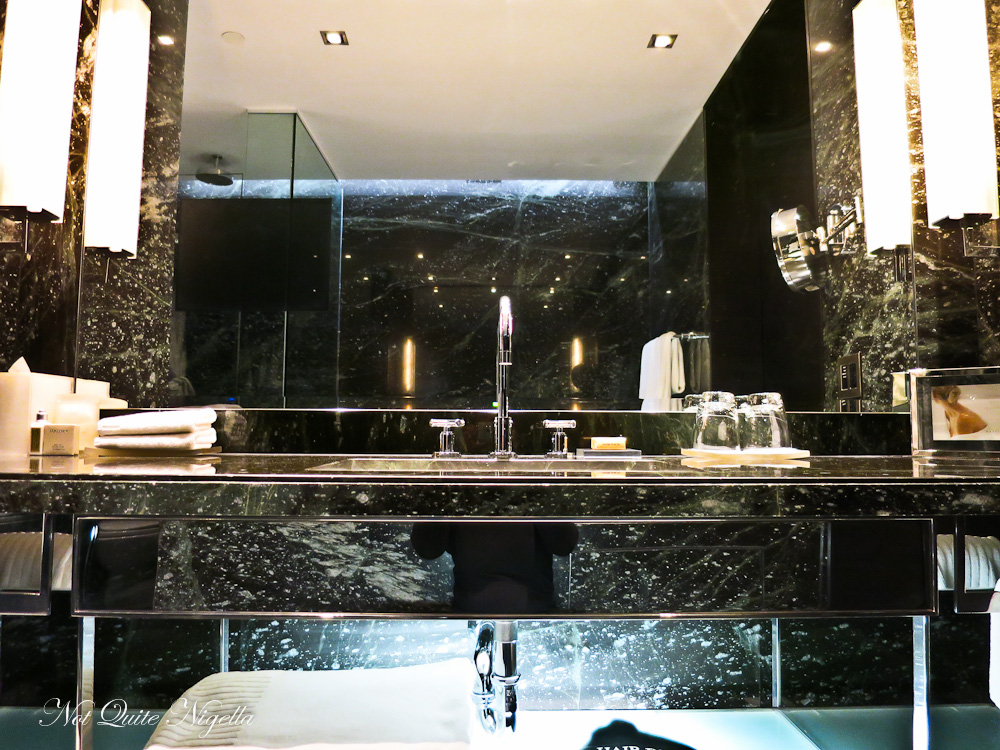 There are thoughtful touches such as tomorrow's weather on the bedside table as well as practical ones like plug sockets to charge phones right next to the bed and a phone dock that can play my iPhone 6 (usually I find some hotels only have the plugs for the older model phones).
Egg white omelette in butter $19
Another reason why I stayed here was the restaurant One, chef Mark McEwan's restaurant located on the ground floor. I start my day with an egg white omelette in butter filled with caramelised onion, cheddar cheese, mushrooms and goat's cheese. It's a well made omelette but I would have loved a bit more filling in it. I do like the potato and the sweet tomato and the crunchy sourdough toasts.
Lemon Ricotta Pancakes $18
The lemon ricotta pancakes are served with a blueberry compote, whipped mascarpone and slices of candided lemon. Alongside this is a glass jug of maple syrup topped with clarified butter that you pour over the light and fluffy pancakes. Bliss!
And my next day? Exploring more of Toronto's neighbourhoods and the best porchetta roll and cakes!
So tell me Dear Reader, have you ever felt a bit of culture shock when visiting two very different places? And do you ever ask for something freshly cooked or baked rather than the one on display? And do you live in an area or suburb with a lot of diversity?
NQN visited Canada as a guest of the Canadian Tourism Commission and Ontario Tourism.
The Hazelton
118 Yorkville Ave, Toronto, ON M5R 1C4, Canada
Phone:+1 416-963-6300
http://thehazeltonhotel.com/
Kensington Market
Kensington Ave, Toronto, ON M5T 2K2, Canada
http://www.kensington-market.ca/Default.asp?id=home&l=1
St Lawrence Market
92-95 Front Street East, Toronto, ON M5E 1C3, Canada
Phone:+1 416-392-7219
http://www.stlawrencemarket.com/