Icons can sometimes disappoint. It's like meeting your idol. Will they be as you expect? Would they fulfil your fantasies (reasonable or unreasonable)? Or would you slink away, shoulders slumped and dejected as your fantasies crumble? I remember first seeing the Mona Lisa. There was a throng of about 20 people between me and her and she was surprisingly small for such a significant piece of art. I couldn't help feeling disappointed.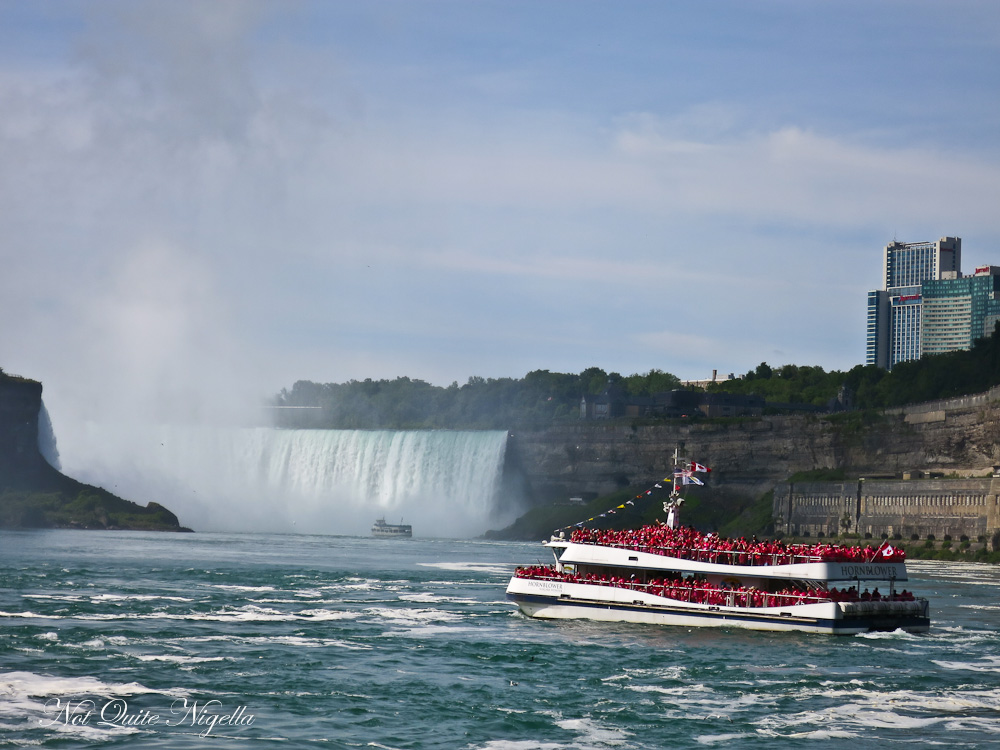 But there's no risk of that with Niagara Falls. Ever since I was small I had seen the iconic waterfall on television and in print but nothing quite prepares you to see it in real life. Its enormity for one but to feel the water on your face is another thing entirely.
I should rewind a little and set the scene. Niagara Falls is a 2 hour drive from Toronto. We are taking a private car and driver with Niagara Airbus which is a smooth ride to the falls. Our driver Rick gives us commentary along the way and points out various areas of interest.
Rick stops at a vantage point for some photos before we make our way to Niagara Cruises to board the Hornblower Niagara Cruises. Each 20 minute cruise leaves every 15 minutes and there's no shortage of passengers. Some tourists stay overnight or for several days and there are a lot of hotels clustered nearish by to accommodate them (along with various entertainment venues for teens and adults etc). We are just here for the day and what a day it is with a clear blue sky - I couldn't have conjured up better.
We are all given red rain ponchos. And a wee warning, you will get wet if you stand on the top deck (which is really where the full experience comes into play) so wear shorts or a knee length dress/skirt and shoes that you can get wet because your hands, lower arms and lower legs will get wet even with the rain poncho. We board the boat that has a capacity for 700 and are on our way.
American Falls
The first stop are the American Falls with the small Bridal Veil falls to the right. These are stunning and the boat gets very close. Scientists predict that these falls will eventually dry out but not for another 2,000 years or so.
But the Horseshoe or Canadian Falls are the biggest drawcard and the best moments for photographs are when we approach it. As the boat edges nearer I realise that the "mist" that they speak of is somewhat of a polite misnomer. Non waterproof cameras and phones are no match for the water and it is like being a shower with a raincoat and shoes on the precipitation is that heavy. 6 million cubic feet or 168,000 cubic metres or the equivalent to 1 million bathtubs full of water of water is pushed over the brink of the falls every minute!
Canadian or Horsehoe Falls
The falls began 12,000 years ago and during winter the water freezes hard. The sound of the falls is loud and the word Niagara is an adaption of the Iroquois Indian word "Onguiaahra" aka "Thundering Noise."
There's no time for dawdling and even trying to catch a picture while there aren't people behind you causes the staff to move us on. We pull off our ponchos when we finish and deposit them in the bins. These are all recycled as there are 13,00-18,000 people that board the S.S. Hornblower every day. We watch as a falcon called Bullet keeps the seagulls under control. Apparently just his presence is enough to deter the scavenging birds.
Our next stop affords us a view of the falls from an entirely different perspective. Niagara Helicopters conducts 10 minute helicopter tours above the falls and around the area. There are six people per helicopter and the staff have a system to make it as efficient as possible to get people in and out and on and off the helicopters. Even when I am a second slow in moving into line for the photo one staff member physically moves me which makes me feel a little like I'm part of an assembly line. And the cost for the 10 minute ride is $120!
There is commentary on the headphones but it's a little bland although the views are good and it is nice to see it from the sky but at $120 it is expensive for the amount of time in the sky.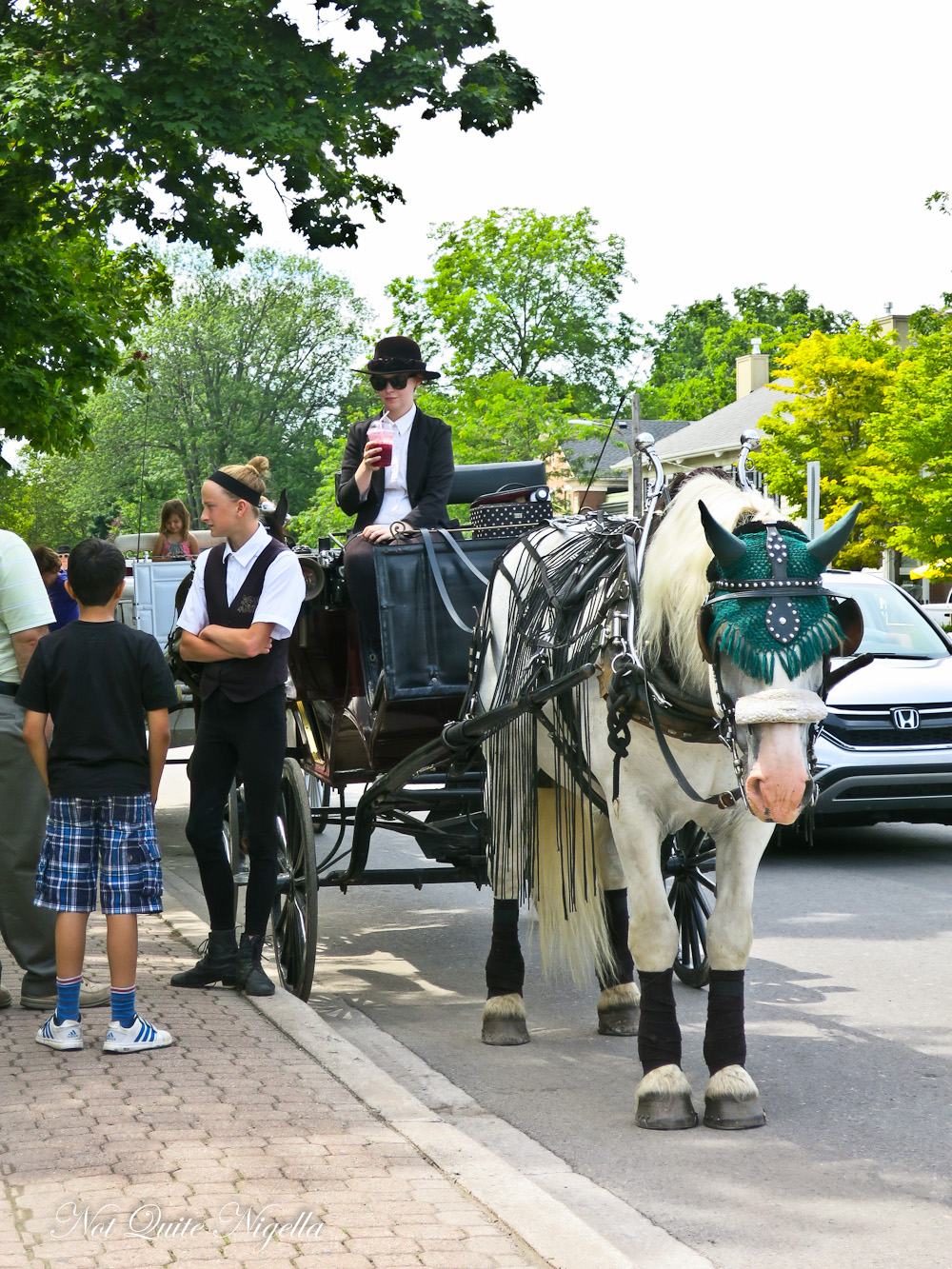 After the excitement of seeing the falls we are ravenous so we make our way towards St David's to Ravine Winery via a quick drive through Niagara On the Lake, a pretty town that has lots of shops to visit and places to stay. It's thick with tourists (me included ;) ) and caters well to the amount of visitors.
On the way to St David's we pass by gorgeous homes. The architecture here is truly spectacular with a mix of styles with magnificent homesteads. The are fruit stands selling fruit from the farms just metres away.
We arrive at Ravine Vineyard, the location of a farm started in 1867 by the Lowery family. Paul Harber is the fifth generation to work on the farm but it is no longer just a farm. It is a winery and restaurant and shop. It was the first non aboriginal farm in Ontario and they produced communion wine and grew peaches and plums for the town.
Paul is a chef and his best friend Martin Werner is the wine maker. Today they are showing us a range of their wines as well as matching cheeses by another of Paul's friends Mario Pingue from Pingue Prosciutto. The wines and cheeses are a fantastic match. I like the Provence style rose which is a cooler climate wine with no residual sugar and it goes very well with Mario's buffalo brie style cheese. He uses milk from Mennonite farmers so that it is GMO and hormone free.
The barrel fermented Sauvignon Blanc is very similar to a New Zealand style one and that's no accident - Martin spent a couple of years working there. It picked up a best white wine award by Decanter magazine. The 2013 chardonnay won the Lieutenant Governor award and this one is one that they're especially proud of because it is a competition that is free to enter. As a result they beat a large contingent of entries.
We also try the 2013 Pinot Noir, a 2010 Merlot and a 2012 Reserve Red. They explain that from one year's barrels they will set aside the top 6 barrels chosen for acid and structure and these will get an extra year in the French oak barrel. And just half will make it into the final reserve blend. All of the grapes that they use are Niagaran grown with between 50-80% being from their estates. Martin says that their goal over the next four years is to use entirely estate grown grapes.
Planning your next trip? Ensure you have the right coverage with HeyMondo travel insurance that includes COVID-19 protection. Plus, if you use our link, you'll receive 5% off the price. Find the best deals on flights from all airlines in various currencies with SkyScanner and set up alerts to get notified when prices drop. For reliable transportation options, look no further than 12Go Asia, offering train, bus, ferry, and flight transfers worldwide. Book your transportation now and enjoy a stress-free journey.
When you purchase through these links I will get a small commission at no cost to you. Thank you for supporting me! :)
All of this wine and cheese is making me even hungrier so we sit down to lunch at the Winery restaurant where chef Chef John Vetere is in the kitchen. Joining us is Anita Stewart, one of Ontario and Canada's most prolific cookbook writers and foodies. She also started the concept of Food Day Canada and has written fourteen books on the food of Onatario and Canada. "Canadian food is really coming back into its own," she says.
Ravine House made and cured Charcuterie $25CAD
We start with a glass of bubbles which are the perfect drink to accompany our charcuterie platter. There is duck ham, pork loin, prosciutto, pate and chicken liver parfait as well as house made pickles and nectarine preserves. Not only does it look beautiful but everything is very tasty and I have to remind myself that we have more food coming.
Hot smoked trout $18CAD
The hot smoked trout is lusciously soft but more with the texture of a cold smoked trout. It is served with onion bhaji, roasted cauliflower, basil syrup and a creamy basil vinaigrette.
Duck leg confit $21CAD
The duck leg confit is rich and with a wonderfully crispy skin and soft, luscious meat. It is accompanied by a parsnip puree, a grainy mustard spatzle and a caper raisin compote.
Pan roasted Arctic Char $24CAD
Arctic char is a very common fish here in Canada. This dish is perhaps my favourite main as the fish is so luscious and the skin ultra crispy. It comes with charred onion, a caper and potato salad, browned butter and sorrel mayonnaise (the latter two the other reasons why I wanted to try this dish).
Early Summer Vegetable Risotto $17CAD
I try some of the risotto and it is also really good. Comforting and creamy and with diced early summer vegetables it's a good, solid dish.
Butter tart
Dessert is of course compulsory and we order two items: there's a Canadian butter tart, a classic sweet tart that is a cousin to a pecan tart. The butter filling is liquid and filled with sultanas, the pastry buttery and home made.
Linzer tart
The other item is the strawberry jam Linzer tart with a short, almost nutty pastry filled with delicious jam. Lip smackingly good and just the thing to ease us into the trip back to Toronto.
A painting of the estate from 1932 by artist Fred S. Haines
So tell me Dear Reader, have you ever seen Niagara Falls? Have you ever seen something or met someone in real life only to be disappointed or has it or they met your expectations?
NQN visited Canada as a guest of the Canadian Tourism Commission and Ontario Tourism.
The Hazelton
118 Yorkville Ave, Toronto, ON M5R 1C4, Canada
Phone:+1 416-963-6300
http://thehazeltonhotel.com/
Niagara Airbus Private Charter
https://www.niagaraairbus.com/Private-Charter/
Hornblower Niagara Cruises
5775 River Road, Niagara Falls, Ontario, Canada, L2G 3K9
http://www.niagaracruises.com/
Niagara Helicopters
3731 Victoria Ave, Niagara Falls, ON L2E 6V5, Canada
Phone:+1 905-357-5672
Ravine Vineyard
1366 York Rd, St. Davids, ON L0S 1P0, Canada
Phone:+1 905-262-8463
https://www.ravinevineyard.com/