The pretty as a postcard city of York is a place steeped in history and charm. From the picturesque, narrow streets with buildings dating back to the 14th century and countless tea rooms and pubs, there is also a growing food movement with chefs creating world class dishes.
"There's a pub for every day of the year in York," my friendly Yorkshire driver Colin tells me as we are making the drive from Manchester Airport to Yorkshire. We pass winterbare trees, frost covered paddocks and a quaint little town that is covered in a thick blanket of fog. It's the end of February in the North of England and they're experiencing a cold snap. Traditional limestone farmhouses and houses whizz by and there are also hundreds of miles of dry stone walls, famous in Yorkshire.
Although Yorkshire is just two hours outside of London by train, it is only now being thought of as a food destination. Dotted throughout the region of the Northern England are Michelin starred restaurants, award winning pubs (including the best pub in Britain) and a thriving food scene. I'm starting off today with lunch at The Star Inn The City, a sister restaurant to the original The Star Inn Harome that boasts a Michelin star.
I need to get my bearings and it's surprisingly easy. There are three main bridges in the cenrte of York: from left to right there is The Lendal Bridge, Ouse Bridge (named after the Ouse River that all three straddle) and the Skeldergate Bridge. They're all close to each other and much of the tourist activity and things to be seen are found between Lendal and Ouse Bridges.
The Star Inn the City is adjacent to Lendal Bridge along the Ouse River in a surprisingly modern glass fronted structure. It's a peaceful stroll through the York Museum gardens where the first sign of impending spring makes its appearance with thousands of miniature daffodils. Although it's a Monday lunch time it's relatively busy and bookings are recommended. I take a seat-service is friendly and amiable although I don't get a drinks list and some things are not explained to me whereas they are for the people around me.
Yorkshire puddings £7
It seems fitting that the first thing I eat in York is a Yorkshire Pudding. Yorkshire Puddings can be larger, side plate sized numbers but today many of them are smaller and higher, with a curled over top. They're served with gravy and here they come three to a serve with some "Two Chefs" ale and onion gravy. They're what you call a hearty starter. The pastry is eggy and thin and crispy where the gravy doesn't hit it.
Pan roast breast of Leven Farm Beverley Reared Duck £24
All of the produce is locally sourced and my duck breast main is from Leven Farm in Beverley. The duck is pan roasted and served with anise poached rhubarb, wildflower honey's swede and Yorkshire sauce. The rhubarb is actually called forced rhubarb, grown for over a century in Yorkshire by the Tomlinson family and is much sought after by chefs. It is grown in the dark with some candlelight and is vivid pink, the tartness a good contrast to the rich duck and the honey sweet swedes.
There's no time for dessert as I try to walk my meal off by traipsing across the city of York. It is a town in which it is easy to wander and I find myself being charmed by the buildings. Two of the most notable streets are the Shambles and Stonegate, both resemble Diagon Alley from the Harry Potter series.
The city is also known for the York Minster cathedral, said to be one of the largest of its kind in Northern Europe. It is certainly impressive and to find it you only really need to look up - there is a distinct lack of high rises in York and that is because no building can be higher than the Minster. It even has its own police force.
Tea Rooms are a favourite past time in York and Yorkshire Tea is ever present. There are as many tea rooms as the eye can see and the most famous in Yorkshire is undoubtedly Betty's Tea Room at St. Helen's Square. There always seems to be a queue to get into Betty's but I'll let you in on a little secret, try Little Betty's on Stonegate, one of the cutest little streets. At Little Betty's, there is never a queue and you can get the afternoon tea as well as a pretty range of cakes, fondant fancies and meals as well.
As I am visiting on a Monday I go to Little Betty because the main Betty's has a special afternoon tea with extra courses called a Lady Betty afternoon tea but this has to be pre-booked and is only on from Thursday to Sunday. Service is very friendly and I take a seat near the window. The rooms upstairs are quite simply decorated and it isn't quite as grand as the original Betty's but the food is the same.
I dither between a Fat Rascal (a flat, large fruited scone served warm with butter that originated in Yorkshire in the 1800's) and the afternoon tea but my heart is set on the latter. It comes with sandwiches filled with smoked salmon, roast Yorkshire ham, roast free range chicken breast and egg mayonnaise and cress. They're all freshly made and downy soft.
Afternoon tea £18.95
The scone is a sultana scone served with strawberry jam and Yorkshire clotted cream and is good although it is served cold. The sweets layer has a macaron (alas not enough filling and it is crispy), a fruit tart with a thick tart base and a square of mocha torte.
Fat Rascal £4
And just to show you that Yorkshire people are friendly, when they set it down, the two gentlemen sitting next to me comment on it and we strike up a conversation. One of them orders the Fat Rascal and then kindly allows me to photograph it and try it! It's delicious and sweet certainly, and serving it warm with butter is the trick to it.
Feeling very full I wander up and down streets to find myself lost in the fairytale atmosphere of York. The Shambles could be straight from a Harry Potter set. Formerly it was where butchers used to hang meat - indeed its former full name was "The Great Flesh Shambles". The buildings on either side of the Shambles are so close together that at one end they could almost touch.
Now the cobblestones remain but it houses tea rooms, shops as well as a pork pie purveyor Ye Olde Pie & Sausage Shoppe. The business is only about six years old but their pork pies are said to be sensational. And by god they are. What caused me to pause was the enticing aroma - the signage is subtle with pictures of sausages, herbs and chilli.
So with a stomach groaning with food I had no choice but to buy a mini pork pie for the handsome sum of £1.50 and be on my merry way knowing that I would eat this in a lull when my stomach finally digested my lunch and afternoon tea. And when I try it it's an absolute beauty. With a beautifully unique crumbly pastry and a cold, jellied pork filling I'm afraid that this might ruin me for pork pies for good it is that good. I can't stop thinking about that pastry.
A little further down is Monkbar Chocolatiers from York. Here couple Ray and Liz Cardy gave up their jobs as PE teachers and devoted their lives to chocolate. They use Belgian chocolate and it is all handmade. It's about 3°C/37.4°F so I try to warm up with a praline hot chocolate that comes with a chocolate of your choice. It's a hard decision but I go with the salted caramel and sip on my hot chocolate and watch the scenery outside.
Praline Hot Chocolate £3.25
Right at the end of The Shambles is the shortest street with the longest lane. Running parallel to The Shambles at the Marks and Spencer's end is the Whip-Ma-Whop-Ma-Gate, said to be the smallest street in York. It was formerly a place where whippings used to take place, hence the name and measures a mere few metres long.
The sign
And yep this is the entire length of the street!
We pass by Snickelways, a unique Yorkshire term. The word Snickelway is a portmanteau of snicket or a passageway a ginnel, a narrow passageway and and alleyway. The term was created by Mark W. Jones in 1983. His hand written and illustrated book "A Walk Around the Snickelways of York" became a local bestseller and there are both modern and ancient snickelways that allow people to pass through the city's streets easily.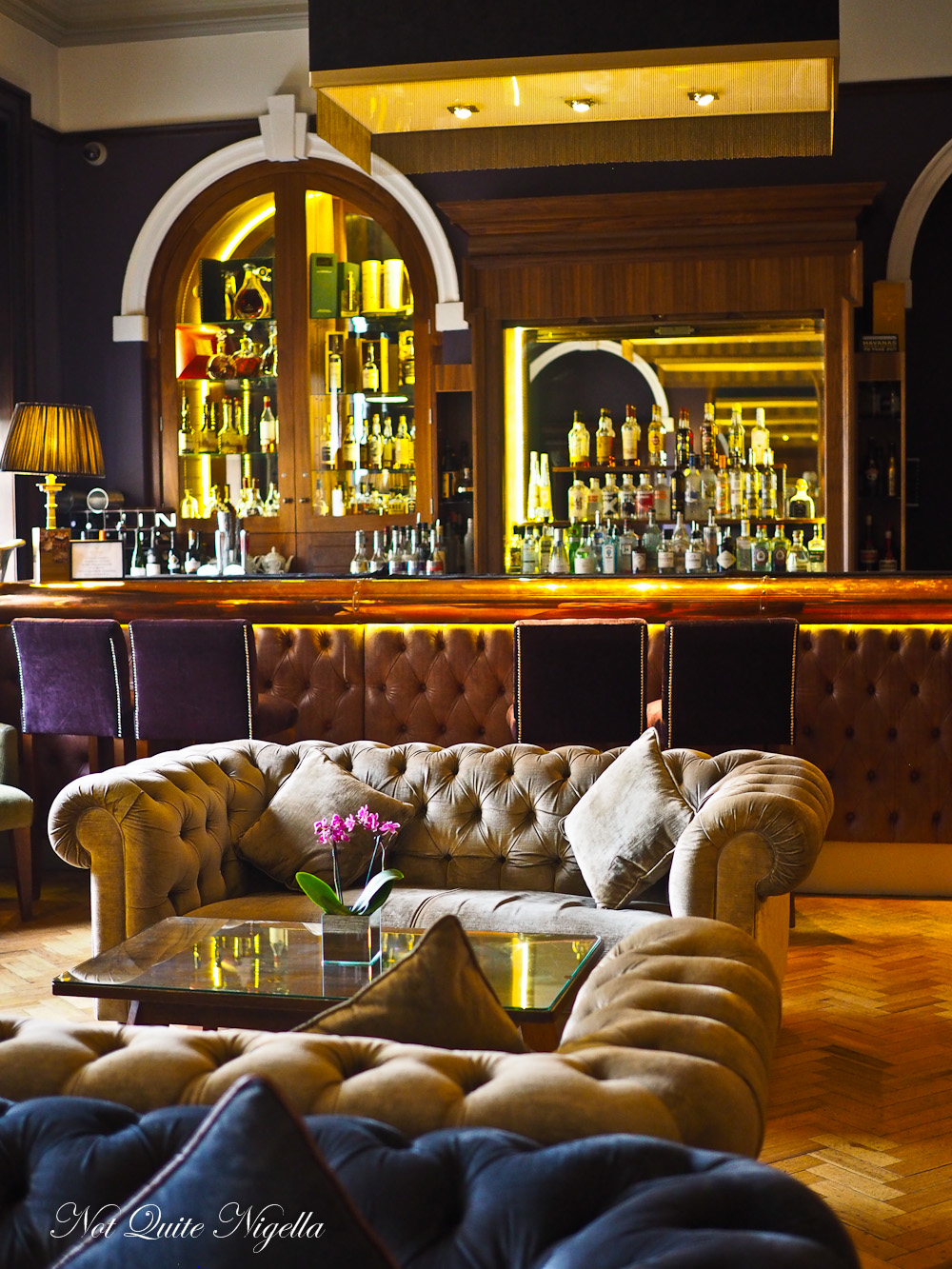 My home for my first night is The Grand in York, the city's first five star hotel. It was formerly an Edwardian building built in 1906 that was the former North Eastern Railway building but has been renovated to perfection. Open in 2010 after a £25 million redevelopment it is also in the centre to many things and just two minutes' walk away from the action and less than five minutes' walk from the train station. Service is sublime and nothing is ever too much trouble. I check into my room #319 on the third floor of four and it's a lovely and spacious Junior Suite.
Click and drag for a 360° look
There is also a separate sitting room and each of the rooms is uniquely designed. And even though we are in the midst of the city it is completely quiet thanks to the double glazing in the original building to keep the tram noises out. There is a good selection of tea and coffee including of course Yorkshire tea as well as complimentary hot chocolate and rhubarb and custard shortbread.
The bathrooms are separated with a bath shower combo and sink in one room with the toilet and a sink in another. There is a comprehensive selection of larger sized Molton Brown toiletries and there is underfloor heating and heated towel rails as well as ducted air conditioning to keep you toasty warm. Wifi is fast and free. As expected with a five star hotel, robes are plush and service is deferential.
Click and drag for a 360° look
The superb service carries to all aspects of the hotel including Hudson's the fine dining restaurant on the ground floor of the hotel. I meet some of the other writers that have arrived before me. There is an a la carte menu as well as a tasting menu. Alas with the jetlag the tasting menu isn't an option so we go a la carte. The executive chef Craig Atchison is in the kitchen this evening.
The bread is a sweet onion bread as well as a wholemeal bread. They come with pork fat topped with apples and butter. The onion scroll and pork fat is a magical combination.
Cryogenic Mojito
This is usually on the tasting menu but they bring us out a serve of this so that we can try it. On the left is a mojito sorbet with brown sugar meringue shards and mint leaves. They pour some liquid nitrogen on the leaves to freeze them solid along with the meringue and we take to it with a mortar and pestle to grind them up into a fine powder and then sprinkle it on top of the mojito sorbet. It's a clever idea and lots of fun and adds not just novelty but works in terms of taste.
R&J signature range steak tartare £13
Local suppliers are all featured on the menu and it is with this in mind that I start with the R&J signature range steak tartare. It comes already dressed in a spicy coat of Tabasco and seasonings with two crispy tendon chips, compressed cucumber, charcoal mayonnaise and mustard shoots. I adore steak tartare when it is perfectly seasoned and this one has just the right mix of all components.
East Coast Halibut £27.50
The halibut is from the East Coast of England and comes with sand carrots, charred sea kale and a creamy mussel sauce. The halibut is lightly seared on the outside but I would have loved this cooked through a little less.
Cheese trolley £10 for three cheeses
Before dinner we are curious to try some local cheeses. The north of England is a huge cheese producing region and we try three cheeses, a Swaledale from the North Yorkshire dales, a Harrogate blue and the Isle of Wight cheese which is delightful. They serve it with sesame lavosh crackers and sloe gin chutney.
Yorkshire Blackberries and Douglas Fir Pine £9
And that brings us to dessert, our final course. The Yorkshire blackberries are used a couple of ways: fresh and also to coat two squares of cake. They are served with nitro poached apple mousse and a douglas fir sorbet and wood sorrel milkshake. It's a beautifully refreshing dessert and it's fun to have the milkshake on the side too.
So tell me Dear Reader, have you ever visited the north of England? Apparently a lot of people visit on their fourth or fifth visit to England! And would you have chosen the afternoon tea or the Fat Rascal? Has a stranger ever shared food with you?
*NQN visited England as a guest of Visit Britain. The food in this post except for dinner was independently paid for. *
The Star Inn The City
Lendal Engine House Museum Street, York YO1 7DR, United Kingdom
Phone:+44 1904 619208
http://www.starinnthecity.co.uk/
Little Betty's
46 Stonegate, York YO1 8AS, United Kingdom
Phone:+44 1904 622865
https://www.bettys.co.uk/
Monkbar Chocolatiers
7 The Shambles, York YO1 7LZ, United Kingdom
Phone:+44 1904 634999
http://www.monkbar.com/
The Grand York
Station Rise, York YO1 6GD, United Kingdom
Phone:+44 1904 380038
http://www.thegrandyork.co.uk/
Hudson's
Station Rise, York, UK YO1 6HT, United Kingdom
Phone:+44 1904 380038
http://www.thegrandyork.co.uk/restaurant-and-bar/hudsons