Food so beautiful that it looks like it came from an art gallery? One of Belfast's best restaurants is Ox Belfast located on Oxford Street. It's a modern British highly seasonal restaurant that changes weekly offering a six course tasting menu at night at 6 Course £60 (Wine Pairing £35).
Please note that this story was written before the start of the COVID pandemic but the businesses featured are still in operation.
It's a chilly evening when Mr NQN and I take a walk to Ox, located on Oxford Street in Belfast. Ox's head chef is Belfast born Stephen Toman and Ox has held one Michelin star since 2016 and serves up modern, seasonal British food. It has what some say is Northern Ireland's best tasting menu.
The dining room at Ox is warmly lit and it is quite an elegant, pared down room with an upstairs area and a ground floor open kitchen. Service is friendly although one waitress talks pretty much entirely to Mr NQN which is very amusing as he hates talking.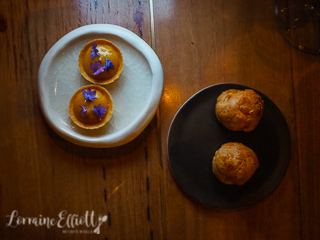 This evening we are having six courses and I am very excited to get started. Our snacks arrive first and it's a crisp pumpkin tartlet with curried flavours and a lovely burnt lemon after taste at the end. There's also a warm gougere filled with a Coolattin Irish cheddar and beer filling. Both are a delicious start to the meal.
The bread course arrives and it's a cloth bound section of house made sourdough with Cuinneog Irish butter. It has a texture not unlike a lot of Irish soda bread rather than a traditional white sourdough.
The first course is a baked cubes of celeriac served with grapes soaked in verjus and then topped with mushroom foam and shaved fresh Autumn truffle. The grape pieces are tiny and provide a tangy counterpoint to the creaminess of the rest of the dish while the truffles are plentiful in every bite.
This river trout dish was almost too pretty to eat and looks like a painting. It's a rolled cured river trout served with pickled mussels buttermilk purée, horseradish with fresh shiso-like flavours to it. This is a case where everything works so well together and you almost don't want to ruin it by cutting it up.
The third course is three enormous triangular shapes king scallops with a rich bisque sauce, steamed romanesco segments, sea herbs and bergamot oil to finish.The dishes here are also noticeably light so even though we've had quite a few courses, you don't feel weighed down at all.
Our main meat course is the wild Wilcklow venison with a range of vegetables from salsify, beetroot puree, chestnuts and black trumpet mushrooms. This is a richer course than the rest but so well balanced that you aren't groaning from the weight of the food, just excited for the next course.
The pre-dessert is poached pear and textures of fresh pear with lovage and finely ground oat powder. The lovage with its flavours reminiscent of celery and parsley brightens up the palate readying us for dessert.
I had fully intented to only have two bites of this before passing it onto Mr NQN but you can bet I ate every single little bit of this. It's a 70% dark chocolate topped with creamy artichoke ice cream, macerated cherries and thick caramel while the chocolate has a rmalty flavour with a little crunch.
There is just one final course of the petit fours left and there are three types: a gorgeously tangy passionfruit pate de fruits, miso caramel wafer that reminds me of a tiny stroopwaffel and a decadent and boozy Irish liqueur chocolate truffle.
If you want to kick on afterwards there's also Ox Cave next door. For any Game of Thrones fans take a look at the knives in the box towards the back of the bar.
These are from the set of the show and are engraved with three of the house names. If Ox is fully booked they sometimes seat people in the Ox Cave and you can also specify to have the tasting menu here as the atmosphere is slightly different and quite cosy and intimate.
So tell me Dear Reader, where has been the most photogenic meal you've ever eaten? And do you often go to a bar after dinner?
NQN and Mr NQN were a guest of Tourism Northern Ireland and Tourism Ireland but all opinions remain her own.
Ox Belfast
1 Oxford St, Belfast BT1 3LA, United Kingdom
Phone: +44 28 9031 4121
Wednesday 6–9:30pm
Thursday 12–2:30pm, 6–9:30pm
Friday 12–2:30pm, 6–9:30pm
Saturday 12–2:30pm, 6–9:30pm
Closed Sunday to Tuesday
https://oxbelfast.com/