Our last night in Belfast is a special one. Deane's Eipic was the first Belfast restaurant to gain a Michelin star and chef Michael Deane was one of Belfast's original chefs. Dean's Eipic (pronounced epic) is a restaurant within a couple of other restaurants (Deane's Meat Locker and Deane's Love Fish).
Please note that this story was written before the start of the COVID-19 pandemic but has been edited to show the businesses that are still in operation.
Saturday night in Belfast is a jolly time especially just before Christmas. "It's also payday," says our Uber driver and in 2 degree chill girls wear summer dresses (I remember those times!). "You can't get 'em to wear a coat for love nor money," he says.
Everyone is upbeat and when we walk in Deane's the atmosphere is convivial and noisy. When we tell them of our reservation we are lead through another door, where tones are more hushed, colours are soothing and we are invited to sip on a glass of champagne while perusing the menu.
This is the main dining room which is really classic Michelin dining. There's deferential and thoughtful service (when I take notes, our waitress slows down to make sure I've written everything down), little stools for bags and a sublime tasting menu with wine matching. You can have either a shot or a taster of wine or a pour. The Head Chef is Alex Greene.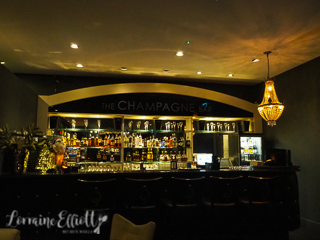 This is a restaurant where timing is exact. If there is a table of four, the sommelier brings their wine and explains it to them. Then some minutes later two wait staff bring out trays bearing two plates each and place them on the two trestle tables and then wait and with precision timing they bring them over in unison to the table.
There are three snacks that come out one at a time. I love the little log of Parmesan and polenta chip with olive oil, truffle emulsion and parmesan. It is hot, crisp and moreish.
Our next mouthfuls are sipped from a double wall glass of deeply flavoured soy and mirin broth redolent in spices with a touch of vinegar and served hot.
Our last snack is a square of bread and butter pudding made with buttery croissant topped with a dab of black garlic and miso purée. It's spongey and buttery while the black garlic and miso cream is tangy on top.
Bread & butter
The next course is my downfall. Usually I can take or leave bread but in Scotland and Belfast I've been downing it like it's my last meal on earth. The bread box contains two breads: a crusty white loaf and a brown soda bread made with Belfast black beer and topped with treacle and sunflower and linseeds with hand churned jersey cream butter and a half orb of whipped browned butter.
The brown soda bread is absolutely divine, like devour the whole thing divine. And I'm sure you're not supposed to get that excited over bread because it's just the bread course but Mr NQN and I have another "discussion" about bread where he tries to dissuade me from finishing all the bread and I defiantly tell him that I do what I want and I want this bread. Now the crusty sourdough is nice and it's exactly that-a soufflé light bread and a thin, crackly crust but the sweet, wholesome soda bread is my choice with the browned butter. And yes they will ask you if you would like more. Mr NQN resigns himself to having a recalcitrant carb-loving wife and says "Yes please we'd like another" meaning me of course. And yes I made my own version of this for the Christmas table (Irish Wheaten Bread).
Scallop, tomato, kohlrabi, apple, dill, caviar with Bakan Abruzzo Pecorino 2017
The first course comes out and it is a scallop ceviche with fresh apple, kohlrabi ribbons, dill oil, sea purslane caviar with a tomato consommé. It's lovely and light and the flavour and texture of the scallops really shines in this.
Duck egg yolk, mushroom, bacon, endive, sunflower seed Peth-Wetz Grauer Burgunder 2018
The next course featured a crisp, thin pastry tart filled with smoked bacon jam, a 60 duck egg yolk, roast mushrooms, dried cep powder and curly endive. There's a range of mushrooms including chanterelles, girolles, Irish black hedgehog and Irish white closed cup mushrooms.
It's a delicious course and the yolk spills out coating the mushrooms but it's also a bit difficult to eat with a fork and knife and I wonder if you are supposed to pick it up with your fingers and nibble at it.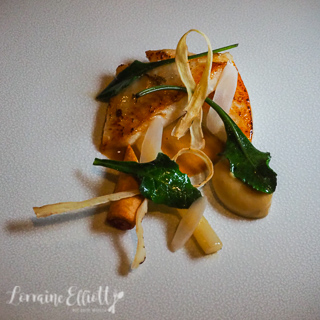 John Dory, salsify, sea vegetables, turnip, bone sauce, verjus Xanadu Estate Chardonnay 2016
The third course is two fillets of pan roast John Dory served with a roasted bone sauce with salsify in different texttures. There is a sweet, thick and creamy caramelised salsify purée, braised and then a crisp, pickled and then there's salsify rolled with compressed white bread and fried like a spring roll pastry. Australia is represented on the wine menu with the Xanadu Estate Chardonnay.
Wicklow venison, carrot, game spice, sorrel, boulangère Saint Cosme Saint-Joseph 2016
Then comes my favourite course and the main course of the evening. It is game spiced loin of venison, wonderfully pink in the centre and served with red vein sorrel, boulangère potatoes layered with braised venison shoulder, glazed Chanteney carrot and carrot purée with reindeer moss on top. The key is to get every mouthful with all the components or at least the puree with the venison. The Chanteney carrots are bursting with flavour and taste like they've been cooked in a flavoursome stock not unlike that first soy mirin broth.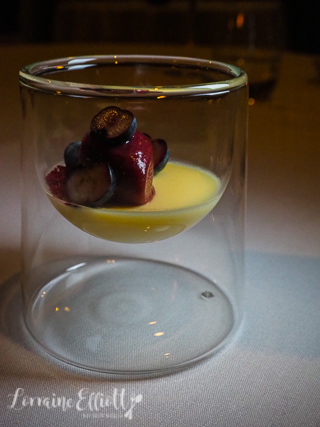 Grapefruit posset, rosemary, blueberry Seifried Estate Sweet Agnes Riesling Nelson 2016
The next course is our pre dessert. It's a rosemary infused grapefruit posset with blueberry sorbet, blueberry crisp and fresh blueberries. While the wine appears perhaps too sweet and syrupy, matched together it balances it beautifully with the wine making the wine more fresh and crisp.
Valrhona Guanaja 70% chocolate, banana ice cream, hazelnut, yuzu served with Dulce de Invierno 2015
The dessert course is a choice of cheese (at a 6 pound supplement) or a sweet course. It is a chocolate ganache with yuzu gel, a fresh banana ice cream and a crunchy, nutty hazelnut tuile.
Cheese
They bring out the cheese trolley and uncover it. There are six varieties of cheese including some Irish cheeses. The first is an Irish cheese called Dart Mountain Dusk, a Northern Irish cow's milk cheese from the Sperrin Mountains with a burnt hay ash rind. There's also a 24 month aged Comte cheese, a Tomme Brulee sheep's milk cheese with a scorched rind, a Belfast Young buck raw sheep's blue cheese, a Chèvre de crottin Loire valley goats cheese and an Époisses, a runny, soft, washed rind cheese.
I love hard, nutty cheeses so I go for the Dart Mountain Dusk, Comte, Tomme Brulee and the Young Buck blue cheese and they're all superb. They come with an apple plum jam and a range of crackers from thin bread, cracker to sweeter, biscuitty preparations that suit the blue cheeses.
But that's not all! There are also petit fours-an intensely fruit raspberry pastille and a delicate salted caramel chocolate.
So tell me Dear Reader, where was your last really epic restaurant meal? And do you go for the cheese course for dessert or do you stick to sweets?
NQN and Mr NQN were a guest of Tourism Northern Ireland and Tourism Ireland but all opinions remain her own.
Deane's Eipic
28-40 Howard St, Belfast BT1 6PF, United Kingdom
Wednesday to Saturday 6pm –9:30pm
Friday 12–1:30pm
Phone: +44 28 9033 1134
deaneseipic.com