We keep exploring the treasures that lie in the Northern England countryside and today we visit Downton Abbey creator's alma mater for a taste of Ampleforth Abbey cider, an incredibly preserved castle and feast at the Michelin starred The Yorke Arms. Owner and chef Frances Atkins is one of six female Michelin starred chefs in the UK and has held a Michelin star for the past 13 years.
There is a greeting that Yorkshiremen and women give to each other instead of hello. It's "Now then" and it is answered in echo, with a slight nod of the head. And although it is day three on our trip across Northern England stopping at different towns in each, I feel as though I may have spent a lot of time here already because the prospect of unexpected snow only slightly freaks me out and I had a nightmare about a tartan wearing man staring at me while I sleep.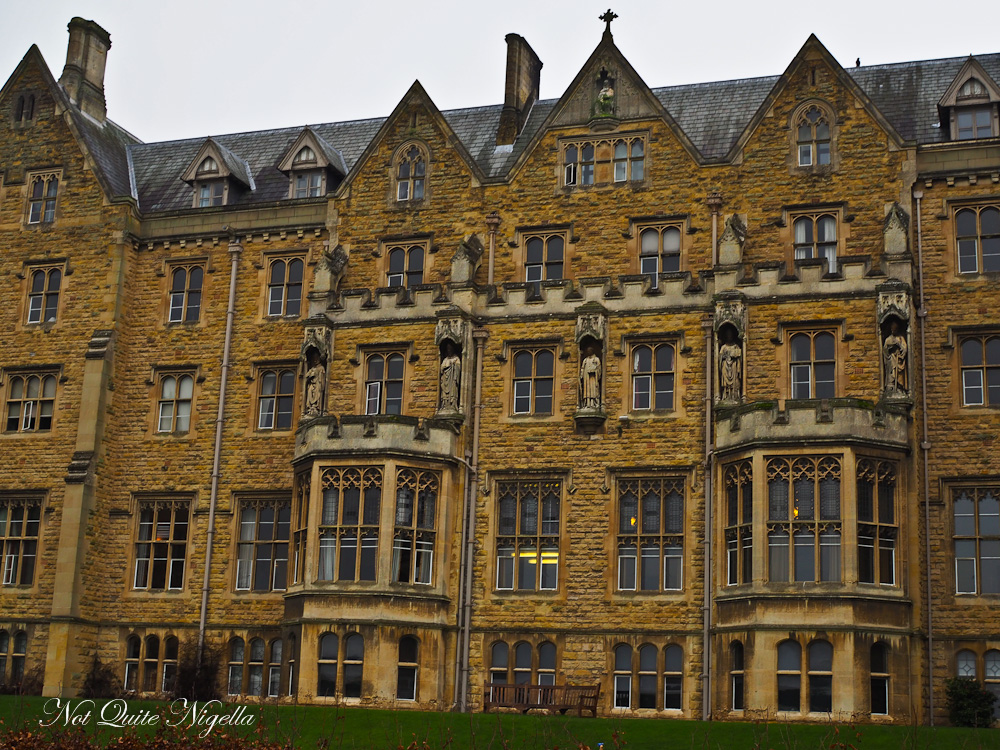 The night has given things a light dusting of snow at the Feversham Arms, with heavier dumps towards Manchester and we set off at 10am for Ampleforth Abbey for our first stop of the day about 10 minutes away. The enormous Abbey sits on 2200 acres of property and it is now a school (indeed it was where Downton Abbey creator and writer Julian Fellowes attended school). Ampleforth Abbey even boasts its own pub for students-as long as you are over 16 and drinking with a meal you can buy beer or cider and some low alcohol wine, in moderation of course.
Now along with being a school, Ampleforth Abbey is a tea room, cafe and artisan ciderie. The Ampleforth Abbey ciderie started as a monastic project due to an over supply of apples that were grown for eating. "We're not very scientific," says Tim Saxby the "keeper of the apples" or the orchard manager. He and his team of three "take a walk and have a munch on the apples," and then see what works well together. They have an abundance of heritage breeds and use mostly cooking and eating apples from Ripston Pippin, Mitsu, Kidd's Orange Red and an apple variety from New Zealand called St Edmunds Pippin said to be so delicious that it resembles the taste of vanilla ice cream and poached pear.
For cider making, "It's all about the apples," Tim says and the other key is using ripe fruit for the aromatics. Like wine, when the trees are slightly stressed, they produce better fruit while apples tend to be biennial bearing which means that one year may be better than the following or vice versa. The years that have the best sugar and alcohol levels don't necessarily have the best flavours. We try the cider and it's a delicious low carbonated cider with just a touch of CO2.
Our next stop sees us drive towards Bolton Castle. During the drive we see the colourful plumage of pheasants as they bob along the side of the road feasting on grass. Bolton Castle was built 600 years ago as a statement of power and weather by Sir Richard le Scrope. It is now available for weddings and events (even murder mystery evenings) and remains in the family under private ownership of Lord Bolton, a direct descendant of Le Scope. The very top boasts a stunning view of the county below.
Click and drag for a 360° look
There are intriguing little details like the murder holes where hot boiling oil would be poured down to kill the enemy that had breached the portcullises. They show us details like trip steps which were designed to trip up the enemy because of their varying heights. The staircases are also anticlockwise which is curious because most would have been right handed and to fight you would need your right hand swinging free.
One of their most famous residents was Mary Queen of Scots who lived there for 20 years as a "prisoner". She was allowed to come and go as she pleased but she was always under watch for it was feared that if she were closer to Scotland that she would make a claim for the throne. Keeping her here meant that she was at a safe distance.
When you turn up to The Yorke Arms (via a twisty, vertiginous road through How Stean Gorge, deep into Nidderdale Valley), the first thing you will read after the name is "Restaurant with rooms". This is very telling - rather than being a hotel with a restaurant, the firm emphasis is on the Michelin starred restaurant and chef Frances Atkins rather than the 18th century coachhouse. Frances is one of six female Michelin starred chefs in the UK and has held a Michelin star for the past 13 years.
Click and drag for a 360° look
My room #20 is in an outdoor wing and is one of the more contemporary suites. It is an attic room with skylights and is decorated in white and creams. The bathroom is modern and it is nicely appointed although more meant for leisure than work.
There is no internet in the rooms and because we are located in a valley the only wifi available is in the lounge in the main building. Still I sit down and write and try a flapjack, a delicious oatcake. It's scrumptious and gets me excited for the dinner to come.
Frances Atkins
"Our business is food and the room is somewhere to put your head," explains Frances who leads a team of five in her kitchen. They were featured in the 2010 British comedy movie "The Trip". "The basic philosophy is that we cook the best and the freshest and use local produce," she says while acknowledging that this is the key to many restaurants' success. The dining rooms can seat up to 60 people and this evening it is full of couples.
We start with a range of canapes including cheese sticks, pate on toast and avocado and a bread basket also appears. Bread is very much a big thing with dining in Yorkshire, much of the time house made.
Lemongrass, oat, broad bean
The amuse bouche arrives and it is a lemongrass panna cotta with crunchy oats and broad beans. It's surprisingly sweet and very good and it's so unexpected in this area which is so far from Asia.
Whitby Crab, Halibut and Scallop
This course ends up being my favourite course of the night. It's a round of Whitby crab wrapped in a halibut fillet with a beautifully cooked scallop, smoked turnip, dill, vanilla and sea buckthorne puree. The balance of this dish is perfect and it dances from sweet, light, delicate and rich with every mouthful.
Squab Pigeon, Red Cabbage
The squab pigeon is cooked until lusciously soft and has almost a livery quality to it. It is served with red cabbage, a touch of tamarind and white asparagus.
Black Sheep Ale, Treacle Crisp, Cep
This is another favourite course. I adore the crispy treacle crisp that you can hear everyone munching on and it is topped with a round of soft pumpkin, artichoke, ceps and sweet caramelised onion. It is the textures and the gently sweet flavours that appeals so much.
Truffled Turbot, Shrimp
Chef Nelly Robinson who is our guide on this trip asks if the shrimp are from Morecambe Bay and indeed they are. They're tiny, intensely flavoured shrimp that are often served in small pots. Here they are served with a luscious fillet of turbot, a fish that Nelly says that he loves eating while he is here because you just do not get it in Australia. There is also spinach angelhair spaghetti and a rich miso broth. Again the key here is the deft touch of the kitchen and there's just the right amount of miso in the broth.
Dry aged loin, shoulder and leg of pork
The assiette of pork has a luscious piece of boneless shoulder, leg of pork and thinly sliced dry aged loin. By now I am getting very full which is a crying shame because this is a fantastic dish. The pork has a sweetness to it and is paired with Alexander or black lovage freekah. It's the final savoury dish.
Smoked avocado, lime, date and mango
The pre dessert is quite an elaborate number. It's a smoked avocado mousse with lime and slices of date, date puree and mango. It's the sort of dessert you'd expect to see served in Australia, certainly not in the depths of the Yorkshire countryside. It's piquant and light as a feather and perfectly does the job of a pre dessert resetting the tastebuds for something sweet to come.
Warm white chocolate, tonka, rhubarb
The dessert is a warm centred miniature cake made with white chocolate and almonds with a white chocolate custard filling that oozes out from the centre. The dish is balanced by tart rhubarb and is a beautiful ending to a superb meal.
A couple of writers are hoping for some snow but for this evening, it's the relentless rain that pounds against the skylight above.
So tell me Dear Reader, do you love or dislike snow? What do you think of a school having its own pub? Do Michelin stars influence whether you visit a place or not?
NQN visited England as a guest of Visit Britain but all opinions remain her own.
Ampleforth Abbey
York YO62 4ER, United Kingdom
Phone: +44 1439 766000
https://www.ampleforth.org.uk/
Bolton Castle
North Leyburn DL8 4ET, United Kingdom
Phone:+44 1969 623981
http://www.boltoncastle.co.uk/
The Yorke Arms
Ramsgill-in-Nidderdale, Pateley Bridge HG3 5RL, United Kingdom
Phone:+44 1423 755243
http://www.yorke-arms.co.uk/