The term God's Country is one oft bandied about. Certainly places lay claim to be God's Country but the term does strike you during the drive from Yorkshire to Helmsley when you take stock of the rolling plains, traditional stone farmhouses, winding roads and cattle and sheep. It's almost like the set of a movie and any attempts to drift off to sleep during the hour long drive are prohibited by the jaw dropping scenery.
And then we arrive in Helmsley. I ask about the population and our guide Lancashire born chef Nelly Robinson of the eponymous restaurant Nel in Sydney says, "It's about 50 innit?". It's closer to 1,500 but it has a lovely small town feel to it.
It's a small town but charming to look around. What's left of Helmsley Castle towers remains as the uninhabited castle was left to decay. Its last owner was the banker Sir Charles Duncombe said to be the richest commoner in England. Villagers were invited to take the stone to build their own homes. The River Rye runs through the town.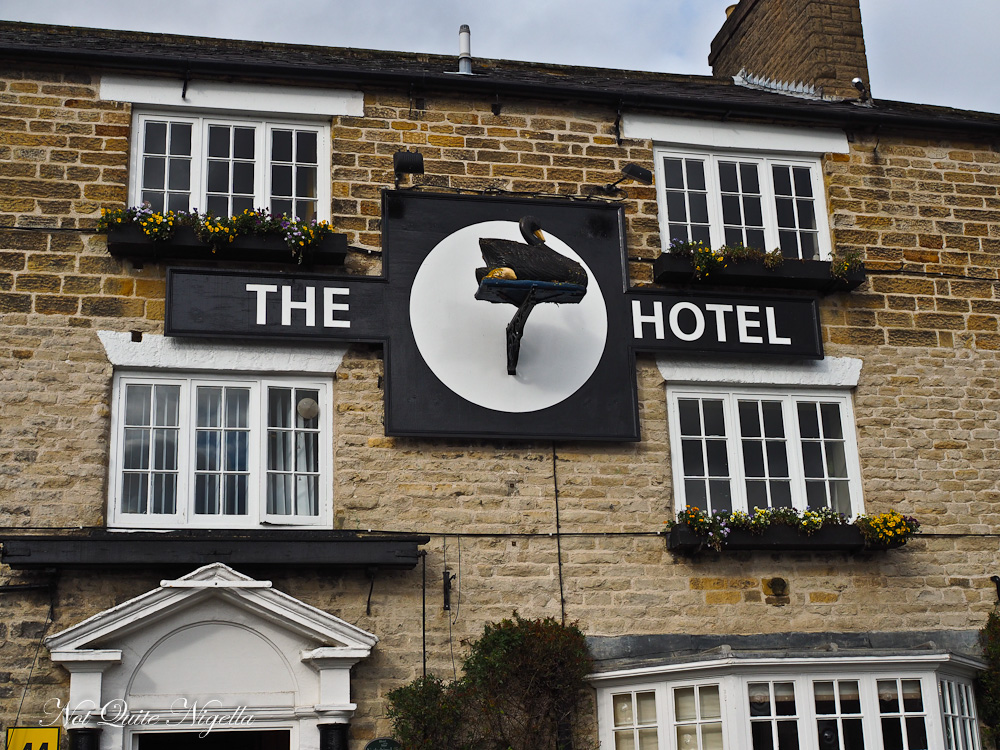 It's unseasonably warm at 11°C/51°F today and we stop for lunch at the Black Swan Tea Rooms. There is no shortage of tea rooms (and for that matter also coffee houses) in this small town. The tea rooms are country style and comfortable and cosy and they often serve afternoon tea as well as sandwiches and other more substantial items for lunch.
There are two types of afternoon tea, a champagne one and a regular Black Swan afternoon tea and we go for the latter. Our waiter reels off a list of the items on offer going at such a speed that we understand perhaps a word or two and then asks us if the selection is ok. Having only heard part of it, we just nod yes to everything.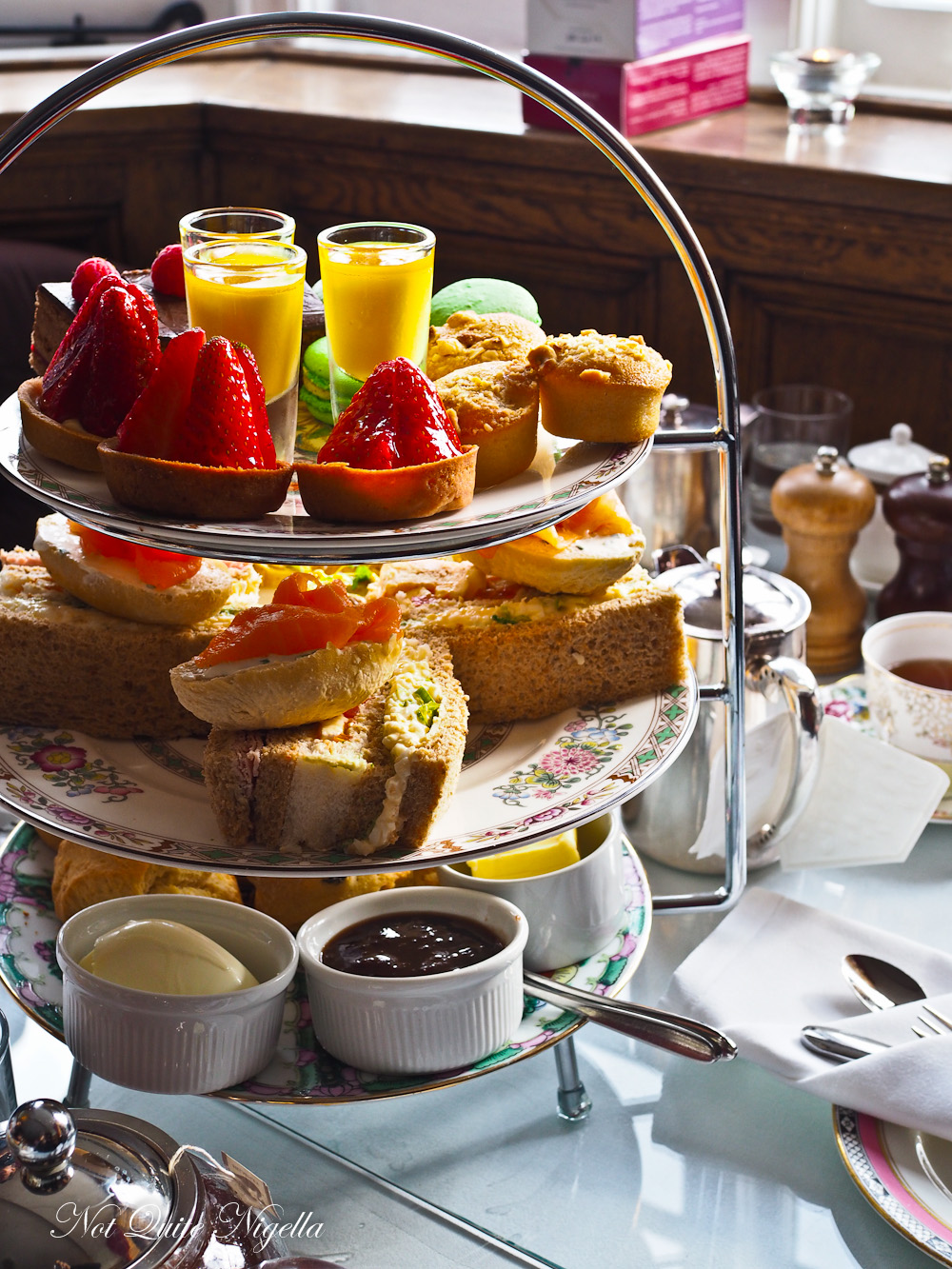 It's quite a sight to behold as we tuck into it. I start with the sandwiches: there's a brie and tomato which is interesting and unusual as well as a York ham and egg salad. The half roll topped with smoked salmon is good although on the bready side. I have to admit that the sandwiches are my favourite part of an afternoon tea so I was delighted to see that this selection was comprehensive with rounds of Coronation Chicken open face sandwiches in miniature. Coronation Chicken was a dish created for the 1953 coronation of Queen Elizabeth II (who incidentally is turning 90 this year and Nel is cooking for her 90th birthday celebrations in Canberra). It is made of poached chicken, mayonnaise, sultanas or raisins and curried mayonnaise sauce. And it's delicious.
I try a scone. During our trip we find that they don't seem to serve them warm in the UK unlike in Australia. It comes with thick cream and a berry preserve and this sparks discussion of cream or jam first. Nel explains that it's a matter of Devon style vs Cornwall. The Devon way is cream first and then jam while Cornwall is the reverse. For me, it's cream first in case it is thick and needs to be spread whereas jam is often looser in texture and can be dolloped on top.
The sweets are very good too from the chocolate and raspberry layer cake, strawberry tart (although the base is a bit soft) to the macaron, mango panna cotta and my favourite is a miniature almond cake with streusel on top and a surprise hazelnut and chocolate centre.
Just a few minutes' walk away is our home for the evening. The Feversham Arms is former coaching inn and is nice, country style hotel and spa with idiosyncratically British touches like an outdoor pool (heated to 30°C/86°F we're told - obviously a remarkably different prospect to a dip in the pool in Australia). It was also the location of a Chinese actor Jay Chou's extravagant wedding.
All of the 33 rooms are different in this hotel and I'm in #30. It's a large room with a separate sitting room. It's a little noisy in terms of pounding footsteps on the stairs (the room is right next to the stairs and just near the reception area) so voices in the reception area and the nearby Airforce base contribute to the noise. For that reason and although it is cosy and beautiful, I recommend avoiding this room and asking for one of the rooms at the back.
The suite however is very comfortable and the king sized bed is excellent with soft sheets. There's a large flat screen television and the room faces the street. There's a tea tray in the room but no fridge or mini bar.
The sitting room is nice and there's a fireplace although I can't figure out how to light it even with the instructions. Instead I take a shower in the spacious bathroom and relax for a little bit before getting on with some work.
Soon it's just after 6pm and I head downstairs to the bar for a glass of Pol Roger (apparently Winston Churchill's favourite drop) and then we go into the restaurant for dinner. Weathervane restaurant chef Norman MacKenzie and his team forage for ingredients three days a week and they may come back with items like chickweed, mayweed, judas ear mushroom (found on fallen yew trees) and wood sorrel. A lot of it is also a learning process for the chefs. "They do come back with some dodgy things," says Norman. All of the foraging is done in their spare time going to and from work.
Shooting is also a popular past time and is usually done between the months of September to February. Guests can also have their game cooked by the kitchen although because it is mostly done as a sport the kitchen ends up getting the gift of the spoils instead.
Pressing of Juniper Smoked Rabit, judas ear and langoustine, scented mayweed dressing
The rabbit is a richly flavoured starter served cold and served rolled up and sliced with judas ear mushroom and langoustine that adds to the richness and scented mayweed dressing. It is very rich and ideal for terrine and pate lovers (like me).
Pastrami of Scarborough woof, sea buckthorne, alexander
There's a bonus dish from the kitchen and it's a pastrami of Scarborough woof or wolf fish topped with dots of sea buckthorne berry and alexander (also called black lovage). It's salty and has an intensity of flavour from the curing process and benefits from the sweet pop of sea buckthorne, a sweetish orange berry.
Texel Lamb Crepeinette, Mangalitza black pudding, sprouts, carrots
I really liked how savoury a lot of the dishes were. And this is no exception. Texel lamb is a breed of lamb and it is rolled in spinach and Mangalitza black pudding. It comes with sprouts, carrots and swede but the star is the pink centered tender lamb wrapped in the intense black pudding. This serving was enormous.
Mango and shaource cheesecake with mango textures, lemon sable
The waitress warns me that the cheesecake is made with goats cheese but I happen to love the stuff. I've only known Chaource as a soft cow's milk cheese and I can't find a lot of information about Shaource. Nevertheless this dessert really is divine. It is paired with mango, a centre of warm mango at the bottom and lemon sable crumbs. It's a quick stop here but certainly a memorable one and the next morning we are off to find other pastures!
So tell me Dear Reader, with scones do you put the cream on first (Devon style) or the jam first (Cornwall style)? Have you ever come across a place and thought that the term God's Country applied? And are you a fan of goat's cheese or not?
NQN visited England as a guest of Visit Britain.
Feversham Arms
8 High St, York YO62, United Kingdom
Phone:+44 1439 770766
http://www.fevershamarmshotel.com/
Black Swan Hotel
Market Pl, Helmsley, Yorkshire YO62 5BJ, United Kingdom
Phone:+44 1439 770466
http://www.blackswan-helmsley.co.uk/restaurantsyorkshire/tearoom/