In the North of England there exists a serious but friendly rivalry between Yorkshire and Lancashire, two neighbouring counties. Mostly it's really friendly ribbing and faux posturing (except when it comes to sport) but at times there's a bit more at stake. And for Lancashire born chef Nelly Robinson of Nel restaurant in Sydney, it's a matter of pride. As we approach Lancashire he says, "Now the food is going to be better," riling up our Yorkshire born driver Alan.
Nelly and Yorkshireman Alan wearing a Lancashire red rose (symbol for Lancashire)
Driving from Ramsgill to the village of Hawes there seems to be an inordinate number of pubs named after swans, lions or arms as well as tea rooms. "Have we been here before?" I ask because quite honestly, all of the names are blending into one. One of the main drawcards in Hawes is the Wensleydale Cheese Factory.
Inside the Wensleydale cheese museum
The cheese rose to worldwide fame through the cartoon Wallace and Gromit. The main character Wallace is an ardent lover of Wensleydale cheese and takes many opportunities to express his love in the animated series. The milk from which they make the cheese is sourced from 45 local farms within a mostly 40 mile radius using mainly Friesian cows. It is delivered daily and pasteurised on site. They use a culture that is made on site in their labs and a vegetarian rennet for all cheeses but one (more on that later). One gallon of milk makes one pound of cheese.
At the factory there are cheese making demonstrations for visitors as well as a children's activity centre. People can also watch the cheese being made as well as taste as much cheese as they want in the cheese buying room.
Traditional Wensleydale cheese has a crumbly texture created during the cheese-making process when they crumble the curds even further than usual. Despite this, it's still a relatively moist cheese. We try their whole range and my favourites are the sheep's milk cheese, Wensleydale blue, Abbott's Gold with caramelised onion as well as the Kit Calvert cheese.
The Kit Calvert is the only cheese that is made with animal rennet and is named after Kit Calvert, the beloved local businessman who ensured that the factory for Wensleydale remained in Hawes and not to Lancashire (that rivalry again) where it is a significant contributor to the local economy. This cheese is an pre-war style of cheese and is made with animal rennet in honour of how Kit made it. And it is a superb cheese-intensely rich and creamy, it reminds me of a savoury cheesecake in texture and taste.
And why did Wallace choose Wensleydale? Well apart from the taste, one of the reasons they think is because of the character's mouth movements - the word itself lends itself to more distinct mouth movements as befits a claymation character!
We depart Hawes for a drive to Skipton, a town about an hour away in the north of Yorkshire. The weather changes considerably on the drive and we see snow which gives away to green pastures, sheep grazing and we wind through beautiful little towns made up entirely of stone buildings. Soon there will be bluebells and spring will arrive.
The Devonshire Arms is owned by the Duke and Duchess of Devonshire and it is a beautiful hotel that also boasts a Michelin star restaurant. Built around the early 17th century the hotel has 40 rooms. It's not uncommon for guests to arrive by helicopter such is the clientele. Because shooting is a popular past time in the area it is also a dog friendly hotel. The Dog Lounge is a beautifully appointed lounge with flocked velvet dog wallpaper and dog portaits on the walls as well as a cracking fire.
We are sampling some of the dinner menu from the Burlington restaurant for lunch today. Head chef Adam Smith originally from Birmingham spent a lot of time cooking in London but was lured to Yorkshire. At first he admits that his perspective on food in the North was blinkered and that the main action was in London but then realised that all of the produce that the chefs were fighting to get was literally on the doorstep here. "We are in direct relationships with the farmers," he explains.
Beetroot macarons
We start off with some canapes in the dog lounge-some beautiful pink beetroot macarons that are the perfect balance of sweetness and earthiness.
We then move onto the Clifford Room for lunch. They offer a potato bread, a granary loaf and an onion bread. I try the latter two: the granary bread has a beautiful crunch on top and a tight, tender crumb inside while the onion bread is soft, light and buttery as a croissant with a generous weaving of sweet onions throughout.
English asparagus, trout, radish, bergamot
The first course is a fat English asparagus that has been cooked to perfection. It is served with cubes of trout, trout roe, radish and bergamot. It is one of those dishes that you don't want to end really. It's fresh and perfectly balanced and pleasure is derived in every bite.
Duck Liver Pressing, rhubarb, Hazelnut, Parkin
So what exactly is Parkin? It's a Yorkshire gingerbread cake redolent in spices with sweetness from treacle and brown sugar. Here it is served with ethically sourced foie gras - here they prefer to call it duck liver pressing because there have been issues with the animal rights lobby and also because the Duke prefers it to be called that. It is served with toasted hazelnuts and Tomlinsons's rhubarb that has a nice crispness to it and a beautiful pink blush hue.
Salt Aged Yorkshire Lamb
The main is another beautiful number. The lamb is served two ways - a juicy pink cheeked cutlet that is tender and succulent as well as a rolled belly that is a luscious unctuous sticky cut. There are also sweetbreads, morels and goats cheese to bring this whole divine dish together.
Amedei chocolate, praline, grue, malt
The dessert is made using Amedei 9 chocolate. There is a salted caramel strip on top and a log of chocolate mousse and praline in a crunchy half tube bed called a grue. To the side is a malt ice cream with crunchy chocolate crumbs that gives it a beautiful texture.
And speaking of that friendly rivalry between Yorkshire and Lancashire, we are now crossing over to Lancashire and making our way to The Inn At Whitewall.
What looks like a fairly unassuming inn turns into a serendipitous treat for the eyes and soul. We are handed our cricket ball key chain keys and led up to our rooms. My room, #7 faces the riverstream outside. And I am almost blown over when I walk in. Beautifully decorated it looks like something from a movie set or a step back in time.
The view from room #7
The four poster bed reminds me of a bed in a museum-it's so high that I'm pretty sure that I will have to climb up onto the stairs provided to get into it and there are rocking chairs to help you make the most of the view outside so you can listen to the birds chirp. Each room is quite different in decor and colour theme and the website gives people a glimpse into every room (although the photos don't do the rooms justice). You may also know one of their regular guests - Queen Elizabeth II is said to stay at the Inn whenever she visits.
The bathroom is a black and white checkerboard floor number with a brass cabinet bath circa 1890. The shower has to be one of the most unique and idiosyncratic showers though and has to be used to be believed. The shower head splays and there's an odd setting of spray which doesn't refer to the shower head but to small holes in the sides that spray water in every which direction. Yet it still has a strange sort of charm to it.
The whole room is very toasty warm. There aren't tea making facilities but there is a complimentary tea room downstairs and they also offer to bring me up a pot of tea and some biscuits which I happily say yes to. The biscuits are deliciously fresh and crunchy and the tea puts me in a very happy mood. Internet is fast and free and it feels like I've put my feet up for a few minutes before I realise that I am expected downstairs because we are going out to dinner at Britain's number one pub.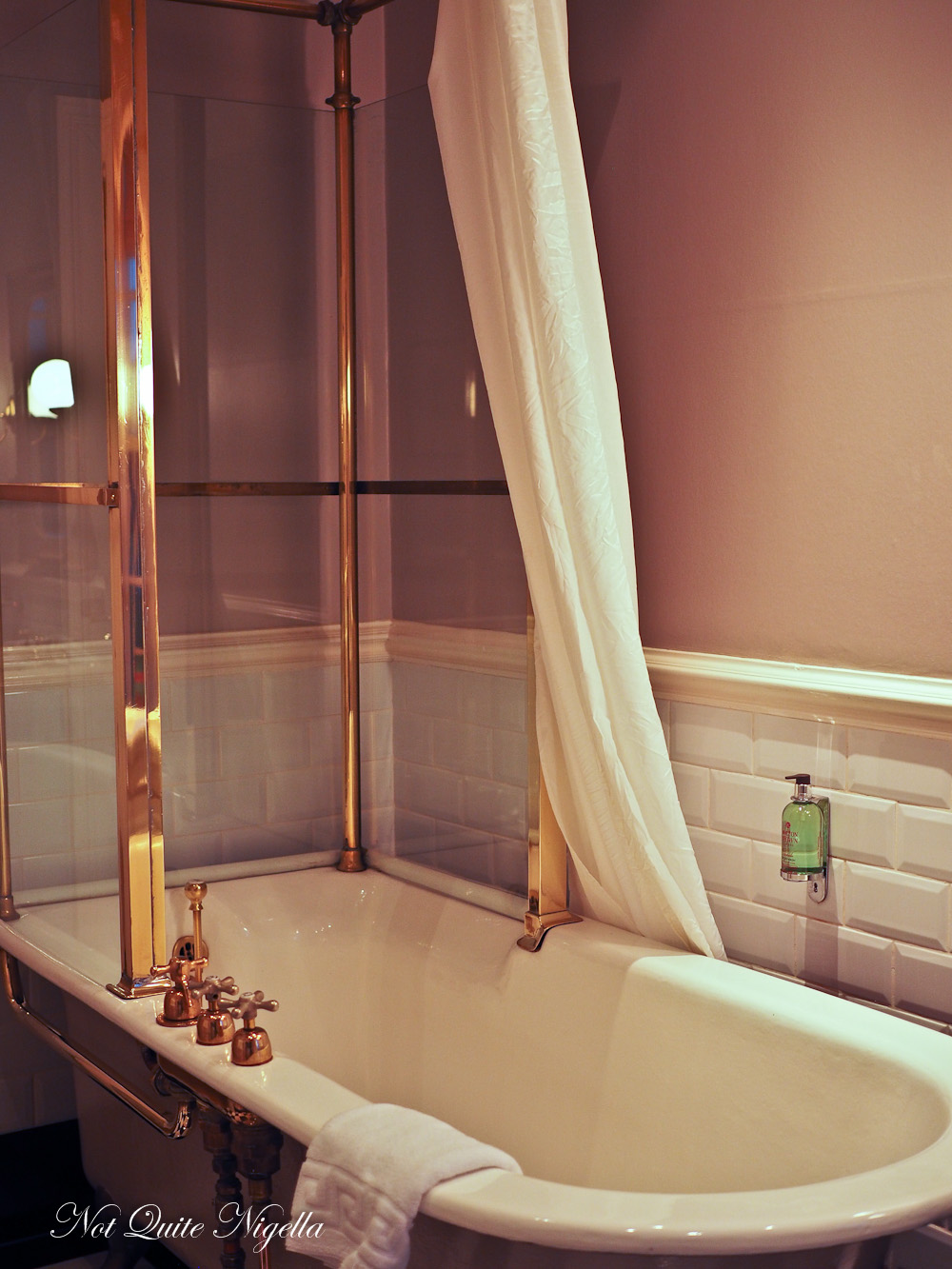 "Now that's where I met a girl...and that's where I was seeing a girl and that's where a girl I was seeing worked," says Nelly giving us effectively a young Nelly's frisky "shagging" tour of the area.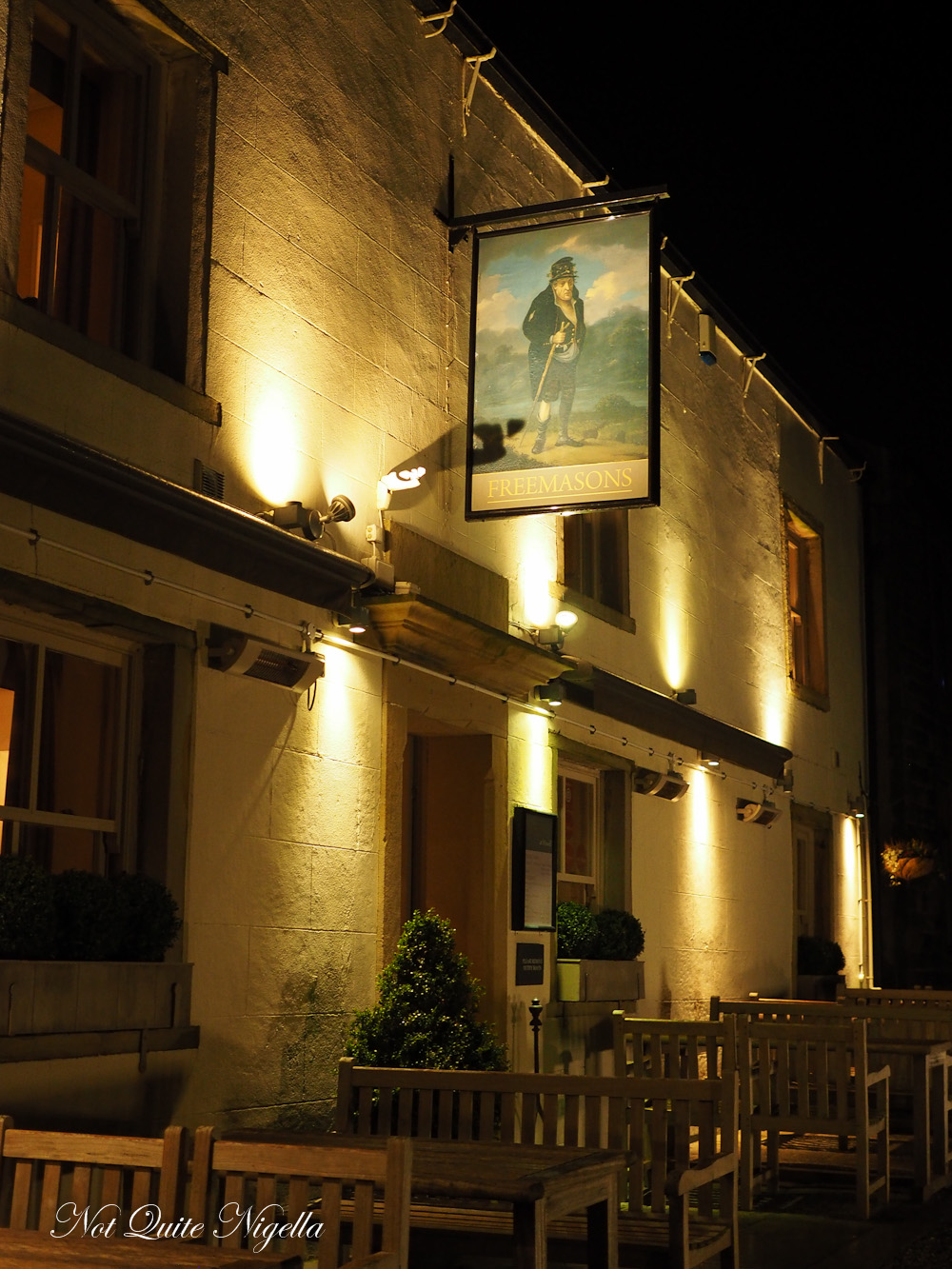 It looks as though snow might fall and a couple of writers are hoping for some tonight or tomorrow. As for me I'm secretly hoping for some tomorrow night when we can watch it from our bedroom windows and don't have to go out in it (I have not yet learned the art of walking in snow).
We arrive at the Freemason's at Wisell. This pub in Clitheroe was voted the best Pub in the UK in the Good Food Guide for the past two years. The owner Steve Smith is passionate about pub food-the key to them winning the title of pub of the year (clearly no mean feat in a country like England) is that they are a real pub. Others were restaurants that called themselves a pub. Steve explains that they still need to do things like steak and chips because they are a pub but the steak and chips that they do is his version of a steak and chips with an updated spin.
Tuna pizza
His friend Miles Cornish is hosting us and Miles consults to the Freemasons Arms for their wine and beverage list. We start with the tuna pizza with slices of raw tuna, dashi jelly, sesame and wasabi cream on a crisp pastry base. It's the sort of thing you can imagine being served in Sydney or London and here it is in Lancashire in the depths of Winter.
Fish finger sandwich
A fish finger sandwich is a popular pub classic but here it is given an upmarket treatment with a crumbed fish fillet, umami mayonnaise (seaweed mayo) and a squiggle of deep fried nori on top. It's familiar enough to perhaps satisfy the traditionalists but delicious enough to satisfy gourmets that want something a bit different.
Fish and chips
Similarly fish and chips is given an update. A hand cut potato chip is topped with caviar and chives. It is salty delicious and yet given a sophisticated take with the caviar. Miles serves these items with a beer because he tells us that beer goes well with salty flavours.
Warm pork belly, January King Kimchee
We get to try a couple of items that Steve is working on for his new concept called Mrs Smith's that is set to open in early 2017. "It's a pub in a kitchen," he explains. His interest lies in Asian cuisine and Mr Smith's will serve items like this warm pork belly with January king Kimchee. The pork belly slices melt in the mouth while the kimchi has an almost sweet aspect to it which makes it very easy to eat. Other items on the menu are Ribble Valley ramen where the ramen is made of pork fat and is served as thick as udon and dim sum dumplings stuffed with lobster and iberico ham.
Native Lobster and Blood orange
The native lobster is a local lobster perfectly cooked so that is isn't chewy or dry at all, and it is served with a butter emulsion, lobster sauce, potato cooked with seafood, blood orange and coastal herbs. It's certainly not what you would think of when you think of pub food. Yet it just happens to be served in the relaxed environs of this unique and exceptional pub.
Aged beef, black pepper and duck fat chips
Ahh the steak and chips. Well we all knew that it wouldn't be a regular steak and chips by now. It's two pieces of perfectly cooked sirloin with a black pepper sauce, ceps and Hen-of-the-wood mushrooms. On the side are some delicious duck fat cooked chips made using an apple corer. These are hand made using red rooster potatoes and are very moreish along with the steak.
Lager and lime
A pre dessert is an incredibly refreshing lager and lime with a lime sorbet and a lager sauce with fresh Mexican limes grated on top at the table. It's just what you need after a rich meal to reset the taste buds.
Rice Pudding Yorkshire Rhubarb
The last course is dessert and it's a special one. If you've eaten as much as we have and can abandon all notions of fullness then you know it must be good. It's a rice pudding made with Yorkshire rhubarb jam and a thin toffee crisp on top. It is based on a chef Paul Heathcote's take on rice pudding where he added sugar on top and caramelised it. "It's refined but not messed about with," says Steve.
After eating so much (and struggling a bit with the shower) I climb up into the high bed and it takes me a while to fall asleep. Nelly's stories about ghosts in the Inn keep me up for a while but sleep comes. And when I wake up and pull back the curtains, the weather has bestowed us with a thick blanket of snow outside turning a colour painting into an antique black and white moving portrait.
So tell me Dear Reader, are you good at walking through snow? Have you ever tried Wensleydale cheese or are you a fan of Wallace and Gromit? And do you often eat out at pubs?
NQN visited England as a guest of Visit Britain.
Wensleydale Cheese
Gayle Ln, Hawes DL8 3RN, United Kingdom
Phone:+44 1969 667664
http://www.wensleydale.co.uk/
Devonshire Arms
Bolton Abbey, Skipton, North Yorkshire BD23 6AJ, United Kingdom
Phone:+44 1756 71044
http://thedevonshirearms.co.uk/
The Inn at Whitewell
Clitheroe, Forest of Bowland BB7 3AT, United Kingdom
Phone:+44 1200 448222
http://www.innatwhitewell.com/
Freemasons at Wiswell
8 Vicarage Fold, Wiswell, Clitheroe, Lancashire, BB7 9DF
Tel: 01254 822218
Wednesday & Thursday: 12-14:30, 17:30-21:00
Friday & Saturday: 12-14:30, 18:00-21:30
Sunday: 12-19:00
http://www.freemasonsatwiswell.com/