Sometimes nature needs to show you who is boss. All elaborately hatched plans and arrangements can be slowly undone when mother nature swings her arms and deposits several inches of snow on the ground. What inconvenience is caused is made up in the sheer beauty of the landscape as I peel back the curtain at the Inn at Whitewell and witness a Christmas scene come to life. For an Australian, well this is really rather special. I sip on a cup of tea brought to me by the fabulous staff at the inn and watch the postcard come to life in front of me while I work.
We had grand plans for today but they had to be hastily ditched in favour of trying to get through roadblocks. We have a little bit of time to go through Clitheroe and chef Nelly Robinson is going to show us a bit of food shopping before lunch. Clitheroe also is the home of the Ribble Valley Food trail that is mostly made up of the Forest of Bowland area. The foot and mouth epidemic devastated Ribble Valley and the trail was set up to promote the producers and restaurants in the area.
We trudge through the snow in the main part of town and there's a refreshing absence of large chain stores on the high street of Clitheroe - while there are a couple it is mostly boutique stores, small eateries and chippys. There are kids throwing snowballs at everyone (including us). Later that afternoon Nelly is going to see his mother (as well as bring his laundry home!) and he and his dad speak daily on the phone after he finishes work. I also learn what his real name is. It's not Nelly, it's Neil and the name Nelly came from when he was an infant and threw a ball through a window breaking it. "He's a right Nelly," his aunt said and it stuck.
At Wellgate Fisheries fish monger Giles Shaw supplies most of the top restaurants in the area as well as doing a busy retail trade. His shop display is small but full of goodies from Morecambe Bay brown shrimp, cockles, halibut, Dover sole as well as samphire.
His award winning smoked salmon is slow smoked over a period of 2 days using whisky oak casks and maple wood using Scottish organic fed farmed salmon from Wester Ross. He slices it both traditional style (paper thin) or in a thicker sashimi style which is such delicious idea. The smoke and salt levels in the salmon are just right, neither over powering or under represented.
A little further away is the D. Bryne & Co. a whisky specialist and wine store started in 1879 that has continued in the same family for five generations. The fifth generation Joseph climbs the high ladder and retrieves gins and whiskies, the latter from a range of 800 types. They also stock around 4,500 wines and specialise in burgundies.
The snow has let up a little and the road has cleared so our original stop at the multi award winning pub The Parkers Arms has been reinstated. Chef Stosie Madi is Bordelais and Lebanese in heritage and grew up in West Africa but 12 years ago she decided to visit the North of England and ending up falling in love with it. She is giving us a little taste of her menu with most things within a 3km radius. Some items such as birch syrup are tapped right behind the hotel's car park while others like the deer are supplied from just over the hill.
Stosie Madi
Game en croute
First there is a little taste to get us started. These tiny pasty shaped pastries are filled with pheasant, venison and pork and are simply scrumptious. During winter local seafood can often be a challenge as the seas are too rough for fishermen to go out so they rely on a lot of game which is in season then.
Bowland wild garlic and potato soup
The wild garlic and potato soup is a small mouthful of flavoursome, slightly creamy soup with wild garlic in every mouthful. It's rich and aromatic and given body from the potato. The wild garlic is soured from Slabairn and was a pleasant surprise for the kitchen and their supplier as it arrived one month early.
Seared Newton Roe deer loin
The menu also makes use of a lot of pickling from the previous seasons to preserve the use of fruit and vegetables. The deer loin (from just over the hill) is succulent and comes with Autumn preserved damson plum, pickled celeriac ad Duerden's watercress.
Newton Hare Loin, Lancaster mushrooms
The mushrooms are an example of terroir as they're mostly foraged ones from chanterelles to pied de mouton (sheep's foot). This is a lovely, earthy dish that evokes the season that we are in without being heavy or weighing down.
Black pudding, sage and apple sausage roll
I am an avowed sausage roll lover as well as a black pudding lover and as soon as I bite into this served with home made piccallili pickles I am smitten and want a whole one to myself. It's said to be one of their most popular items and it's easy to see why.
Citrus and gin cured Wester Ross Organic Salmon
This seemed to be the only dish that was not a locally sourced one-the salmon being from Scotland. It is a citrus and gin cured salmon with preserved garden fennel pollen, confit Manx queenie scallops (that are as cute and sized like small buttons), lightly pickled Preston turnips and blood oranges.
Crispy Cockerham salt marsh hogget breast
Our last main is a crispy skinned salt marsh hogget breast (hogget being the stage in age between lamb and mutton). It is served with a creamy mash, hisby or January king burnt cabbage, Scottish surf clams and a mint sauce. It's a simple but rewarding dish designed to warm tummies.
Slaidburn's hen's egg custard tart Portuguese style
The dessert is a small version of a Portuguese custard tart made with Slaidburn's free range eggs. It has a texture of a light custard tart with a slight hint of the softness of the inside of a canele.
Kathy's Wet Nelly
Nelly is a tad disappointed that the dessert of a Wet Nelly isn't a tribute to him. It's actually a recipe that was designed for Lord Nelson. Originally it was a suet pudding with plenty of spices but this version is much lighter without any suet. It's served in squares and every bite is like biting into a moist Christmas cake.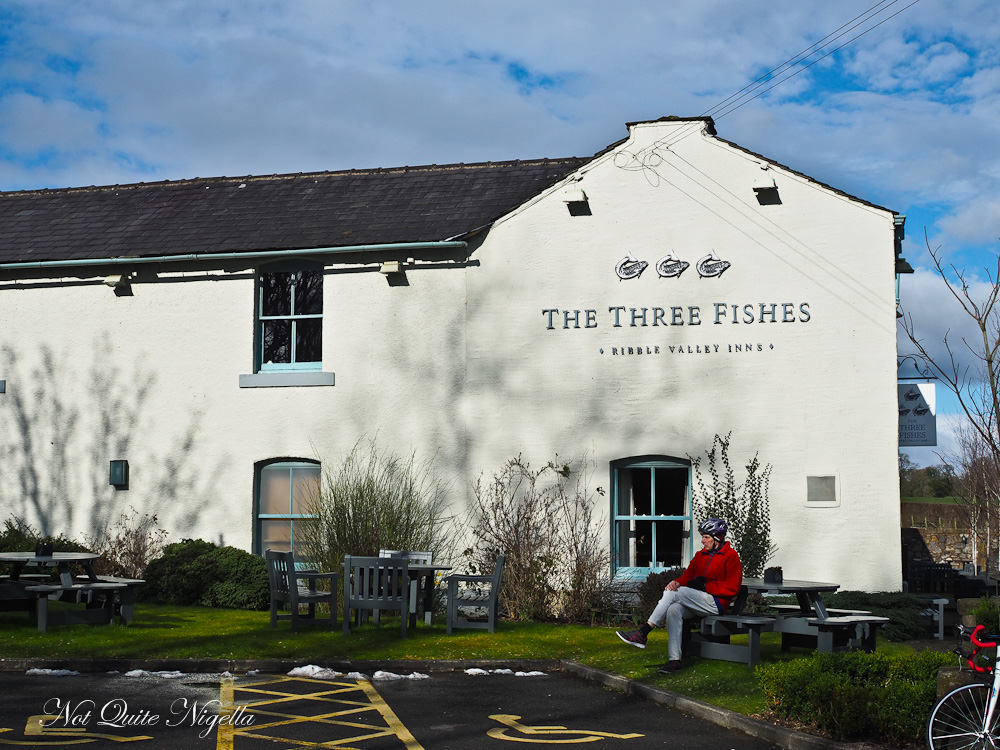 Also no visit to Lancashire would be complete without trying a Lancashire hot pot and what better place to try it than at the Three Fishes, a pub that was said to have kick started the whole gastropub trend in Britain several years ago. Previous to this pubs would sell food like spaghetti bolognese and curries and it was an idea to create British food that sparked the menu at the Three Fishes.
The atmosphere is all country style chic warmth. The front area is a place that people can take their dogs and you can find a spot on a lounge or at a table and take a while perusing their enormous steak house sized menu.
Nigel Haworth's Hot Pot £12.50
Originally a Lancashire hot pot was made with lamb neck, oysters, bacon and vegetables and it was an easy dish to put together that baked in the oven all day. Chef Nigel Haworth's version uses local lamb cooked until meltingly tender as well as braised English onions topped with a crispy Maris Piper potato crust. He uses shoulder, shin, neck and under the shoulder chops in his recipe with leeks. It's wonderfully warming and rib sticking stuff and to lighten it is a side of pickled red cabbage that is salty and astringent and very rich in a myriad of spices to balance the richness of the meat.
Cheese and onion pie £12
We also give the Lancashire cheese and onion pie a try. Served in a dome shape we cut it open to reveal an oozy, molten centre of rich cheese and onion. The filling is almost fondue-like. It's incredibly rich and strong and I don't know if I could eat anything beyond a slice. It comes with a baked potato and salad to lighten it up.
Seafood platter £17.50
The seafood platter is an impressive looking selection of fresh seafood including Lancaster smokehouse juniper beech smoked salmon, a prawn cocktail on iceberg wedges, warmed Morecambe Bay shrimp, crispy east coast squid, pickled cucumber, lemon beetroot relish, horseradish cream and bread.
Tummies full and aware that dinner is a mere three hours away we take the 30 minute drive to our hotel this evening, the Northcote. The hotel's restaurant boasts a Michelin starred restaurant and is one of Nelly's old stomping grounds and he worked here from 2000-2007.
Chef Lisa Allen and Nelly
The hotel that opened in 1983 has an interesting history with a dramatic movie storyline. One of the owners Craig Bancroft tells us that he and chef Nigel Haworth first raised enough money to build a six bedroom hotel with business partner Bill Kelly. When they fell out over disagreements regarding the direction of the hotel's restaurant (they wanted to go for Michelin stars, Kelly wanted them to simply give the customers what they wanted with simple cuisine), they realised that they needed to buy him out of his majority share. They put in a silent blind bid through several avenues with Kelly not realising that the new buyers were in fact his old business partners. He called them in to tell them that they were being sold and Craig recalls Kelly tapping his fingers on the table in impatience at the "lateness" of the buyers only to be told that they were sitting right in front of him. He was understandably furious.
Room #6
I am shown to my room #6 and I'm a little surprised. The website shows very modern rooms but #6 is traditional. It also has a drainage problem and resultant smell so I ask to move. My new room is on the attic floor #19 and is both nicer and in line with what the website promises in design.
Room #19
Although it is tucked away this gives the room more privacy and there's a super king sized bed (phenomenally comfortable), modern furnishings and sleek design. The room is perfectly warm and everything is thoughtfully appointed. There are three skylights in the room, two in the bedroom and one in the bathroom and these can be opened for fresh air.
The bathroom is long and spacious with double sinks, a large standalone tub, heated floors and a large, spacious shower.
Beetroot meringue, trout with potato and onion
I get dressed for this evening's dinner at Northcote's eponymous restaurant. This hotel is one in which the hotel kitchen is the centre of the building and everything is built around it. For dinner, we're getting a little treat and sitting at the chef's table. Usually it involves ordering from the gourmet or tasting menu and is ideal for 8-10 people. It is also the fastest growing part of the business. The two canapes are delightful - the beetroot is sweet while the soft trout coated in shards of potato and onion is crunchy and melts in the mouth.
The chef's table is in a separate glass fronted room adjacent to where chef Lisa Goodwin-Allen stands at the pass. She has been with the Northcote for 13 years and works closely with Nigel devising the menus.
Amuse bouche
The amuse bouche is a silky cow's custard with a cooked egg yolk, sorrel granita and a Lancashire cheese stick.
Toasted West Coast Scallop, sticky rice, toffied smoked eel
I love the sound of the scallop dish. It's toasted in sesame seeds and served with a sweet glazed smoked eel that is intensely smokey and delicious. The sticky rice is different from a Thai sticky rice, it's like a slightly sticky koshihikari rice.
Goosnargh duckling, smoked Goosnargh duck ham, pulled leg, spicy cabbage and blood orange
The mains arrive and mine is the Goosnargh duckling with a tender loin, a gorgeous smoked, salty duck ham, sweet pulled leg and a sweet and spicy red cabbage and blood orange on the side. Every component is so different but fantastic in the dish and shows that with different treatment, how versatile duck can be. The Goosnargh family are a local family who supply the ducks to most top end restaurants.
Nelly arranges for a cheese plate featuring local cheeses and there are four on offer: the Sharrocks Lancashire Bomber is a cheese with a softer texture served in a small ramekin that comes in a ball of black wax with a string so that it resembles a bomb. Next on the plate is a True Grit by Carron Lodge in Preston that is my favourite along with a great smoked Ribblesdale goats cheese and a Lancashire Blue also by Carron Lodge.
Melting ginger pudding, caramel custard, iced double cream
There are two signature desserts here and one is the apple crumble souffle and the other is this dessert, a melting ginger pudding. This soft, velvety pudding is served warm and is intensely treacley and gingery. It is lightened with a caramel custard and the iced double cream.
So tell me Dear Reader, have you ever tried a chef's table and if so what did you think of it? Would you prefer to eat in the main restaurant or at a chef's table generally? Have you ever asked to change hotel rooms?
NQN visited England as a guest of Visit Britain.
Parkers Arms
Hall Gate Hill, Newton-In-Bowland, Nr Clitheroe BB7 3DY, United Kingdom
Phone:+44 1200 446236
http://www.parkersarms.co.uk/home/a-little-history/
Three Fishes
Mitton Rd, Mitton BB7 9PQ, United Kingdom
Phone:+44 1254 826888
http://www.thethreefishes.com/
Northcote
Northcote Road, Langho, Blackburn, Lancashire BB6 8BE, United Kingdom
Phone:+44 1254 240555
http://www.northcote.com/