The birthplace of the industrial revolution, Manchester has certainly come a long way. The city with a worker bee emblem now has a thriving bar and restaurant scene and one of the draws is the famous Curry Mile as well as the hipster Northern Quarter and a range of fine dining restaurants.
When a city previously known for being the birthplace of the industrial revolution starts to change and embrace the resident's love of food, how does this come about? According to Thom Hetherington, one of the team that founded of the 50 Best Restaurants of the World awards, social media helped bring out the foodies from the woodwork. It was once thought that people didn't want fine dining but when people started sharing their pursuit of gustatory pleasures on social media restaurants and chefs started to take notice.
"300 or 400 years ago food was very exciting, we were at the end of the spice trail," Thom explains. "It was only in the last 60-70 that food got tedious and boiled." He explains that it was the result post-war having to grow high yield crops that affected the cuisine. Now food has become a growing business-even the Manchester Metropolitan University has a Food Business Entrepreneurship course.
He admits of London, "It's a big shadow to be in" but as we sit in El Gato Negro, open for all of three weeks in March 2016 the atmosphere is comfortable and exciting. The cocktail menu is a treasure trove of creativity. There's a Margarita Desayuno or breakfast Margarita that comes with a toast tray and marmalade and is gorgeously quirky with flavours of Tequila, Cointreau, Mezcal, grapefruit, marmalade, lemon. The My Verde Lady comes with a stick of asparagus and the Penicillin is a quirky number where the whisky flask comes in a laser cut book with smokey Whisky, Limoncello, honey, lemon, ginger.
A day in Manchester should start at Altrincham Market. Certainly it's a good 30 minutes out of the town centre but this market is located on the southern outskirts of Manchester in Trafford where you'll pass pre-match pubs near the Old Trafford.
There are two sections to the market: a covered outdoor market and market house, an enclosed area where there are communal dining tables and lots of artisan vendors. We grab a table with a number and take our pick from Honest Crust, Market House Coffee and Tender Cow burgers. The most popular stand in the morning is Wolf House Bakery where most people order a bacon and sausage ciabatta with brown (HP) or red sauce (ketchup) on the side. Each additional item is #2 so it can add up if you want say an egg on it and at £7.50 it isn't the cheapest roll but it is good, the bread warm and fresh and the bacon crispy.
At Market House Coffee there are a range of coffees and my eyes light up when I see a chai latte. But here the chai latte is injected with a shot of espresso and a shot of rum. And what is espresso like in a chai? Pretty good I have to say and the rum? Well it's to warm us up on this very cold of days before the sun later shines its rays.
The outdoor market is full of crafts as well as some food stalls. There are some food stalls that double up in the outdoor and indoor markets but there's one that catches our eye. Holy Crab sells local, sustainable seafood from Cornish crab to Colchester Oysters. The cornish crab is sold as a ball with crab and vegetables as the filling while the crayfish popcorn are tiny little crayfish lightly crumbed and fried with a rich seafood sauce on the side. The oysters are sold either as is or served in the shell with a Bloody Mary poured on top.
Our home for our stay in Manchester is the Edwardian style Midlands hotel, noted for being the location of where the two founders of Rolls Royce first met. The location is very central and it's a very large, busy hotel with plenty of conventions and parties happening this Saturday night. My room #238 is a superior type room (there are three types: standard, superior and suite).
The decor is nice and the room is toasty warm. The king bed is very comfortable and I'm excited to see a tea station tucked away in the cupboard (I'm rapidly seeing how a hot cup of tea can really salvage a day).
The bathroom has a bath and shower combo and a basic set of toiletries (including a 2 in 1 shampoo). One thing that is a little strange is the wifi although free is weak and unreliable which is strange considering we had better internet in the depths of the countryside.
A few minutes' walk away is Australasia a bar that has an Australian connection by way of the owner Tim Bacon. A lot of the cocktail menu does sound like it could be from Australia or Thailand. There's even a rather oddball smoothie page (we are told it's not very popular).
Earthquake, thunder, fire & fathers
I order an "Earthquake, thunder, fire & fathers" which is made up of an intriguing and sweet mix of kecap manis, plum sake, Grand Marnier and aromatic cocktail. I actually quite like it.
We make our way to Manchester House for a 15 course chef's table experience. Chef Aiden Byrne stands at the front facing the restaurant and we take a seat in front of him. Chef Patron restaurants like this where the chef is the name and face of the restaurant are becoming increasingly popular with diners.
Chef Aiden Byrne
Thom Hetherington explains the concept of a Chef Patron is one in which, "the chef is also the owner (or at least an owner) of a restaurant rather than a hired gun who could walk or be replaced at any time. It means the restaurant very much reflects their attitudes and approaches to cuisine and indeed the dining experience, and is a real extension of them as a chef."
He continues, "They're not just someone hired by the yard to do a service and deliver against a predetermined "concept". Because of all this, chef patron models are generally expected to offer a higher quality and more consistent experience than other restaurants where the chef just takes a wage. You would also expect them to feel more individual, more personal, and more responsive to the customer or the seasons."
Oxtail and onion brioche with bone marrow emulsion
The whole experience goes for around four hours and the courses come out rapidly. The tasting menu is priced at £95 with a matching wine flight at £75. The chef's table however more ideally suited to three couples rather than a large group of six as it is difficult for people to talk to each other as you sit in a row. The first item to arrive is the bread, a buttery light and layered oxtail and onion brioche with a creamy, foamy bone marrow emulsion that you dip the bread into. It's a rich, flavoursome start to the night.
Puffed pork crackling, smoked apple and hazelnut, Razor clam with turbot sashimi and Crisp chicken skin, foie gras mousse and aged parmesan
The next three courses come out on the same plate and we are instructed to go right to left. I particularly like the crunch of the puffed pork crackling with diced smoked apple and hazelnut. The next is a razor clam with turbot sashimi and fennel puree in a bed of smooth green fennel puree. This is quite strong in fennel and dominates the dish. The last bite is a perfectly flat piece of crisp chicken skin topped with a savoury foie gras mousse and aged parmesan. This is a very savoury dish with all of the flavours and incredibly rich too.
Gold rush apple, caviar and apple liqueur
The next item comes out with some liquid nitrogen poured on the bowl to give it a bit of theatre. It's a slice of gold rush apple, like a golden delicious apple. It is served with Carelian caviar from Finland, dill, fennel pollen and a sweet cider that they make themselves with 7% proof. The apple is lightly crunchy with salty pops from the caviar.
Ribblesale goats cheese and onion soup with Jabugo ham
This was one of my favourite courses that I could smell before it arrived. The smell of cheese toastie pervades the air and it's made using Ribblesdale mature goats cheese with an onion soup with Jabugo ham powder and tiny jelly cubes. They make the onion skin layer and freeze it using liquid nitrogen and it melts through once stirred.
Roasted langoustine, ajawain, smoked cauliflower and venison carpaccio
The sizes of the courses ensures that you can finish them. The roasted Scottish langoustine is served with smoked cauliflower puree, tiny florets, venison carpaccio slices and ajwain (an Indian spice like caraway) butter that has a strong coriander and curry aroma.
Braised lamb heart, pearl barley, miso and pickled kohlrabi
I didn't expect to like this dish so much but I really liked the muted simplicity of it. I think after all of the courses that we've eaten over the last week something mild and comforting like tender braised lamb heart, pearl barley with a touch of miso and pickled kohlrabi hits the spot.
Steamed pigeon, cherry broth and mustard
The steamed squab pigeon leg is served with a consomme made with the bones, fermented wine, port, sorrel and cherry juice. It has a touch of piquancy from the violet mustard made with grape skin.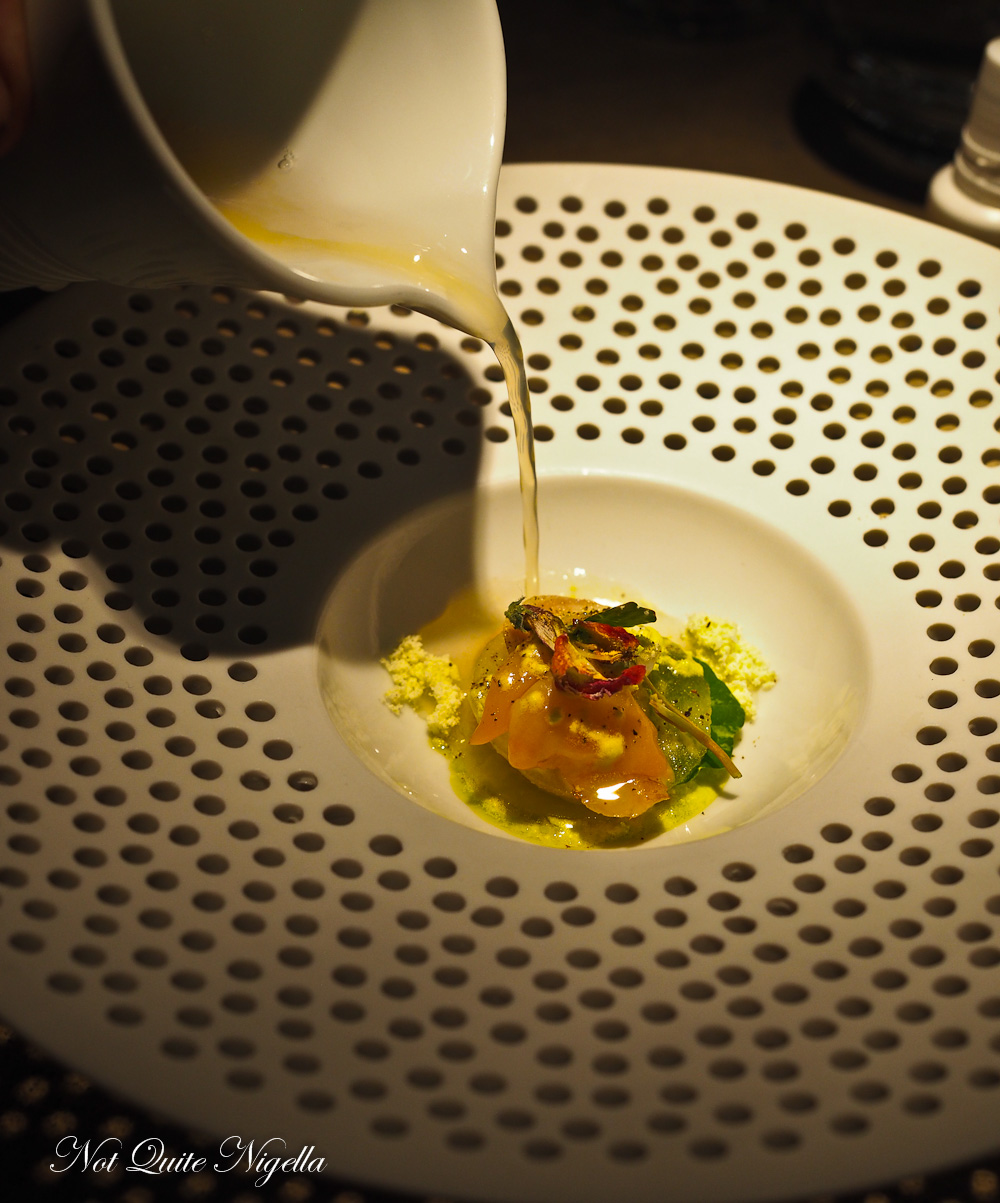 Smoked eel, surf clam, turnip and nastutrium
By now we're getting very full and the smoked eel, surf clam turnip and nasturtium is becoming more textural with so many flavours hitting the palate at once. There is also a pronounced bitterness at the end of each mouthful.
Roasted duck with truffle cauliflower cheese
The final savoury course is the roasted duck topped with duck ham with truffled cauliflower cheese. I really liked the duck component of this, it's well balanced and tasty although I wasn't as smitten with the left hand side of it with the truffle cauliflower cheese and the soft breadcrumbs on top as I would have loved them to be crispier.
Manchester Tart ice cream
A Manchester Tart is made up of three main flavours: banana, raspberry and coconut. This is served with liquid nitrogen and the whole sensation is crunchy, sweet and tangy. I like this combination of flavours a lot and plan to make a tart at home.
Goats curd, tarragon, pine nuts and blackberry
There are two desserts after this and the first is a goats curd beignet with tarragon sorbet, pine nut crumbs and blackberry in three forms: a gel, fresh and a crisp. It's nice to have a savoury cheese course in the middle of desserts but the 15 courses is a lot of food and an abbreviated tasting menu would perhaps be a nice option also to avoid repeating things like the liquid nitrogen.
Pumpkin, apple and pecan
The final dessert is the pumpkin mousse, apple with pecans and cinnamon and freshly diced apple. It's not a particularly sweet dessert although the pumpkin ring on the left is nice.
Macarons and madeleines
And no meal is complete without a take home pack-there are freshly baked madeleines-so fresh that they steam up the pack as well as macarons. This is for a late night snack.
The next afternoon we meet up with Jonathan Schofield, Manchester guide book writer and journalist who takes us on a tour of the Northern Quarter, around a 10 minute walk away from the hotel. This is the hipster area of Manchester with plenty of eateries and bars.
We first pop into Ziberblat on Edge Street. You hit the intercom button to go upstairs and follow your nose smelling the coffee. Here people pay by the minute. It's 6 pence per minute and once you are up there you can help yourself to food, drink and wifi or even partake in one of their yoga or creative writing classes. It's designed to be a home away from home. The concept of Ziferblat was formed in Moscow in 2011 by Ivan Meetin.
Throughout this area artists have reinvigorated it installing some surprising little art pieces and features. All of the street signs are in the distinctive blue and white. Vinyl stores alternate with coffee shops, beautifully decked out bars and hipsteriffic fried chicken shops. This area was originally and Indian and Pakistani area with plenty of shops still represented.
The queues spill out the door at Teacup kitchen, the idea of a former DJ Mr Scruff. The display of sky high fresh cakes is alluring and they all look temptingly fresh and are served with their own custom tea blends.
We pop into Port Street Beer and try three types of beer: a Rapscallion orange beer, a black Jack and a Hop Black. You can also get third pours if you want to do a little beer tasting.
"Starman" by David Bowie is playing when we walk into Tariff and Dale, a basement level restaurant and ground floor bar on Tariff Street. It's a simple but good sounding menu with a brunch that ends at 5pm (civilised!). As it is a Sunday we decide to go for a Sunday roast and a pizza as there is an enormous pizza oven in the open kitchen.
Peppered beef pizza £11
The pizzas have various regular toppings but the one that catches our eye is the peppered beef, Lancashire blue and gherkin. I honestly wasn't too sure about the combination but it works well. The base is similar to a Neapolitan style pizza and the peppered cured beef, Lancashire blue cheese and gherkin work well together. The gherkin doesn't overwhelm the pizza like we thought it might.
Sunday Roast £14
Yet I have to admit that the Sunday roast stole my heart. With a black treacle marinated topside of beef, crispy roast potatoes, cauliflower cheese, mashed potato, carrots and broccoli and one delightfully crispy Yorkshire pudding and gravy you can see why it is such a classic dish, particularly in Winter when the temperatures reach below zero. The black treacle lends a complex sweetness to the gravy that is hard to beat.
It's our last night in Manchester and Katrina and I decide to head out for a curry at the famous Manchester Curry Mile in Rusholme. About 10 minutes' drive from the city centre our delightful but largely unintelligible driver Ziggy is taking us. In his thick Mancunian accent, he can't quite fathom why anyone would come from the summery heights of Australia (as seen on Home and Away and Neighbours) to the wintry depths of Manchester. "We are here for the curry! And the cold!" we say. "Where are you from?" he asks and we ask him to guess. "America!" he says. "The Southern Hemisphere," we hint. "Norway?" he answers.
Our destination on the Curry Mile is Mughli, a restaurant that has been there for 24 years and one of their three locations. There's a real mix of businesses-plenty of hairdressers and a mix of restaurant ethnicities. They also range from casual to a bit more upmarket like Mughli.
Ras Bar Tini £7.50
The menu is large and it's hard to pick. There is a tandoor charcoal oven too and we take advantage of happy hour and the £5 cocktails before 7pm. Mine is a very sweet number called a Ras Bar Tini made with fresh raspberries, lemon juice shaken with vodka and raspberry liqueur.
Pappadums
Outside the restaurant there are signs saying no free pappadums so we end up ordering some to snack on while we are waiting for our dishes to arrive. They take a while to come because we hadn't ordered any entrees.
Malai Chicken £5.50
Everything arrives at once and the Malai chicken is done in the charcoal oven and is a tad dry which is a bit disappointing.
Vegetable biryani £12.90
The biryani comes out with a layer of flatbread on top. Underneath is a delicious mix of vegetables and rice. There's a good amount of vegetables in this which keeps everything moist. It is served with a biryani sauce and a raita but it really doesn't need it as it is flavoursome and moist already.
Staff handi £9.90
This is usually a staff dish but it is so tasty that they made it part of the menu. With plenty of bone in pieces of lamb it has a gorgeous sauce to it and is perfect for the peshwari naan.
Lamb karahi £8.50+ £1.90
But by far my favourite dish is the off the bone lamb karahi. It's such a wonderful mix of spices and flavours and soft melting lamb that I go back to serve after serve of this.
We have an early call the next morning to fly back to Australia so dessert is off the cards. We pass by Iranian hairdressers, felafel stores and more curry shops, breathing in the cold, blustery Manchester air that is perfumed by spices.
So tell me Dear Reader, what is the longest meal you've had and how many courses was it? Do you enjoy sitting at chef's tables? And what do you think of the idea of a Chef Patron restaurant? Do you check to see if a chef is in the house?
NQN visited England as a guest of Visit Britain. The food in this post except for Manchester House and the food tour was independently paid for.
El Gato Negro
52 King St, Manchester M2 4LY, United Kingdom
Phone:+44 161 694 8585
http://www.elgatonegrotapas.com/
Altrincham Market
Greenwood St, Altrincham WA14 1SA, United Kingdom
Phone:+44 161 941 4261
http://www.altrinchammarket.co.uk/
Midlands Hotel
16 Peter St, Manchester M60 2DS, United Kingdom
Phone:+44 161 236 3333
http://www.qhotels.co.uk/our-locations/the-midland-manchester/
Australasia
1, The Avenue, Spinningfield, Manchester M3 3AP, United Kingdom
Phone:+44 161 831 0288
http://australasia.uk.com/
Manchester House
18-22 Bridge St, Manchester M3 3BZ, United Kingdom
Phone:+44 161 835 2557
http://www.manchesterhouse.uk.com/
Tariff & Dale
2 Tariff Street | Northern Quarter, Manchester M1 2FF, England
0161 710 2233
http://tariffanddale.com/
Mughli
30 Wilmslow Rd, Manchester, Lancashire M14 5TQ, United Kingdom
Phone:+44 161 248 0900
http://www.mughli.com/