The view from the Hydro Majestic dining room
Looking for somewhere special to take your mother this year for Mother's Day? The Blue Mountains just 2 hours from Sydney is a great day trip with plenty of sights and shopping opportunities. But make sure to leave room for the afternoon tea!
The Hydro Majestic hotel, recently restored to its previous splendour plays host to a few special afternoon teas every year. These combine high tea (or actually afternoon tea) with opera and these are scheduled on occasions like Valentines Day, Mother's Day and the opera week. Today we are trying to Lovers afternoon tea which is accompanied by Opera Australia tenor Brad Cooper and pianist Grace Kim.
At the Hydro Majestic Hotel there is usually a choice for afternoon tea but today it is the sparkling afternoon tea served with either a glass of sparkling wine or a cocktail called the Rose Petal. People are dressed up with some in 1920's and 1950's outfits. For Mother's Day this year they will be serving a similar selection but with a chocolate theme.
There were service issues the last time we visited and we assumed that it was just because the hotel was newly reopened but two years later unfortunately we notice the same problems. Food is brought out but we have to request tea and there's no sign of the cocktail and we have to specifically ask for this otherwise it would not have come. It doesn't help that everyone is distracted by Opera Australia's tenor Brad Cooper and pianist Grace Kim who sweep into the enormous room with a flourish.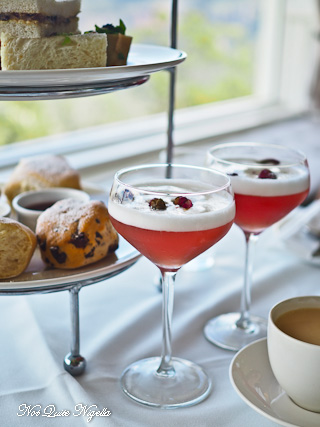 Rose Petal cocktail
The cocktail arrives and the Rose Petal is a gorgeous cocktail. Made with rose infused gin, maraschino cherries, muddle cucumber and egg whites it is sweet and feminine.
The tea comes out on a three layered stand. On top are the sweet treats-macaron filled with a raspberry (just one), two of the rest like a lemon meringue tart, a heart shaped white chocolate dipped nut cookie sandwiched with dark ganache and a mango and coconut verrine. I particularly like the lemon meringue tart and the heart cookie.
The sandwiches are on the middle layer-there is a rare roast beef sandwich which is the pick, a chicken sandwich which is a bit light on chicken and a roasted eggplant sandwich. There is also a filled crepe and an odd sort of tart that tastes like it is filled with tomato sauce or ketchup with a cube of feta that none of us go for.
The final layer has two types of scones: plain and chocolate chip. They're quite crumbly so it is difficult to split them with your hands. They come with a strawberry jam and clotted cream.
A family with small children is seated right next to the opera singers which is a poor decision from management. The children prove a distraction to some including the tenor and another guest and a little tension arises with gritted teeth and raised voices.
But it's back to the music. It's a quirky list of songs from Broadway tunes, cabaret to German operas. There's a song called "Poisoning Pigeons In The Park" followed by "Stick Your Head Between Your Legs". During one number he uses a chair as a prop a la Marlene Dietrich and it's all very camp but fabulous. And one of the final numbers is what else but "I still call Australia home."
So tell me Dear Reader, would you enjoy opera with your afternoon tea? How do you usually celebrate Mother's Day?
NQN and Mr NQN were guests of the Escarpment Group but all opinions remain her own.
Hydro Majestic Hotel
52-88 Great Western Hwy, Medlow Bath NSW 2780
Afternoon tea: Mon - Fri 11.00am – 3.00pm, Sat - Sun 10.30am – 3.00pm
Tel: +61 2 4782 6885
www.hydromajestic.com.au/dining/hydro-majestic-afternoon-high-tea