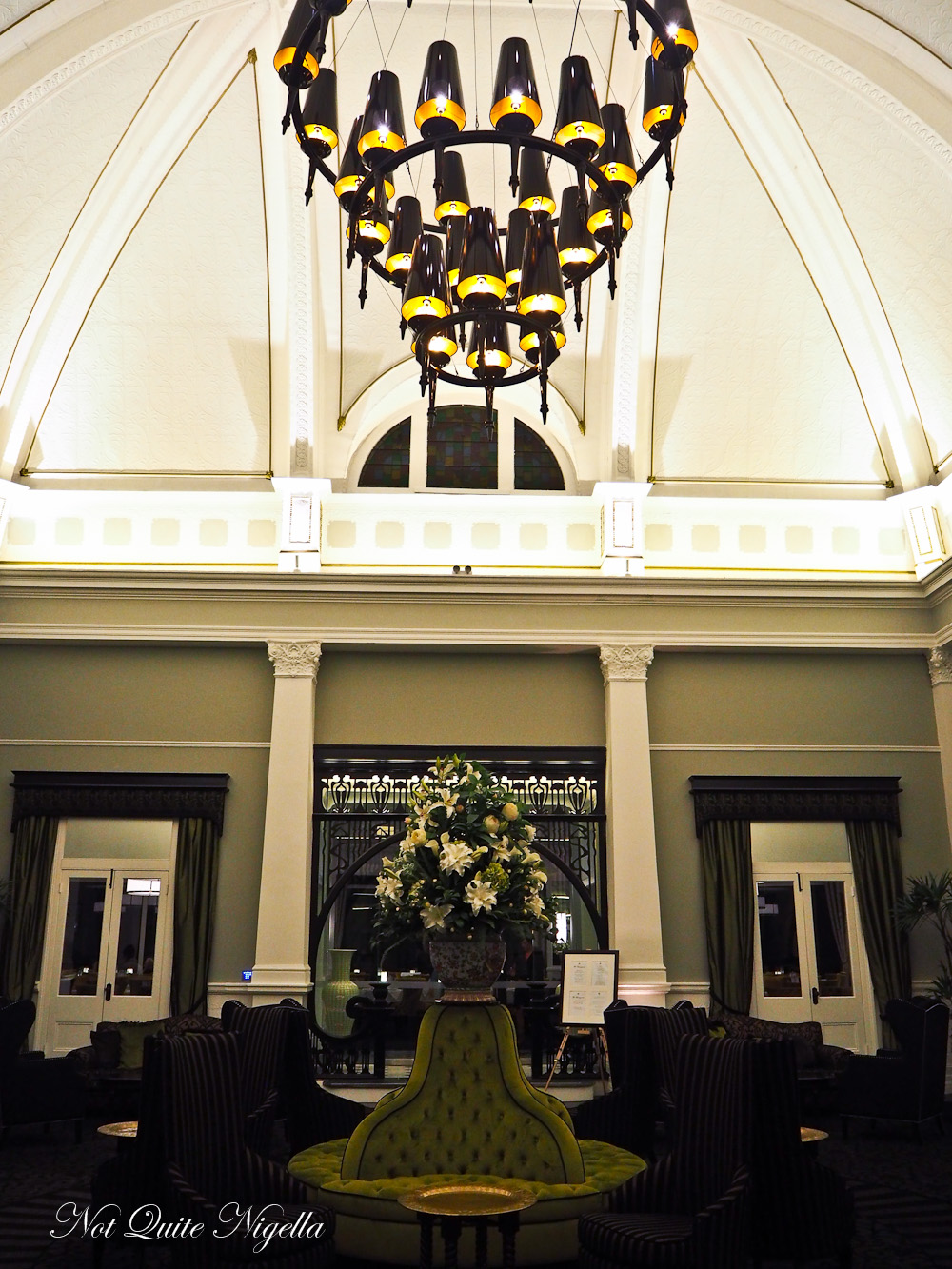 *The grand dame of the Blue Mountains, the Hydro Majestic Hotel has sprung back to life. Refurbished and with its history clearly displayed for guests, they offer a range of dining experiences as well as several room types. What better place to base ourselves for the Leura Harvest Festival (although do read on to hear more about the accommodation). But first things first, afternoon tea! *
The Hydro Majestic Hotel's refurbishment has been watched with keen interest, not least by us. Some years ago we had walked into the hotel seeking respite with an afternoon tea. It took a while for a staff member to appear and even when he appeared, we had to flag him down like we were lost at sea. We were the only people in the lobby and he seemed to be studiously avoiding interaction. "We don't do afternoon tea," he said somberly and we exited thinking what a shame it was because it would be the perfect setting for it. At this time the hotel was in a sad state of disrepair, almost like a floating ghost ship.
It's a few years later and repairs and renovations have been completed and it seems fitting that our first experience here is with afternoon tea. There are five different architectural styles in this historic building, over 1 kilometre/0.6mile in length. The original building was the vision of retail baron Mark Foy who sold off his shares in 1901 to build what he envisaged would be a health retreat.
As part of this vision, he had the name of the town changed to Medlow Bath. Ever since opening during a snowstorm it has has a fascinating history with celebrities like Dame Nellie Melba, Dame Clara Butt and Nellie Stewart staying there. In fact Australian Prime Minister Sir Edmund Barton died there in 1920. In 1942 it became a hospital for American casualties in the Coral Sea and South Pacific battles when it was taken over by the U.S. Defence Department. It is now owned and was renovated by the Escarpment Group who also now own Echoes and Lilianfels.
It is a long property stretching out over the escarpment. On the leftmost is the pavilion detailing the history of the building and area with a coffee shop and a retail store too. As we are booked in for afternoon tea, we head towards the Casino entrance underneath the dome in the centre of the building. The Wintergarden tea lounge is a beautifully designed room given a luxurious facelift with plenty of whites, art deco angles and plush yellow velvet chairs.
There are plenty of groups enjoying the live pianist while sipping a cup of tea. Every time a tiered stand comes out there's a rustle of excitement and necks crane to see what it on offer. The fog and mist outside the window obscures the view for a while but then it clears to reveal Megalong Valley below.
There are four types of afternoon tea here: a Wintergarden High tea at $65 with an optional glass of sparkling wine or Pol Roger, an Eastern high tea with Asian dumplings and snacks for $70, a gluten free high tea and a children's high tea for $35. Each comes with your choice of tea or coffee the tea from the La Maison Du Thé range. They're not inexpensive for an afternoon tea, considering is almost double that of most places and prices rise by $10 on the weekends.
The Eastern afternoon tea takes a little longer as the dumplings need to be steamed but we aren't waiting long. They bring us glasses of sparkling wine, it's a Charles Sturt sparkling wine from Orange.
Both sets of tiers arrive and we start with the Eastern high tea. The dumplings are served in a steamer and come with a side of chilli and soy sauce. There are two seafood dumplings, one open dumpling and a pink spicy prawn dumpling, the latter is very good. There is also a dim sim and a char siu bao - the latter could use a bit more filling.
Moving onto the second layer there is a Peking duck pancake, a vegetarian Vietnamese rice paper roll with dipping sauce and two slices of twice cooked pork belly. The pork belly and the Peking duck pancake would have been better served hot.
The top layer of the Eastern afternoon tea has some Western items like the fruit tart and madeleine that also feature on the Wintergarden afternoon tea. There is a cup with mango topped sago and a coconut macaroon. The fruit tart shell could be crisper and the madeleine softer.
We then try the Wintergarden afternoon tea. The scones could be a touch warmer but it's nice to get a both a fruit scone and a plain one. They come with real clotted cream and strawberry jam. But it's the sandwiches that win me over.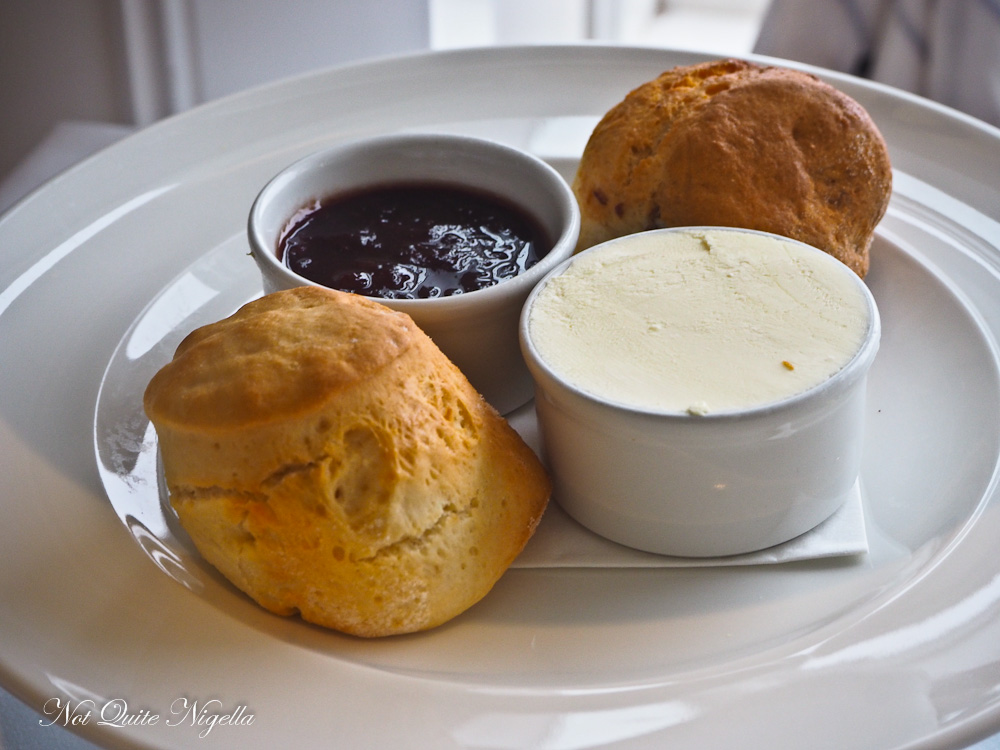 They're super soft and with excellent fillings particularly the roast beef with paper thin sliced cheese and the egg salad. In fact I steal Mr NQN's halves of these (never eat afternoon tea with me, I'm very greedy and a sandwich monster ;)). There is also a chicken and chutney sandwich and smoked salmon on a blini and a small round vegetable pastry.
The sweets layer has a mocha mousse which is delicious and an empire shortbread biscuit sandwiched together with jam. There is also the fruit tart and madeleleine that made an appearance on the Eastern afternoon tea.
But enough about afternoon tea, I bet you are as curious to see what the rooms are like as I was. Check in is next door and the hotel lobby doubles as a bar. It's very sexy and black with plenty of lounges for people to curl up on but with a view like that most opt to go outside and take a photo. Our room #126 is a valley view room with views of Megalong Valley which is just one step up from the most basic. There are several levels of room available.
Room size is a big thing for me and this is alas the smallest room that I've stayed in. At 4x4 metres, it is not ideal for sharing and whilst it has nice furnishings, the tiny size makes it uncomfortable for any more than a single person that is only looking to rest their head at night.
There is a queen sized bed and a very small bathroom (without enough room to put the bath towels, they are stored in the closet). I am told that many of these rooms originally didn't have ensuites so the bathrooms have taken some room size away but given the $400+ tariff I think people would definitely expect more, especially given the opulent common areas. Even smaller spaces can have pieces of luxury and there weren't any robes or slippers or any of the amenities that you would expect at that price.
But we are visiting Leura for other reasons. One is to catch up with my dear high school friend Lulu and her family (I am god mother to her daughter Evie). We spend some quality chem with Lulu, Andrew, Audrey and Evie. And another reason is the Leura Harvest festival which is in its second year. The festival spreads out with stalls on both sides of Leura Mall.
Starting around 9am the ever present rain seems to have kept some people away but we take a look and assess the breakfast options. There are a few food stallholders as well as arts and crafts, wine and produce available although it is a small market and you could easily take a look at it in about an hour. We grab a chilli cinnamon hot chocolate from the Flemish Flavours stand and it is fantastically warming with a nice spice from the chilli.
One of the more interesting aspects to the festival are the talks which aren't publicised particularly well and are held in a small marquee. They have a range of speakers and while they tend to be more free form talks we sat in for two. The first is with local couple Pat and Marnie O'Mara who give tips on how to make the most of a vegetable garden or plot. Their 100 square metre Katoomba garden provides them with fruit and vegetables and all they find themselves buying is sugar, flour, olive oil and salt. His advice is to feed the soil and what grows is a by product of feeding the soil.
"I'm just their manager," says Lyle Clinton of Woodford Honey, the day's second speaker of his hives of bees. Lyle is a hobbyist beekeeper who is happy to share his knowledge on beekeeping. This is a fascinating talk and we learned so much about bees. You may probably know that there are three types of bees: one queen bee, worker bees and drones. The worker bees are females and the drones are males whose sole job is to mate with the queen bee once a year.
After their job is done they die or are kicked out of the hive by the worker bees as all they do is eat. After a drone has mated with the queen bee, their penis has a series of barbs and after they pull out their penis and entrails are disembowelled from the drones so they die instantly in a most brutal fashion. The queen bee will mate until her sperm sac is full with between 1-2 million eggs and her life cycle is up to 5 years. She can mate with 12-20 drones and lay up to 1,500 eggs a day at her most virile.
The difference between a hobbyist beekeeper and a commercial beekeeper apart from the number of hives is that commercial beekeepers move their hives around. They place them on a back of a truck to move them to different locations. Bees tend to love eucalypt trees and conditions have to be right for them to produce large volumes of honey. Bees dislike wind and cold and they self regulate their hives so that they always remain at 34C/93F in the centre above the brooding layer. Bees also love water but have the tendency to drown at times so providing them with a water source with rocks or stones for them to rest upon is necessary. A strong queen bee also determines how industrious bees are. Bees tend to die off when they are away from the hive in the field.
Roesti with egg and bacon $10
Porky Bits $13.50
By now we are ready to stretch our legs and other take our spots in the tent. We go for a stroll, the rain never letting up. We start with a bacon and egg roesti from the Swiss stand which is a hearty breakfast. Then I line up at the Argentinean stand for pork spare ribs served with chimichurri. Next to this is Gena from Sweetness the Patisserie from whom I buy a range of marshmallows for gifts.
I buy a ceramic bowl from Hart Ceramics, a steal at $12. There are some lovely teas from the Blue Mountains Tea Company including some Australian grown tea from Queensland. Mel hand blends several types of teas including several types of chais and also hosts afternoon teas at scenic locations around the Blue Mountains.
We also stop by First Farm Organics located near Hartley. Farmer Fabrice Rolando has partnered up with Leura Garage's James Howarth to produce soup to go, sold at the coffee machine window from Monday to Friday at Leura Garage. Fabrice also grows produce for Sydney based restaurants and points out that it's often the grower that starts trends when they come to chefs with new items that they have grown. The soup comes with bread and today's soup (they change daily) is a harvest vegetable soup which is naturally creamy and perfectly seasoned.
We stop at Wyck candles who have a range of delicious food and floral scents including wild frangipane and caramelised fig and cassis. For our "main" lunch we stop by The Chef's Table stall where some of the Blue Mountain's most prominent chefs and restaurants man the stall for an hour or so.
For $7.50 you can try a small size of something from their kitchen. When we visit there is Lee Kwiez from Darleys restaurant. Their items is a Jannei Goat's Cheese tart with a salad dressed with vincotto and olive oil. It's rich and delicious and the layer of tomato between the tart and the egg layer adds a surprising sweet element to it.
Dessert is back to our original starting point: a Belgian waffle with whipped cream and apple cider caramel. The waffle is freshly made and crunchy and chewy and the cider caramel tastes just like adding an apple compote.
We dry off back in our room and then tuckered out from dodging rain Mr NQN takes a nap. Dinner that evening is back at the Wintergarden restaurant at the Hydro Majestic. It's a Sunday night and the restaurant is about a third full although it is a large restaurant. Service is very friendly although it could do with a bit more polish. There are genuine attempts to serve customers in a fine dining style but it often ends up being a bit awkward and often questions about the food require staff to go back to the kitchen to check. It is like dining on a cruise ship ion terms of atmosphere, menu and service. If you are dining there for dinner I'd recommend eating early or at least getting a drink at the bar so that you don't miss the sunset.
There is a choice of two or three courses with 2 Course Menu priced at $75.00 per person or a 3 Course Menu priced at $95.00 per person which seems to be a fairly common thing in the Blue Mountains. The entree and dessert are served tasting style and you get to choose a main. A lot of the options are gluten free, in fact all of the mains are marked gluten free. The entree comes out very quickly.
Entree tasting plate
I start at one end of the tasting plate. The seared Balmain bug, leek cream, lemon and fennel pollen vinaigrette is well cooked with a good texture and the leek cream and accompaniment make this a tasty mouthful. The heirloom beetroot salad comes with Jannei goat's curd, vincotto, olive oil, olive crumb and is light with a sweet richness. The last mouthful is a Mandagery creek venison tartar, egg yolk, chive, caviar and squid crisp. I don't really taste or see much of the caviar as it is all mixed in together but it is well seasoned.
Miso marinated Black Kingfish, edamame beans, shallot and ginger custard, fried lotus root (GF)
I really like this dish with Cobia or black kingfish with its strong shallot and ginger flavours that permeate the fish. It is still moist in the centre which I really like too. It comes with crushed edamame beans and two discs of fried lotus root.
Twice cooked pork belly, celeriac remoulade, roasted apple, red chimichurri sauce (GF)
Although Mr NQN doesn't usually go for pork belly I am curious about the red chimichurri sauce and he likes celeriac remoulade and roasted apples so we order it. He ends up wanting to swap back this dish with me which is unheard of for him and pork belly. It's a twice cooked pork belly slice with a bed or celeriac remoulade, slices of roasted apple and a flavoursome chimichurri sauce. The pork crackling could be a bit more blistered. It's crunchy but not overly puffy but it's a good main.
Dessert tasting plate
I had to ask what they meant by heirloom chocolate and it turns out that they use Zokoko chocolate who use heirloom cacao as designated by the Heirloom Cacao Preservation Initiative New York. It's an heirloom chocolate mousse, salted caramel, popping popcorn. My favourite bite is the banana financier with its natural banana flavour and pistachio and cream topping and raspberries to the side. Mr NQN likes the strong punch of the passionfruit seed topped brulee with its thin toffee crust.
The early night allows for a sleep in and in the morning the clouds have cleared for a view of Megalong Valley below. Alas Mr NQN has left early for work and I wander the halls of the hotel taking photos and wondering what else may have happened in these halls.
So tell me Dear Reader, would you have gone for the Wintergarden or the Eastern afternoon tea? What is the smallest room you have stayed in? And do you attend many food festivals? Do you enjoy the talks or demonstrations?
NQN stayed and dined at the Hydro Majestic Hotel as their guest but meals at the festival were independently paid for.
Hydro Majestic Hotel
5288 Great Western Highway, Medlow Bath NSW 2780
Phone:(02) 4782 6885
http://www.hydromajestic.com.au/
Leura Harvest Festival
http://leuravillage.com.au/whats-on/