If you love cake but crave a lower fat and sugar vegan cake then please allow me to show you this beauty. The vegan cake is my classic chocolate vegan cake just amplified so that it bakes fat, fluffy slices and the topping is a revelation-instead of butter use sweet potato to give it sweetness, creaminess and volume without adding butter or a lot of sugar!
When you bake you see the whole truth of a food. You know exactly how much butter it takes and how much butter and sugar it takes to make a buttercream frosting. A typical batch of American style buttercream requires 6 cups of icing sugar. Damn! And that's probably why it tastes so good.
When Lisa put up a recipe for a chocolate cake I kept staring at the frosting. It looked so thick and luscious and then I read that it was made of sweet potato. Is there anything sweet potato can't do? I swear it is 2016/2017's MVP :P I've made sweet potato nachos, sweet potato noodles, sweet potato latte, sweet potato toast and sweet potato brownies so why not icing? Not only that but it's such an easy frosting too. Just place it all in a food processor and blend until smooth. That's it. Just add some vanilla and as much maple syrup as you like. 7 tablespoons did it for us and that's a cake that feeds 12-15 people. The cake itself is a vegan cake that I like making because it's very rich but very simple. I made the chocolate sprinkles myself and they were very easy to create and they made for a change to regular sprinkles as I was able to use a good quality chocolate.
I tested out this cake on my favourite healthy eater Nina. I always pass her baked things and the other day she had a craving for cookies. I told her that I had a small ziplock bag in my freezer containing three balls of cookie dough that she could have but she would have to bake them into cookies. She followed the instructions and handed one to Garth and had one herself. She has a new dog that she is testing out called Marley, a rambunctious 9 month old Doberman Australian shepherd cross.
Marley reached out and tried to snatch the cookie from Nina's hand. She quickly moved it and passed it to Garth to move out of Marley's grasp. "I'd better put the other cookie away," she said getting up to put the third cookie away in the fridge. Then Marley went into the kitchen scrambling up on the counter to look for the cookie. "It's like a crack cookie or something!" exclaimed Nina.
When I handed her a slab of this cake she put it away saying that she would make sure that Marley couldn't get near it! Because it seems like Marley has a sweet tooth...
So tell me Dear Reader, do you ever flinch at the amount of oil, butter or sugar in a recipe? Is there an ingredient that you've used a lot this year? Have you ever possessed to make your own sprinkles?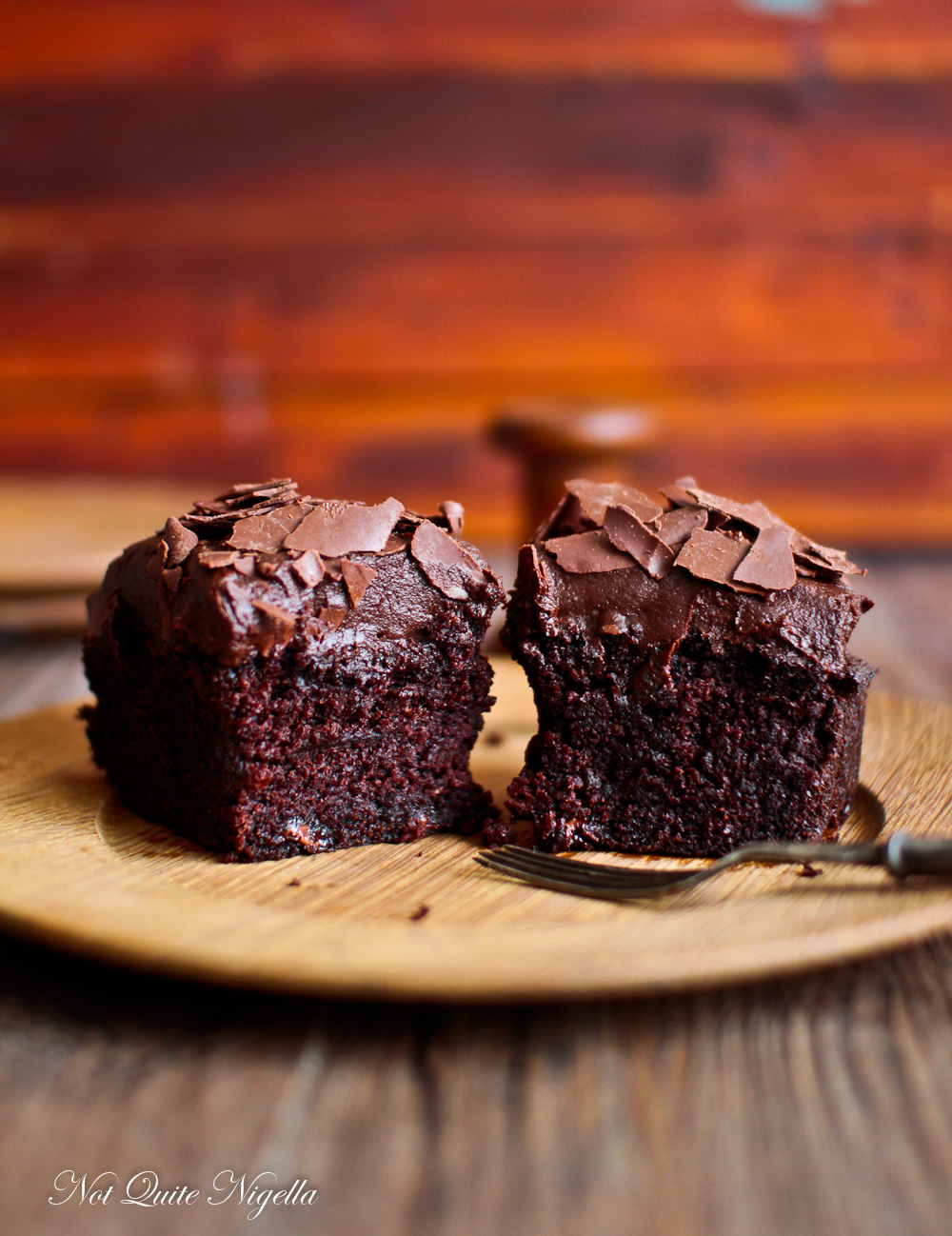 DID YOU MAKE THIS RECIPE? Share your creations by tagging @notquitenigella on Instagram with the hashtag #notquitenigella
Healthy Vegan Chocolate Cake
Rated 5.0 out of 5 by 1 readers
An Original Recipe by Lorraine Elliott
Preparation time: 25 minutes
Cooking time: 45 minutes
Serves 12-15 people
3 cups cake flour
3/4 cup raw cacao powder
3 teaspoons bicarb
1/2 teaspoon fine salt
2 cups light brown sugar
2 1/4 cups water
3/4 cup oil
4 tablespoons white vinegar
100g/3.5ozs dark chocolate chips
Frosting
2 cups steamed or roasted sweet potato
1 cup raw cacao powder
4 tablespoons virgin coconut oil
7-8 tablespoons maple syrup (or to taste)
3 teaspoons vanilla extract
Decoration
120g/4ozs. dark chocolate
Step 1 - Preheat oven to 180C/350F and line a lamington tray with parchment on the base and sides. In a bowl whisk the flour, cacao, bicarb, salt and sugar. In a jug measure the water and oil and whisk in the vinegar. Make a well in the centre and add the liquid in 4-5 lots. In the fourth lot add the chocolate chips. Scoop into the prepared tin and bake for 45-50 minutes. Cool in the tin for 10 minutes and then cool on a cooling rack.
Step 2 - While the cake is baking make the frosting and decoration. Blend the sweet potato, cacao powder, coconut oil, maple syrup and vanilla until smooth. Taste for flavour and add more maple syrup if needed. Cover and place in the fridge.
Step 3 - Melt the chocolate until smooth and then spread out on a large sheet of parchment. Using an angled spatula spread until very thin. Place in the fridge or freezer to harden.
Step 4 - When cake is cooled, spread with the sweet potato frosting and then take out the chocolate sheet from the fridge or freezer and then bunch it up so that it crumbles. Sprinkle over the cake. This cake should be kept in an airtight container in the fridge because of the frosting.