It's a Autumnal weekend mushroom picking so come along as we taste all the mushroomy delights of the Oberon Blue Mountains area! We stay at a stunningly elegant homestead, lunch at a cafe where most of the produce comes from their farm, forage for slippery jacks and saffron milk cap mushrooms and taste truffles!
"I want you to develop "mushroom eyes" says Diego Bonetto. He is leading today's mushroom hunt and he explains that edible mushrooms like saffron milk caps and slippery jacks are everywhere in the right conditions but you may need some training to spot them. And that's where having mushroom eyes helps.
I watch one couple who had gathered an enormous basket full of saffron milk caps. Several people walk into the clearing before the woman in the couple stops and bends down in the path with a delighted murmur. Where others had passed she saw the familiar glimpse of the rust orange shade of the saffron milk cap mushroom. She cuts it off at the base of the stalk and pops it in her basket. She has mushroom eyes.
Diego explains that the best season for mushrooming in Australia is around the Easter weekend around March and April. The ideal temperature for mushrooms is above freezing but below double digits. Once there are two days of freezing weather the mushrooms disappear and they will not appear if the temperature is too warm.
Mushrooms also need rain or wet conditions and if there isn't rain then they simply will not appear. Last year's crop was very poor because it was so dry. Diego says "The saying goes, 'The first rain is for the trees, the second for the mushrooms', but this year we had to wait for the third rain for the mushrooms."
Because we are dealing with a potentially toxic item, there are some golden rules to mushrooming. The first is to never go mushrooming for the first time unless an experienced guide takes you. He discourages people from researching through youtube as he feels that you need to see mushrooms and smell them in real life with a guide. There are only two varieties that we will pick in the pine forest on his tours that run throughout April and these are slippery jacks and saffron milk caps. And if in doubt, leave it. There have been several cases of deaths from eating poisonous mushrooms in the past few years. He says that only 5% of the 50,000 toadstool varieties found in Australia are actually named. Apart from Oberon, another good place for mushrooms is the Belanglo State Forest where he regularly goes mushrooming.
The ideal carrier to use when foraging mushrooms is a wicker basket and it's not just purely for aesthetics. You place the picked mushrooms gills down which helps distribute the spores throughout the forest while you forage so that the mushrooms can grow in a more widespread area. This also means that dirt does not get in the gills which can be difficult to clean. Treat them gently too-mushrooms bruise in the same way that bananas do and the bruise appears and a blue green mark in saffron pine caps.
Our tour with Diego goes from 10am-3pm and involves visiting a couple of different locations. The first is to get an idea of the types of mushrooms in the forest and to see how they compare. Everyone is instructed to pick anything that resembles a mushroom, poisonous or not, as he will explain the differences between them laying each variety out on a table.
Saffron milk caps are easy to identify because of the telltale saffron or orange milk that comes out when you break it or cut the stalk. Generally the shape is of an overhanging cup and there may also be concentric circles on top. He then shows us the amanita mushrooms which are poisonous that can resemble saffron milk caps. The Amanita mushroom or the classic and very photogenic toadstool has dots that but these dots can be washed off or fade so they can resemble a saffron milk cap but these often have a different shape and they don't have saffron milk.
Edible slippery jacks have a brown grey cap and they grow up to 12cm in diameter at maturity. As the name suggests they are slimy to the touch and smooth and glossy even when dry. The underside has tiny, circular pores that are initially yellow when young and ideal to eat but turn olive to dark yellow.
We drive in convoy to the second stop Diego sets up a stove and here everyone has half an hour to go free range and wander into the pine forest to collect more mushrooms. He cautions everyone on how to make sure they don't get lost. Look at your shadow when you first set off and use that as a guide to get back. Also look up while you are mushrooming (the tendency is to look down and then get lost) and look for big trees, bushes or clusters of Amanitas. And yes be aware that leeches are present (my number 1 creature fear!) and some people got leeches on them.
When everyone returns Diego cooks some of the freshly picked saffron milk caps with garlic, olive oil, salt and parsley and we help ourselves to some sourdough and spoon some of the bright orange mushrooms onto the bread. He advises cleaning the saffron milk caps by dunking them in a vinegar solution with a bowl of water and 1/2 cup of vinegar. They're delicious so simply cooked.
Then he explains how best to treat slippery jacks that are a completely different beast. You do not wash slippery jacks, instead you peel the top off them to reveal the spongy yellow flesh. He cooks these too with garlic, olive oil, salt and parsley and they have such a gorgeously unique texture like set custard. With our basket full we bid Diego farewell with our basket of mushrooms and ideas of how to cook them.
Lowes Mount Truffles
If you miss mushroom season and visit Oberon in the midst of Winter from June to August, you can head to Lowes Mount Truffles where Col and Sue Roberts hold truffle hunts and tastings of products using their truffles. You can even meet Floyd their enthusiastic 5 year old black Labrador.
Floyd sniffs out the truffles indicating when he smells their presence with a gentle scratching on the dirt. Floyd loves his food and has been known at times to falsely indicate truffles to get a treat. I get you Floyd, I understand you.
Truffle season is, "2 months of chaos" according to Sue and involves sticking your nose in muddy patches to find these elusive, precious beasts. "You're not trying unless you get a bit of a mud on your nose," says Col.
At $2 a gram these are precious nuggets but bigger is not necessarily better in the truffle industry. The usual serving size of truffle is a mere 5grams per person per dish and with a 9-10 day shelf life the most desirable truffle is around 50 grams or 1.7ozs. in size.
Growing truffles is a long process and first they had to get the soil ready for their oak and hazelnut trees. The ideal soil for truffles is at a Ph of 8 and to get it to this they added a lot of lime. This also helps to discourage local funghi growth. After that it took them 6 years to become commercial.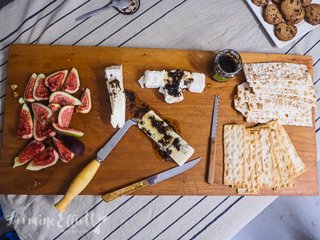 To train Floyd they use a film canister with holes punched in it with a piece of truffle. Floyd is given this to sniff and then he is rewarded with a treat when he finds the truffle in the ground.
Truffles have a short life and should be used fresh, not cooked or frozen. There are some items are carry truffle well - butter is one, oil however turns it rancid (truffle oil is made using synthetic flavour compounds and doesn't really even touch actual truffle).
We adjourn inside for a tasting. Sue brings out a brie, feta and blue cheese with some of their truffle honey with real truffle shavings with some of their farm grown luscious figs. Make sure to try their truffle shortbread made with truffle butter and chocolate and a sprinkle of salt. It's absolutely delightful. And as we leave she offers us some incredibly delicious fresh figs and quince which we happily help ourselves to.
Long Arm Farm
If you're looking for somewhere to eat in Oberon, the most popular place is The Long Arm Farm Cafe located on the main street of Oberon.
The family run cafe uses produce from their own farm, mostly pork products and jams and chutneys. It's old fashioned, home style food that is well priced and in a down to earth setting.
The sweet chilli chicken wrap has sliced chicken breast, Long Arm Farm bacon with cheese and sweet chilli sauce and sour cream is a best seller and is warming and tasty.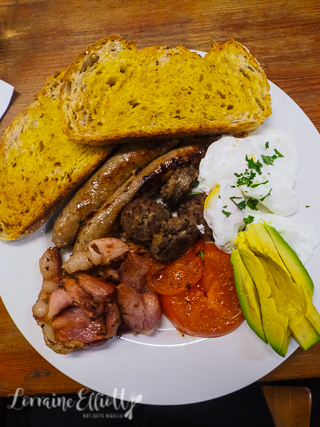 Long Arm Farm bacon and free range poached eggs with buttered toast $16 plus haggis $4, bacon $5, pork sausages $4 and avocado $4.50
We also try as many of their pork products as possible with the big breakfast. We add some sides from haggis, avocado, pork sausages and a delicious beetroot relish. They've got plenty of pork products and jams and chutneys available for sale too.
Waldara Farm
Our accommodation for the weekend is at a splendid working farm called Waldara in Edith near Oberon. We are staying in the four bedroom homestead which is a gorgeous house smack bang in the middle of 800 acres of countryside.
The grounds are magnificent and there is also an adjacent barn accommodation. There are plenty of places to take photos including a red leaf covered tennis court and as Oberon is colder than the rest of the Blue Mountains the Autumn leaves are already out.
It is also a wedding venue and Autumn really brings out the colours of the trees so the space is especially photogenic. Both the homestead and the barn accommodate up to 20 people.
In the homestead there are five bedrooms and two bathrooms, one with a bath. Three of the bedrooms have single beds in them while the main bedroom is very spacious with a queen bed. There is fireplace heating as well as ducted heating that keeps us toasty warm. There is also an outdoor spa.
It's a gorgeous property with a full kitchen and we relish the stars at night and the quiet solitude. In fact I don't want to leave especially now that we have figs, mushrooms and the still silence of the country...
So tell me Dear Reader, have you ever been mushrooming? Do you have a favourite type of mushroom? What is your favourite season?
NQN and Mr NQN were guests of Central NSW Tourism and Oberon Council but all opinions remain her own.
Mushroom Foraging Tours
diegobonetto.com/foraging-tours
Lowes Mount Truffles
927 Lowes Mount Rd, Oberon NSW 2787
Phone: (02) 6336 3148
lowesmounttruffles.wordpress.com
Long Arm Farm Cafe
133 Oberon St, Oberon NSW 2787
Monday, Thursday-Saturday 8am–4pm
Tuesday & Wednesday Closed
Sunday 8am–3pm
Phone: (02) 6336 1661
longarmfarm.org/
Waldara
waldara.com.au/