Gone is Embers on Oxford Street. In its place is The Cat's Meow, an Art Deco style bar with a distinctly 1920's theme. In the back is a Champagne bar decked out in Prussian blue velvet banquettes with marble drink rests.
The Cat's Meow's Champagne Bar space focuses on privacy-guests are asked to put their phones away in lockers to enter. The front bar called "The Vault" has cocktails, wines and drinks as well as bar food. It also holds regular monthly roaring twenties parties.
Henri Azzi, the owner of The Cat's Meow and Embers says. "I wanted to bring the 1920's into the 2020's," he says. A year ago he decided to close down Embers and reopen it as a bar.
The Champagne Room takes the place of the Ember's kitchen leaving only a tiny kitchen adjacent to the Butcher's Library private dining space. He tasked S.Pellegrino Young Chef finalist of year Camille Saint-M'leux with coming up with a bar menu with enough offerings so people could stay and eat dinner but also be prepared in the tiny kitchen.
Mr NQN and I are handed menus with a gold cat's face on the front and a hidden champagne glass. The most popular drink is the Chicago's Amnesia with Bacardi Carta Blanca rum, St Germain, basil, lemon, Angostura Bitters and egg white while I choose the 21st Amendment with Barsol Pisco, white vermouth, vanilla, mango puree, passionfruit and peach bitters. On the side is a small cone of tiny dried roses and a chocolate callet. You're supposed to eat that after you've drink the cocktail. I don't know how it fits in although any sort of chocolate is always welcome.
We come to the food. The Croque Monsieur is the bar's only hot food although plans are to make a mac and cheese and a crab hot dog. With a generous amount of thinly sliced ham, cheese and real truffle and spongey fresh toasted bread the truffle croque monsieur is very good indeed.
Have I mentioned how much I love a prawn cocktail? Served with aioli that tastes a little hollandaisey too this features peeled prawns in a cocktail glass of dressing.
The duck liver is totally moreish. Made by Romeo's Fine Foods it is silky smooth and topped with aspic. There are quartered dried figs on the side for additional sweetness. It comes with a generous amount of sourdough bread slices. I have to admit that I ate most of this.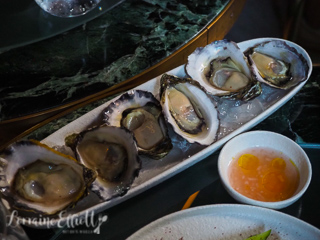 I'm willing to bet there's nothing better on a muggy hot day than ice cold Sydney rock oysters. These are superb and served with a citrus vinaigrette, a nice change from mignonette dressing.
The crudite cocktail features heirloom carrots, cucumber and zucchini flowers with a bowl of hummus foam that is light and airy with crunch from almonds and seasoned with black olive dust.
We also try the Spanish anchovies on thinly sliced tomato with olive oil, garlic slices and sourdough bread.
In between the food we also try the Old Sport made with ginger infused Dewar's whisky, Laphroaig, pear, honey, lemon and aromatic bitters. We also toast to weekend with the Hattori Hanzi with berry saké, Campari, Cointreau, yuzu, egg white and rhubarb bitters!
So tell me Dear Reader, when you go out to a bar, do you usually eat there too? What sort of cocktails do you like to drink?
The Cat's Meow
52 Oxford St, Darlinghurst NSW 2010
Open Monday to Saturday 5pm–12am
Sunday 5–10pm
Phone: 0435 785 494