Fhior meaning "true" in Gaelic is a Modern Scottish restaurant with a heart for fermenting and preserving. Chef Scott Smith who owns the restaurant with his wife Laura once spectacularly quit his previous restaurant Norn the day after they won Restaurant of the Year at the Edinburgh Restaurant Awards and Fhior was born.
Located on Broughton Street Fhior is a simple, unpretentious restaurant with shelves of fermented goodies and simple decor. There are cream walls, framed food puns and it has a Scandinavian feel to it.
Diners can choose from a 4 or 7 course tasting menu. We opt for the four courses for £40 as we've had a big day eating. There is no menu (this is given at the end) although they do describe the dishes in detail when they bring them out.
Radicchio Negroni £9 and Aelder Kir £11
Mr NQN and Michael both have radicchio negronis made with Kerr's gin, Valentian Vermouth and radicchio while I have an Aelder Kir with aelder elderberry elixir and Deliance Brut Reserve Cremant which I adore.
Duck ham savoury donuts old Rickey smoky cheese beef tendon crackers smoked mussels parsley
We start with a trio of snacks. The house made duck ham is an intensely smoky morsel. Then there are plump round donuts filled with Auld Reekie smoked cheese (Edinburgh used to be called Auld Reekie (Scots for Old Smoky) back in the day because of the smoke from the coal and wood fires). My favourite snack is the beef tendon crackers topped with smoked mussels and parsley.
Black pudding and apple w carrot and celeriac slaw espuma parsnip
The next bite is the amuse bouche, albeit substantially sized. It's black pudding with apple cubes and carrot and celeriac slaw topped with an espuma parfait. It's light and having the foam on top hides what is underneath making the first bite a surprise.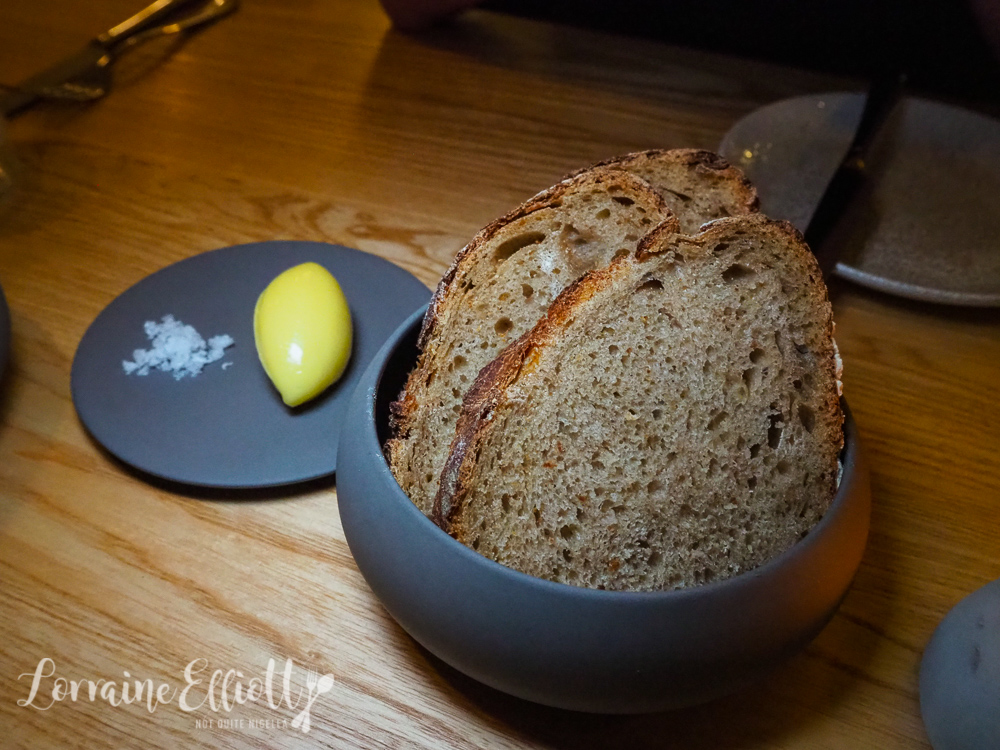 Sourdough beremeal Scottish ancient grain form of barley one mill left aged butter 3 days. Aged cream orkney
The next course is the bread course of Orkney bread. The bread is a sourdough made with beremeal, an ancient Scottish grain that is a form of barley although it is called corn in Orkney. Only one mill here grinds beremeal. It is served with a 3 day aged cultured butter made with cream from Orkney.
Plaice, swede, pepper dulse
Then comes the first official course. The North Sea plaice fillet is lightly baked so that it remains succulent and is paired with fermented turnip and pepper dulse seaweed. Unfortunately I wasn't particularly in love with this course due to the aroma of the dish although the fish was cooked well.
Hispi, Crab, Butter
I was however very smitten by the crab course. So far I've had two crab dishes in Edinburgh and they were both stellar. This second official course is crab in cabbage. The cabbage has been charred and braised with beurre noisette and then blistered. It has plenty of crab and a seaweed infused roast crab shell foam on top.
Chicken breast, leek emulsion butter
The main course is also delightful. It's a piece of the tenderest chicken breast with a leek emulsion butter and stock sauce paired with winter mushrooms and toasted barley for crunch and texture. They also grate some Italian white truffles over the chicken. I'm glad that I still had some Orkney bread to mop up the sauce.
There is then an optional cheese course made up of 4 Scottish and 2 English cheeses and I'm very interested in the Scottish cheese. There is a nice and varied selection including a Staffordshire soft goats Boswell Ash, Bonnet hard pressed goats cheese, Coralynn ewes milk cheese, Anster Fife cows milk cheese, Strathearn Perthshire cheese washed in single malt whisky and a Shropshire blue cows milk cheese. The chef smiles when he tells us that the orange in the Shropshire blue is the same additive that colours Doritos orange.
They're paired with fruit bread, sourdough crackers and a wild quince paste that has a distinct tang to it and a creamy heather honey from Dundee.
Apple, bramble, oats, lavender
The dessert course is an apple crumble made with Lord Derby apple, a heritage Scottish breed from Phantassie organic farm. It is paired with blackberries, granola, apple and a refreshing compressed parsley oil sorbet yogurt with lavender. This dish definitely has Scandinavian overtones to it and is a light, refreshing way to end the meal.
Petit fours
But of course with fine dining, there is always an extra course. There is a selection of three items: a crab apple and pine macaron, a square of dreamy delicious malted milk fudge and a tangy fermented gooseberry pate de fruit!
So tell me Dear Reader, given the choice would you go for the 4 or 7 course tasting menu? Do you keep your bread so that you can mop up sauces with it or do you end up eating it all straight away?
NQN was a guest of Visit Scotland and Visit Britain but all opinions remain her own.
Fhior
36 Broughton Street, Edinburgh, EH1 3SB
Wed - Thu 6pm - late
Fri - Sat 12pm - late