Delightfully unpretentious, our meal The Gannett in Finnieston was one of my favourite meals in 2019. Modern Scottish produce is lavished with care and clever layering so that each bite is exquisite. Service is delightfully informed and approachable and you feel like you're almost part of the family at The Gannett.
The Gannett has a simple dining room, one of two and was formerly a derelict tenement building. The front tables face the bar and has exposed and painted brick walls, painted columns and a sweeping curtain to keep the chill away from any diners. We're seated at the window table. The second room at the back is about warm fireplaces and intimate tables. The kitchen is downstairs in the basement.
There are two men sitting next to us eating alone. One is an older gentleman, one a couple of decades younger. Both are having the wine pairings and both look to be enjoying their food immensely and I admire that they have gone out on this chilly Glasgow night to eat but it's that sort of place.
The Gannett has a 4 or 6 course seasonal menu and this can be paired with matching wines. The wine list is mostly European but with one Australian wine (from Tasmania) and some South American and South African selections too. Vegetarians also have a separate seasonal menu. The menu also details all the producers that they work with down to the butter. They also work with farmers at Greenheart Growers, a social enterprise in the east end of Glasgow.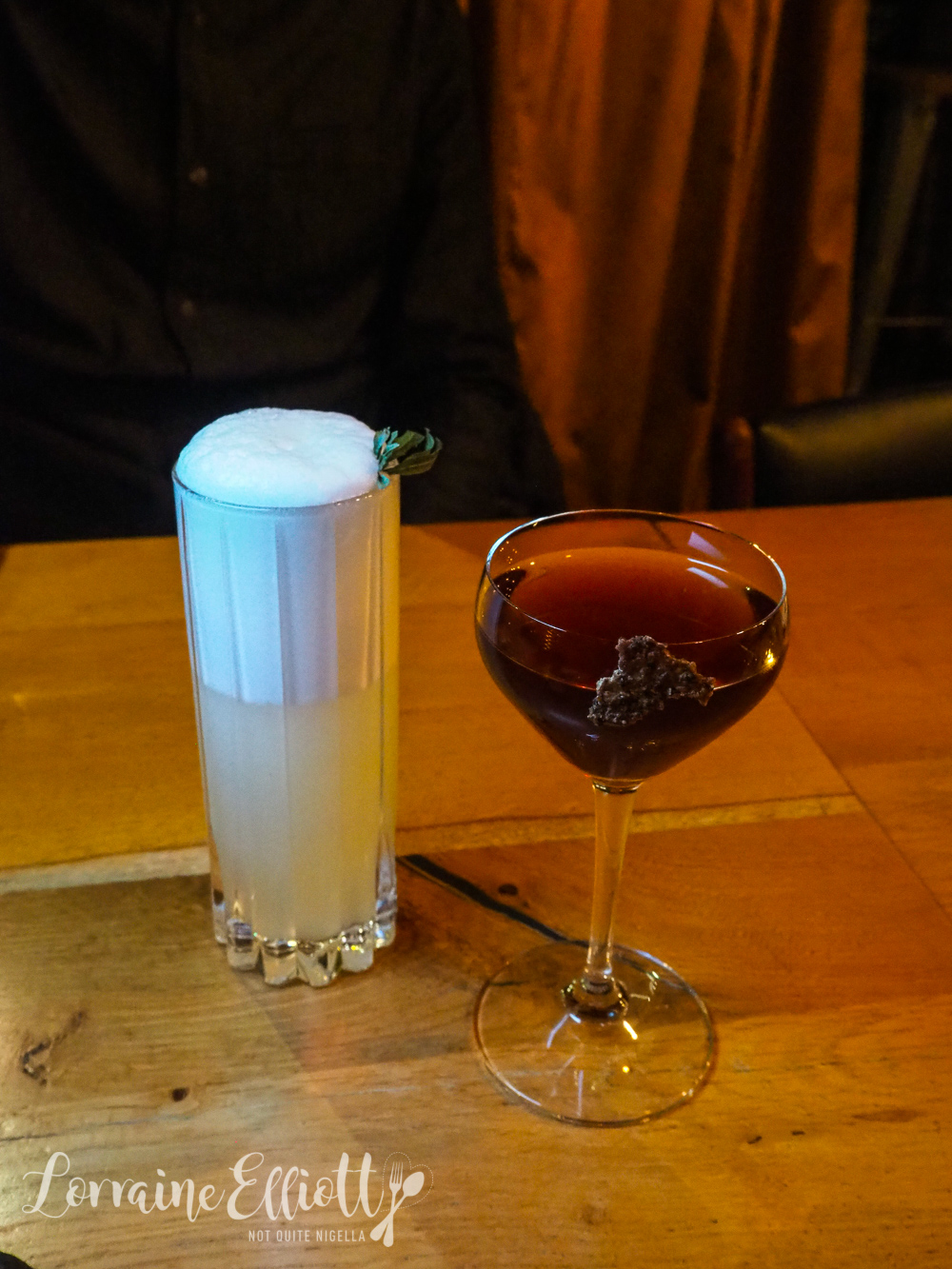 Woodruff Fizz and Acorn Drop £9.50 each
We have a peek at the "Flora Scotia" cocktail menu where they delve deeper into ancestral Scottish flavours and we are rather intrigued by these so we start with cocktails. It's a Woodruff Fizz for me with Arbikie Tattie Bogle Vodka, Marasquin, woodruff, pineapple, lime and egg white which is so intriguingly fragranced and delicious that I keep sniffing it trying to figure out that sweet aroma. One second it's nutmeg then cinnamon then marzipan.
Mr NQN has an Acorn Drop with Arbikie Haar Whear Vodka, Vermouth Amaro, Pedro Ximinez, acorn syrup and orange. They make all their flavoured syrups in-house and this is also another delightful cocktail.
Snacks
The food is well paced so dinner isn't an overly long drawn out affair (helpful since I seem to fall fast asleep at 10pm every night). The first snack is a braised pigs head beignet topped with apple beet powder and anchored with a burnt apple purée. This is a divine mouthful the beignet cottony-soft and it explodes in the mouth with great satisfaction.
The second is a crisp miniature waffle cone filled with white onion mousse and chicken liver parfait, a perfectly balance and creamy mouthful or two.
Bread
Now a little warning about the bread. It's highly addictive. There are two varieties baked in-house: a fougasse which has such an appealingly crispy edge to it and a sourdough with a fantastic flavour. They are served with Jersey butter from Brenda Leddy's Stitchill Jersey herd in Kelso. I consider myself quite disciplined in most things but forget it when it comes to good bread.
Cured Gigha Halibut
This is the first official course of the six course £45 menu. It is slices of cured halibut from Gigha off the west coast of Scotland flavoured with star anise, woodruff, Jerusalem artichoke puree and crisps with a cider gel, cubes of soft pain d'epice and finished off with a drizzle of shellfish bisque and red amaranth. While it sounds like a lot of flavours they interplay so beautifully that you just don't want this dish to end. It's not that one element is stronger than the other, they're all there in perfectly balanced harmony.
Cairngorms Red Deer
The next course is an arrestingly pretty red deer carpaccio with baby radish, kohlrabi and turnip with a quenelle of Isle of Barra oyster ice cream and a deer and mustard seed sauce. It comes with a piece of focaccia cooked in beef dripping with pickled and crispy shallots, watercress pesto and tiny black pearls of herring roe.
This is an exquisite course, not only in appearance but also flavour. The oyster ice cream adds depth to the dish and cold contrast. Then you follow that with a bite of the spongey focaccia (a whole tray of these please) and you also wish this course would never end.
Halibut Collar
Chef Colton Dinner brings out a bonus course. They get the whole fish and use the fillets for the first course but then keep the collar and other cuts for course like this. It is a roasted halibut collar with wild mushrooms and a caper brown butter with parsley. It's gorgeous with luscious flesh and crispy skin and we take to the browned butter with the bread (oh that bread again!) and enjoy every last crumb.
Peterhead Hake
The third course is the Peterhead Hake from the north east of Scotland near Aberdeen. It is served with a leek purée, powder and cream. They explain that they try and use all of the parts of the leek and what they don't use they send back to be composted as they try and reach zero waste in the kitchen. The fish is served with a mussel cream sauce, potato rounds cooked in pork fat that are the size of chickpeas and potato crisps. I love the liberal use of leeks as I love the flavour of onions and the mussel cream sauce is delicate with tiny mussels. There's just enough mussels, cream and leeks for the fish too.
Perthshire Partridge
The final course is the partridge which is a wild game bird shot in the north east. It is paired with parsnip in both roasted, purée and crisp form along with broad leaf spinach. The two pieces of partridge are the breast and a confit of partridge leg with a game sauce and winter chanterelles. The partridge is quite a firm meat and this is a good winter dish but I was too full to really enjoy this course.
Buckthorn
There is an optional cheese course and whilst we normally would jump at the chance, neither of us could fit it in so we go onto the pre-dessert. It's a beautifully refreshing sea buckthorn mousse topped with a fresh carrot granita and a shard of meringue on top that does the job of refreshing the palate.
Chocolate
Dessert is a dark choc delice topped with a layer of hazelnut gelato and paper thin caramel choc tuile. On top isn't whipped cream, rather a white chocolate mouse with hazelnut grated on top. It's so light and a great course to end our meal off with. Somehow you find the room in your stomach for everything presented here.
So tell me Dear Reader, where have you dined out that was particularly memorable this past year and why?
NQN visited Glasgow as a guest of Glasgow Life, Visit Scotland and Visit Britain but all opinions remain her own.
The Gannet
1155 Argyle St, Glasgow G3 8TB, United Kingdom
Monday Closed Tuesday & Wednesday 5–9:30pm
Thursday to Saturday 12–2pm, 5–9:30pm
Sunday 1–3pm, 5:30–9pm
Phone: +44 141 204 208